🧪 Our review process
Our testing team independently researches, tests, and recommends the best products to help keep your houseplants absolutely thriving. Learn more about our testing and review process here.
Your plants may look pretty on your windowsill, but the aesthetically pleasing portions of our homes don't always provide the right conditions—which is why a small grow tent is a great investment. These miniature greenhouses give you a container to create the perfect oasis and allow you to control every single detail, from air circulation to temperature.
But selecting the right model for your indoor nursery can be challenging. That's why we've taken the guesswork out of the hunt and gathered together the best small grow tents on the market today.
Our top picks
Unfortunately, indoor gardening does require giving up some space, but these small grow tents make it easy to bring the outdoors in without sacrificing too much square footage.
Maximize your growing potential—and take up as little room as humanly possible—with this shrunken shelter from CoolGrows.
View on Amazon
View on Walmart
Product Specs
Dimensions: This tent is 24 inches by 24 inches by 36 inches.
Material Denier: This tent's material is 600D.
Plant Capacity: This tent can hold up to two plants.
Plants take up space; this is a fact. But this beefy little tent from CoolGrows makes it possible to cram your small garden into even the tightest of spaces. This small grow tent can transform closets, corners, and small alcoves into viable growing areas.
The tiny size of the tent is balanced by its impressive construction; the frame is made from metal poles, and the walls are lined with heavy-duty, highly reflective Mylar designed to keep the light in and pests out. It also features an observation window, a removable waterproof floor tray, and five dual-cinching sockets in multiple sizes.
Reviewers have tons of positive things to say about this tent's size (which has been called "tabletop"). And it seems to be great for beginner indoor gardeners as well, with one person saying that the tent "definitely served its purpose well. So well that my plants outgrew it."
Pros
Tabletop size is convenient
Made with durable materials
Multiple sockets and sizes
Cons
Has only one chamber
Zipper is a little flimsy
This see-through tent from KBD will extend your grow season without draining your wallet.
View on Amazon
View on Walmart
Product Specs
Dimensions: This tent is 27 inches by 27 inches by 31 inches.
Material Denier: This tent's denier isn't clear, but it's made out of transparent PVC.
Plant Capacity: This tent can hold up to four or five plants, depending on their size.
This small grow tent from KBD is designed with affordability in mind—but don't let that fool you; this basic tent still packs a punch. The transparent material makes it possible for your plants to soak up all the natural sunlight, while the window-style ventilation system allows for maximum airflow. It's also lined with a protective UV 50+ PVC cover to filter out harmful rays and retain heat.
If you like to rearrange your greenery, you'll love the pop-up design and portability this small grow tent provides. Plus, it's lightweight and easy to install—which is a must for small spaces.
Reviewers are pleased with the quality and affordability of this small grow tent, although one person did note that the "stakes that come with are useless" against any wind. But if you're planning on keeping your small grow tent indoors, this shouldn't be an issue.
Pros
It is affordably priced
Collapsable and pop-up design
Easy to transport and move
Cons
No vents or sockets
Made with lower-quality material
Not as durable or long-lasting
If height is less of an issue than width, this small grow tent from TopoGrow will let you make the most of your vertical space.
View on Amazon
Product Specs
Dimensions: This grow tent is 16 inches by 16 inches by 48 inches.
Material Denier: This tent's material is 600D.
Plant Capacity: This tent can hold three or four baby plants or one full-grown plant.
At a height of 48 inches, this bad boy is almost double the size of most tents. It's also one of the thinnest, taking up just over a foot of horizontal space. So if you're searching for a shelter to fit in an unused hall closet or a small alcove, this is your best bet.
Plus, this dark room comes with all the fixings: a corrosion-resistant metal frame, Mylar material, three 6-inch ducting ports, a removable floor, a mesh vent, and two convenient hanging belts to hold equipment. And we don't have to tell you that the belts and the size make this tent an ideal choice for hydroponic gardeners.
Reviewers agree, with many raving over how the size is "perfect" for small spaces and how well the material holds up over time. One person even claims that they've "been using it for 3 years, and still looks brand new!"
Pros
Unique size fits most closets
Made with durable materials
Comes with multiple ports
Cons
Ports come in one size
No observation window
Put your indoor gardening on autopilot with this kit's smart climate control and light schedule.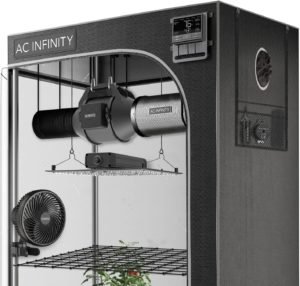 View on Amazon
View on Walmart
Product Specs
Dimensions: This tent is 24 inches by 24 inches by 48 inches.
Material Denier: This tent's material is 2000D.
Plant Capacity: This tent can hold up to two full-grown plants.
Most grow tents are DIY-based and require you to supply other necessary equipment, like tubing, lights, and fans. Some people enjoy this hands-on approach, while others prefer to set it and forget it. If you fall into the latter camp, this kit from AC Infinity is a dream come true.
The most innovative feature by far is its smart climate control system that allows you to customize schedules that automatically adjust fan speed and brightness via Bluetooth app. You can also set climate triggers, monitor your plant's growth cycles through data graphs, and receive notifications to make adjustments on the fly.
In addition to this futuristic system, this tent also comes with a 4-inch inline fan, programmable LEDs, a carbon filter, a trellis net, a rope hanger, plant ties, duct clamps, a fabric pot, and even pruning snips. As one happy customer put it, this kit "has everything you need."
Pros
Comes with complete kit
Automated climate control system
Made with high-quality materials
Cons
Very high price tag
Setup may be difficult
For hardcore gardeners raising a bevy of plant types, this multi-tiered shelter from CastleGreens is a godsend.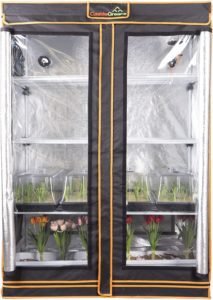 View on Amazon
Product Specs
Dimensions: This tent is 48 inches by 24 inches by 72 inches.
Material Denier: This tent's material is 600D.
Plant Capacity: This tent can hold a large capacity of plants, depending on their size.
When you're growing just two or three plants of the same family, a typical tent is fine. But what if you want to experiment with multiple strains or plant types? That's when this small grow tent shines.
This particular model has four tiers of shelving, giving you more than enough room to spread out. You can use the top layer for starting seedlings, the middle two layers for your small plants, and the bottom level as a harvest zone—or any other variation you can think of. This multi-function tent was designed with flexibility in mind.
Of course, the tent itself is also built to last. The poles are made with strong iron, and the reflective Mylar lining features a full-length, transparent door so you can observe your garden without disturbing it. Customers who "did NOT want a big black box" are all about its quality construction and attractive look.
Pros
Attractive and multi-functional design
Full-length transparent door
Great with multiple plant types
Cons
On the larger side for small tents
More expensive than single-tier models
Our verdict
When you're hurtin' for space, small grow tents are the ultimate solution—especially the CoolGrows Grow Tent and the AC Infinity Advance Grow System. Both offer compact dimensions with superior construction and innovative features, so you can get the most from your garden without taking up a ton of room.
Our recommendations
How we chose the best mini grow tent
The best small grow tents offer more than just their compact size. Assets like superior craftsmanship, innovative features, and great customer service were essential. Plus, indoor gardening can be expensive. You won't find many tents under $50, and most require additional equipment and supplies. So we made sure that every model on our list had evidence of being a long-lasting investment.
All Mylar material had to be at least 600D, and we only chose tents made with durable metal frames—no plastic allowed. We also looked for features that made setup a little easier, like adjustable ports and automated controls.
Who this mini grow tent is for
Small grow tents are designed for people who are either growing a small number of plants or don't have enough space to accommodate larger dark boxes. If you want to sneak your operation into a closet or back corner, these models are made for you.
If you have a large plant capacity, you'll want to consider grow tents that can adequately hold them. Tents in the 4×4 range and higher—like the adjustable roof on the Gorilla grow tents—may be a better fit. Other larger grow tents to consider include the Mars Hydro Grow Tent and Vivosun Grow Tent.
What to know before you buy a mini grow tent
Not everyone has the square footage to turn their spare room into an indoor greenhouse. If you're tight on space, small grow tents are a great alternative—if you know what to look for.
Keep an eye out for models with adjustable vents, strong frames, and reflective interiors. Other features like access points, zipper quality, and light coverage can sway your decision. And because size does matter, measure your space before pressing that purchase button.
Types of micro grow tents
Most small grow tents use the same basic architecture, with a reflective interior and small vents to regulate humidity and temperature. While these mini-shelters tend to look the same, there are two variations you'll find on the marketplace: plastic and metal build. Both offer their own advantages and disadvantages, and understanding the differences between the two can help narrow down your options.
Plastic-infused
Plastic small grow tents tend to be lightweight, cheap, and easy to move around, but they don't provide the same amount of support as metal frames. The water-resistance material isn't prone to rusting or corroding like metal, but if they crack, repairing them is almost impossible.
These types of tents are ideal for beginners, temporary setups, and those operating on the smaller side of small grow operations (think one to two plants).
Metal-infused
Metal small grow tents are more expensive, but they offer a robust frame that can handle heavier loads—like lights, filters, and extra shelves for storage. Although metal is more durable and secure, it's also prone to rust depending on the environment, so routine maintenance is necessary.
If you've got a lot of gardening supplies to store, or plan on expanding your small operations over time, then metal models are the way to go.
Chambers
One of the challenges indoor growers face is how to fit their wide variety of plants—that require varying degrees of light and water—into the same small space. This is where grow tents with multiple chambers come in handy.
Tents are typically designed with two or three separate chambers, so you can create small ecosystems for each type of plant. These multi-chamber models provide the flexibility to experiment and learn which plants do best in your specific grow room. However, the smaller your tent, the less room you have for multiple chambers.
Ventilation
No matter the size, all tents need ventilation as it gives plants access to carbon dioxide and fresh air. The best small grow tents include multiple ports of different sizes that allow you to set up ventilation systems like small fans and filters. Ideally, these ports will be dual-cinching, meaning all light coming through will be blocked, so it doesn't disrupt your plants' photosynthesis.
Mesh vents and windows are also useful for small tents as they provide an influx of fresh air without allowing too much light to escape.
Material
Canvas-like fabrics are the go-to material for small grow tents as they provide a reflective interior and can block out light. Cheaper models usually use polyethylene, while higher-end tents feature Mylar—a thicker material that provides better insulation and reflects more light.
As a general rule of thumb, the thicker the material, the more durable the tent. You can measure that thickness by looking at a tent's thread count. Not all models list them, but if they do, aim for a thread count of at least 210D (denier). The higher, the better.
The advantages of owning a small grow tent
We know that grow tents, in general, provide an ideal environment for plants to thrive. You get to control every aspect of their container, from the lighting to temperature to humidity. This results in vigorous growth, larger yields, and higher-quality plants.
But small grow tents come with their own specific set of advantages, the most glaringly obvious perk being that it takes up less space, making them ideal for small properties and tight rooms. Thanks to their small size, they can fit in almost any area—even small closets—which allows for more discreet placement.
On top of that, small tents are much easier to move around and take down, meaning they're perfect for people who need the ultimate portability. And since small grow tents help retain heat more efficiently and use less energy than larger ones, you'll likely spend a little less on electricity bills. Growing plants and saving cash? We call that a win-win.
They take up less space and can be stored discreetly.
They are easy to transport and take down.
They use less energy than large tents, which will save you money on electricity bills.
Tips for using small grow tents
Whether you're an amateur gardener looking to spruce up your small apartment or a professional grower experimenting with different crops, small grow tents are a great solution. Before you make the plunge, you need to choose the location.
The ideal spot should fit the size of the tent you have in mind and be positioned close enough to an electrical circuit that can adequately handle the power of your equipment. Pick a place that's on top of tile or concrete floor, as water can sometimes accumulate on the ground.
Next, you'll need to plan out your design. What type of lights do you need? How will you ensure adequate airflow? These are all important questions to consider. And after you get your grow tent setup complete, start keeping a garden journal to record growth and monitor other environmental conditions like humidity, temperature, and light. It helps to have a record of all the factors that are influencing your small grow tent so you can adjust things as needed.
Choose a location that's close to an electrical outlet.
Plan out your design and equipment before you start purchasing things.
Keep a garden journal to record metrics and make adjustments.
FAQs
Choosing small grow tents can seem overwhelming, but it doesn't have to be. There are a few key considerations to keep in mind when picking the best small grow tent for you. From understanding the materials to finding the ideal placement, these FAQs will help make things a bit clearer.
Are indoor grow tents worth it?
Yes! Grow tents offer the perfect environment for your indoor plants to thrive and yield larger, healthier crops.

How big of a grow tent do I need for one plant?
It depends on the size of your plant. But generally, a 2′ x 2′ tent will fit up to two plants, while a 2′ x 4′ tent can accommodate up to four.

Do grow tents keep the smell in?
Unfortunately, no. You need to invest in an air filter or a carbon filter to keep the odors from escaping.
Shop our recommendations