Yikes!! Did you over/underwater your (x/y/z..) plant…again?
We've all been there.
Fortunately, soil moisture meters can help you stay on point with your watering routine so you don't have to keep guessing how much moisture is enough for each and every plant you own. Soil moisture meters are versatile modern gardening tools that belong in every citizen scientists' go-to gardening kit.
They're handy for monitoring compost piles and worm bins, and some of them are even outfitted to measure pH levels (cue 'WOW' from crowd).
To be honest, you'll find a ton of plastic garbage when searching for soil moisture meters that can't tell the difference between a sand dune and saturated peat moss. Don't let this frustrate you, though!
In this guide, we've assembled a list of the best soil moisture meters for gardeners of all kinds, with a focus on meters handiest for house plants, indoor gardens, and greenhouse grows.
Here's the low-down on our favorite soil moisture meters:
The best soil moisture options for indoor plants
The best soil moisture meter is one that you will use. If you're a proud plant parent, then one that provides convenience and peace of mind is a good fit. If you're growing cannabis, this you'll want something a little more precise.
Key specs: capacitive sensor | moisture content measured as a percentage | 70 seconds to take a reading
View on Amazon
Accurately test soil moisture with this digital soil moisture sensor meter from Ecowitt with an easy-to-read display. When paired via WiFi with the digital display, the sensor measures your soil's moisture levels with a thick, spaded, two-pronged probe at regular, 70 second intervals.
The best part of this system? It can be calibrated to a moisture level range of your choosing (for example, you can set the 100% reading to soil moisture directly after watering) for improved accuracy.
One AA battery is required for each component of the system, and should last about a year. The only possible downside to this digital setup is that the sensor blade is both quite thick and relatively shallow at 8 cm, making it best for small to medium sized potted plants.
Pros
Can be left in a single location or used to measure several soil locations quickly and easily
The sensor itself is fully waterproof
Can be calibrated to a range of your choosing to increase its sensitivity to changes in soil moisture depending on the plant you're working with
Visual digital display featuring a cute flower pot infographic can be set in any home space to remind you to water your plants
Sensor pairs via WiFi with a digital LCD display with 300 ft transmission range, allowing you to check moisture readings for plants from almost anywhere in your home
Cons
The instructions are confusing, so you'll need to browse through Amazon comments to figure this thing out!
The probe is quite wide and can damage roots if you're not careful
Key specs: voltage detector | moisture content measured on color coded scale of 1-10 | instant results
View on Amazon
Measuring soil moisture levels doesn't have to cost you a fortune! For the majority of your houseplants, this simple, easy-to-read voltage detecting meter will do just fine. It costs about its weight in good compost and lasts a lifetime without any additional batteries or calibration; simply insert into your plant's root zone and read the analog display.
The sensor measures your soil's electrical conductivity as a proxy for moisture content and returns readings on a color-coded scale of 1-10. 1-3 is 'DRY', 4-7 is 'MOIST' and 8-10 is 'WET'.
The downside to this bargain meter is that it's not incredibly accurate and can be thrown off by soils with high clay content and salt levels. Its limited reading range isn't well suited for plants that prefer dry conditions like succulents or those that love moisture, like ferns and snake plants. But hey – it's a great deal!
Pros
No batteries needed!
Instant readings make this meter easy to use on all of your houseplants
Simple, easily-readable display delivers clear results, either in the range of DRY (1-3), MOIST (4-7), or WET (8-10)
Single-pronged 8-inch probe reduces root damage and is long enough to reach the root zone of the majority of your indoor potted plants
Cons
Cannot be left in soil for more than 1 hour
Readings cannot be calibrated for different soil types and aren't sensitive enough plants with very low or very high moisture needs
PRO TIP: These make great gifts for plant lovers 😉
Key specs: tensiometer | measurements delivered in mBar | delivers readings in 45 minutes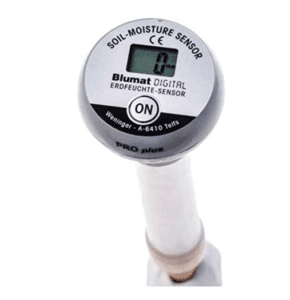 View on Amazon
Care for that special plant in your life with this luxe, leave-in-soil moisture meter. Whether you have a rare plant with ultra specific moisture needs, a beloved bonsai that easily drops leaves when dehydrated, or a large plant living in a community space (aka one that gets sporadic waterings), this moisture meter probe from Blumat is the ideal pick for your favorite indoor plant.
As a tensiometer, it measures the amount of force that plant roots need to exert to uptake water and delivers highly accurate moisture readings in millibar (mBar) for all types of soils.
Unlike most of the other soil meters in this guide, this meter is designed to be left in soil for an extended period of time. You just need to fill the plastic tube with water before soil testing and protect the sensor head or remove it between uses, since it's not waterproof. It requires some prep and takes about 45 minutes to deliver a reading, but you can be sure the reading will be accurate.
Pros
Most accurate soil moisture meter for all types of soil and soil media
Constructed of durable, quality materials including high density plastic barrel and ceramic tip
Good for using on both indoor and outdoor plants
Set up once and then leave it in the soil to provide accurate readings for the whole growing season
Warranty-protected
Cons
Takes 45 minutes to deliver a reading
While the tube is fully waterproof, the sensor head itself is not; use with caution
Key specs: voltage detector | moisture readings on a scale of 0-50% | samples instantly

View on Amazon
View on Walmart
Going pro? If you're in the market for a professional soil moisture meter to deliver consistent, highly accurate measurements, this probe from General Tools is one of the best moisture meters out there for the purpose.
It meets professional products standards for use in agricultural and commercial settings (CE and RoHS approved) and contains the same type of microchip technology used in computers and cell phones (LSI microprocessor circuit) to deliver readings with an accuracy of ±5% 🤓
Featuring a super heavy duty probe with dual electrodes and ABS plastic casing, this device is designed to last a lifetime. The digital display and circuitry is powered by 4 AAA batteries and it can record minimum and maximum values for establishing the ideal moisture range for your moisture-sensitive plants!
Pros
Get precise measurements with an accuracy of ±5%/0.1%
Self-calibrating for various soil compositions and saturation potentials (i.e. effective for clay-based and sandy soil)
Clear, simple digital display returns highly accurate readings as a percentage of total soil moisture content
Comes with a 1 year manufacturer's warranty
Cons
For most, the downside is price – but if you're serious about measuring soil moisture, think of it as a long term investment
Key specs: voltage detector | single dial display with two settings: moisture and pH | delivers readings in about 10 minutes
View on Amazon
View on Walmart
Get an overview of your soil's vitals 💓 and overall plant health with this 2-in-1 soil pH meter and moisture meter. The soil pH meter detects the hydrogen ion activity in soil (the more hydrogen ions in the soil, the lower its pH), while the moisture meter tracks the electrical properties of the soil. Sounds complicated but it's quite easy to read these results!
The analog display returns pH readings on a scale of 3 to 8 and moisture readings on a scale of 1 to 8. This tool will give you a good overview of your soil's general health, but don't expect highly accurate readings. It's handy for quick use.
Pros
No batteries required
Single dial display features simplified scales for moisture (1-8) and pH (3-8) – alternate between settings with the push of a button
Heavy-duty 12 inch probe won't break at the drop of a leaf like competing meters
Solid 2-in-1 soil tester with the right balance of accuracy and affordability
Cons
This soil pH meter isn't as accurate as pH home testing strips and comes with a higher price tag
Low sensitivity
Key specs: voltage detector | moisture content measured on color coded scale of 1-10 | reads instantly
View on Amazon
View on Walmart
You know what they say about plants with deep roots, 👀 right? (gasp, what?!) They need an extra long (XL) moisture meter, of course! 😂 At 15 inches long, this analog meter is an excellent companion for your heirloom ficus lyrata and indoor trees.
It's also great for testing garden and compost moisture, but do take care when using it in hard soil: The probe is delicate and might snap when in contact with hard surfaces. You don't need to convert or interpret scientific units to use this soil meter; it delivers legible readings on a simple scale of 'DRY' to 'WET'. It's that easy.
Pros
Suitable for use both indoors and outdoor and makes an excellent compost moisture meter
Good basic tool! Simplified, easy-to-read display
15 inch probe allows you to measure moisture at the root zone of even your most deeply-grounded plants
Cons
Slightly fragile! Always clean between uses and take care when using around rocks and hard surfaces
Not incredibly accurate
Key specs: AWC aquameter | color change window indicates either plant needs water, or plant is watered | readings in 5-25 minutes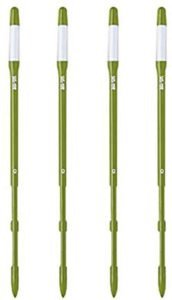 View on Amazon
View on Amazon
Whether you're a semi-pro indoor gardener or can't tell the difference between pH values and Yelp ratings (no, closer to 10 isn't a good thing for plants!! 💀), these handy soil testers from Sustee will delight your inner minimalist.
This innovative, Japanese-patented design was developed with students at the Tokyo University of Agriculture and farmers specifically for indoor home gardeners using technology that measures the available water capacity (AWC) of soils.
The testing probes come in three sizes for different size pots and are designed to be left in pots continuously for ongoing monitoring. Simply water when the reading window turns white! You need to change out the core every 6-9 months and periodically clear the tip of the probe to get accurate measurements, but otherwise this is the easiest option for monitoring soil moisture out there. Beginner-, kid-, and minimalist-friendly!
Pros
Simple display indicates moisture levels with either a blue or white reading; blue = fully watered and white = needs watering
Leave-in, battery-free design allows you to continuously monitor specific plants for moisture needs
Features an innovative scientific method for measuring a soil's available water capacity (AWC) designed specifically for indoor, home use and all soil and plant types
Three sizes available (S, M, L) for various sized pots
Cons
Probes are semi-disposable and become less effective over time; you need to replace the core after 6-9 months
Key specs: capacitive sensor | moisture sensor communicates with a faucet-mounted timer | instant, continuous readings
View on Amazon
View on Walmart
What's the point of fussing over the exact moisture level of your soil if you're watering by hand? If you have an indoor greenhouse or a grow tent, even a professional-grade voltage detector won't water your plants for you.
You need an automated watering system 👈 This kit from Melnor comes with a sensor equipped with five moisture settings (represented on a dial from one droplet to five droplets) that connects to a faucet-mounted timer that monitors and regulates soil moisture levels.
You'll need to supply the drip-irrigation system (we recommend this affordable soaker hose, also from Melnor) to connect to the timer and moisture sensor. Once you do, you won't have to fuss over soil moisture; just set the timer and watch your greenhouse plants thrive.
Pros
Soil moisture reader is designed for use with timer-controlled drip-irrigation systems and will prevent the system from watering if soil moisture level is adequate
Fully automated and programmable for a get-it and forget-it greenhouse watering solution
Moisture sensor can be pre-set to five ideal moisture levels depending on the hydration needs of your plants
Cons
You are limited to programming 4 watering times every day
Initially a bit tricky to program
Our recommendations
Conclusion
Are you ready to transform your living room into a jungle now? Hopefully, this post has given you all the OK, plant-loving, internet-shopping warriors! We hope this round up of the top moisture meters has opened your mind to the advantages of using a moisture meter in your plant care routine.
We of course recommend that you always use readings from moisture meters in combination with (not as a replacement for) your five senses when deciding whether or not it's time to water your plants 🌱 Many people find the right soil moisture meter to be an excellent aid in monitoring humidity with a hygrometer and maintaining the best growing conditions for their plants. Enjoy browsing for this latest addition to your quiver of gardening tools 🏹
Shop our recommendations