🧪 Our review process
Our testing team independently researches, tests, and recommends the best products to help keep your houseplants absolutely thriving. Learn more about our testing and review process here.
Do you smell that? It's garlic! It's eggs! No—it's neem oil! This oil isn't known for its flowery smell, but it is an extremely effective, all-natural pesticide and medicinal plant oil.
In fact, it's often found in the secret stash of most gardeners worth their salt in caring for plants.
This pungent, thick oil made from the seed of the neem tree has been used for thousands of years in homeopathic medicine, but Westerners mostly know neem as an amazing pest-repellent (when used properly).
When looking for the best neem oil for plants, it's important to consider how much you'll need and what the dosing instructions are since neem oil does expire (see our FAQs for details).
In this guide, we've reviewed the best neem oils for a wide variety of gardening needs, plus one for use in your skincare routine 😌
The best neem oil for plants
Key specs: available in 8 oz, 16 oz and 32 oz | USDA Organic, cold-pressed, un-refined, filtered neem oil | mix with water and mild soap before use
View on Amazon
View on Walmart
This cold-pressed, pure neem oil from Verdana is our top pick for versatile pest treatment. It comes in four convenient sizes to suit everyone from the apartment houseplant fanatics to the greenhouse gardener looking for an effective, all-nature insecticide.
With nothing added and nothing removed, expect a richly-scented dark brown liquid that looks like toasted sesame oil and smells like garlic.
It's earned Amazon's Climate Friendly Pledge recognition for its USDA Organic certification. Note that this producer is currently listed in the USDA Organic Integrity Database after updating its practices and certifications.
Shake it well before mixing with a mild soap (we recommend castile soap) and water!
Pros
Has earned Amazon's Climate Pledge Friendly
USDA Organic certification
Safe for pets and people
Quality sealed—no mess in shipping like other neem oil brands
Non-GMO Project certified
Cons
You need to mix this neem oil with water and soap before applying to your plants—but it's totally worth the extra effort!
Key specs: available in 8 oz or 32 ox | cold-pressed and OMRI Listed for Organic Use | mix 2 Tbsp neem oil with 2 Tsp mild soap per 1 gallon of warm water
View on Amazon
Looking for a budget-friendly solution to pest control? You'll love this cold-pressed, 100% pure neem oil from the Neem Company. The instructions for use are clearly illustrated and written on the bottle (as with most neem products in this guide, you MUST mix this with water and mild soap before use), and the packaging is cute!
Please note that there is conflicting research about the safety of 100% neem oil for pollinators (see the bottom of this guide for more details), and this product's claim that it is "safe for pollinators and beneficial insects" isn't the whole story.
Due to its slightly thinner consistency than most neem oil products and nutty smell (more like peanuts than garlic), we suspect this neem oil has been refined but can't find additional information about its processing.
Buy 8 ounces if you only have a few houseplants, or 32 ounces for larger indoor and outdoor gardens. It works well as a leaf shine for monstera, pothos and other broad-leaved indoor plants.
Pros
Thorough instructions for blending neem oil, water and soap in the correct ratios are right on the bottle
Affordable and easy to use
OMRI listed for organic use
Sourced from small farms
Cons
You'll need to buy mild soap and a spray bottle separately
Origin is unlisted and we suspect it's refined, but no information is available on the processing
Key specs: 16 oz bottle | 70% neem oil extract and 30% stabilizers | mix 2-4 Tablespoons per gallon of water
View on Amazon
View on Walmart
If you're looking for the all-around best organic fertilizer for your indoor garden, this pick from This highly concentrated neem oil extract from Bonide is an efficient, easy-to-store solution to your pesky pest problems. It contains 70% clarified hydrophobic neem oil, the active pest-control ingredient, which requires stabilizers to make an effective pesticide.
That's what you'll find in the other 30% of this product. Produced by the US-based, family-started business Bonide, this company has nearly 100 years of experience making pesticides and insecticides for home gardeners.
The big downside to this neem oil product is that it's toxic to bees, so don't use it when pollinators are out and about in your garden!
It can also irritate the skin and eyes in concentrated form, so it's probably best for gardeners without pets or kids. Take the advisory "for organic gardening" with a grain of salt; this product isn't OMRI approved.
Pros
3 uses in 1 product; insecticide, miticide, and fungicide
Stops powdery mildew in 24 hours, controls blackspot, rust, spider mites, and other common household pests
Concentrated 70% neem solution is easy to store and lasts longer than 100% neem oil products
Safe for use up to the day of harvest for vegetables and herbs
Cons
Toxic to bees exposed to direct treatment
Causes eye and skin irritation on contact in concentrated form
Not really sure what's in the 30% of this product that's not neem extract!
Key specs: 2 pack of 32 oz bottles | 1% clarified neem extract and 99% other ingredients | spray directly onto plants
View on Amazon
View on Walmart
Not all neem oil treatments require mixing and dilution. This RTU (ready to use) neem oil spray from Bonide is our recommended conventional alternative to pure neem oil or neem oil concentrate, but purists should note: It's less than 1% neem oil extract!
Although it advertises protection against fungus, mites, and insects at all life stages, this product is most effective against mature fungus gnats and aphids.
It's not the best neem oil product for killing larvae and is toxic to pollinators directly after application, so use with limited expectations. It's handy in a pinch, but we think you (and your plants!) will be happier with the results if you take time to mix your own solution.
Pros
Highly effective against fungus gnats and aphids
Longer shelf life than pure neem oil products
Spray directly onto plants, including roses, flowers, ornamental plants, veggies, herbs, fruit trees, and houseplants for a quick and easy pest treatment
Can be used up to the day of harvesting herbs, fruits and veggies
Cons
Not certified for organic gardening
Toxic to pollinators directly after application
Key specs: 64 oz bottle | 100 % pure organic neem oil | mix with water and mild soap before use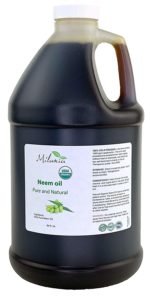 View on Amazon
View on Walmart
This organic neem seed oil from Milania might be purest neem oil you can find. Made from neem seed harvested in India, this product has been cold pressed to retain trace minerals and vitamins that improve soil quality while keeping pests away.
You'll get 64 oz of neem oil when you buy this product, so just have a plan for using it before it expires!
Produced without animal testing and recognized by Amazon's Climate Pledge Friendly approval for its USDA Organic certification, you can be sure that when you buy this cold pressed neem seed oil, you'll be getting exactly that.
If you're not satisfied with what you get? Milania is so confident you'll love this product that they offer a 100% money-back guarantee within 30 days of purchase.
Pros
In addition to earning Amazon's Climate Pledge Friendly stamp for its USDA Organic certification, this neem oil is GMO-free, vegan and produced without animal testing
100% pure, un-refined, cold pressed neem oil from India with a high azadirachtin content
Effective against fungal diseases, powdery mildew, aphids, gnats, spider mites, and other annoying plant problems
100% 30 day money back satisfaction guarantee
Cons
The only downside to this organic pesticide is the huge quantity; it will be difficult for most houseplant parents to use all of it before it expires!
Key specs: 1 gallon container | USDA Organic unrefined, filtered neem oil | mix 1 1/2 Tsp neem oil plus 1/2 Tsp soap with 1 quart water to use
View on Amazon
View on Walmart
If you want to stay away from concentrated neem products but need a LOT of this natural insecticide for your plants, this pure, premium neem oil from Neem Bliss is your go-to.
When mixed into an insecticidal soap, it's just as effective at combating spider mites, mealy bugs, aphids, fungus, and gnats as any neem oil in this guide. It comes in a range of quantities all the way up to a full gallon that should suit most bulk buyers.
Note that due to the high fatty-acid content of this neem oil, it solidifies at temperatures below 60°F or so. This feature may complicate storage if you're planning to pop this in the fridge to extend its shelf-life, so it's best for gardeners who will use it within 6 months.
Pros
OMRI Certified for organic growing
Quality sealed for no-worries shipping
This is a LOT of neem oil! Enough to treat all of your indoor plants, your greenhouse, and lawn—with leftovers to share with neighbors
Cons
This product is stronger-smelling and a bit thicker than other neem oils due to its processing; expect a coconut-oil type consistency that definitely doesn't smell like roses 😉
Storage may be tricky due to its consistency and expiration
Key specs: .34 Fl Oz | blend of 7 nutrient-rich oils | add 3-5 drops to your face moisturizer morning and night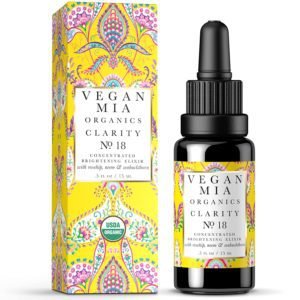 View on Amazon
Neem oil has been used for thousands of years in Ayurvedic medicine, the ancient Indian healthcare practice, to treat skin and hair conditions and make skin glow all over.
If you're not wild about the idea of using a strongly garlic-scented oil on your face, though, this Balancing Elixir from Vegan Mia is a good solution.
It's a blend of sunflower seed oil infused with neem leaf extract, amongst other medicinal plants and herbs, jojoba, rosehip seed, passionfruit seed, black cumin seed, along with bergamot, cypress, vetiver, ylang ylang, coconut and vanilla for a heavenly, herbal scent.
Mix it right into your favorite daily moisturizers to balance your skin (it's ideal for acne-prone and sensitive skin types). For spa day, try Vegan Mia's Turmeric and Neem Luminosity Mask with neem powder for medicinal turmeric for a luxe, organic facial treatment.
Pros
USDA Organic, PETA certified cruelty free and vegan, member of the Female Founder Collective and 1% for the Planet
100-day money back guarantee, no questions asked
Clinically proven to reduce inflammation and blemishes, fade dark spots and rejuvenate complexion
Scent is earthy, herbal and rich
Cons
It's a tiny little bottle, so use this luxe oil sparingly! If you're looking for a hair treatment or full-body oil, I recommend using the organic neem oil from Milania
How To Use Neem Oil On Houseplants
When used effectively, neem oil repels common houseplant pests like aphids, mealy bugs, fungus gnats, and spider mites kill larvae in the soil, and can be used to make your plant's leaves shine like spring just arrived—every day of the week.
The thing is, indoor gardeners are commonly frustrated by this alternative to chemical pesticides: Even if you're not buying neem oil concentrate, you almost always need to mix neem oil with water and mild soap before applying it to your plants. This will emulsify the fatty acids and prevent leaf burn.
Yes, you can burn your plants by using neem oil for plants incorrectly, so be sure to read up before applying a soil drench or dousing young foliage in this pesticide.
Read my full guide on how to do that here:
Our recommendations
Conclusion
Ready to hop on the neem oil train? With the right tools, some patience, and a close eye on your plants, this nature-derived insecticide will work wonders on your houseplants (and maybe your face too 😚 let us know how that goes).
We hope this guide has helped you navigate the endless choices of neem oil out there! All that's left to do is breathe in….and smell the roses 🌹
FAQ About Using Neem Oil for Plants
Q. Is neem oil safe for bees?
The best answer to this question is, no neem oil is not bee-friendly. Scientific research by the University of California has shown that when used outdoors, neem oil is moderately toxic to bees for the same reason it keeps other pests away: It disrupts their reproductive cycle. Using neem oil indoors generally presents low risk to pollinators (unless you're beekeeping 🐝  in your living room!!), which makes it suitable for houseplants. UC recommends application only during late evening, night, or early morning and when plants are not blooming, i.e., when bees are not typically out foraging. Bee Culture magazine has great recommendations for pollinator-friendly pest control if you're keen on non-toxic alternatives for outdoor use. Although neem oil is considered non-toxic to people and other mammals, do take precautions with this potent product if you have sensitive skin. You can read more about common reactions and precautions in the National Pesticide Information Center.

Q. Does neem oil expire?
Yes! Every neem product should come with an expiration date on the bottle—usually neem oil expires about 12-18 months after the date of purchase. Cold-pressed oils last longer and retain their potency longer than hot-pressed oils, so choose these whenever possible. To increase the shelf-life of your neem oil, store it in a cool, dark place. The fridge is a good option if you don't mind warming up the neem oil in a water bath before use, because it will solidify at temperatures below 60° F or so.
Shop our recommendations