🧪 Our review process
Our testing team independently researches, tests, and recommends the best products to help keep your houseplants absolutely thriving. Learn more about our testing and review process here.
Inline fans for grow tents are a must for even the smallest cannabis operation. Maintaining the right levels of humidity and temperature is a delicate balance. Miss that balance by a degree or two, and you put your entire crop at risk. That's why an inline fan is essential. By pulling hot, humid air out and bringing a fresh breeze in, these devices regulate your tent's temperature and keep your plants healthy.
But not all inline fans are created equal. To help you choose the best inline fan for your grow tent setup, we've put together a list of our favorites.
Our top picks
Controlling the environment inside your grow tent is key to a successful cannabis operation. The right inline fan can make all the difference—and we've got a few favorites.
Described as "brilliantly quiet" by reviewers, this 4-inch unit uses a powerful 205 CFM and smart technology to create the perfect environment for your grow tent.
View on Amazon
View on Walmart
Product Specs
Size: This 4-inch fan is ideal for a 2×4 grow tent.
CFM: Its 205 CFM will quickly and efficiently ventilate your tent.
Noise level: At just 28 decibels, this is one of the quietest inline fans on the market.
Most inline fans are pretty basic, but the AC Infinity Cloudline T4 is anything but. This unit uses advanced technology that allows you to set "triggers" for temperature, humidity, and fan speed. That way, you can set it and forget it, knowing that your tent environment is being regulated automatically.
But as all good indoor gardeners know, being a plant parent is a full-time job. The T4's AC Infinity App also lets you keep an eye on things even when you're not in the grow room. You can adjust your setting, analyze climate charts, and even set notifications to alert you if something isn't right.
Pair this fan's smart technology with its powerful yet barely audible motor, and you've got a real winner.
Pros
Advanced technology for easy regulation
Can be controlled remotely
Quiet and energy-efficient operation
Cons
More expensive than other models
No carbon filter included
Not ideal for larger tents
Pair with: AC Infinity Grow Tent Review
No-fuss install and a powerful airflow make this inline fan a great choice for the budget-conscious cannabis grower.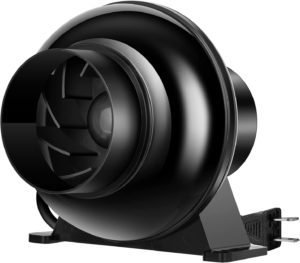 View on Amazon
View on Walmart
Product Specs
Size: This 4-inch fan is ideal for a 2×4 grow tent.
CFM: It creates an airflow of 195 CFM
Noise Level: At 30 decibels it's louder than some models, but still pretty quiet.
High-quality grow tents can put a serious dent in your wallet—but your inline fan doesn't have to. The VIVOSUN 4 Inch 195 CFM Inline Duct Ventilation Fan is a high-quality fan that won't break the bank.
This fan moves a lot of air (195 CFM to be exact) and is pretty quiet for its size and power (just 30 decibels). Installation is a breeze, and it even has an auto-reset function to protect against overheating.
While this fan doesn't have all the bells and whistles of some of the more expensive models, users love its durability and barely-there noise level. One person even stated that it was "probably the quietest almost constantly running piece of machinery" they own.
Pros
Affordable cost for good quality
Simple and easy installation
Decent power and CFM
Cons
Not the quietest model
No carbon filter
Not the best for longevity
Pair with: Vivosun Grow Tent Review
Prevent pesky odors from seeping out of your grow tent with this inline fan's 6-inch carbon filter.
View on Amazon
View on Walmart
Product Specs
Size: This 6-inch fan is ideal for a 4×4 and even 4×8 grow tent.
CFM: Its 390 CFM will powerfully circulate and purify the air in your tent.
Noise level: At 37 decibels, it is one of the louder models on this list.
Cannabis can get a little, well, smelly. If you don't want your new grow tent's pungent aromas to take over the rest of your home, you need a carbon filter. Now you can attach a separate filter to most inline fans, but some models—like the VIVOSUN 6 Inch 390 CFM Inline Duct Fan—come with one built-in.
This all-in-one-combo comes with a 6-inch fan and a premium filter made out of Virgin Australian activated charcoal. Together, they create an airflow of 390 CFM while trapping odor-causing particles and other impurities. It also comes in three different sizes (4-inch, 6-inch, and 8-inch) to accommodate a variety of grow tents.
Pros
The built-in carbon filter eliminates odor
Comes in different sizes
Powerful CFM to circulate air
Cons
It's pretty loud when operating
It's on the expensive side
If you're looking for a powerful inline fan that won't keep you up at night, this fan is it.
View on Amazon
View on Walmart
Product Specs
Size: This 4-inch fan is best for tents that are 2×2.
CFM: Its max airflow is 205 CFM.
Noise level: It has a low noise level of just 28 decibels.
Just because you've brought your plant babies inside doesn't mean you have to subject yourself to the sound of a roaring fan 24/7. The Spider Farmer 4 Inch Inline Duct Fan is one of the quietest inline fans on the market, clocking in at just 28 decibels.
And this fan is no slouch when it comes to power—it has a max airflow of 205 CFM. That means it can easily circulate the air in a small to medium grow tent. So while you're snoozing soundly, your plants will be getting the aeration they need to thrive.
This fan also comes with adjustable speed options and an energy-efficient design that uses 30% less power than other AC motor fans.
Pros
Super quiet noise level
Has adjustable speed settings
Comes with an energy-efficient AC motor
Cons
No carbon filter included
Not affordable for all budgets
This tiny and silent fan makes a big impact—both on your grow tent and the environment.
View on Amazon
View on Walmart
Product Specs
Size: This 4-inch fan is best for small grow tents that are 2×2.
CFM: Its max airflow is 141 CFM.
Noise level: It has a low noise level of just 18 decibels.
Grow rooms require a fair amount of energy to stay up and running. And if you're trying to be eco-conscious, that's not ideal. But the TerraBloom ECMF-100, Quiet 4 Inch Inline Duct Fan is a great way to offset your grow room's carbon footprint.
This tiny but mighty fan is powered by a brushless EC Motor that circulates 141 CFM of air. And it does all of this while using up to 70% less power than other AC inline fans.
Its low CFM also translates into one of the quietest fans on the market. At just 18 decibels, you'll barely notice it's there.
Pros
Energy-efficient design and motor
Variable speed control
Super-low noise level
Cons
Doesn't come with carbon filter
Not as powerful as others
Pair with: Gorilla Grow Tent Review
Our verdict
After careful consideration, our top picks for the best inline fans for grow tents are the AC Infinity CLOUDLINE T4 and the Spider Farmer 4 Inch Inline Duct Fan. Both are powerful and efficient, with low noise levels that won't disturb you (or your plants).
Our recommendations
How we chose the best inline fans for grow tents
We reviewed dozens of inline fans to find the best, based on factors like price, CFM output, durability, eco-friendliness, and noise level.
Inline fans don't have to be fancy to earn the support of growers. They just need to do their jobs and not cost a small fortune. However, the models that received the most love were under 30 decibels, which according to the American Academy of Audiology, falls somewhere between a whisper and rustling leaves.
Additionally, eco-friendly models were popular picks. So we also prioritized fans that maintained a powerful enough CFM while still being energy-efficient.
Who this grow tent fan is for
While anyone can learn how to grow cannabis indoors, some circumstances will make the process more difficult. People with limited space, for example, might have a hard time finding the right spot to set up their grow tent.
It's also not an ideal hobby for those who have limited time. Cannabis plants need a lot of attention, especially during the flowering stage, when they need to be watered and fed more frequently. If you're not able to commit to spending time every day on your plants, it's probably not worth your while to set up a grow tent.
What to know before you buy an inline fan
Choosing the right inline fan is a matter of understanding the specs and finding the right balance of power and price. By knowing what to look for, you can find a model that will make regulating your grow tent's temperature a total breeze.
Cubic feet per minute
The power of inline fans is measured by cubic feet per minute or CFM output. The smaller your tent, the less CFM output you'll need.
To calculate the right CFM for your space, you'll need to know the dimensions of your grow tent in cubic feet (which is as simple as multiplying length by width by height). Once you have that number, divide it by three—the amount of time it typically takes a fan to circulate the air—to find the minimum CFM output you need.
Carbon filters
Another factor that will make it easier for your indoor garden to breathe is the fan's filter. Having a carbon filter will help to improve the air quality and remove any smells. While you can always purchase a separate filter and attach it to your fan, some models come with filters included.
If you're planning on using a carbon filter with your inline fan, be sure to factor that into the total CFM output. The general rule of thumb is to add 20% to the total CFM output to account for the resistance created by the filter.
Your grow lights
Plants need good lighting to thrive—but your grow lights will also add heat to the equation. If you have a lot of lights, you might need a more powerful fan to make up for the extra heat. On the other hand, if you're only using a few low-wattage lights, you might be able to get away with a less powerful model.
To figure out how much heat your grow lights are emitting, add 10% of your CFM to the total equation for every air-cooled light and 20% for every non-air-cooled light. This is why we recommend LED grow lights because they remain relatively cool while running.
Learn more: How to set up grow tent lighting
Length and diameter of duct
Of course, your inline fan doesn't just need to be powerful. It also needs to be able to fit in your grow tent. That's why you'll need to take the ducting size into account when you're selecting a model.
The length and diameter of the duct will determine its airflow resistance. The further the air has to travel—and the more bends and turns it has to make—the more resistance it will face. So try to choose a model with a shorter duct if possible.
Surrounding climate
You may be growing your plants indoors, but the climate outdoors will affect how much heat your tent retains.
If you live in an area known for sweltering temperatures (like Arizona or South Carolina), add 25% to the total CFM output.
If you live in a place that is both hot and humid (we're looking at you, Florida), be extra safe and add 40%.
Tips for using an inline fan with your grow tent
Mastering gardening inside a grow tent means playing around with a few variables—and your inline fan is one of them. Success depends on you having total control over your plant's environment, which means knowing how to use your fan to regulate both the temperature and the humidity.
Some growers prefer to take a more passive approach to airflow. And while you can totally get away with a little automatic ventilation, you'll get better results if you're more intentional about it by following a specific fanning pattern. We've listed a general schedule that will work for most cannabis plants but be sure to factor in your personal climate conditions as well. Here are a few tips to get you started:
Position a spinning fan near your air intake and face it towards your plants to make sure the fresh air doesn't stagnate.
Set it on a timer to be on for 15 minutes and off for 45 minutes every hour.
Attach an anti-pollen filter to keep out any additional bugs.
Common questions
Inline fans are a great way to improve the airflow in your grow tent and keep your plants healthy. But with so many different models on the market, it can be tough to decide which device will be the best at keeping your crops nice and cool. Here are a few of the most common questions growers have about inline fans:
Do I need an inline fan in my grow tent?
Yes. Your plants need a constant influx of CO2 to grow—and that means you need good ventilation. An inline fan provides that.

Where do you put the inline fan in a grow tent?
The ideal location for an inline fan is hung on the ceiling in the center of your tent, aimed down at the floor.

Do you leave inline fan on for grow tent?
Yes. You'll want to leave your inline fan on and running during the day and turn it off at night.
---
Shop our recommendations