If you're like us at the Indoor Nursery, you want to give your plants the best of the best, all year round. Did you know you can do this while reducing your food waste?
Yep, today we're talking compost – worm compost, that is.
We've rounded up some of the best worm composters available and compared them side by side in this comprehensive guide. Worm castings, the rich organic matter worms produce after eating food scraps (and more!), is one of the most nutrient-dense, slow-releasing organic fertilizers available.
And like most things good? It's best if you make it yourself. Whether you live in an apartment with less than zero garden space or have a whole backyard, we've found the perfect worm composter for you.
The best worm composter
Key specs: 2-bucket worm composting system | 2.5 gallon capacity | can fit under the kitchen sink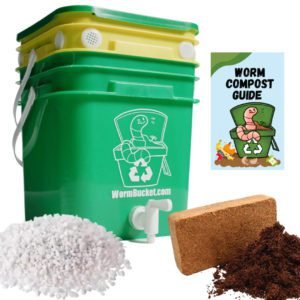 View in Shop
View in Walmart
What I love about this worm compost bin is that it is the perfect indoor kit for those who don't have space for a 30+ gallon vermicomposting system. This Worm Bucket™ kit makes it easy to turn food scrap into finished compost right under your kitchen sink.
The design makes it easy to dump organic material (aka kitchen waste) right into the top of the bucket. The top bucket, with a mesh design on the bottom, sits inside a second bucket so that the compost tea (worm juice) is filtered to the bottom. The spigot at the bottom of the outer bucket allows you to easily drain your compost tea as needed.
Besides the simple design that solves my own indoor composting needs, I also really appreciate the eco-friendly packaging and design. The Worm Bucket comes in 100% compostable packaging that can be used as fresh bedding material for the worms. If you're looking for a discreet indoor worm composting bin for your kitchen waste, then this is it.
Pros
compact and easy to store in small spaces
easy top-loading design
deep enough to hold 2 gallons of organic waste
easy to clean
Cons
this may be too small for families or couples who eat a lot
Key specs: 3-tray stackable system | 20 gallon capacity | 20 x 15.3 x 29.5 inches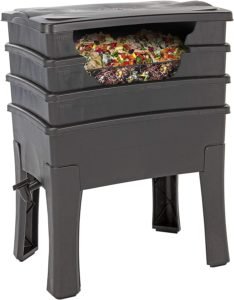 View on Amazon
Whether you're an experienced worm composter or are (nervously) welcoming the wiggly things into your home for the first time, this worm composting bin from Tumbleweed will earn our pick for the best worm bin for its simplicity, ease of use, and quality.
The sturdy, stackable design made of lightweight plastic comes with a lid, three working trays, one collector tray, one tap and nut set for your compost tea spigot, four plastic legs, and a block of worm bedding material; assembly is a quick and easy process. This worm compost bin can handle up to 12 lbs of food waste per week and is suited to both outdoor and indoor use. Just add worms!
Pros
Stable, stackable design made from 100% recycled plastic can be expanded with additional working trays (comes with three working trays and one collector tray)
Hinged, fly-proof lid and stylized, ant-proof legs keeps critters out and odors in
Harvest liquid fertilizer with the drip-free tap
Stack up to eight trays to grow your worm farm (additional trays sold separately)
Cons
Does not include cover insulation (the worm blanket); use a few sheets of newspaper moistened with water to keep out light and maintain moisture
Key specs: 2-tray stackable system | 6 gallon capacity | 15 x 15 x 22 inches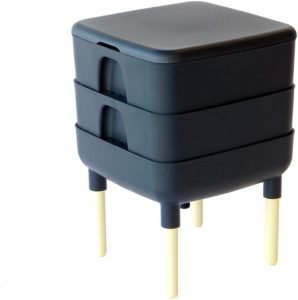 View on Amazon
View on Walmart
The Essential Living Worm Composter is a neat little cube packed with everything you need to start a thriving worm colony indoors. With specific features to provide the best aeration and moisture control possible for a healthy worm farm (including aeration support points), this worm farm makes worm composting indoors a cinch.
The design keeps trays lifted above your compost to prevent compaction and includes water retention channels molded into the perimeter of trays to keep worm bedding hydrated. The well-designed aeration features in this model keep fruit flies away by giving worms the best conditions to quickly digest fresh food scraps before they start to smell.
Pros
Funky, modern little bin made out of BPA free, UV-inhibited recycled plastic comes in four colors to compliment your home; black, gray, green, and plum
Thoughtful features like a notched tray design and angled worm migration tunnels (holes between the trays) provide superior airflow not only between the trays, but around them as well
Simple twist-spigot allows for draining leachate quickly and easily from the bottom of your composter
Cons
Beginners should be advised that you cannot collect worm tea from the spigot, as the advertising suggests. The liquid that collects at the bottom of this composter (as with all worm composters!) is leachate, and should be thrown out weekly, not used as liquid fertilizer
4. Best stackable worm composter: Worm Factory 360
Key specs: 4-tray stackable system | 24 gallon capacity | 17.95 x 17.95 x 14.95 inches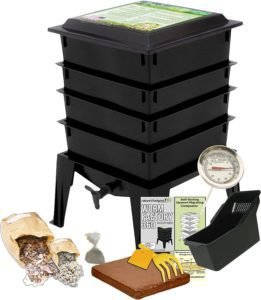 View on Amazon
View on Walmart
The Worm Factory 360 is widely loved, and for good reason. Designed to hold the greatest volume with the smallest footprint, the Worm Factory 360 claims our prize for best stackable thanks to its real estate potential – build your own Trump Tower (for worms) by stacking up to six trays – and the suite of tools it comes with.
You get all of the information and accessories you'll need to get started with your worm composter from day 1, including worm bedding, a thermometer, and hand tools. It features a worm ladder to assist worms in their upward ascent, A 5 year warranty is the cherry on top of this sweet deal.
Pros
Generous four-tray base can be expanded to up to six trays for larger households
Pull out your dusty DVD player folks! 📀 This composter comes with an educational video and printed instruction guide to school you in all things vermiculture
This is the kit! Includes worm bedding, mineral rock dust and an accessories kit with thermometer, hand rake, and scraper
5 year limited warranty
Cons
Some buyers report inconsistent tray sizes and ill-fitting components that allow worms to escape and flies and ants to get in
The overall design and quality of this worm composter are a bit over-blown. It's a solid choice with great capacity, but not much more!
Key specs: waterproof fabric-encased flow-through system | 30 gallon capacity | 26.75 x 26.75 x 31.75 inches
View on Amazon
View on Walmart
If the thought of sorting through trays of worm compost and wriggling, slimy critters makes your stomach turn, the Urban Worm Bag is the right choice for you. This flow-through worm composter made in sturdy, waterproof polyester requires minimal fussing (i.e. you don't have to touch the worms) to produce a huge amount of vermicompost, unlike other worm composters in this guide. This worm composting bag is best suited to a sealed garage or mudroom because it isn't critter-proof.
The advantages of the flow-through composting bin design aren't only for the squeamish gardeners though; this design improves aeration and minimizes disturbance to your worms, keeping them happy, reproducing, and quickly munching through your food waste. Urban Worm recommends starting with a bed of coco coir or store-bought vermicompost for best results.
Pros
Easy, low-maintenance operation in comparison to stackable models: Simply unzip, toss in food scraps, re-zip, and let the worms work their magic
Flow-through design has been perfected for vermicompost harvesting; the most recent version features a no-zip bottom to prevent wormies from escaping (people who fear worms crawling everywhere: Don't watch the video reviewing the last version 😱)
Doesn't disturb worms or involve changing or cleaning trays
Great value, high efficiency product can handle up to 4 lbs of food waste every day
Cons
For a composter of this size, it's a shame that it's not rat, coyote, bear or raccoon-proof! Expect visitors if you leave it in your backyard 🦝
The frame is a bit thin for the volume of the bag
Key specs: in-ground, single chamber system | 64 gallons or 32 gallons | 29.5 x 29.5 x 16.9 inches (large model)
View on Amazon
If you have some outdoor garden space or even a single raised bed, the Subpod worm composter is an excellent choice. It's an open-system designed to be sunk slightly into the earth with holes that allow worms to come and go, functioning as a feeding vessel that not only produces grab-and-go vermicompost, but improves the microbial life and soil quality of the soil around it. Worms return to the compost bin for food where they produce castings.
The downside to this system is that your worms won't put up with mis-managed compost or bedding (it shouldn't be too wet or too dry) and will also wiggle out to investigate fresh plantings or manure in your garden. For this reason, we think the Subpod is best suited for gardeners with intermediate or advanced experience with worm composting.
Pros
Lowest odor model on this list!
Open system, in-ground design with aeration holes allows worms to tunnel in and out of the composter, benefitting the surrounding ecosystem and reducing pest problems
Composts up to 33 lbs of food waste every week (suitable for households of up to 6 people)
Comes with a composting guide right on the lid
Cons
The locking mechanism is flimsy (definitely not bear-proof) and requires replacement over several months of regular use
Requires a bit of worm wrangling 🤠
Key specs: tabletop system | 1.8 gallon capacity | 17.7 x 8.7 x 6.5 inches
View on Amazon
No space for a worm composting bin? No problem. If you have room for a toaster in your kitchen, you almost definitely have room for this innovative countertop worm composter from Bionicraft. It's not just beautiful; this organically-inspired composter is the result of months of research into food waste decomposition.
It's ideally suited for the movement and digestive pattern of worms and human needs in harvesting vermicompost. It doesn't produce much vermicompost, but it can process food waste for up to 3 people. This makes an amazing gift for the indoor gardener in your life!
Pros
Bio-friendly, modern aesthetics make this a beautiful design object for even tiny kitchens and apartments
Innovative countertop solution based on months of research and iterative design based natural parametrics and ergonomics
Handles food waste for up to 3 people
Three access holes allow you to grow herbs or other indoor plants directly in the vessel for a closed-loop growing system
Cons
No drainage solution for moisture that accumulates at the bottom of the composter
Some buyers report ill-fitting components
Quite pricey for the amount of worm compost it produces
Key specs: 2-tray stackable system | 9 gallon capacity | 20.1 x 15 x 24 inches
View on Amazon
View on Walmart
If you're looking for a stylish worm composter that's recommended by professional worm farmers, the Urbalive Worm Farm has the best of both style and function. It's a small, stackable system engineered by professional worm famers for regular home use. The Urbalive Worm Farm earned a Reddot Design Award thanks to its innovative use of materials and organic form.
Featuring wooden legs certified by the Forest Service Council (FSC) as sustainably harvested and rounded corners, it's bio-friendly in more ways than one! We like that worms and compost won't get stuck in corners, and it looks great in almost any living space.
Pros
Stylish, award-winning design with cute (FSC-certified) wooden legs comes in ivory, gray, and green
Can be expanded with up to two additional trays for a larger capacity if food waste or compost need increases
Comes with a full set of accessories, including a set-up and how-to guide, measuring cup, and hand shovel
Drainage spigot allows easy removal of leachate from the base of the bin
Cons
You pay for what you get! This bin isn't cheap.
Key specs: plastic-encased flow-through system | 20 gallons | 24 x 26 x 37 inches
View on Amazon
The Hungry Bin Flow-Through Vermicomposter is a brilliant solution for transforming high-volumes of waste into rich worm compost without the trouble of switching trays or sorting through worms. Hungry Bin processes up to 4.4 pounds of waste per day, making it perfect for a large family or a small band of guerilla gardeners.
The system is aerated by small holes perforating the lid of the bin, which may be the only big drawback of this XL option; it doesn't provide enough ventilation to keep worms cool in warm weather or when decomposing "hot" foods like grains. With its heavy-duty green plastic and wheels, the Hungry Bin fits right in next to your average city garbage bin and comes with a standout lifetime guarantee.
You'll need to wait a bit before harvesting your first batch of vermicompost due to the size of this bin, but it's worth it.
Pros
Secure latching system and heavy-duty plastic lid make this the most animal-safe and pest-resistant composter in this review guide
It's on wheels! Roll it wherever you please as the weather changes
Fits right in with your large garbage and recycling bins; well-suited to sitting on your back porch or in the neighborhood garbage station
Lifetime guarantee (wow)
Cons
Ventilation isn't as good as other flow-through models is not adequate for warm climates
It takes longer than small systems to start producing vermicompost – expect to wait up to 4 months before harvesting your first batch
Key specs: 2-tray stackable system | 8 gallons | 15 x 15 x 11 inches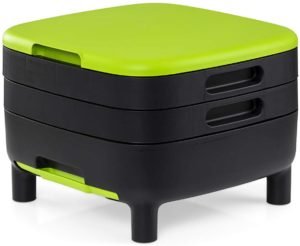 View on Amazon
View on Walmart
The maze worm farm composter is another popular, stackable model – this one earns our pick as #1 small worm thanks to its efficient, budget-friendly qualities. It's a bit more affordable than its competitors with thoughtful features including rounded trays with ample aeration and a slide-out vermicompost-harvesting tray.
It's a spunky black and green moulded plastic that looks great in the kitchen! If you want to elevate this bin, you'll need to buy the long legs separately (it comes with little ones).
Pros
Nifty slide-out harvesting and liquid collection trays at the base of the composter for easy maintenance
Great size for the kitchen and great-looking too!
Includes a block of coconut coir to line the base of the composter
Budget-friendly
Cons
Tall legs not included
Manufacturer can be difficult to contact – some issues reported with receiving used products
Our recommendations
Still unsure which worm composting bin to buy?
If you're new to worm composting or are still unsure which worm composter best suits your indoor garden, here are some additional tips to help you sort through our recommendations for the best worm bins out there.
How does worm composting work?
Just like traditional composting, worm composting involves breaking down "green" and "brown" organic matter into a microbial—and nutrient—rich soil conditioner that plants absolutely love. In the case of worm composting, worms munch through organic matter to break it down and speed up the decomposition process.
The great thing about worm composting is that worms tunnel and burrow as they eat, mixing the nutrients and aerating the organic matter as it decomposes. If you're new to composting, read our beginner's guide to composting for more information.
This is generally how to compost with the help of worms:
Set up your worm composter. It should be properly aerated, protected from animals, and kept at temperatures above 55° F.
Line and condition bedding. We recommend coconut coir, but you can also add shredded cardboard or newsprint. Spray the bedding lightly with water to mimic an underground environment for your wiggly friends.
Add worms. You can buy them online! We recommend red worms for your compost bin.
Feed the worms. Toss in food scraps, fine yard waste, and some paper products (no meat or dairy products, and easy on citrus peels and onion). These are some all-time favorite worm foods:
Vegetable scraps
Coffee grounds and tea bags
Eggshells
Grass clippings
Trimmings from your plants
Some animal manure
Paper products
Leaves
Sawdust
Do not feed worms cat and dog excrement, citrus, onion, meat, or dairy products.
Wait. Depending on the size of your compost bin, what you put in it, and how many worms are in your colony, it can take from 2 weeks to 3 months to get your first batch of vermicompost. Healthy worms can eat about half their weight in food per day, but it takes time to get things moving.
Collect worm castings. Worms migrate upwards. No matter what kind of worm composter you've chosen, you'll harvest the castings from the bottom of your compost bin, whether in a tray or a bag. You may need to separate stray worms from the castings.
Why people love worm composting bins
Fast (plant) food: Worms break down organic matter quickly in comparison to traditional composting. You can expect worms to transform food scraps into finished compost in 2-3 weeks.
Bioactive black gold: Unlike conventional fertilizers, worm castings contribute to soil structure, drainage, and aeration, and contain microorganisms that anchor plant nutrients in a bioactive environment and release low levels of all of the essential plant nutrients over time.
Naturally protect against pests: worm castings enhance seed germination, plant growth, flowering and fruit production, and have also been found to strengthen plants' defenses against root rot and some common insect pests, according to research by Ohio State University
Worm tea: Most worm composters feature spigots for harvesting worm tea, the liquid runoff from worm castings that collects in the bottom tray of stackable worm composters. Add this potent organic fertilizer to your watering can (a 1:1 water to worm tea ratio works well for most houseplants) to give your plants a powerful nutrient boost
Types of worm composting systems
Flow through
Flow through systems work on the principle that worms migrate upwards, away from compacted soil. Most flow-through systems are tapered to increase compaction toward the bottom of the system, and are preferred to stackable systems because they don't require much fussing about. Simply add food scraps in the top, and harvest vermicompost from the bottom.
You'll typically need to set a tray beneath flow-through systems to catch leachate if one isn't included in the design. These systems are best for large volumes of food waste and
Stackable
Stackable worm composting systems are probably the most popular home-worm composting bins out there. While stackable systems also rely on worms migrating upwards towards decomposing food sources, they separate the composting process into layers for easier harvesting and improved aeration.
Some stackable models have notches that allow air to circulate between the layers, while some sit right on top of the organic matter in the tray below. Each tray base is perforated to allow worms to pass through, and some include "worm ladders" to assist in this process.
When vermicompost is harvested from the bottom tray, it is cycled back up to the top to receive waste and worms migrating upwards, creating a continuous loop system. This system is best for indoor worm composting, since it's rather open and requires regular shuffling about.
Single chamber
Single chamber models are more popular for traditional composting, but you will occasionally find variations of single chamber models designed for worm composting (the Subpod is a good example), and many DIY versions follow this concept. Single chamber worm composters are simple: Everything goes in one big bin.
The downside to single chamber composting with worms is that it's difficult to access your worms and adjust bedding material if something goes wrong. Harvesting finished vermicompost can also be a big process with these models – be prepared to dumb and sort!
Worm tea vs. Leachate
Most stackable worm bins feature a spigot at the base of the bin that collects a dark brown liquid at the base of the composter. This dark brown liquid is not worm tea. It's called leachate, and it's basically the smelly runoff from your food scraps, worms, and whatever moisture collects in your worm colony 💀 If your worm bin is too wet, leachate will collect regularly at the base of your bin, and you will need to drain it weekly.
Most gardeners recommend throwing this out, since it can contain toxins harmful to people and plants. Worm tea, on the other hand, is a liquid derived directly from soaking your worm castings in water. This is the good stuff.
❌ leachate: liquid collected from the bottom of your worm composter
✅ worm tea: liquid you get after soaking your vermicompost in water
Where to place your worm bin
This might be the most important thing to think through before you buy your worm bin. Worms are sensitive little critters! There are two important things to keep in mind when choosing where to place your worm bin:
Worms prefer temperatures between 60°-80° Fahrenheit
Most worm bins aren't raccoon or bear-proof
If keeping your worm bin outdoors in seasonal climates, you will probably need to move it around throughout the year to regulate its temperature. When exposed to temperatures outside of their preferred temperature range, worms will lose interest in your food waste, produce fewer castings, stop reproducing, and eventually die – both a sad and messy end to your worm farming aspirations!
For bins suited to indoor use, it's a good idea to keep your worm farm close to where you recycle food scraps. Some worm bins can fit nicely in a cabinet or pantry without legs or supporting base, while larger bins are best kept in a garage, on the patio, or in the garden.
Keeping your worm bin indoors will ensure you have quality castings year-round without too much fuss. If keeping your worms indoors isn't an option, you can insulate outdoor worm bins with blankets and heat-conserving bedding.
How to maintain your worm farm
Are you ready to turn your food waste into the best soil you've ever mixed? Once you pick your wormery and set it up at home, here are a few tips for maintaining it:
Use the 50/50 rule. Aim to feed your worms about 50 percent food scraps ("green" material) and 50 percent fiber and paper ("brown" material). This creates the optimal environment for worms and finished compost
Check the temperature. Check up on the ideal temperature for your worms. Most, including the popular Red Wigglers, prefer temperatures between 68°-77° F
Don't sweat overpopulation. In a healthy worm farm, worms will fill the "carrying capacity" of your bin, but won't reproduce if they sense limited space and food
Be patient! Your first batch of worm compost may take about three months to finish, but once your colony is established, you'll have ample worm castings in as little as a month
Final thoughts
Are you just dying to get composting? Bad joke… but really. We hope this guide has busted some of the most common myths about worm composting (no, it's not only an outdoor activity! yes, worms are cool, etc.) and given you some helpful tips to get started.
It takes time to get your system going, but like caring for your garden, the payoff is pure green joy 🌱 Whether you opt for a flow-through, stackable, or DIY worm composting system, we know you and your plants will enjoy the results.
Shop our recommendations