🧪 Our review process
Our testing team independently researches, tests, and recommends the best products to help keep your houseplants absolutely thriving. Learn more about our testing and review process here.
If you're looking for a grow tent that can accommodate indoor plants and all manner of other green things 😉, we've got just what you need.
Our pick of the best grow tents for indoor growing includes options that are both affordable and versatile – perfect for newbies and seasoned growers alike.
The best part? You can get all of these on Amazon.
The 12 best grow tents
Key specs: 36"x24"x60" | fabric density: 2000D | plant quantity: 2 plants in 5.7 gallon pots
View on Amazon
View on Walmart
The AC Infinity CLOUDLAB 2×3 is the crème de la crème of grow tents. Its reflective diamond mylar lining provides excellent light reflection and diffusion, while its second chamber with removable tray and Velcro wall divide facilitates conditions for plants in either a vegetative or seedling stage.
To avoid compromising optimal growing conditions, the AC Infinity CLOUDLAB's viewing window allows growers to keep an eye on their plants without having to open the door. While the controller mounting plate allows controller wires to pass through into the interior of the tent, facilitating no light-leak cable management.
Pros
2000D fabric density. Yeah 2000D, that's THICC. Seriously, if you're worried about light leak, you won't find it here.
Super durable poles. Humidity and moisture cause rust. Some tent poles aren't up to the task of combating this issue. With Cloublab's durable 1-inch powder-coated poles, rust or lack of strength won't be an issue.
Overall build quality. AC Infinity makes some of the best products known to the industry, this grow tent included.
Cons
On the small side. The Cloudlab 2×3 may not be big enough for large grows. No matter, it also comes in a 4×3 and 5×4.
Key specs: 48″x48″x80.4″ | fabric density: 1680D | plant quantity: 4-6 plants in 5-7 gallon pots
View on Amazon
The Gorilla Grow Tent Lite Line is one of the strongest and most durable grow tents available on the market. The heavy-duty metal frame interlocks for stability and features industrial-strength zippers that will withstand repeated use. The diamond reflective interior maximizes light reflection and creates an ever-growing environment. And the double cinching duct ports ensure a secure connection to your grow system.
This Gorilla grows tent model also features Ez View Windows so growers can check on their plants without having to open the tent, as well as a heavy-duty spill tray to prevent any accidents. And there's also an integrated tool pouch for easy access to, well, tools.
Pros
Lite Line affordability. Gorilla's Lite Line range gives growers all the benefits of build-quality without the price.
Convenient carry bag. If you get itchy feet, Gorilla tents come with a very convenient carry bag. That way, you can easily transport it.
Height adjustable. This Gorilla grow tent can be used with Gorilla's pole extension kit (sold separately), allowing you to increase its height from 6′ 7″ to 7′ 7″.
Cons
Indiscrete packaging. If growing cannabis is the name of the game, Gorilla's retail packaging may turn away growers living in localities that are yet to legalize.
Stiff zippers. Heavy-duty zippers means stiffness. Not an enormous problem, just a minor gripe I had.
Key specs: 24″x24″x48″ | fabric density: 600D | plant quantity: 2 plants in 5-7 gallon pots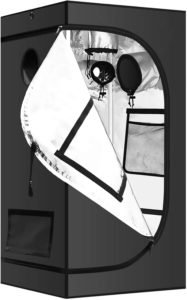 View on Amazon
View on Walmart
The iPower 2×2 Grow Tent is perfect for anyone just dipping their toes into indoor gardening. This small grow tent is made with quality oxford fabric, lined with reflective mylar, and comes with a removable waterproof tray – all of which helps to ensure that your plants get the care they need.
The iPower 2×2 is also easy to set up and use, with an all-metal frame and convenient tool bag. Additionally, there's an observation window, so keeping an eye on your plants is a breeze.
Pros
Easy to assemble. The metal frame doesn't require any tools to put together, making it easy to set up, transport, or store.
Perfect for small spaces. If you're limited for room, a 24″x24″x48″ grow tent is just what you need.
Bang for your buck. If you're looking for a grow tent, that's super affordable, look no further.
Cons
You get what you pay for. Small pinholes cause slight light leak issues and the zippers are a touch on the lightweight side.
Instruction manual kinda sucks. The instruction manual is on par with IKEA's – not great.
Key specs: 24″x24″x48″ | fabric density: 600D | plant quantity: 2 plants in 5-7 gallon pots
View on Amazon
OPULENT SYSTEMS 2×2 Grow Tent offers the perfect environment for your plants to thrive. The 98% highly reflective waterproof mylar ensures that indoor plants receive just the right amount of light. It also features an easy and clean window design, so you can keep an eye on your plants without having to open the tent up.
The 600D fabric construction is tear and water resistant, while the SBS zipper ensures a smooth, easy opening and closing experience. Additionally, the floor tray makes for easy cleaning. And with an 18-month warranty, if something were to go wrong, you're covered.
Pros
Easy assembly design. Putting this grow tent together was a breeze. No tools needed, just a smidgen of ingenuity.
Adjustable straps. Included is 4 adjustable straps to hang your grow lights with.
Sturdy design. For the price, this grow tent is surprisingly well-made. The stitching is near perfect and the frame is very sturdy.
Cons
Minor light leak. Minor and barely noticeable, but there is slight light leak.
Discretion is an issue. If discretion is a factor you care about when purchasing a grow tent, know that the packaging gives away what's inside.
Key specs: 36″x24″x53″ | fabric density: 600D | plant quantity: 2-3 plants in 5-7 gallon pots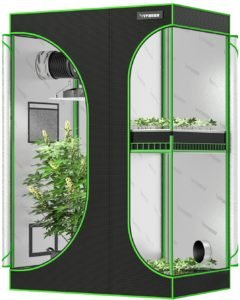 View on Amazon
If you are hunting for a quality, multi-chamber grow tent, look no further than the VIVOSUN's 2×3 model. It features a reflective Mylar interior that optimizes light and heat distribution, as well as an observation window for easy plant monitoring. The floor tray ensures that any water or soil runoff is contained, and the hanging bars can hold up to 100 lbs each – meaning you can hang some serious grow light hardware.
This VIVOSUN model also features durable, waterproof material and a hook and loop door fastener for easy access. There are also easy-access zippers and 2 hanging straps for added convenience. Plus, the convenient inner tool organizer keeps your tools organized and within reach.
Pros
2-in-1. This grow tent features two small interior chambers and one large chamber. Perfect for separating plants that are in the propagation, vegetation, or flowering stage.
Great customer service. The VIVOSUN team is well-known for their top-notch customer service.
Affordable. At this price, grabbing the VIVOSUN 2×3 for your next grow is a no-brainer.
Cons
On the small side. The added compartment on the side may make this tent a little too small for some growers. No matter. There are larger sizes with this same 2-in-1 design.
Mid-entry quality. Don't get me wrong, I have a lot of respect for VIVOSUN. Their prices are great, but if you want something truly top-of-the-line, try an AC Infinity or Gorilla tent instead
Key specs: 48″x24″x60″ | fabric density: 600D | plant quantity: 2-4 plants in 5-7 gallon pots
View on Amazon
If you're looking for a reliable and sturdy grow tent, the CoolGrows 2×4 is perfect for you. The exterior shell is manufactured from high-quality PVC-free material, making this grow tent sturdy and reliable. The heavy-duty zippers with black lining and double stitching keep your plants safe and secure.
Dual-cinching duct ports make it easy to attach your ventilation system, and the included waterproof floor tray helps keep your grow area clean. The CoolGrows 2×4 is very easy to assemble, with tool-free pole connectors, and offers great value for the price.
Pros
Great quality. For the price, I was very impressed with the quality of this grow tent. The frame feels sturdy and the outer material shell fits real nice.
A variety of sizes. This tent comes in a magnitude of different sizes, as small as 24″x24″x36″, to a massive 96″x48″x80″, and all sizes in between.
Cons
Small light leaks. Tiny pinholes around the zipper allow a touch of light in. But then again, the price is right.
Suits newbie to budget conscious growers. Advanced growers will probably prefer to opt for a higher quality tent. It's perfect for newbies or growers on a budget, though.
Key specs: 48″x24″x60″ | fabric density: 600D | plant quantity: 3-4 plants in 5-7 gallon pots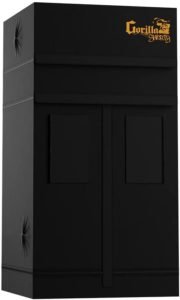 View on Amazon
Gorilla 3×3 grow tents are the perfect way to get started in hydroponics or indoor gardening. The super thick 1680D fabric is light proof and has a frame that can support up to 300lbs, making it sturdy enough for even the heaviest ventilation and lighting equipment. The industrial zippers are incredibly strong and make it easy to get in and out of the tent, while the EZ view windows provide a clear view of your plants so you can easily keep an eye on their progress.
With an all steel interlocking frame, the Gorilla grow tent Shorty is designed to last. The double cinching duct ports ensure that your ventilation system runs with no leaks, while the rear access door makes it easy to access plants positioned towards the back of the tent. The heavy duty spill tray prevents any accidents from happening, and the integrated tool pouch ensures that you have everything you need right at your fingertips.
Pros
Massive weight-bearing capacity. With 300lbs of strength, this Gorilla tent's frame will hold grow light setups, ventilation gear, and carbon filters with little issue.
Top-of-the-line build-quality. You'll pay a little extra, but Gorilla's line of grow tents are seriously well built, durable, and well-designed.
Rear opening door. Although most tents have doors that open across two sides, this tent's rear opening door is a game changer.
Cons
Zippers can be sticky. Heavy-duty means the zippers can feel a touch tight to open and close. The price you pay for strength, I guess.
Tight fit. When assembling, I found the tent's material to be a tight fit. I'm worried perhaps this will place excess pressure on the zippers? Only time will tell, I guess.
Key specs: 48″x48″x78″ | fabric density: 1680D | plant quantity: 4-6 plants in 5-7 gallon pots
View on Amazon
View on Walmart
The Spider Farmer Pro-Grade 4×4 Grow Tent is the perfect option for growers who want an easy, frustration-free growing experience. The 1680D Oxford canvas and Diamond reflective Mylar construction create an extremely sturdy and lightweight grow tent, while the airflow design ensures that your plants get the ventilation they need to thrive.
Its powder-coated, heavy-duty, and hardened steel frame can carry up to 140lbs of growing equipment. It features tool-free assembly, making setting up a breeze. And with an 80-inch roof height, this grow tent is also ideal for larger plants.
Pros
Heaps of head room. No matter if you're a tall indoor gardener or simply growing large plants, 6'7" of headroom is certainly nice.
Easy-to-follow instructions. It may not sound like much, but being able to follow a well laid out manual is certainly a pleasant change.
Super reflective inner material. The Oxford canvas and Diamond reflective Mylar make this grow tent not only durable but also extremely reflective.
Cons
No Velcro to hold the door ajar. Small gripe, but worth mentioning. Rather than Velcro, there's a piece of material to tie the door back.
Slight light leak. I found small amounts of light leak around the door – nothing a touch of duct tape couldn't fix, though.
Key specs: 60″x60″x80″ | fabric density: 600D | plant quantity: 5-6 plants in 5-7 gallon pots
View on Amazon
View on Walmart
The VIPARSPECTRA 5×5 Grow Tent is a heavy-duty grow tent that's designed for the serious grower. The zippers and tear-proof Mylar fabric are double-stitched for extra durability and the fabric is non-toxic and highly reflective.
It's also easy to set up and comes with multiple round vents for varied sizes of fan filter. The strong metal poles and solid steel corner connectors make it sturdy and durable, while the high-quality fabric ensures that your plants will thrive. Oh! And there's a 30-day money-back guarantee, so if you're not completely satisfied, returning this tent isn't an issue.
Pros
Perfect for large grows. If you've got an extensive collection of indoor plants that you'd like to place on shelving, this is the grow tent for you.
Reputable brand. Viparspectra is a well-known brand within the grow tent space, boasting over 10 years of industry experience.
Great ventilation. With four extraction vents, two air duct vents, and two ventilation windows, air flow and humidity regulation is a breeze (pun intended).
Cons
Hanging bars. There is no way to secure the hanging bars in place. This is great if you'd like to adjust the position of a grow lamp, not so good if you bump the light accidentally. If you've found a sweet spot for your grow lights or ventilation system, I'd suggest duct taping the hanging bars in place to stop them from slipping about.
No tool pouch. Unlike many other tents, the Viparspectra doesn't come fitted with a tool pouch or compartment.
Key specs: 96″x48″x80″ | fabric density: 600D | plant quantity: 8-10 plants in 5-7 gallon pots
View on Amazon
View on Walmart
The VIVOSUN 4×8 Grow Tent is the perfect way to get started in indoor gardening. The Oxford outer tent material is tough and durable, while the inner lining is made from non-toxic PE, Mylar 98% Reflective material. There are rear entrance doors for easy access, as well as a tool compartment for keeping your growing equipment organized.
The VIVOSUN grow tent has plenty of room, possessing a space large enough to house 12-16 plants in 3 gallon pots. The large front window provides easy viewing of your plants, while the 1-year warranty ensures that you're always covered.
Pros
Color variations. This tent comes in your standard black, but if you'd like something a bit different, there's also a light gray variation.
Affordable. For a tent of this size, at this price it's a bargain.
Great size for large grows. For large indoor plant collections or those indoor gardeners wanting plenty of indoor grow tent space, the VIVOSUN 4×8 is a superb choice.
Cons
Awkward assembly. Being so large, you'll want a grow buddy to help you out when assembling this grow tent.
Doors aren't side-opening. This may not be an issue for indoor gardeners, but for those growers that are cultivating cannabis plant varieties, practices like scrogging and trellising can be a touch difficult.
Key specs: 96″x96″x80″ | fabric density: 1680D | plant quantity: 14-16 plants in 5-7 gallon pots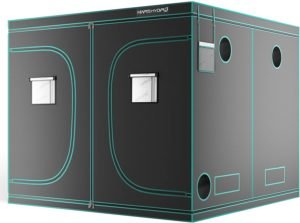 View on Amazon
The Mars Hydro 8×8 Grow Tent is a top quality, heavy-duty product that has been designed for growers who demand the very best. The tent is made from 1680D fabric, which is double stitched for extra strength and density. The metal corner adapters and poles provide added stability, while the heavy-duty metal zippers ensure the tent can withstand frequent use.
This Mars Hydro grow tent also comes with all the basics of an observation window, spill tray, and tool pouch. And, if you're not happy with your purchase, the MARS HYDRO 8×8 Grow Tent comes with a 30-day unconditional refund policy for any product quality issues. Plus, they offer 24-hour customer service so you can get help quickly if needed.
Pros
High-quality. Mars Hydro grow tents and the manufacturer's other grow tent accessories are well known within the industry to be of exceptional quality.
Size variations. If you are looking for something smaller, this same design comes in various small to medium sizes.
Customer service. With a 30-day money-back guarantee and 24-hour customer service, you're in safe hands.
Cons
Nylon door strap. Personally, I prefer a Velcro strap to hold the door back. It's faster and far more convenient.
Zipper seams. Although no grow tent is 100% light proof, after sustained use, I began to notice light leaks around the zipper seams.
Key specs: 120″x120″x84″ | fabric density: 600D | plant quantity: 30+ plants in 5-7 gallon pots
View on Amazon
If colossal is the order of the day, the Utra Yield 10×10 is one of the biggest and best grow tents for the job. The Ultra Yield 10×10 grow tent is a professional quality, 1680D canvas grow tent that can be height adjusted to 84″ or 96″ with the included 12 extension kit.
The tent is made of heavy-duty, water resistant and tear-proof canvas that blocks out 99% of light, making it ideal for indoor gardening. It has an easy-to-assemble frame with metal poles and connectors that make your grow tent setup a breeze. The Ultra Yield 10×10 grow tent also includes a Mylar floor liner and zippered doors and windows for added security and convenience.
Pros
Huge. This is essentially a grow room, not a grow tent. It's massive!
Rear doors. The doors at the back of this tent are very much appreciated. In fact, it's almost necessary for a grow tent of this size.
Extension kit. The included 12-inch extension kit is a great addition. No matter if you're growing marijuana, ornamental indoor plants, or a vertical vegetable garden, it's super nice to have the extra height.
Cons
Rear cable port. It would be great if this tent included a rear cable port. Not so lucky this time.
Removable tray. Another pleasant addition would be to have strips of Velcro to hold the removable tray in position.
Our recommendations
Still unsure which one is best for you?
If you are still unsure which grow tent would suit your needs, here are a few features and factors to look out for.
Size
When growing plants indoors, the size of your grow tent is important to consider as it will determine how much space you have to work with. If you're just starting out or growing small plants that don't require a lot of space, a small tent measuring 2×2 or 3×3 feet may be a good option.
If you're looking for something larger or are looking to set up a hydroponic grow, a 4×4 or 5×5 foot tent may be a better choice. And although there aren't specialized hydroponic grow tent models, a large grow tent will allow adequate room for the additional equipment that these types of grows require.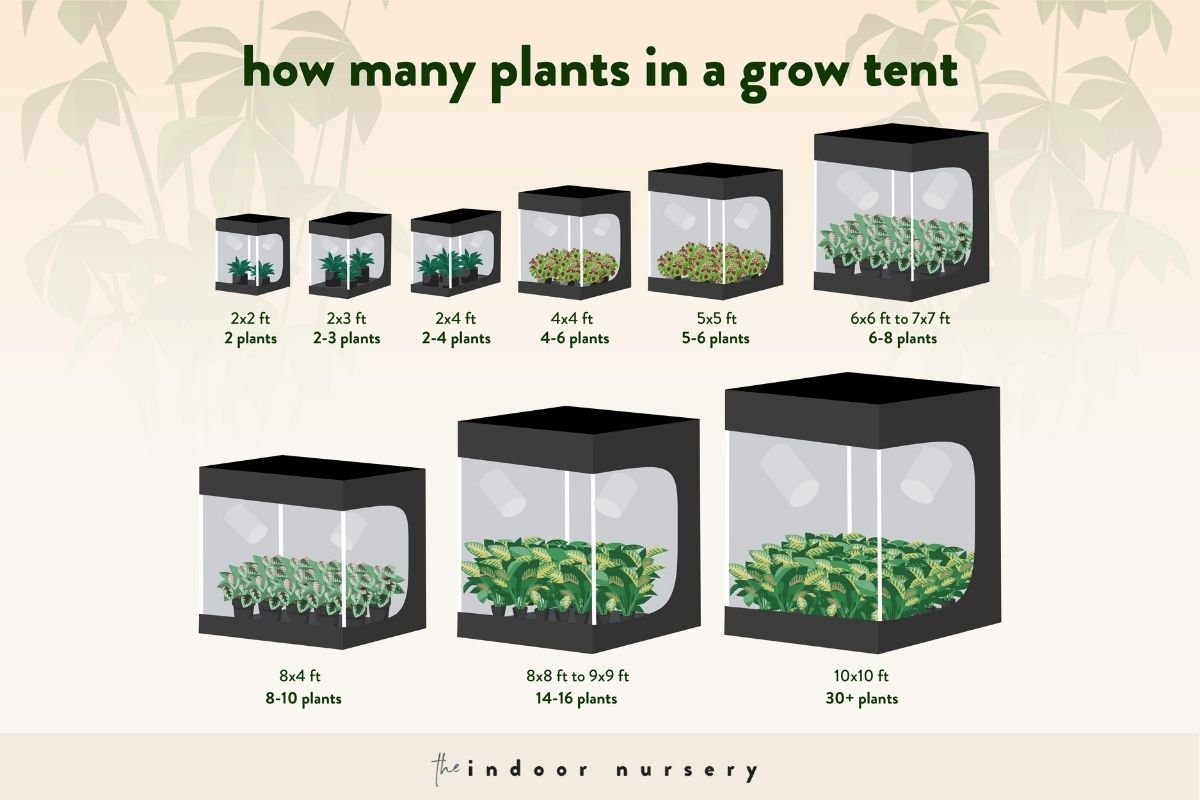 As a rough guide, here's how many plants (that are housed in a 5-7 gallon pot) different sized grow tents will fit:
2x2ft: 2 plants
2x3ft: 2-3 plants
2x4ft: 2-4 plants
4x4ft: 4-6 plants
5x5ft: 5-6 plants
6x6ft to 7x7ft: 6-8 plants
8x4ft: 8-10 plants
8x8ft to 9x9ft: 14-16 plants
10x10ft and larger: 30+ plants
Fabric density
Another very important factor when choosing the right grow tent is fabric density.
Grow tent fabric density is measured in Denier (D). Essentially, Denier represents the thickness of each of the individual threads that make up the outer material covering a grow tent. In other words, the higher the number, the thicker the material, and the less likely a grow tent will have light leaks.
Why are light leaks bad?
For one, you'll want to maximize the efficiency of grow lights. So basically, light leak is a waste of energy and plant growth potential. Perhaps more importantly to cannabis growers, though, light leak can lead to hermaphroditism or a female plant growing male organs. For those growers growing seed-free cultivars, this can ruin an entire crop.

READ MORE: why do plants droop at night? the science behind plant sleep
Note: If not immediately, over time, all grow tents are likely to develop light leak in one form or another. This is particularly true for tents that are used frequently, as constant use puts pressure on the stitching around the zippers and tent corners.
There's really not a lot you can do to avoid this. It's more of an observation and maintenance situation. If you are mid-grow when a tent develops light leak, I'd suggest simply using some black duct on the outside of the tent to cover the holes that have developed.
An even better alternative? Go out and grab yourself some black, gel-based nail polish. It's awesome for filling those pesky light leak holes.
However, if the hole is particularly large, or there are tears and rips, take the tent down and mend the holes more permanently with a sewing kit.
Ventilation
Proper ventilation is essential to healthy plant growth. Unfortunately, though, many growers make the mistake of not providing adequate ventilation to plants they are growing in a grow tent. This can lead to problems such as heat build-up, pests, and mold.
One of the best ways to provide ventilation in a grow tent is by setting up a ventilation system. For a ventilation system to work, the equipment, of course, needs inlets and outlets for air ducting and the like. This allows for ventilation equipment like intake and exhaust fans to bring fresh air in and draw hot air out of the tent.
Mesh ventilation windows are also super important. These meshed windows allow fresh air to enter the tent while also allowing hot air to escape. Just be sure that the mesh is fine enough so that pests can't get in.
Pricing
Pricing is another consideration. A good quality grow tent will last for years, while a cheap one may fall apart after just a few months of use.
So what's better, affordable or expensive?
Well, as with anything, you mostly get what you pay for. If you're looking for something that is only temporary, a tent that's affordable will often do the trick. But if you wish to keep a tent for many years to come, then sure, a more expensive tent will often fit the bill.
My honest opinion?
Some grow tent manufacturers are better than others.
If you're on the hunt for something that's affordable, VIVOSUN or Opulent grow tents are a great option. But if you're looking for a brand that'll stand up to the test of time, shoot for an AC infinity, Spider Farmer, or Gorilla tent.
The bottom line
A grow tent is a great way to create an indoor garden for your plants. With the help of a grow tent, you can perfect the climate, light, and humidity levels to ensure that your indoor or cannabis plants thrive.
If you'd like to learn more about what to look out for when purchasing a grow tent, see our grow tent buyer's guide.
Shop our recommendations