🧪 Our review process
Our testing team independently researches, tests, and recommends the best products to help keep your houseplants absolutely thriving. Learn more about our testing and review process here.
Are you tired of refilling your pebble tray? It's time to invest in a humidifier for your plants!
In this guide, we've rounded up the best plant humidifiers on the market. We made our selection based on features that make them great for tropical and other humidity loving plants.
Think: high humidity settings, handy timer functions, and large tank capacities that require less maintenance to operate. ✨
If you're wondering how much humidity is best for your plant, what the difference between common humidifiers really is, and how to naturally kill airborne viruses through climate control (yes, it's possible), read our guide below.
We cover it alllll. Here's how to find the best humidifier for plants!
The best plant humidifiers
Here are the absolute best plant humidifiers that will transform your indoor plants into luscious jungle beauties.
Key specs: simple low/medium/high fan settings with humidistat | up to 70 hour run time | 6 gallon tank capacity
View on Amazon
View on Walmart
This evaporative humidifier from the humidifier industry-veteran AIRCARE features a powerful humidity output with one of the longest run-times on the market, thanks to its huge 6 gallon tank. With three fan settings and a humidistat function that allows you to set the humidity up to 65%, this machine truly delivers the plant-happy humidity levels that other standard machines can't.
Three simple buttons allow you to control power, humidity levels and fan speed, and two lights indicate when the filter needs to be changed and water level is low.
Pros
Simple, efficient design in white with all of the settings you need of none of the ones you don't
HIgh tank capacity (equal to our top-rated high-volume humidifier pick) allows 70 hours of run-time, or 3-4 days between refills
2 year warranty by the manufacturer with purchase receipt
Desired humidity levels are adjustable in 5% increments up to 65% humidity
Cons
High fan setting is reportedly quite loud
On the pricey side for its functionality
Key specs: simple dial control | 290 square feet of coverage | 2.4 L tank capacityor 90.7kg | lifetime warranty
View on Amazon
View on Walmart
If you have just a few plants in need of humidifying, this cool mist ultrasonic air humidifier from LEVOIT might be just the thing for you.
It's designed for small spaces of up to 290 square feet with a 2.4-liter tank capacity. A built-in sensor is paired with dial control and auto shut-off function when the desired humidity level is reached.
This little humidifier won't be able to strictly control humidity levels, but the stream of mist can be adjusted 360° to target the plants that need it most. This is a great starter choice for the indoor garden.
Pros
Small but powerful, this humidifier holds 2.4 liters of water can run for 24 hours on the lowest setting
Simple dial humidistat
Quiet operation thanks to ultrasonic technology
Optional night light function illuminates your space with blue light
Cons
Difficult to clean: the tapered tank design is difficult to access with the provided cleaning tools, and many small slots and nooks demand regular maintenance to prevent mold growth
Unit is not entirely waterproof, which makes cleaning and refilling a bit tedious
Key specs: simple 3 fan speed control | up to 430 square feet of coverage (smaller and larger models available) | 2 gallon tank
View on Amazon
View on Walmart
This no-filter humidifier does the job well without additional filters, touchscreens, fancy lights or nonsense!
German brand Venta has created a humidifier in a class of its own with self-cleaning technology that is designed to demineralize and purify water with a water treatment additive instead of complicated, expensive, difficult-to-maintain filters.
This efficient machine comes in black or white and three size options with coverage areas from 300-600 square feet, depending on your plant's needs. You can even send your plants on an aromatherapy journey with one of Venta's six house-made essential oils – all business though, right?
Pros
2 gallon tank with high efficiency motor powers this unit
Cold mist evaporative humidification controlled by three simple fan settings that maintain humidity at 40-60%
Recommended for use with tap water; no additional filters needed
Aromatherapy feature
Cons
No humidistat to control specific humidity levels
Marketed as an air purifier, this unit is really designed to purify air through humidifying
Key specs: 3 fan speeds and fully adjustable humidity dial | up to 1,00 square feet of coverage | 4 gallon tank capacity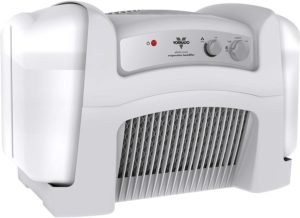 View on Amazon
View on Walmart
If you're a bit hesitant to invest in an expensive appliance just for your plants, this reasonably priced option from Vornado is a perfect choice: It comes with a robust 5-year warranty that guarantees full product replacement if something doesn't work as expected.
Known for its powerful space heaters and fans, Vornado uses their signature Vortex Action technology to power this evaporative humidifier, which is suitable for controlling the climate in rooms up to 1,000 square feet.
This humidifier has a solid build and user-friendly controls that allow you to adjust humidity with a simple dial and fan speed with low, medium and high settings.
Pros
100% satisfaction guaranteed or full product replacement with this humidifier's generous 5 year warranty
Built-in humidistat powers evaporative humidification with three fan speed settings
"Whole room" coverage is powered Vornado's proprietary Vortex Action air circulation technology
Cons
2-tank design means two tanks to clean, ugh…
Wicks require cleaning and replacement
Key specs: low and high mist settings | up to 175 square feet of coverage | 0.7 L tank capacity
View on Amazon
View on Walmart
Small but mighty, the Studio model by Pure Enrichment® is the most compact model of the MistAire™ series. It features a single button control system – one press for low mist, light off, two presses for low mist, light on, three presses for high mist, light on, and four presses for high mist, light off – and auto shut-off when the tank runs dry.
This small humidifier is best for one or two of your favorite jungle plants, and makes a great travel companion if you're headed somewhere arid. We recommend rinsing the MistAire™ Studio once a week with vinegar or bleach to prevent mold growth since you can't get inside the tear-drop shaped tank to scrub. With a five year warranty, this low-budget purchase is hard to pass up!
Pros
Highly accessible price with the surprising benefit of a 5 year warranty to back your purchase
Ultrasonic humidification is controlled with low and high mist settings
Sleek, compact tear-drop design with optional night light is right at home on your desk, next to your monstera on the plant shelf, or on the kitchen counter
10-hour run time allows you to humidify through the night without disruption
Cons
You can't reach inside the water tank on this model, so if you don't do regular maintenance, it will be pretty impossible to remove mold
Key specs: fully customizable sterilizer, humidifier and diffuser settings | up to 368 square feet of coverage | 1.1 gallon tank capacity
View on Amazon
Yes, plants purify the air in your home – but if you're seeking extra protection against airborne germs (who isn't these days), this is the pick for you. Cutting edge micro-electrolysis technology goes beyond purification and actually sterilizes air as it's humidified by converting water molecules into oxidizing ions that break down airborne germs.
This medium-sized humidifier is quieter than others thanks to ultrasonic misting technology, and can be easily adjusted to your desired humidity with 11 settings between 30-80% humidity.
Complement your clean, perfectly humidified air by adding the scent of your choice directly to the diffuser tray at the bottom of the machine.
Pros
Sterilizes air by converting water into oxidizing ions through micro-electrolysis, destroying the DNA / RNA Of 99.99% of airborne harmful germs
High humidity option available; choose between 11 humidity settings between 30-80%
Reasonable efficiency for 1.1 gallon water tank capacity, guaranteeing 40 hours of operation on the high mist setting and auto-shut off when the water tank is empty
Settings include customizable and standard sterilization, 3 mist settings, and auto humidity control
Cons
With a 1.1 gallon water tank capacity, this humidifier only guarantees 40 hours of continuous operation
The LED touch controls look great but aren't very intuitive for first time use
Key specs: dial controller adjusts humidity and power | up to 600 square feet of coverage | 1.3 gallon water tank capacity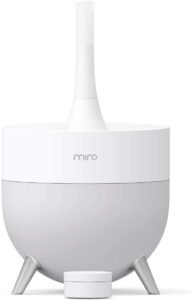 View on Amazon
Back to basics! Miro has created an innovative home appliance with the NR07S cool mist ultrasonic humidifier that showcases simplicity at its best.
The main body components of this low maintenance humidifier are designed to be disassembled for easy machine-washing, so you don't have to worry about mold or bacteria growing in hard to reach parts of your machine.
The trade-off here is that the humidity controller comes as a separate dial that must be plugged into the humidifier and a power source to operate. This feature doesn't detract from the overall functionality of the humidifier however, which is fully adjustable from low to high mist settings.
Pros
Smart, simple and eco-friendly ultrasonic IFDesign Award-winning design blends seamlessly into most interior spaces
All body components of this unit are waterproof, completely machine washable, and made of food grade BPA-free ABS plastic
Up to 24 hours of continuous operation on the low mist setting
Auto shut-off feature kicks on when water levels are low
Cons
The humidity controller comes separate from the machine and must be plugged in
Not compatible for use with essential oils
Key specs: controller sold separately | up to 1614 square feet of coverage | no-fill system connects directly to water supply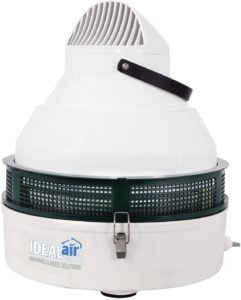 View on Amazon
View on Walmart
If you have a greenhouse full of plants or an indoor grow tent and you're ready to take your routine operation to the next level, you need an industrial-grade humidifier that connects directly to your water supply. This model from Ideal Air is designed specifically for the needs of small to medium-sized greenhouse growers and indoor garden keepers.
You need to purchase a humidistat separately in order to operate this humidifier – which is a bit frustrating at this price point – but the external control design ultimately extends the lifetime of your humidifier since electronic controls typically give out before mechanical parts.
The recommended humidistat allows you to set humidity from 20-80%, easily hitting the sweet spot for moisture-loving indoor plants. You'll never go back to a re-fillable humidifier after this purchase.
Pros
Industrial grade product is equipped with a heavy-duty motor that will last for years, and then some
No-refills necessary; connects directly to a water supply for maximum efficiency
Broad coverage range up to 1614 square feet
Powerful humidify and dehumidify options when purchased with the recommended humidistat
Cons
Humidistat not included; Titan Controls EOS 1 Humidify / Dehumidify Controller recommended
Water hose is a bit tricky to connect the first time
Key specs: humidistat controlled by digital display or remote control | up to 753 square feet of coverage | 1.6 gallon water tank capacity
View on Amazon
View on Walmart
As much as you'd like to stay home all day tending to your indoor plants' moisture needs, the timer settings on this humidifier mean you don't really need to (no judgement for stay at home plant parents tho LOL).
The LV600HH from Levoit comes with the best timer settings we've researched, allowing you to set humidity and mist temperature for up to 12 hours at a time. Featuring unique hybrid ultrasonic technology, you can choose between warm mist for rapid humidification that kills bacteria and cool mist that combats dry air, skin and of course, foliage!
Distilled water is required to run this humidifier, but on the plus side, no filters are needed. You will need to clean the unit once a week or so, and replace the absorption pad that draws minerals from the water. A great all-around choice to save you time fiddling with settings so you can chill with your plants instead.
Pros
Hybrid ultrasonic technology offers both warm mist and cool mist options depending on need
Timer function allows you to turn this humidifier on for up to 12 hours at a time, while decent tank capacity accommodates continuous use for up to 50 hours
Set humidity, mist temperature and time directly or choose auto for recommended preset indoor humidity
Several high quality videos on Amazon's product page explain what the settings are used for and how to program them
Cons
Distilled water is required
Minimum water required for this humidifier to function is 2 cups, effectively reducing the overall tank capacity
FAQs about plant humidifiers
Are plant humidifiers worth the investment?
Absolutely. Keeping your indoor plants healthy might be your focus, but you can use all of these plant humidifiers to improve your home climate as well, and the benefit of fresh, healthy air – for plants or people – is totally priceless.

Can I use a regular humidifier for plants?
Yes! But not all "regular" humidifiers will do the job well. All of the plant humidifiers in this guide are "regular" humidifiers with features that are great for plants, and not just people, like high humidity settings up to 80%, timer functions, and large tank capacities. Many "regular" humidifiers only allow you to adjust humidity between 30-50%. 

What's the difference between cool and warm mist humidifiers?
Cool mist and warm mist are actually common settings featured in different types of plant humidifiers. Only steam humidifiers are designed to create water vapor by heating water. Modern humidifiers offer cool and warm moisture settings as a convenience, but most plants don't really prefer one over the other. Warm mist humidifies air more quickly than cool mist, but the temperature of your room will have a bigger effect on what the mist does once airborne than the temperature settings on your humidifier. 
Conclusion
Are you ready to transform your living room into a jungle now? Hopefully, this post has given you all the information you need to choose from our selection of the best plant humidifiers out there, and use your pick to its fullest potential. Maybe you're inspired to welcome more moisture-loving plants into your home, now that you have the tools and know-how to keep them healthy (the pebble tray just won't do). Happy gardening!
Shop our recommendations