🧪 Our review process
Our testing team independently researches, tests, and recommends the best products to help keep your houseplants absolutely thriving. Learn more about our testing and review process here.
Indoor conditions are notoriously dim. While some plants quite enjoy this environment, there is a whole range of amazing-looking indoor varieties that thrive in bright, consistent full-spectrum light. If your home is dark or you wish to grow indoor plant varieties that enjoy consistent levels of light, your best solution is a high-quality set of indoor plant grow lights.
To help you find the options, this post will take you through the 10 best grow lights for indoor plants that are sure to promote healthy, robust growth.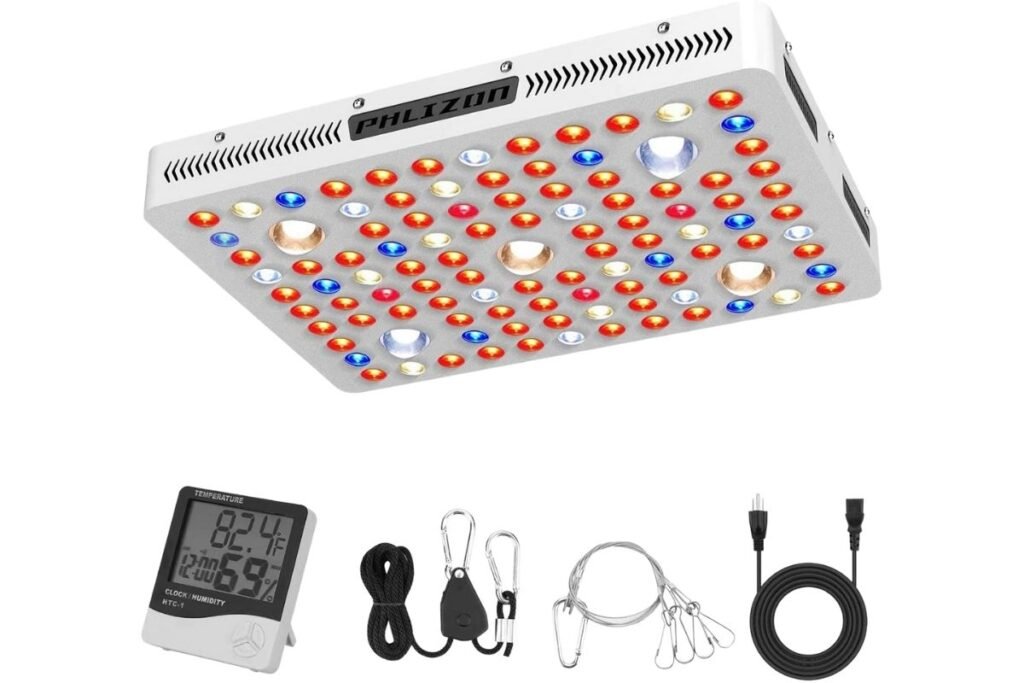 The best indoor plant lights
key specs: 1000-3000W / 440W actual power | 4.2×4.2ft light coverage | Full spectrum LED 630-660nm / 470nm / 6500K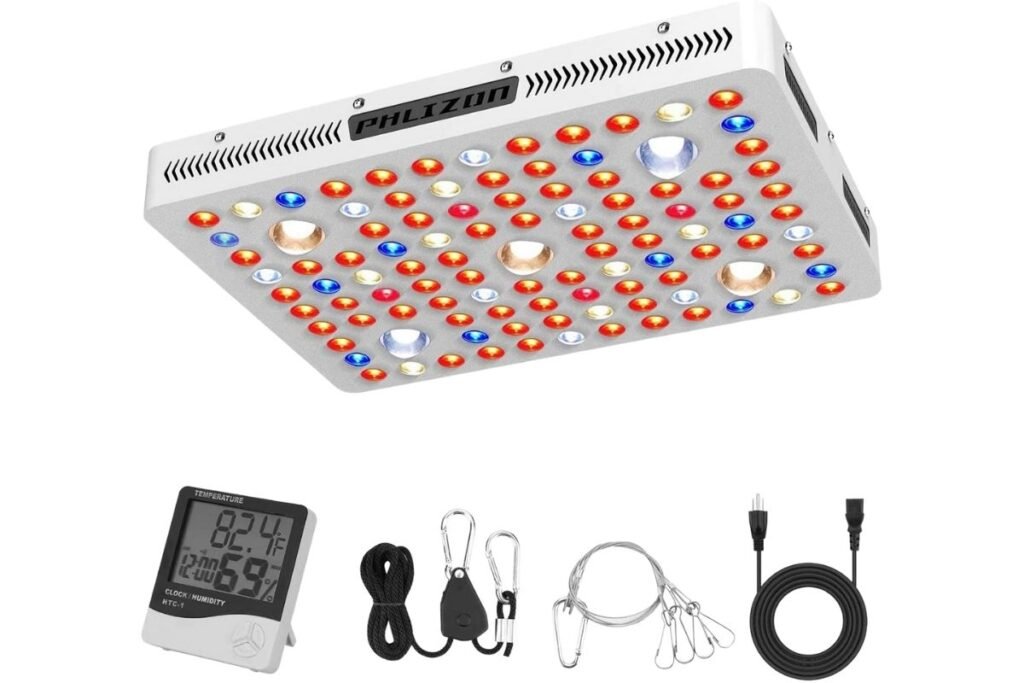 View on Amazon
The Phlizon COB LED Plant Grow Light is a full spectrum grow light. It is made of high-quality CREE COB LEDs that offer consistent, stable performance. This LED grow light is used for both hydroponic and soil growing systems, such as indoor greenhouses and in an indoor garden.
With its full spectrum LED bulbs, this grow lamp provides plants with consistent lighting conditions, allowing them to absorb more nutrients and grow at faster rates. At a height of 24-inches, it covers 3×3 feet. Although hanging it at a greater height, it can achieve a maximum light coverage of an impressive 4.2×4.2ft.
Pros
Comes in a variety of different sizes and wattage options including 1000W, 1500W, 2000W, 2500W, and 3000W
CREE COB LEDs are well known for their long lifespan and performance
2 years warranty plus a 30-day money-back guarantee
Cons
Although this unit has an integrated dual fan system, it still runs hot
Daisy chaining isn't an option
key specs: 45W (17W ±3% actual power draw) | 3x3ft light coverage | Full spectrum LED 620-660nm / 450-460nm / 6500k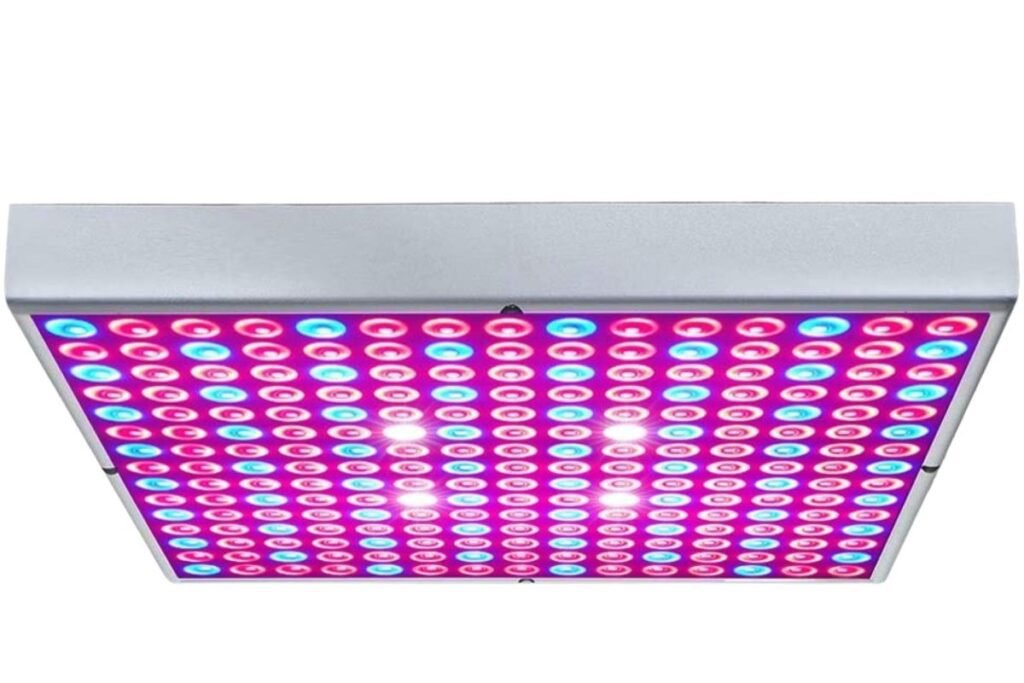 View on Amazon
View on Walmart
The Hytekgro LED Grow Light features a compact, slim design that will take up little space in your grow tent or grow room. The Hytekgro puts out full-spectrum light from its integrated 163 red LEDs (620-660nm), 58 blue LEDs (450-460nm), and 4 white LEDs (6500k).
This LED grow light unit is lightweight and very easy to use with the included hanging brackets. The LED Grow Light Panel is made of high-quality ABS plastic material that offers excellent heat control. It boasts a lifespan of 50,000 hours and has three separate growing modes perfect for a plant's seedling stage, vegetative stage, and flower/fruiting stage.
Pros
Not just well suited for houseplants, but also vegetables and fruits as well
12-month warranty plus a 30-day money-back guarantee
Very affordable
Cons
These grow lights will not daisy chain together
No isolated on and off switch on the unit itself
key specs: 480W | 5x5ft light coverage | Full-spectrum LED 400-800nm and 3000k+4000k
View on Amazon
Hyphotonflux HPF4000 led grow light is a serious system for the serious indoor gardener. This LED grow light is equipped with high-quality Samsung LM301B diodes and a built-in MEANWELL driver. It draws 480W, achieving 2.7 μmol/J of efficiency and higher than average PPFD with 1300 μmol/s at 4'x4′ flowering coverage.
It features excellent heat management, low power consumption, and solid-state construction – providing the benefits of LED lights without high energy bills or maintenance costs. Also offering up to 80% energy savings and a full-spectrum (Top-bin Samsung LM301B 3000k+4000k) with enhanced deep red 660nm LEDs and flexible and adjustable mounting options, it's ideal for any indoor gardening environment.
Pros
Can be daisy-chained
3-years warranty and after-sales service for US-based customers
Features IP66 waterproofing making it perfect to be coupled with a watering system
Integrated passive cooling system
Cons
I ain't got nothin' bad to say about this herculean of a system. It is the crème de la crème of indoor growing lights
4. Best adjustable spectrum indoor grow light: Exlenvce LED Grow Light
key specs: 600-2000W | up to 5.2×5.2ft light coverage | Full-spectrum LED 370-750nm
View on Amazon
View on Walmart
The Exlenvce LED Grow Light is the perfect solution for all your indoor growing needs. Its 600-2000W design delivers full-spectrum light, making it suitable for various plants including vegetables and flowers. It also comes equipped with 3 growing modes. One vegetation mode, one flowering mode, and a dual-mode that runs all the blue and red-emitting LED lights at once.
Its daisy chain ports allow growers to connect multiple lights to one another, saving on power and avoiding excessive wiring. The Exlenvce LED Grow Light also comes with a 4-year warranty and a 90-day unconditional money-back guarantee.
Pros
These grow lights come in 5 different wattage options, including 600W, 1000W, 1200W, 1500W, and 2000W
The 600W model delivers up to 4.5×4.5ft of coverage and the 2000W model up to a massive 6.8*6.8ft of coverage
3 interchangeable grow modes
Integrated cooling fan to combat generated operation heat
4-year warranty and 90-day money-back guarantee
Cons
The supplied power cable is short, so may need to source an extension cord or find a replacement cable that is longer
key specs: 1000-4000W | 2x2ft coverage | Full spectrum LED 380-780nm
View on Amazon
View on Walmart
Keep your indoor plants happy and healthy with the Bloom Plus LED Grow Light. Well known for its high efficiency and long lifespan, the Bloom Plus features 336 powerful Samsung 2835 diodes and BP1000 LED bulbs that deliver between 1000-4000 watts of power. The Samsung LEDs administer full spectrum light intensity, while the fanless cooling system ensures quieter operation and eliminates excess heat buildup.
This LED grow light is ideal for soil or hydroponic gardening systems and delivers between 380nm to 780nm of artificial light, providing the perfect spectrum of lighting for all phases of plant growth. While the included hanging kit acts to ensure optimal amounts of light is delivered to your indoor plants.
Pros
Comes in various wattage options including 1000W, 1500W, 2500W, 3000W, and 4000W
Quiet, fanless design
Its slim design makes it perfect for a grow tent
The supplier offers great customer service
Cons
Offers high light intensity and quiet operation but as a result, the unit runs hotter than other grow lights
key specs: 9W | average life of 20,000 hours | Full spectrum light 400-740nm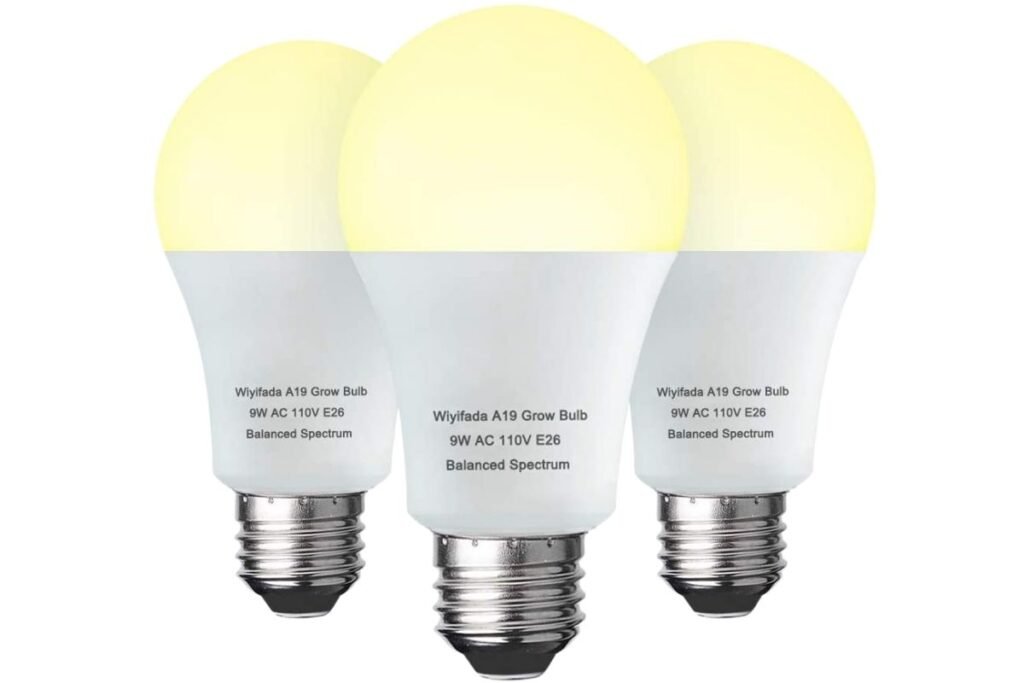 View on Amazon
With an E26 base that can replace any traditional run-of-the-mill screw-in light bulb, this 3 Pack of LED grow light bulb is perfect for all growing stages plants. Their A19 bulbs deliver a 150-degree light output while also delivering full-spectrum light between 400-740nm. These indoor incandescent bulbs will also save over 85% of power consumption and tote 20,000 hours of average lifespan.
Pros
An easy and affordable way of turning any E26 light fitting into a plant light
Comes in two different options, balanced light, and full-spectrum light
A great way to turn any artificial lighting into an ergonomic grow light
Cons
These bulbs don't offer the same light coverage as a full-sized grow light system
Not dimmable
key specs: 216-548W | rated for 20,000 hours of life | Full daylight 6400k light spectrum
View on Amazon
The Hydrofarm Agrobrite T5 Grow Light System takes fluorescent lighting technology to the next level with its robust, high-quality design. This grows light system features an upgraded electronic ballast that is more powerful and efficient than standard magnetic ballasts. This results in higher lumen output, longer lamp life, and less heat maintenance.
The fixtures are designed with a high-performance aluminum reflector that distributes light more evenly and reduces hot spots. This unit also has an integrated hanging system for easy installation that is adjustable to three unique positions – overhead, vertical, or horizontal.
Pros
Systems come in various lengths and widths – either 2-4 feet long and with either 4, 6, 8, or 12 tubes
These grow lights can be daisy-chained into pairs of two
Great for growing a variety of different plants indoors, including houseplants and veggies
Cons
Although the T5 6400K bulbs are great for vegetative growth, if you wish to grow flowering or fruiting plants with these lights you may have to grab yourself an additional set of 2000-3000K fluorescent tubes
Hydrofarm's customer service can be difficult to get a hold of
key specs: 400-1000W | 4x4ft light coverage | 2,100k-6000k light spectrum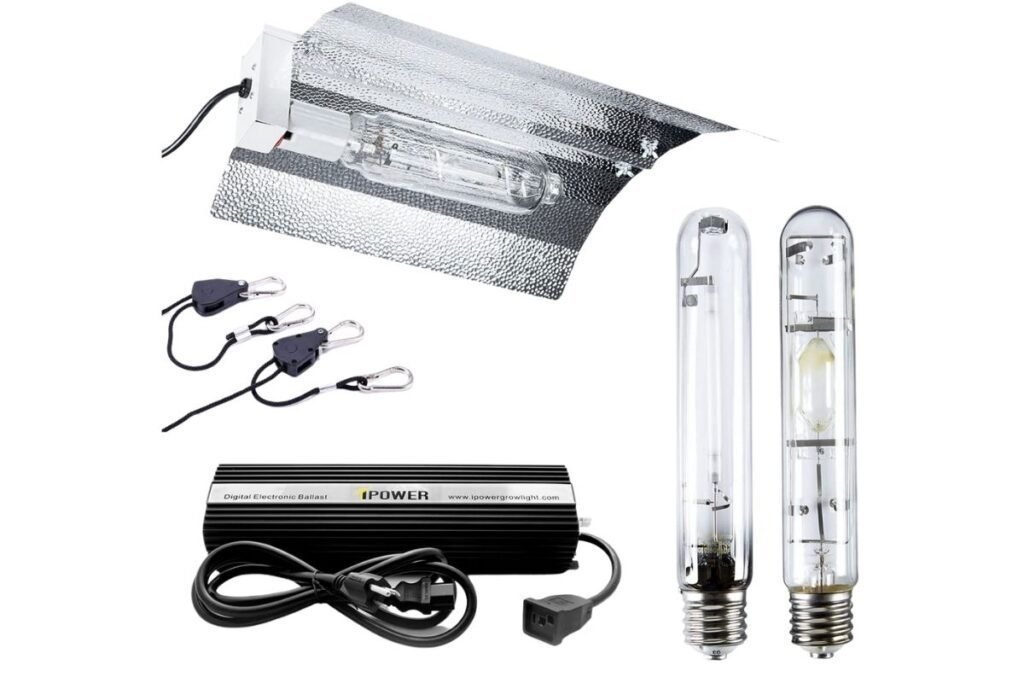 View on Amazon
View on Walmart
If you're an indoor gardener or commercial farmer with a large indoor plant collection, the iPower Horticulture 400 Watt HPS MH Digital Dimmable Ballast Grow Light System is the perfect choice for you.
This HID grow light accommodates both HPS and MH bulbs, which will provide your plants with the most suitable spectrum for optimal growth. The iPower Horticulture Grow Light System combines a 400W super 2100k HPS bulb and a 400W 6000K MH bulb with high PAR perfect for growing plants indoors.
Pros
Comes in four different wattage options including 400W, 600W, 1000W, and 1000W XXL
55,000 lumens
32,000 hours of average bulb lifespan
Included is a long 8-feet heavy-duty power cord
Digital ballast offers three dimmable options, including 50%, 75%, and 100%
Cons
Smells… well, fishy: as you'd expect, it has quite a strong odor – enough to make your eyes water
key specs: 10W | 2ft wide light coverage | T5 full-spectrum LED
View on Amazon
The iGrowtek 2-Feet LED Grow Light Stand for Seedlings is a great way to start seeds, propagate cuttings, and grow small-statured indoor flowers and houseplants. The iGrowtek has recently had an updated frame added, which is more sturdy than ever before. Thanks to its wide reflector, the T5 LED grow light fixture offers excellent light coverage. And the high-efficiency, high-output LEDs offer up to 70% of energy-saving over alternative bulbs.
Pros
Easy on the eyes
Easily adjustable height
Energy-efficient
Cons
The frame's footing width is too wide to use on most windowsills
When the light is positioned close to the top of the frame, the system is a little unstable
key specs: 100W | up to 3x3ft light coverage | 660nm/3000K/5000K/IR 760nm light spectrum
View on Amazon
View on Walmart
The Spider Farmer SF-1000 LED Grow Light is a full spectrum, high-performance LED grow light for your indoor garden. This advanced grow light offers the best in technology with an array of Samsung LM301B diodes, High Energy Efficiency with 2.5 umol/J.
The SF-1000 LED grow light has various growth stages to choose from thanks to a variety of LED bulbs, including 3000K, 5000K, 660nm, and IR 760nm. The SF series also includes an integrated light switch and dimmable knob. This makes the SF-1000 perfect for winter as growers can easily tailor lighting to suit cooler temperatures.
Pros
The Spider Farmer team provides excellent after-sales service
Perfect for small spaces as it runs cooler than other alternatives
Very affordable
Cons
The hanging system only attaches at two points
Our recommendations
Still unsure which one is best for you?
If you're still unsure which grow lights best suits your indoor garden, here are a few vital tips to help you make the best choice.
The light spectrum
Plants require light between 425-450 nm to 600-780 nm wavelengths to undergo photosynthesis – the process by which plants create food from light, water, and CO2. Blue with light wavelengths between 400-500nm is used for the vegetative growth stage. On the other end of the light spectrum, wavelengths between 650 and 780 nm are especially important to phytochrome (Pr), which allows a plant to regulate flowering.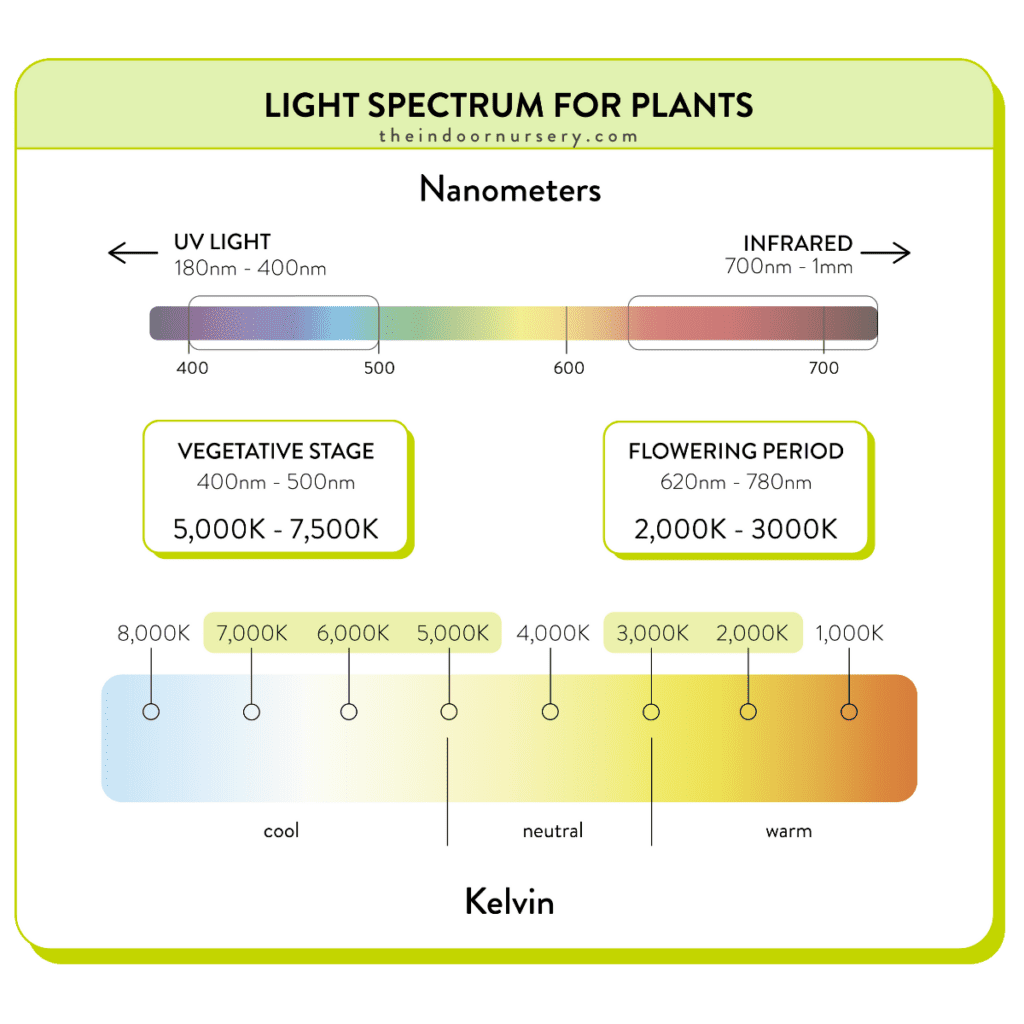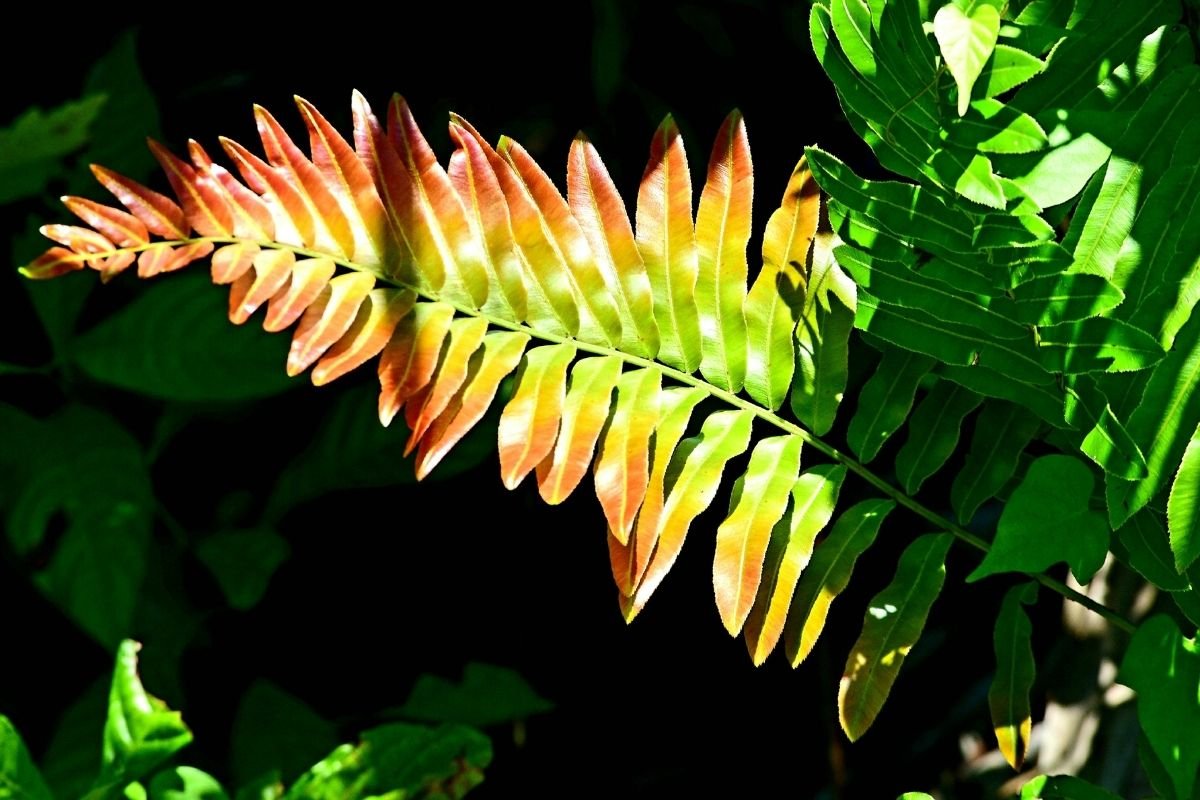 How a grow light's performance is measured
There are several ways grow light outputs are measured, these include:
Nanometers: Most commonly grow lights are measured in nanometers (nm), this measurement represents the amount of light emitted in both visible and UV light. This is called the visible spectrum, and it is in this range, 380-700nm, that grow lights emit their light.
Kelvin: Color temperature is a way of representing the light appearance provided by a grow light. The color temperature scale is measured in degrees of Kelvin (K) ranging from 1,000-10,000. For plant growth, it is best to expose them to light that is like natural sunlight, something between 2,000K to 7,000K.
PAR: Another measurement you might run into is photosynthetic active radiation or PAR for short. PAR is the measure of photons that a light emits. Like Nanometers and Kelvin, PAR is a measurement of visible light. Therefore, PAR exists in ranges of between 400-800nm.
Lumen: Lumens can be used to measure the brightness of a lightbulb, the amount of lumens usually corresponding to the brightness of the light produced. Lumens, however, is not a unit of measurement specific to plant growth and defining intensity in lumens isn't the best way to determine how effectively a grow light delivers full-spectrum light to a plant.
Foot candles: Foot candles are one way a grow light's output is measured. Although, this measurement is now a bit of a relic of the past. A foot candle represents how much light is concentrated on any area from a distance of a single foot away. Modern grow lights you'll find on the market today will emit several hundred units of foot candles.
Light types
Led light
LEDs, light-emitting-diodes, have quickly become the most common and widely used grow lights for home and commercial growers. This is because of their high levels of power efficiency, low heat production, and comparatively affordable running costs. LED lights come in a variety of options, including screw-in LED bulbs, stand-alone lamps, clip-on lamps, compact seed-raising kits, and high-intensity commercial greenhouse systems.
One of the best features of LED grow lights is they are usually manufactured to produce full-spectrum light, making them perfect for indoor plants. Even better, high-quality LED lights are often dimmable, adjustable, and programmable to produce different levels and intensities of light during different periods of the day. This means indoor gardeners can tailor and tweak the amount of light they wish their system to produce – a feature that's super handy for producing optimal lighting to best match a houseplant's various growth stages.
Pros:
Most times LEDs offer a full light spectrum that closely matches natural sunlight
When compared to other grow light options, LEDs are very affordable to run
LEDs give off less heat than other lighting options
LEDs are often adjustable and dimmable. Some manufacturers even include capabilities that allow adjustments to be made using an app on a mobile device
Cons:
LED setups are comparatively more expensive to purchase than other lighting types
Incandescent light
Incandescent lights are not ideal for growing plants with higher light requirements like tropicals, cacti, or succulents. They are much better suited to low-light houseplant varieties like ferns, snake plants, and pothos plants. Incandescent bulbs, lamps, or systems are very affordable, the only trouble is these lights really only emit around 10 percent of their energy as light while 90 percent as heat. This means they aren't the most energy-efficient option.
Pros:
Perfect for houseplant varieties that thrive under low-light conditions
Very affordable to buy
Cons:
Produce a lot of heat
Are more expensive to run than LED lights
Fluorescent light
Fluorescent lighting is a great option for indoor plant varieties that enjoy either full sun or low or medium light conditions, like Snake Plants, Dracaenas, and Aglaonemas. Fluorescents also make great seed-raising lights, offering optimal lighting conditions that encourage new seedlings to put out robust growth.
Fluorescent lights are typically manufactured in a variety of sizes. The most common sizes you'll find out there for grow lights are T5, T8, and T12s. As a general rule of thumb, the narrower fluorescent tubes are, the more efficient and brighter they will be. Fluorescent lights are often measured in kelvin, a measurement of color temperature.
For example, you'll often see fluorescent grow lights labeled as 2100K or 6500K. Basically, for grow light's kelvin is a measure of warmth or coolness. The higher the measure of kelvin the bluer or cooler a fluorescent light will appear. The warmer the light, the redder or warmer a fluorescent light will appear. So a 6500K fluorescent light will be bluer than the 2100K light.
Fluorescent lights also come in compact options commonly referred to as CFLs. You know them, they're those twisted bulb-like fluorescents you can buy from the store. Compact fluorescent lights are run at the fraction of the cost of incandescent lights and are cheaper to run than larger fluorescents. Just be careful, as their wattage does vary, so be sure to do some solid research before choosing the correct ones for your indoor plants.
Pros:
Fluoros are perfect for houseplant varieties that like low and medium lighting conditions
Make a great option for raising seedlings
Fluoros produce consistent bright light
Compact fluorescent light options are perfect for carnivorous plants and certain types of orchids, like phalaenopsis
Cons:
Are more expensive to run than LEDs
Fluorescent light fixture setups are usually bulkier than LED setups
Halide lights
High-intensity discharge (HID) lights, commonly referred to as halide lights, are large-bulbed systems that make great grow lights. HIDs come in two different types: metal halide (MH) and high-pressure sodium (HPS).
Metal halides are filled with a gas that when turned on burns and produces light on the blue end of the light spectrum. This bluer light is perfect for plant growth and is therefore referred to as a vegetative light. On the other hand, high-pressure sodium bulbs put out light that is on the redder end of the light spectrum and are perfect for flowering plants or plants that you wish to encourage to move into their reproductive stage. Hence they are referred to as flowering lights.
Included with HID systems are ballast and a reflective hood. If you think of a commercial greenhouse like a cannabis farm, you'll probably know what an HID and light distribution system looks like. The ballast comes in two forms: a magnetic ballast or digital ballast. Digital ballasts can be adjusted to regulate a bulb's output, while magnetic ballasts cannot be adjusted. The reflective hood simply maximizes the concentration of produced light to better cover a plant's foliage.
Pros:
HIDs that are run off a digital ballast is dimmable and adjustable
HIDs produce more light that is usable to a plant than fluorescent lights
HIDs are more affordable to run than incandescent lights
Cons:
HIDs are more expensive to run than LEDs and fluorescent grow lights
HID bulbs will produce a lot of heat, so be sure to get your hang heights right otherwise you'll risk burning your indoor plants
HIDs require ballasts and reflective hoods. Therefore, they are nowhere near as compact as other lighting options
Conclusion
Whether you're an indoor plant enthusiast or someone who's passionate about growing your own food, indoor grow lights are an incredibly valuable tool. Regardless of where you live, a high-quality grow light will allow indoor plants to grow all year-round. And best of all, they'll help you grow the healthiest and happiest plants than ever before.
I hope this post has given a better idea of which grow lights best meet your indoor gardening needs. Happy gardening!
shop our recommendations