🧪 Our review process
Our testing team independently researches, tests, and recommends the best products to help keep your houseplants absolutely thriving. Learn more about our testing and review process here.
Just like you and me, indoor plants need some form of sustenance. Without it, they get the munchies!! Plants with munchies (i.e. nutrient-deficient plants) are more susceptible to pests and diseases, often lack leaf luster and vibrant coloration, and might suffer from weak stems. Even worse? Hungry flowering plants won't flower.
If you've been waiting all year for a flowering event, you'll definitely appreciate the disappointment of missing out on a highly-anticipated bloom.
But you can't really expect a plant to flower or fruit as frequently – or at all – if it's hungry, now can you?
Hungry houseplants call for indoor plant fertilizer to satiate their needs for the basic macronutrients, micronutrients, microbes and more.
These are our top recommendations for indoor plant fertilizer options currently available to you and your hungry plants.
The best fertilizer for indoor plants
Key specs: 590ml / 20oz | NPK ratio: 4-5-5 | odor-free and USA made
View on Amazon
No harmful chemicals, all-natural, and groundwater safe. The Purived Liquid Fertilizer for Indoor Plants is a balanced mix of macro and micronutrients that gently feed all potted household plants – from the delicate orchid to the robust Rubber Fig. Its gentle formula provides balanced nutrition for healthy, vibrant growth.
Pros
Versatile: for use on both indoor and outdoor plants. Plus, it's both non-toxic and groundwater safe and can also be used as a foliar feed or as a hydroponic fertilizer
Water-soluble: feed hungry plants quickly with essential macro and micronutrients
Long-lasting: one 20oz bottle makes up to 50 gallons of water-soluble fertilizer
Cons
High-concentrate: it's powerful so be careful
Key specs: 530ml / 18oz | NPK ratio: 2-4-1 | great for blooming plant varieties

View on Amazon
View on Walmart
Neptune's Harvest Fish Fertilizer is a premium concentrated all-purpose organic plant food and fertilizer that will make your plants grow stronger, healthier, and happier. Made from fresh North Atlantic fish, this fish emulsion fertilizer will provide your plants with a whole bunch of vitamins, amino acids, and enzymes that they'll absolutely thrive on. Great for both indoor or outdoor plants and all shrubs or trees.
Pros
Organic: derived from organically produced, dock-fresh North Atlantic fish
Perfect for flowering plants: great for both indoor and outdoor blooming plant varieties
Varied size options: comes in 4 different sizes for you to choose from
Cons
Smells… well, fishy: as you'd expect, it has quite a strong odor – enough to make your eyes water
Key specs: 45g-3.6kg / 0.1-8lbs| NPK ratio: 15-9-12 | up to 6 month1 qt / 32oz | NPK ratio: 17-5-24 | formulated to replicate the nutrients of a shady forest floor
View on Amazon
View on Walmart
Are you frustrated by all-purpose fertilizers that just don't seem to hit the spot for your beloved indoor palms? Look no further than this professional palm fertilizer from EZ Grow. Formulated to replicate the potassium and mineral-rich profile of the tropical forest floor, this liquid fertilizer is packed with additional micronutrients to satisfy even your most choosy fronded houseplants.
The nitrogen in this fertilizer is completely urea-free, so you don't have to worry about pH swings that might burn your palm. It's safe when used as directed, but don't be fooled: This is a potent fertilizer and can burn if you're not careful. If your palms are recovering from under-watering or a long winter, start with a half-strength dose and apply with generous amounts of water.
Pros
High nitrogen and potassium content replicates the nutrient environment of the cool, shaded forest floor
Enhanced with micronutrients, reducing the need for added salts
Urea-free: Nitrogen is sourced from nitrate and ammoniacal nitrogen, reducing pH swings in soil
Use on indoor and outdoor plants
Cons
Not pet-friendly: Contains trace mineral molybdenum, which is toxic to animals in large doses
Key specs: 5oz | NPK ratio: 13-11-11 | specially formulated for succulents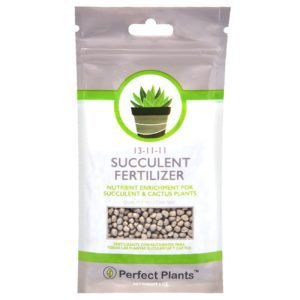 View on Amazon
View on Walmart
These slow-releasing granular fertilizer pellets are specifically formulated for succulents and cacti, including jade, crown of thorns, lithops, pilea, snake plants, echeveria, aloe vera, string of pearls, and more. One dose of this long-lasting nutrient boost will feed your potted and terrarium succulents for up to 6 months.
Despite its generous NPK content, nutrients are released and activated by interaction with water over time. As long as you don't overwater, this fertilizer will work wonders by strengthening roots, ensuring vibrant coloration, and encouraging healthy branching.
Pros
Virtually endless shelf life when stored in a cool, dry place
Balanced blend of nitrogen, phosphorous and potassium contributes to sturdy stem growth, healthy branching and vibrant coloration
Slow-releasing, granular fertilizer pellets nourish succulents for up to 6 months
1/4 tsp per 2 inches of pot diameter
Cons
Boutique pricing, yikes!!
It's a tiny little bag, so double- or triple-up for larger potted succulents
Key specs: 4 lbs | NPK ratio: 4-6-3 | ideal for growing delicious indoor vegetables and herbs
View on Amazon
View on Walmart
Greenhouse vegetables and indoor herbs need a steady supply of fertilizer throughout their growing season to deliver the best quality produce to your plate. This dry fertilizer from Dr. Earth combines animal feed-grade fishbone meal, alfalfa meal, fish meal, potassium sulfate, kelp meal, rock phosphate, and kelp flour, along with micronutrients, trace elements and top-shelf strains of soil microbes and mycorrhizae. The results? Fat, juicy veggies, flavorful herbs, and soil that improves nutrient availability and uptake throughout the growing season.
One teensy downside with this fertilizer for indoor plants is that the Amazon page advertises and older version of this product that contains a greater variety of ingredients and more humic acid than the product that is currently shipping.
While it can be used on both indoor and outdoor plants, we are particularly fond of using this fertilizer for indoor herb and veggie gardens because the gentle NPK profile makes it pretty darn tough to use too much. Because you'll be fertilizing your edible plants regularly to make sure they grow abundantly, it's important not to worry about killing them every time you add fertilizer!
Pros
Completely non-toxic to people and pets
Made from ingredients you would eat and enriched with minerals, trace elements, humic acids (contains 6% humic acids in all), and soil microbes, and mycorrhizae for healthy, fertile soil
Made from animal feed-grade ingredients
Planet-happy product!! Non-GMO project verified, OMRI certified for organic use and approved by CCOF (California Certified Organic Farmers), among other organic certifications
Cons
Ingredients are not as advertised: Actual humic acid content may vary from 1.5% (newer product version) to 6% advertised on Amazon
Can be tricky to calculate how much to use when applying to containers since you need to add it directly to soil
Key specs: 5 gallons | NPK ratio: 3-1-1 | contains amino acids that boost plant vigor
View on Amazon
If 'grow big or go home' is your guiding mantra, this 5 gallon liquid fertilizer from Aurora Innovations is the perfect bulk fertilizer for you. Founded by chemists and plant scientists, Aurora has developed several lines of synthetic fertilizers based on extensive research.
This product is more of a liquid nutrient than a fertilizer, but we recommend it to anyone growing a high volume of indoor plants because it's safe to use on pretty much all plants from seedling to maturity and can be paired with specific phase fertilizers without worry about fertilizer burn.
It's suitable for use in both soil-based and hydroponic gardening. Supercharge the vigor of your indoor plants and rest easy knowing you almost definitely won't run out of this fertilizer any time soon!
Pros
Low-value NPK is safe for using on everything from seedlings to transplants
Excellent value: 1 Tbs per gallon of water for mature, soil-based vegetative plants
GINORMOUS 5 gallon container will satisfy even heavy-feeding plants for several growing seasons
Packed with amino acids that boost plant vigor
Cons
There's little not to like about this bulk fertilizer for indoor plants
7. Best indoor fertilizer for flowering plants: Fox Farm Tiger Bloom
Key specs: 1 quart | NPK ratio: 2-8-4 | great for blooming plant varieties

View on Amazon
View on Walmart
Support your indoor flowering plants through multiple blooming phases with this top-rated bloom-phase fertilizer for indoor plants from Fox Farm. With a high phosphorous content and enough nitrogen to sustain continued foliage growth through maturity, this organic fertilizer supports plants like hoya, jasmine, and ficus to sustain bountiful blooms and fruits. Fox Farm recommends using this fertilizer together with their Big Bloom plant food for best results.
Pros
Can be used for both soil and hydroponic growing
High phosphorous content stimulates complex energy transformation and supports cell division, encouraging fruiting and blooming
Begin applying to your plant at the first sight of budding to encourage multiple blooms
Cons
You might need to double up the application of this fertilizer for best results
Key specs: 4 lb | NPK ratio: 6-4-5 | great for blooming plant varieties
View on Amazon
Neptune's Harvest Fish Fertilizer is a premium concentrated all-purpose organic plant food and fertilizer. This organic granular fertilizer from Happy Frog will give your indoor plants everything they need – and more! – to grow gorgeous foliage. With live soil microbes and a nitrogen-rich NPK profile, this miraculous powder packs a surprising punch for smelling so…neutral.
We wouldn't choose the best organic fertilizer for smell alone (amazing organic fertilizers are known to smell like the toilet, after all), but this low odor product gets bonus points for being easy on the nose and a breeze to mix. Just be sure to measure only what you need for watering, because the mixed solution won't keep for more than a day.
Pros
OMRI listed for organic use
Solid NPK profile is amended with active soil microbes for improved nutrient uptake and pest-resistance
This organic granular houseplant fertilizer is less messy and keeps for longer than comparable organic liquid fertilizers: Good for up to two years after purchase
Use immediately on your indoor plants after mixing with water
Cons
This powder is a bit hydro-phobic and can be tricky to mix completely into water, but due to the gentle NPK profile any gritty particles left at the bottom of your watering can shouldn't burn your plant
PRO TIP: These make great gifts for plant lovers 😉
Honorable mentions for best houseplant fertilizer
So technically, the recommendations below aren't exactly fertilizer; they're plant food. Yes, there is a difference between fertilizer and plant food! We're including them here because our readers absolutely love these products, and they really work. We recommend both of these plant food picks for indoor houseplants that aren't suffering from a particular nutrient deficiency; use them like vitamins for your plants. If you're looking for something to support your plants during a bloom phase or target a specific deficiency, opt for one of the indoor fertilizers above.
Key specs: 45g / 1.6oz | NPK ratio: 4-3-2 | pH balanced and makes up to 45 gallons
View on Amazon
View on Walmart
This is a reader favorite! The LiquiDirt Nano Powder indoor plant food has been designed to feed indoor plants with the essential nutrients they need to grow strong and healthy. It is made from 100% sustainable sources, it contains no synthetic fertilizers or additives. And the best part, this premium plant food is rich in macro and micronutrients, which are the primary building blocks of organic life.
Pros
Organic houseplant fertilizer: the perfect organic blend of essential vitamins, minerals, and beneficial micro-fungi and bio-organisms
Very versatile: as well as use on potting soil and growing substrates this fertilizer is also suitable for hydroponic and aquaponic applications
Amazing value: this little satchel makes up to an incredible 45 gallons or 170 liters
Cons
Messy: using the satchel can be a little bit messy. I recommend mixing it in a large container or over a sink to prevent spills and help reduce any necessary cleanup
Key specs: 31g / 1.1oz | NPK ratio: 6-12-6 | super easy to use and provides up to 2 months of plant food
View on Amazon
View on Walmart
Miracle-Gro Indoor Plant Food Spikes is a new and innovative way to provide your plants with essential nutrients. They are easy to use and you just need to put them into the soil, no watering or measuring is required. With its slow-release formula, this product ensures optimum feeding of indoor plants and helps maintain a healthy environment inside your house or office for up to 2 months.
Pros
Fertilizing couldn't be any easier: simply use the provided aerator tool, make a few holes, and slide in as many fertilizer spikes as needed
High in phosphorous: phosphorous is essential for strong plant root growth and overall vigor
Wide range of size options: choose between 24 or 48 combo packs. Or, buy in bulk for a discounted price
Cons
Not great for foliar feeding: when I say not "great" what I mean is: it's just not possible
Multiple spikes needed for large container plants: as indicated by the instructions, large container plants will require multiple spikes. So this may not be as convenient to indoor gardeners that have a large collection of big indoor plants
Our recommendations
How to know which plant fertilizer is for you
If you are unsure which fertilizers will best suit your indoor gardening needs, here's a quick breakdown of all the different types of indoor plant fertilizers – including some homemade plant food options. In addition, I'll quickly run through why fertilizer is essential to keeping and maintaining healthy houseplants.
Want to know which fertilizer works best? Read our plant fertilizer experiment to find out.
Types of indoor plant fertilizers
There are three main types of plant fertilizers. Each is produced differently and each having different qualities that make them better suited to different applications. Here are the various plant fertilizers you are likely to come across:
Minerally-derived fertilizers: are mined from different environments and are then manufactured for plant application.
Industrially manufactured fertilizers: are usually produced through chemical reactions in a lab.
Organically-derived fertilizers: are manufactured from organic origins like cow manure, fish, worm castings, etc.
These different types of fertilizers are made into different products in order for different means of application to be possible. These various applications look like this:
Liquid fertilizers: are just as they sound, they exist in a liquid form. This makes them easy to prepare and apply and is usually in some form of concentrate that requires them to be mixed with water.
Slow-release fertilizers: are manufactured in different forms, some made into pods, some spikes, and others capsules. This makes them easy to apply and doesn't require as much reapplication as the nutrients is released slowly when the plant is watered
Organically-certified fertilizers: it's kinda confusing but organically-derived material is different from something being certified as an organic product. For instance, although organic fertilizers can be made from cow manure (an organic source, hence it is termed an organically-derived fertilizer) it doesn't necessarily mean that it's a certified organic fertilizer. For a product to be classed as organic it needs to be vetted through a set of strict regulations. Only then can a product like fertilizer be considered and certified as organic.
Read our full breakdown of all of the plant food and plant fertilizer types for a deep dive into the different kinds of fertilizers, what to look for, and how to use it.
Final thoughts
It's easy to see why indoor plants are so popular. They're beautiful, many of them improve air quality, and they can even help you relax. But without the proper care, they will not thrive. So if you're ready to take your indoor plant care to the next level, it's time to start using a high-quality fertilizer.
Hopefully, this post has helped you make a decision about which houseplant fertilizer is best suited to your indoor gardening needs. Good luck with your indoor plant adventures and happy gardening!
FAQs about shopping for an indoor plant fertilizer
What are the best supplements and fertilizers for indoor plants during the winter season?
Even in warmer tropical climates, fertilizing during the winter months isn't always necessary. This is because plant growth has slowed down considerably or completely halted. Although depending on the variety of an indoor plant, some will enjoy the odd feed – African Violets are a case in point. If this is the situation, your best bet is to feed any super hungry overwintering plants with a diluted mix of fertilizer. A low concentrated water-soluble fertilizer will work best.

Is there any drawback to using organic fertilizers for indoor plants?
Some of the biggest drawbacks of using organic fertilizers on indoor plants are:
1. Organic fertilizers can vary widely in their nutritional makeup and therefore produce inconsistent levels of success.
2. Comparatively, organic fertilizer is often not as bio-actively available to houseplants as a synthetically manufactured fertilizer.
3. Synthetically produced fertilizers will often produce faster results. Fertilizing houseplants with an organic fertilizer option should be treated as a long-term process.
4. Producing organic housemade plant food and homemade fertilizer is a time-consuming and complicated procedure.

Can you use coffee grounds to fertilize indoor plants?
Yes, but be careful. coffee grounds are an excellent source of nitrogen, it's best to take a few precautions before using them. This is because different kinds of molds, particularly green molds, absolutely adore fresh coffee grinds and will quickly cover and start feeding on them as soon as they get the chance. Sure, green molds aren't particularly dangerous to plants but they certainly aren't great for human health – I mean is a plant really air-purifying if its container or pot is producing green mold spores?
Probably not.
With that in mind, if you are going to use coffee grinds either spread it super thinly around a plant's base and cover it with some soil, mix it through a new batch of potting soil in very small amounts when planting or repotting (just be careful not to burn a plant's roots), or, best of all, compost it first.
shop our recommendations