🧪 our testing process
Our testing team independently researches, tests, and only recommends the best products to help keep your houseplants absolutely thriving. Click here to learn more about our testing and review process.
Just like you and me, indoor plants need some form of sustenance. Without it, they'll soon become hungry, are more susceptible to pests and diseases, and, if they are an angiosperm (a flowering plant), they may not flower as frequently.
And if you've been waiting all year and missed out on a flowering event, you'll definitely appreciate the disappointment of missing out on a highly-anticipated bloom.
To help you keep your indoor plants satiated, and your yearning for beautiful flowers satisfied, here are the best indoor plant fertilizer options currently available to you and your indoor plant babies.
our recommendations
the best fertilizer for indoor plants
key specs: 250ml / 8oz | NPK ratio: 4-3-4 | high-concentrate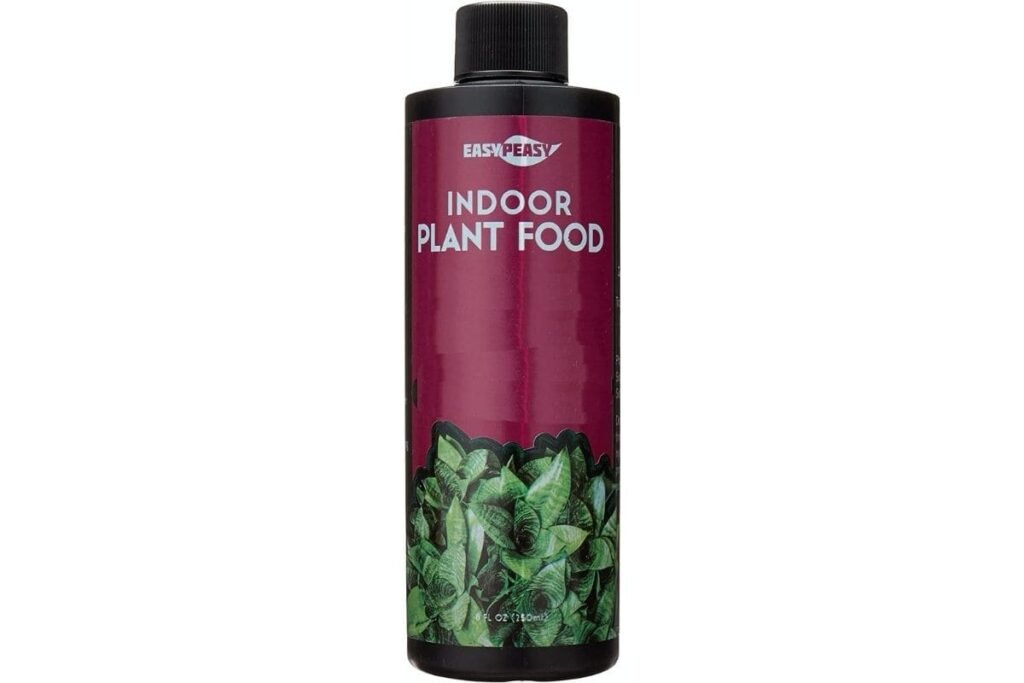 View on Amazon
With an N-P-K ratio specifically engineered for indoor plants, this liquid fertilizer is sure to have your leafy housemates revealing their best selves in no time. Its been perfectly balanced to promote healthy green plant growth and encourage colorful, regular flowering. While its fast-acting chemical fertilizer mix helps plants develop a strong root system and healthy, strong-looking trunks and branches.
Pros
Suitable for a wide variety of plants: anything from a collection of succulents to a fiddle leaf fig plant – they'll all enjoy it
Highly concentrated: just half a teaspoon makes 2 whole cups of fertilizer
Super affordable: at such a high concentration this product offers a whole heap of bang for your buck
Cons
Be careful with over applying: Not necessarily a knock on the fertilizer, just be sure not to apply this high-concentrated houseplant fertilizer too liberally – you may just cause fertilizer burn
Liquid fertilizers aren't slow-release: if you have particularly sensitive plants it's best to opt for a granular fertilizer just in case
key specs: 140g / 5oz | NPK ratio: 18-6-8 | urea free and slow-release
View on Amazon
The Grow Co. Indoor Plant Food is a high-quality fertilizer that gently feeds all indoor plants without the risk of over-fertilizing. This balanced mix of nitrogen, phosphorous, and potassium provides essential nutrients for healthy plant growth and development. It's safe to use with any type of potting soil and great for indoor use, as it doesn't release harmful ammonia-based fumes into your home or office.
Pros
Easy to use: granular fertilizers are super easy to apply when compared to other liquid plant food or water-soluble fertilizers – all you have to do is shake a few granules on top of the potting mix, water in, and forget about it
Slow-release: this granular fertilizer is slow-release helping to avoid any potential overfertilizing issues and providing up to a month of plant food
Suitable for all indoor house plant varieties: including succulents, snake plants, orchids, bonsai trees, philodendrons, peace lilies, and a whole heap more
Cons
NPK ratio may be a problem for some growers: the nutrient ratio is weighted heavily towards nitrogen, which is great for plant growth. But if you were hunting for an evenly balanced fertilizer, more suited to promoting flowering, this may not be the fertilizer you're looking for
key specs: 45g-3.6kg / 0.1-8lbs| NPK ratio: 15-9-12 | up to 6 months of feeding and bonsai-friendly
View on Amazon
Make your plants healthier and happier with a quality plant food that is high in macro and micronutrients. The Osmocote Smart-Release Plant Food works best for all types of indoor plants from young seedlings to mature trees. It is the premium choice of professional growers and indoor gardening enthusiasts everywhere because each granule is coated with a unique blend of resin that acts to control the rate of nutrient release.
Pros
Long-lasting: this slow-release fertilizer provides feeding for up to 6 months
No-burn pledge: as long as the fertilizer label directions are followed, Osmocote's no-burn pledge will prevent overfertilizing and burning of plant foliage
A ton of size options: Osmocote's Smart-Release Plant Food comes in a wide range of different sizes
Cons
Resin balls may be an annoyance: little polymeric resin balls will remain in the potting mix once the fertilizer has released all its nutrients. And although polymeric resin isn't toxic, environmentally unsafe, or carcinogenic, some people may not like the look of leftover resin casings
key specs: 2x 236ml / 8oz | NPK ratio: 1-1-1 | a gentle 2-pack fertilizer that's great for beginners
View on Amazon
This fast-acting, synthetic fertilizer from Miracle-Gro makes it easy to grow healthy plants, indoors or out! Its high-quality, low-concentration mix of macro and micronutrients gently feeds all potted household plants. The Miracle-Gro Indoor Plant Food formula promotes optimal growth and development of your indoor houseplants, resulting in larger, brighter green leaves and more frequent blooms.
Pros
Super-easy application: either pump straight onto the potting mix and water in or mix in a watering can and water as usual
Well-balanced: with an NPK ratio balanced at 1-1-1, this is perfect for indoor gardeners that are on the hunt for a well-balanced fertilizer or are beginners at fertilizing their indoor plants as its low concentrate is quite forgiving
Combo pack: this product comes in a discounted 2-pack
Cons
Low-concentrate: although you're unlikely to burn your plants if you have a large indoor house plant collection you may want to opt for a higher concentrated fertilizer
key specs: 45g / 1.6oz | NPK ratio: 4-3-2 | pH balanced and makes up to 45 gallons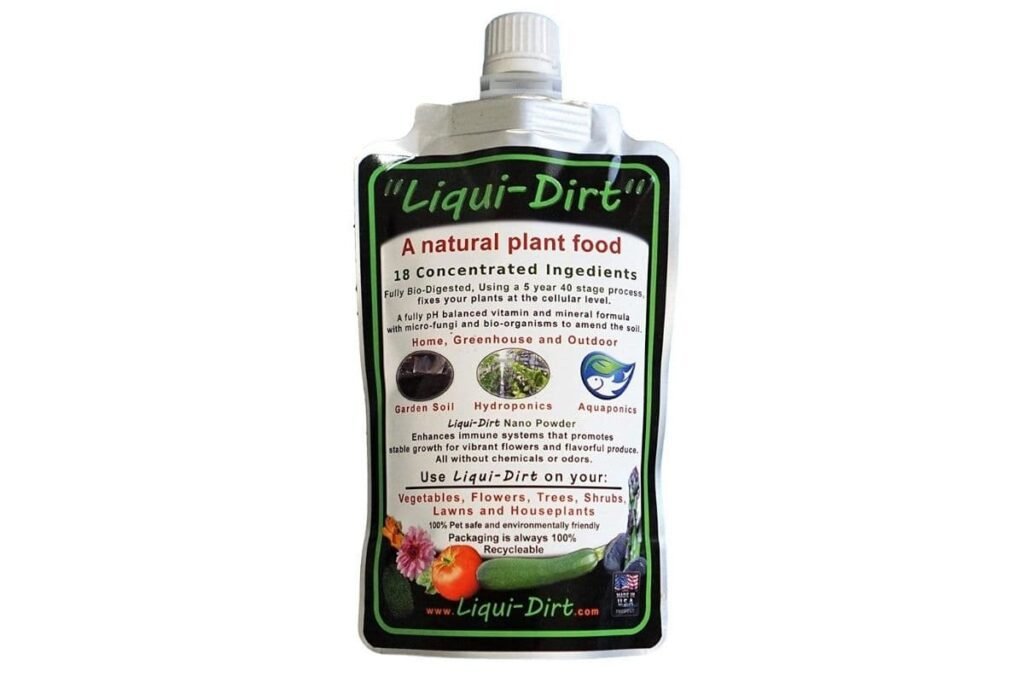 View on Amazon
The LiquiDirt Nano Powder indoor plant food has been designed to feed indoor plants with the essential nutrients they need to grow strong and healthy. It is made from 100% sustainable sources, it contains no synthetic fertilizers or additives. And the best part, this premium plant food is rich in macro and micronutrients, which are the primary building blocks of organic life.
Pros
Organic houseplant fertilizer: the perfect organic blend of essential vitamins, minerals, and beneficial micro-fungi and bio-organisms
Very versatile: as well as use on potting soil and growing substrates this fertilizer is also suitable for hydroponic and aquaponic applications
Amazing value: this little satchel makes up to an incredible 45 gallons or 170 liters
Cons
Messy: using the satchel can be a little bit messy. I recommend mixing it in a large container or over a sink to prevent spills and help reduce any necessary cleanup
key specs: 590ml / 20oz | NPK ratio: 4-5-5 | odor-free and USA made
View on Amazon
No harmful chemicals, all-natural, and groundwater safe. The Purived Liquid Fertilizer for Indoor Plants is a balanced mix of macro and micronutrients that gently feed all potted household plants – from the delicate orchid to the robust Rubber Fig. Its gentle formula provides balanced nutrition for healthy, vibrant growth.
Pros
Versatile: for use on both indoor and outdoor plants. Plus, it's both non-toxic and groundwater safe and can also be used as a foliar feed or as a hydroponic fertilizer
Water-soluble: feed hungry plants quickly with essential macro and micronutrients
Long-lasting: one 20oz bottle makes up to 50 gallons of water-soluble fertilizer
Cons
High-concentrate: it's powerful so be careful
key specs: 100g / 3.5oz | NPK ratio: 8-1-5 | an all-purpose fertilizer that's made in the USA
View on Amazon
Joyful Dirt is an all-purpose house plant fertilizer that feeds your plants naturally and organically. It is made of 100% organic ingredients that are both safe for pets and children. Simply sprinkle about an eighth of a teaspoon per plant around a plant's base and water in or mix one to two tablespoons per half a gallon of water or apply directly around the base of the plant with a watering can. This blend of water-soluble fertilizer has been formulated for all houseplants and has been engineered not to harm or burn your plants even when overapplied.
Pros
Contains beneficial soil-borne organisms: packed full of plant-beneficial mycorrhizae which allow house plants greater access to a wider range of macro and micronutrients
Versatile: this can be used to fertilize houseplants and outdoor plants
Easy application: simply shake onto the potting soil or potting medium and water in
Cons
Not super well-balanced: depending on the type of plant, some indoor houseplant varieties will respond better to a more NPK balanced fertilizer option
key specs: 530ml / 18oz | NPK ratio: 2-4-1 | great for blooming plant varieties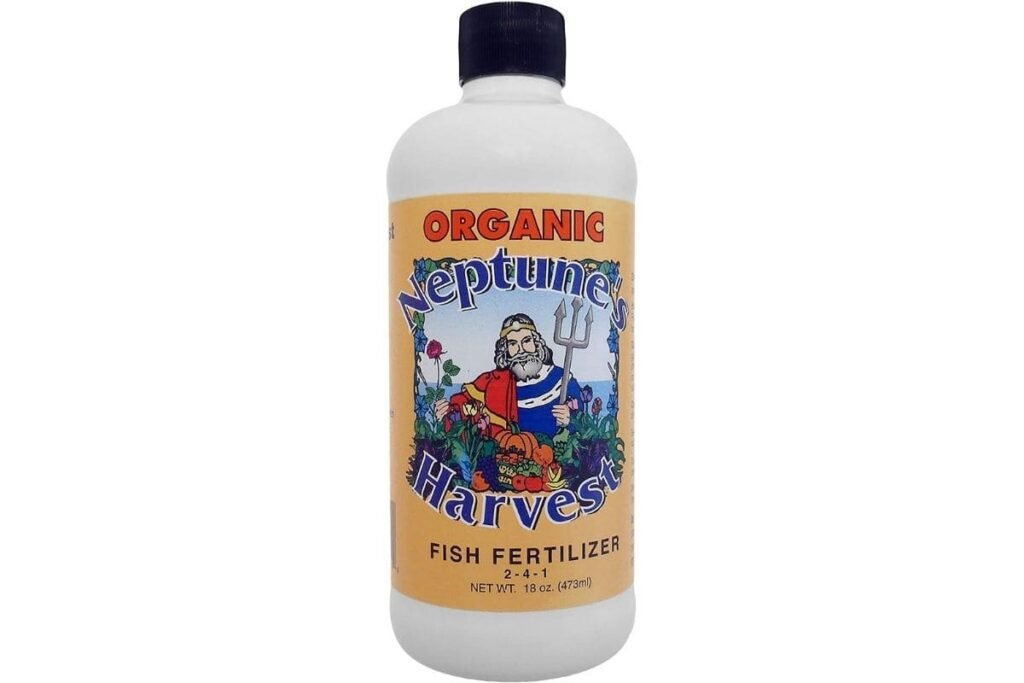 View on Amazon
Neptune's Harvest Fish Fertilizer is a premium concentrated all-purpose organic plant food and fertilizer that will make your plants grow stronger, healthier, and happier. Made from fresh North Atlantic fish, this fish emulsion fertilizer will provide your plants with a whole bunch of vitamins, amino acids, and enzymes that they'll absolutely thrive on. Great for both indoor or outdoor plants and all shrubs or trees.
Pros
Organic: derived from organically produced, dock-fresh North Atlantic fish
Perfect for flowering plants: great for both indoor and outdoor blooming plant varieties
Varied size options: comes in 4 different sizes for you to choose from
Cons
Smells… well, fishy: as you'd expect, it has quite a strong odor – enough to make your eyes water
key specs: 237ml / 8oz | NPK ratio: 1-1-1 | plant-based, vegan, and urea free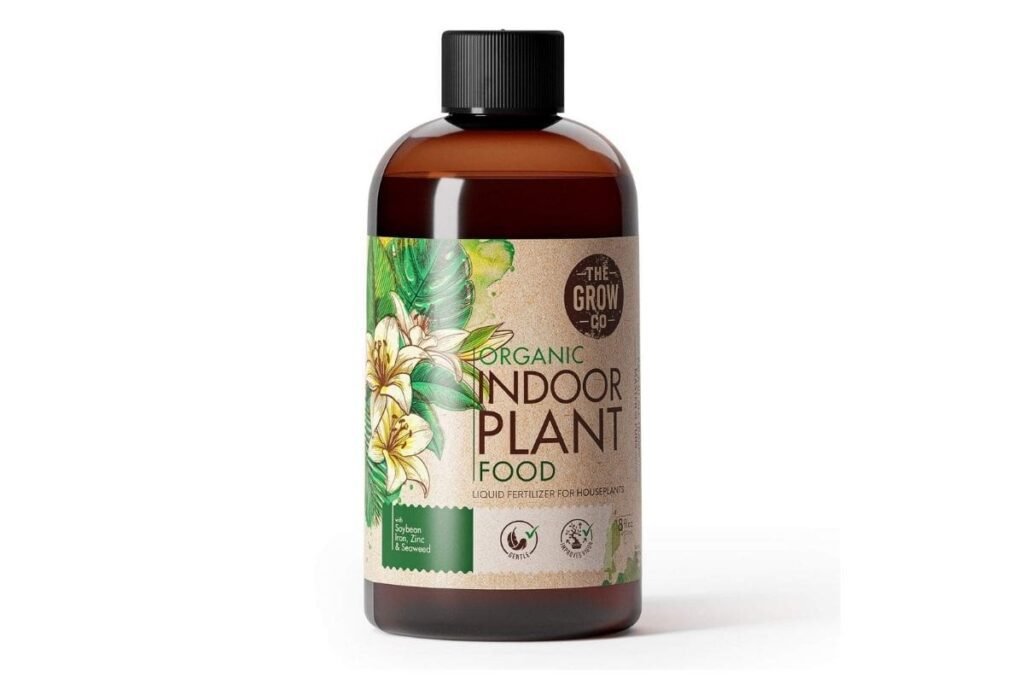 View on Amazon
The Grow Co. Organic Indoor Plant Food is a plant fertilizer made for all indoor plants, succulents, and cacti. It contains safe, all-natural organic ingredients that are sure to keep your plants not only fed and healthy but also looking their best. The nutrient-rich formula promotes healthy plant growth and leaves your indoor garden looking lush and green. Plus it contains essential macro and micronutrients including nitrogen, potassium, calcium, iron, sulfur, among others.
Pros
Plant-based: if you're on the hunt for a vegan option that's great for fertilizing indoor plants – you're in luck cause you've just found it
Specialized for indoor plants: a great option for a whole heap of different potted plant varieties including Pothos, String of Pearls, Hoyas, Spider Plants, African Violets, and a whole heap more
Spray bottle safe: some fertilizers are thick and may clog a spray bottle. But not this one, it's water-soluble and perfect for foliage plants that require fertilizer application with a spray bottle
Cons
A little on the nose: it contains seaweed, which is great for your plant babies but not so good for your sense of smell
key specs: 31g / 1.1oz | NPK ratio: 6-12-6 | super easy to use and provides up to 2 months of plant food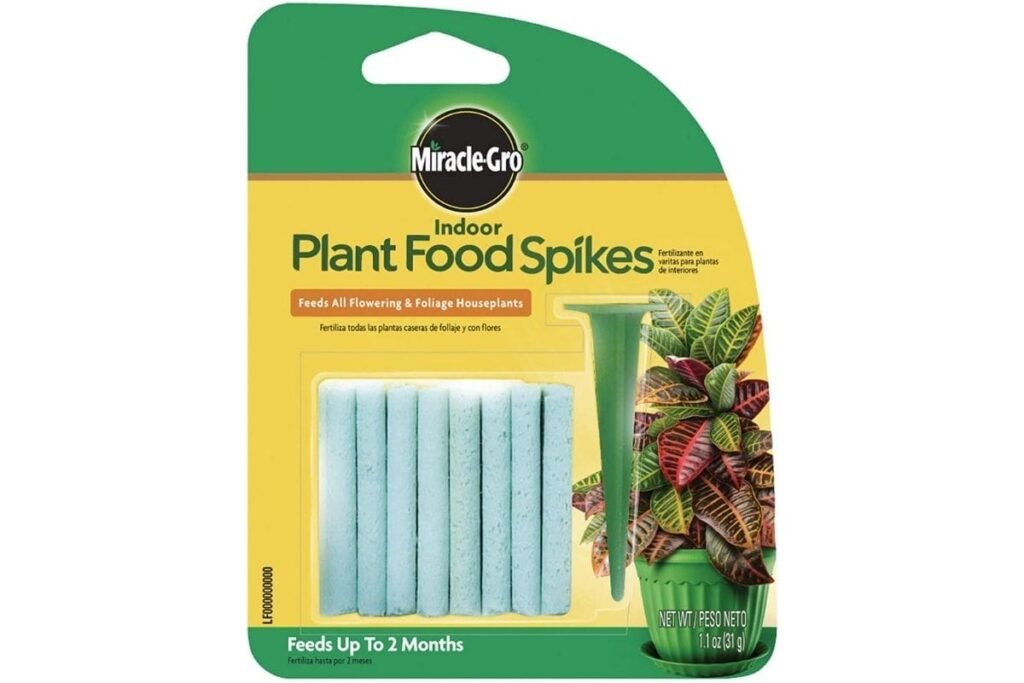 View on Amazon
Miracle-Gro Indoor Plant Food Spikes is a new and innovative way to provide your plants with essential nutrients. They are easy to use and you just need to put them into the soil, no watering or measuring is required. With its slow-release formula, this product ensures optimum feeding of indoor plants and helps maintain a healthy environment inside your house or office for up to 2 months.
Pros
Fertilizing couldn't be any easier: simply use the provided aerator tool, make a few holes, and slide in as many fertilizer spikes as needed
High in phosphorous: phosphorous is essential for strong plant root growth and overall vigor
Wide range of size options: choose between 24 or 48 combo packs. Or, buy in bulk for a discounted price
Cons
Not great for foliar feeding: when I say not "great" what I mean is: it's just not possible
Multiple spikes needed for large container plants: as indicated by the instructions, large container plants will require multiple spikes. So this may not be as convenient to indoor gardeners that have a large collection of big indoor plants
still unsure which one is best for you?
If you are unsure which fertilizers will best suit your indoor gardening needs, here's a quick breakdown of all the different types of indoor plant fertilizers – including some homemade plant food options. In addition, I'll quickly run through why fertilizer is essential to keeping and maintaining healthy houseplants.
types of indoor plant fertilizers
There are three main types of plant fertilizers. Each is produced differently and each having different qualities that make them better suited to different applications. Here are the various plant fertilizers you are likely to come across:
Minerally-derived fertilizers: are mined from different environments and are then manufactured for plant application.
Industrially manufactured fertilizers: are usually produced through chemical reactions in a lab.
Organically-derived fertilizers: are manufactured from organic origins like cow manure, fish, worm castings, etc.
These different types of fertilizers are made into different products in order for different means of application to be possible. These various applications look like this:
Liquid fertilizers: are just as they sound, they exist in a liquid form. This makes them easy to prepare and apply and is usually in some form of concentrate that requires them to be mixed with water.
Slow-release fertilizers: are manufactured in different forms, some made into pods, some spikes, and others capsules. This makes them easy to apply and doesn't require as much reapplication as the nutrients is released slowly when the plant is watered
Organically-certified fertilizers: it's kinda confusing but organically-derived material is different from something being certified as an organic product. For instance, although organic fertilizers can be made from cow manure (an organic source, hence it is termed an organically-derived fertilizer) it doesn't necessarily mean that it's a certified organic fertilizer. For a product to be classed as organic it needs to be vetted through a set of strict regulations. Only then can a product like fertilizer be considered and certified as organic.
To read our full breakdown of indoor plant fertilizer types, manufacturing processes, and plant benefits – follow this link here to our Fertilizer for Indoor Plants post.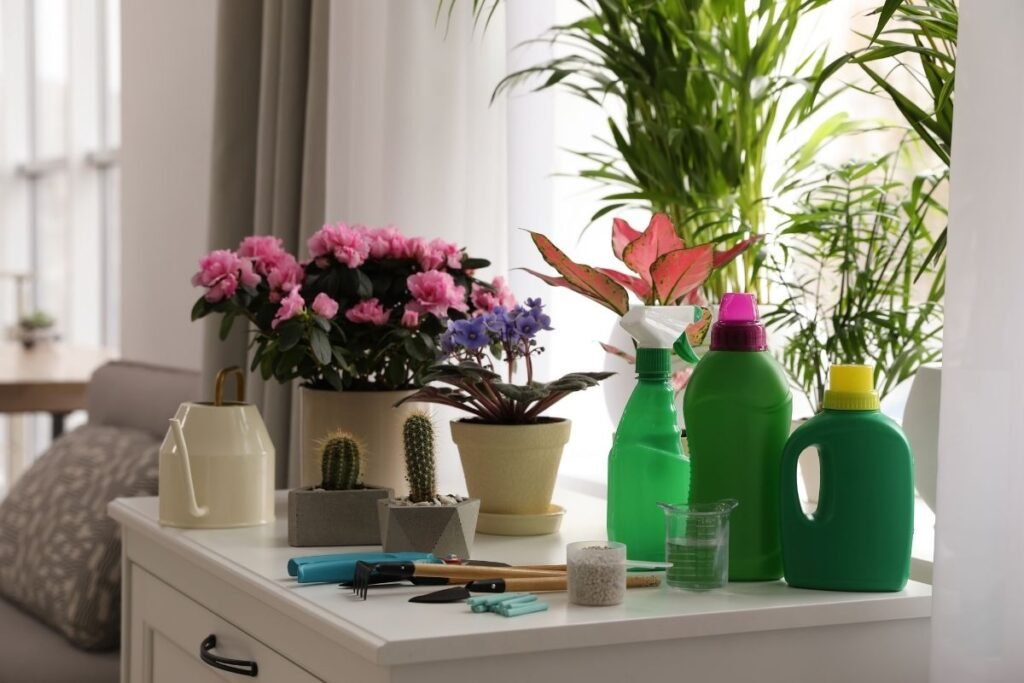 why houseplants require fertilizer
Just like any regular outdoor plant, indoor plants also need a source of sustenance to maintain healthy growth, resist pests and diseases, and reproduce successfully. Here's a full list of why indoor plants require fertilization:
Happier healthier plants: essential macro and micronutrients like nitrogen, phosphorous, potassium, boron, magnesium, manganese, etc. are, at some level, necessary to plant health and reproduction.
Boosted flowering and reproduction: healthier plants will grow faster and flower or bloom more frequently or more abundantly.
Increased air-purification: just as a healthy plant that is regularly fed will grow fast, it will also subsequently photosynthesize at a faster rate. This increased photosynthesis means a greater rate of gas exchange, which creates more oxygen production and faster removal of air-borne toxicogenic particles. In other words, a plant's air-purifying capacity will be boosted.
Higher chance of fending off nasties: just like us, when a plant has all its nutritional requirements met it is much healthier in general and will possess the ability to resist and fight off life-threatening pests and diseases that may harm or eventually kill the plant.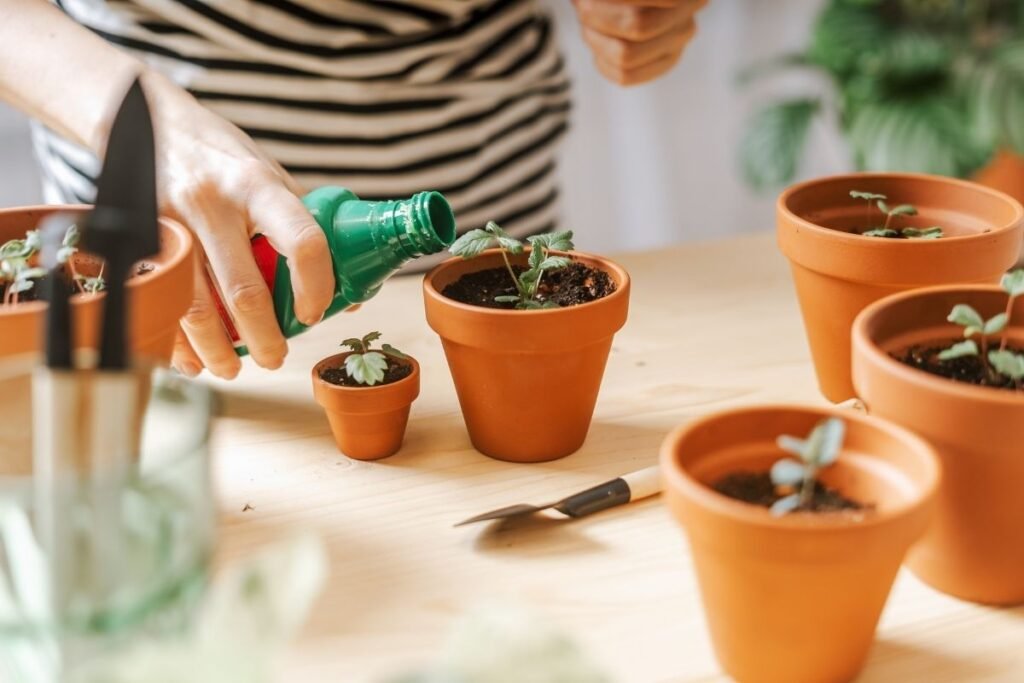 faq: indoor plant fertilizer
what are the best supplements and fertilizers for indoor plants during the winter season?
Even in warmer tropical climates, fertilizing during the winter months isn't always necessary. This is because plant growth has slowed down considerably or completely halted. Although depending on the variety of an indoor plant, some will enjoy the odd feed – African Violets are a case in point. If this is the situation, your best bet is to feed any super hungry overwintering plants with a diluted mix of fertilizer. A low concentrated water-soluble fertilizer will work best.
is there any drawback to using organic fertilizers for indoor plants?
Some of the biggest drawbacks of using organic fertilizers on indoor plants are:
Organic fertilizers can vary widely in their nutritional makeup and therefore produce inconsistent levels of success.
Comparatively, an organic fertilizer is often not as bio-actively available to houseplants as a synthetically manufactured fertilizer.
Synthetically produced fertilizers will often produce faster results. Fertilizing houseplants with an organic fertilizer option should be treated as a long-term process.
Producing organic housemade plant food and homemade fertilizer is a time-consuming and complicated procedure.
can you use coffee grounds to fertilize indoor plants?
Yes, but be careful. Although coffee grounds are an excellent source of nitrogen, it's best to take a few precautions before using them. This is because different kinds of molds, particularly green molds, absolutely adore fresh coffee grinds and will quickly cover and start feeding on them as soon as they get the chance. Sure, green molds aren't particularly dangerous to plants but they certainly aren't great for human health – I mean is a plant really air-purifying if its container or pot is producing green mold spores?
Probably not.
With that in mind, if you are going to use coffee grinds either spread it super thinly around a plant's base and cover it with some soil, mix it through a new batch of potting soil in very small amounts when planting or repotting (just be careful not to burn a plant's roots), or, best of all, compost it first.
Conclusion
It's easy to see why indoor plants are so popular. They're beautiful, many of them improve air quality, and they can even help you relax. But without the proper care, they will not thrive. So if you're ready to take your indoor plant care to the next level, it's time to start using a high-quality fertilizer.
Hopefully, this post has helped you make a decision about which houseplant fertilizer is best suited to your indoor gardening needs. Good luck with your indoor plant adventures and happy gardening!
🎖️ why trust us?
The list of products featured within this post was all researched, compiled, and written by Brody Hall. Brody is a freelance writer, Environmental Scientist, qualified Horticulturist, and serious indoor plant enthusiast. All the indoor fertilizers he featured within this list were chosen for their industry-leading design, superior performance, and application to indoor growing requirements.
shop our recommendations