🧪 our testing process
Our testing team independently researches, tests, and only recommends the best products to help keep your houseplants absolutely thriving. Click here to learn more about our testing and review process.
One of the best ways to keep your house plants sufficiently watered is, of course, with a watering can. Watering cans, less commonly known as a watering pot, provide a fantastic method of keeping your houseplant collection super happy and healthy…
…as long as the correct watering can is used, of course.
To help you find just the right watering can for your indoor plants, here are our top picks.
The best indoor watering can
key specs: 1L/34oz | high-strength plastic and stainless steel | super versatile and retro style
View on Amazon
View on Walmart
One of my personal favorites on this list, DR.UANG's 1L/34oz watering can is the perfect option for small plants and precise watering. This model features an elegantly designed stainless steel spout, rainbow high-strength plastic tank, and removable nozzle, making it a super practical option that also has a real 70s feel and look to it.
Pros
With its open-styled top, this water can is very easy to fill
The long stainless steel spout makes reaching between densely-bunched foliage super simple
The look and feel will match the vibe and aesthetics of just about any indoor garden
Cons
The 1L or 34oz capacity may feel a little limiting to those that have large indoor plants
The plastic is by no means weak and will stand up to a serious amount of use, just don't go dropping it from large heights
key specs: 1.7L/50oz | Eco-friendly PP plastic | lightweight and budget-friendly
View on Amazon
View on Walmart
If you're on the hunt for a watering can that's great value yet very well made and easy to use, this is your best option. This 1.7L/50oz watering can with its long spout, small spout opening, lightweight design, and ergonomic handle, make it a fantastic choice for those conscious of their back pocket.
Pros
Equipped with a long-stemmed spout, this watering can is perfect for little indoor gardens like a succulent or cacti collection
Its plastic construction material is the perfect solution for indoor gardeners who have cat housemates – the type that loves nothing more than to test the durability of your newly purchased items
The spout screws off from the watering can's tank and the handle is removable this makes it easy to store away if needed
Cons
With a 1.7L or 50oz capacity, some indoor gardeners with a large houseplant collection or big indoor plants may find it a little too small
It's plastic, so you know, it just doesn't feel the same as, let's say, a beautifully crafted copper watering can
key specs: 1.7L/50oz | galvanized steel | beautifully crafted with a cream white matte finish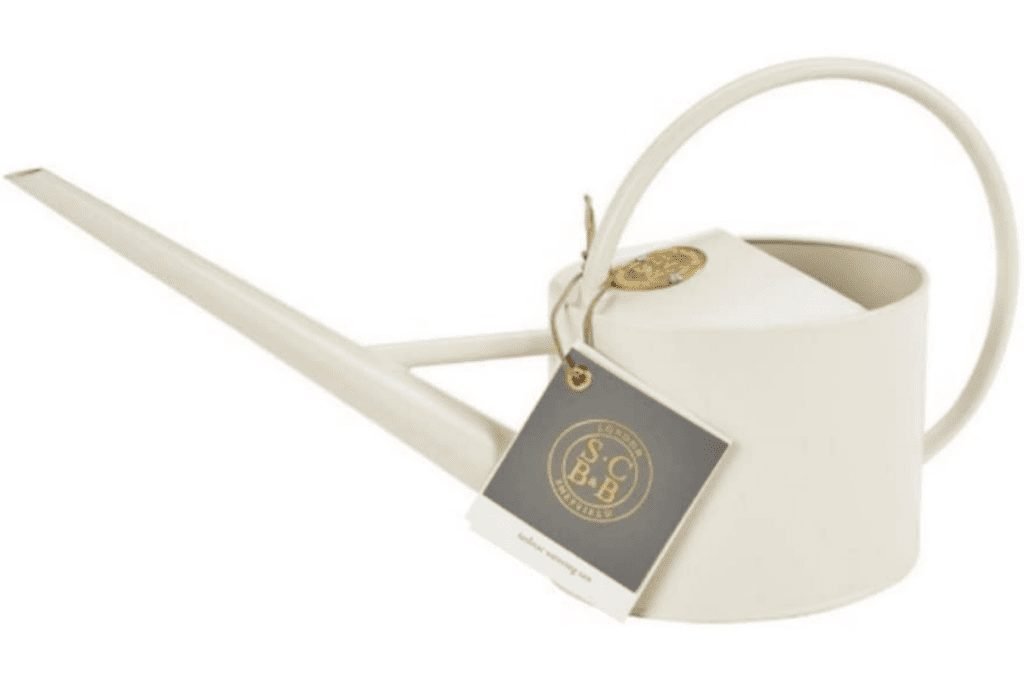 View on Amazon
When it comes to high-end, quality gardening supplies, you simply can't go past Burgon and Ball. This galvanized steel watering can with its long spout, superbly balanced design, and beautiful buttermilk cream finish is sure to keep any houseplant very well-watered.
Pros
Made from galvanized steel and quality workmanship, this watering can is top-of-the-line
Finished with a stunning cream-colored matte paint and brass seal logo, this watering can is something you can display with pride
With its ergonomic handle design, using this watering can just feels damn good
Cons
The spout extends into the tank about a ¼ inch, this makes completely emptying the watering can a little tricky
It's not as affordable as most other watering cans
key specs: 4.9L/1.3gal | galvanized steel | high-capacity allrounder
View on Amazon
View on Walmart
If you're on the hunt for a high-quality and very functional indoor watering can, this galvanized steel model from HORTICAN is a great option. With its detachable rose spout, long-reaching handle, and large tank capacity, it's not only great for watering larger indoor plants but it will also double up well to water your outdoor plants as well.
Pros
Its rosette head attachment and large tank capacity makes this watering can perfect for large houseplant collections and big indoor plants
The semicircular arched handle that attaches at a low point on the tank's body makes this watering can feel very balanced and easy to use – even when completely full
With its dark green finish and brass-colored rosette head, it's a bit of a looker!
Cons
As it carries so much water and because of the angle of its spout, this watering can is probably not ideal for hanging plants
Rather pricey
key specs: 0.9L/30oz | stainless steel | functional and decorative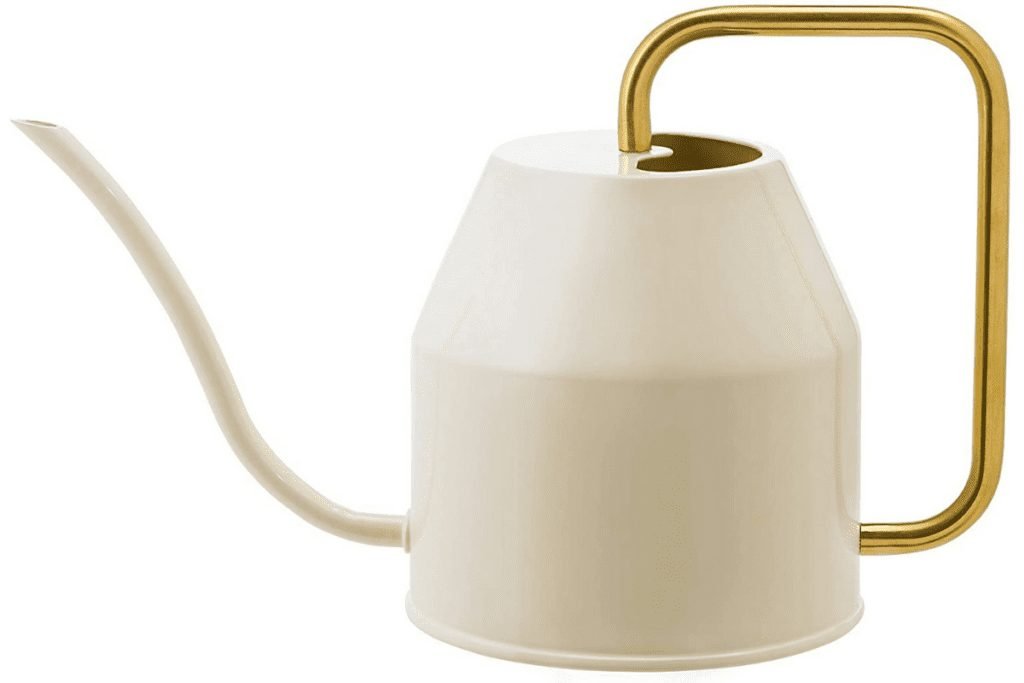 View on Amazon
Our best-performing choice is a watering can manufactured by IKEA. With its ivory tank, gold-colored handle, and long spout, this watering can not only looks great but is super functional as well.
Pros
Because of its compact size, this little guy is perfect for seedlings, succulents, and cacti collections
The small spout opening is great for watering applications that require finesse and high levels of watering accuracy
With its golden handle and powder coated galvanized steel finish be sure to put this baby on full display!
Cons
It's small, one of the smallest on this list
Be sure not to drop it on hard surfaces. This watering can's folded tank edge is prone to dents
key specs: 4L/1gal | high-strength plastic | Long-stemmed high-delivery
View on Amazon
View on Walmart
If you've got big house plants or indoor plants that demand a large amount of water, you simply can't go past NOBONDO's 4L/1gal watering can. This model features a thick plastic build material, large holding capacity, and large sprinkler head with a long, durable spout, a perfect solution for those indoor gardeners that don't like filling up often.
Pros
Made from high-grade polypropylene plastic, this watering can is not only durable but is sure to outlast many years of use
It comes in two different color combinations, a green and cream or a beige and cream
Its stainless steel rose-shaped head makes for even watering with little to no dripping
Cons
Due to its high-delivery head attachment, this watering can isn't great for smaller more delicate plants and seedlings
If overfilled, some water may splash out of the top opening when being poured
key specs: 1L/34oz | brass metal | stylish and ergonomic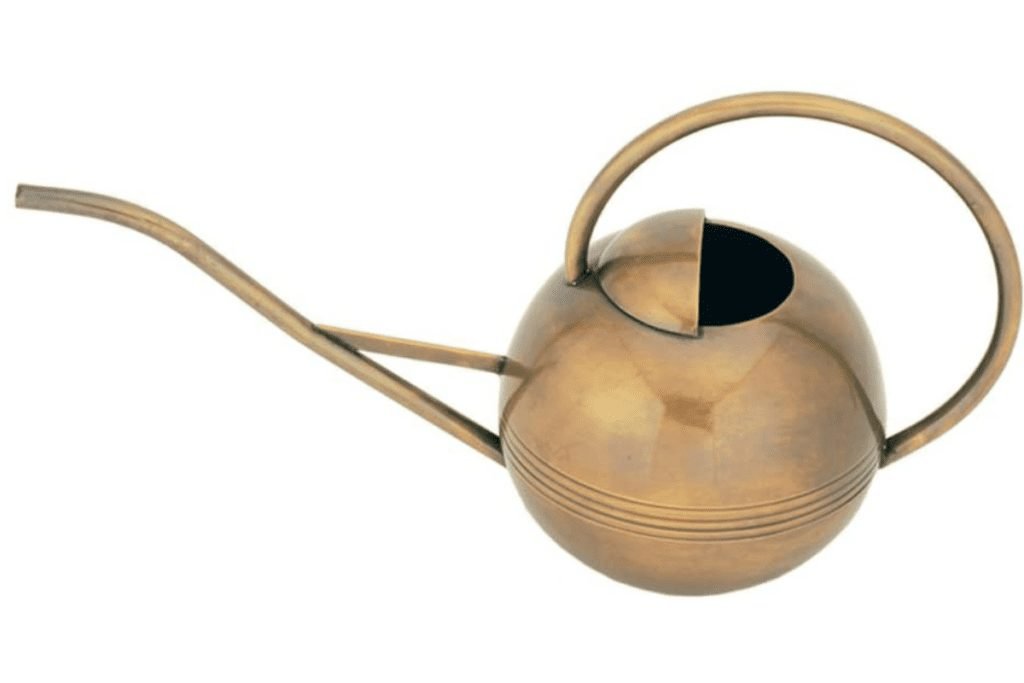 View on Amazon
View on Walmart
Hey, some indoor plant collections create a serious mood that demands a watering can to match. If this sounds like you, then this brass metal watering can from Achla is probably the best choice for you. Not only is it perfect for precise watering but it is also lightweight enough to be used for hanging plants as well.
Pros
Made from brass metal, so it will last forever
Features a nice long spout with a perfectly balanced half-moon shaped handle
I mean, just look at this thing. It's gorgeous
Cons
As it's made from brass it will tarnish. I quite like this as it gives it a rustic feel, but others may not enjoy the aesthetics of a tarnishing bare metal
Brass is inherently soft, so it is prone to scratches
key specs: 1.5L/50oz | stainless steel | long spout coupled with a minimalist style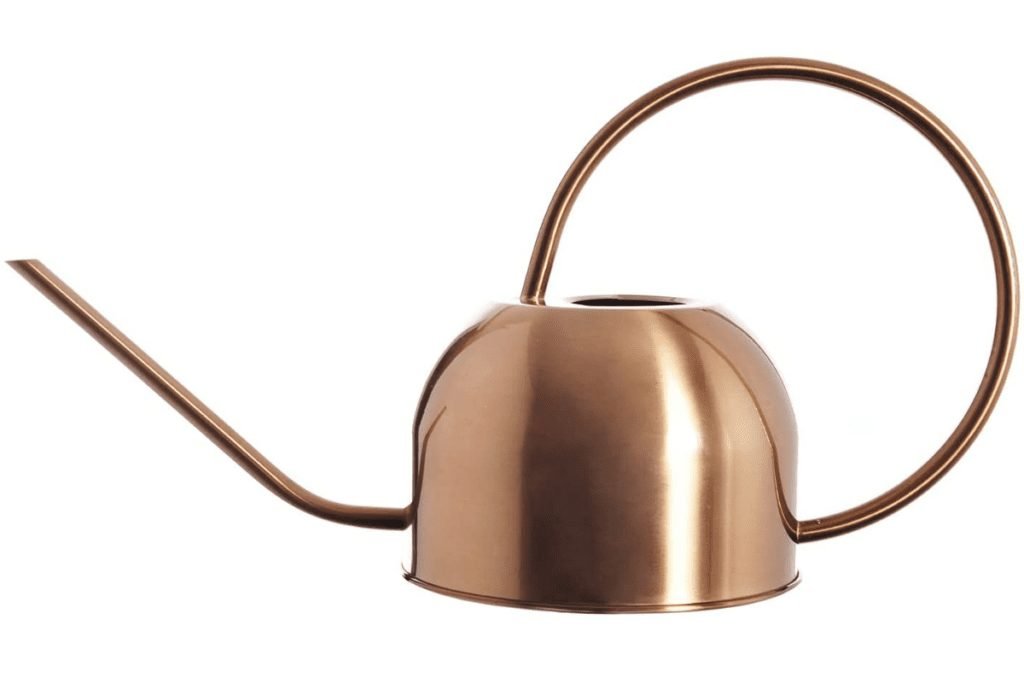 View on Amazon
If you are on the hunt for a no mess no fuss, minimalist-designed watering can, this model from QIEGL is the option for you. With its ornamental yet imperceptible design, it'll make a great addition to those homes that are of contemporary or modernistic design.
Pros
Made from stainless steel, this watering can is durable and not partial to rusting
With a 7-inch long spout and 1.5L or 50oz capacity, it's very versatile and practical
Comes in two colors – gold and bronze
Cons
After use, there is always some water leftover in the bottom of the tank
Stainless steel is on the soft side, so don't go dropping it on hard surfaces or from great heights
key specs: 475ml/1pt | high-strength plastic | high-quality and bonsai-friendly
View on Amazon
View on Walmart
For the bonsai enthusiasts amongst us, or simply those that are looking for a mini watering can, this model from Haws is an absolute winner. Its lightweight, durable, and perfectly sized construction mean this watering can is ideal when caring for bonsai plants or for those that keep a small indoor garden.
Pros
The head attachment on this watering can make compacting your indoor plants growing medium a thing of the past
Lightweight and easy to pour
It is very easy to control the flow of water, so perfect for delicate plants
Cons
This is made for bonsais, an application that doesn't require a lot of water. So it's small, the smallest on this list
It's on the more expensive side of things
key specs: 1L/34oz | high-strength plastic | Combination with bonus mister
View on Amazon
View on Walmart
If you're a lover of succulents, a grower of seedlings, or just keep delicate plants in general, this combination pack from Casabasic is perfect for you. The combo comes with a small-mouthed long stainless steel spouted watering can plus a bonus plant mister/spray bottle for all your precise watering needs.
Pros
Its transparent sides have measurement marks so you can check how much water is being delivered to each plant
Very affordable
It comes with a bonus spray bottle. So that's nice, right?
Cons
Not necessarily a con, just be sure to attach the o-ring to the spout before fitting it to the main body – otherwise, you'll end up with a leaking mess
Some may not like the plastic look
Our recommendations
Still unsure which one is best for you?
If you are unsure which watering can best suit your indoor gardening needs, here's a breakdown of all the different aspects of a watering can you're going to want to take into consideration when making your final decision.
Watering can material
A watering can's build material is a big consideration when choosing the correct option for you. Why? Well, build material will affect things like a watering can's weight and durability. To give you a brief idea of which material is best for you, take these factors into consideration:
Metal watering cans
Watering cans that have been constructed from metal are very durable, particularly those made from non-ferrous metals. Non-ferrous metals have one huge advantage over ferrous metals, which is they don't rust. And, of course, a non-rusting watering can is very advantageous… cause you know, water.
Here are some different metals that watering cans that'll you'll commonly come across:
stainless steel watering cans
steel watering cans
galvanized steel watering cans
copper watering cans
tin watering cans
Metal watering cans are also ideal if you are mixing either plant food or plant fertilizer with your water, depending on how often you fertilize your plants. The metal material is less likely to stain, isn't see through (which can allow algae to grow), and is generally not a good host to bacteria.
Plastic watering cans
Another super common watering can build material is plastic. Plastic watering cans have some major advantages, particularly over metal watering cans. For one, like non-ferrous, metal cans, plastic watering cans won't rust. And the second advantage, plastic watering cans won't dent and their paint won't chip when bumped or dropped.
Although, being made from plastics, their environmental impacts aren't as friendly as other materials plus some people simply don't like the look or feel of plastics, so there's that too.
The only two suggestions I'd make when choosing a plastic watering can is to find one that is made from thick, durable plastics. Thin, cheap plastics or plastic cans will crack, split, or easily puncture, not something you want for a tool that holds water.
The second suggestion I'd make is to find a watering can that is BPA, DEHP, and the like free. These plastics are not only harmful to human health but they could potentially harm your plants and even the soil microbial communities that keep your plants healthy as well.
Despite these considerations, plastic is super versatile and makes an excellent build material for watering cans. To help you minimize the potential impacts of plastics, aim for these safe plastic options:
Polyethylene Terephthalate (PET)
High-Density Polyethylene (2-HDPE)
Polypropylene (5-PP)
Glass watering cans
A less common material that watering cans are sometimes made from is glass. Glass watering cans are often beautiful to look at and are often prized for their aesthetic addition to an indoor or outdoor garden. And to be honest, as impractical as they can be, glass watering cans are amongst my favorites.
They have all the benefits of non-ferrous metals but also don't come with the potential risks of plastic watering cans. Although, of course, there is one huge downside… glass breaks, and the risk of the indoor cans breaking can be a huge downside for many gardeners.
So this doesn't make them super appropriate for outdoor plants or outdoor gardens. But, if you are looking for an option for indoor plants and indoor gardens, glass watering cans are, in my eyes, a real winner.
Spout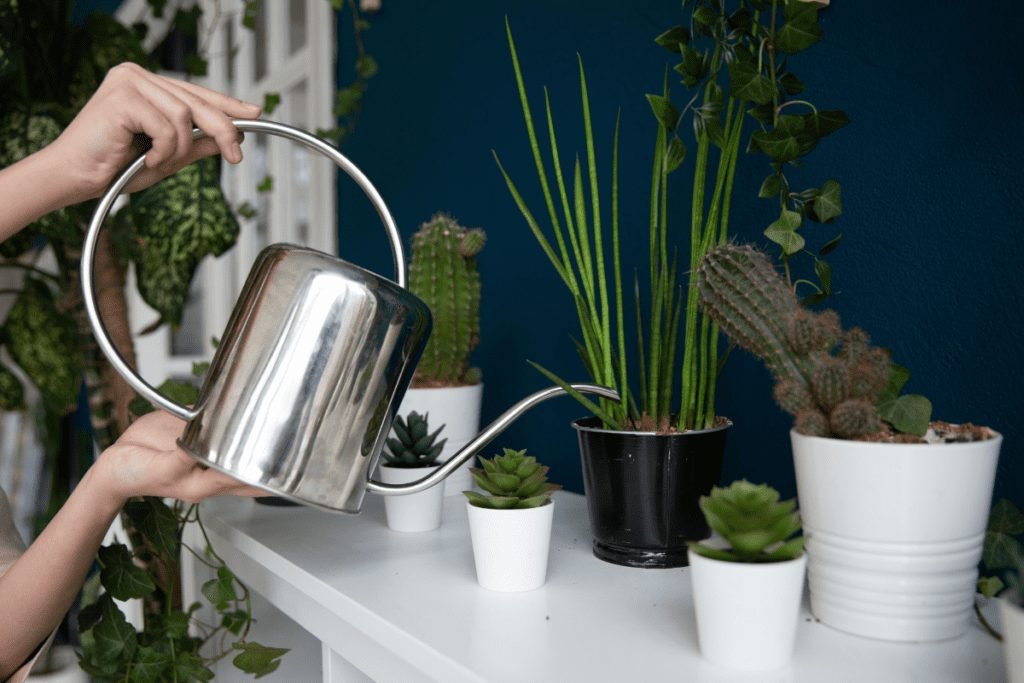 The next, and possibly most integral, feature of a watering can you'll need to consider is its spout. Why? Well, a watering can's spout will make or break its usefulness or appropriateness for a particular indoor plant watering application.
For instance, you have a collection of relatively small and robust plants that grow thick, dense foliage. If this is the case, you'll likely want a watering can with a single spout, that is thin and elongated. On the other hand, you may have a plant collection with a whole heap of larger, tall indoor plants with exposed growing medium.
If this is the case, a high-capacity watering can with a rotating or curved spout that allows you to water your plants while not having to lift its weight too high will probably be what you'll want to look out for.
Here's a look at which watering can spouts are out there to choose from.
Elongated spout
Elongated spouts are a great feature, they allow for extended reach that other watering cans with shorter spouts simply can't manage. Reach is a very important feature as it allows indoor gardeners to access those out-of-reach positions within the home like high shelves or wall-mounted pots.
A long spout watering is also great for watering hanging plants because, you'll be able to reach hanging plants with an elongated spout without having to move them or stand on a chair or stool.
Curved spout
Curved spout watering cans are a great solution for indoor gardening. They allow an indoor gardener to fill their watering can up without fear of spilling or leaking water on the floor or furniture while filling up or while moving between plants indoors.
You see, a watering can with a straight spout or a spout that is too parallel to the ground will likely leak or spill while filling or if inadvertently moved beyond level. Whereas, a watering can with a curved spout requires a watering can to be titled significantly before any water comes out of its spout.
Plus, a watering can that is partial to spilling can cause disaster, particularly if you have wooden floors, expensive electronics, or white carpet which doesn't take kindly to any indoor fertilizers that are often used to feed houseplants.
Thin spout
A watering can fit with a thin spout that has a small mouth and no head attachment is the perfect solution for watering small plants with dense foliage.
The thin spout allows the watering can to penetrate through the heavy foliage all the way to the base of the plant and the small spout mouth allows it to easily squeeze through the close together leaves, branches, and petioles, delivering just enough water while avoiding compacting the growing medium.
LEARN MORE: how to water plants
Nozzles or spout attachments
Some watering cans don't require a nozzle or head attachment, their spout opening has been specifically designed to deliver adequate enough water flow and good coverage for certain plants or applications. However, other watering cans with larger spout openings or designed to deliver large amounts of water or in a specialized way do have different types of nozzles or spout attachments.
Why is this? You see, a watering can's spout attachments will not only determine how effectively you are able to water your indoor plants but also the size of the area you will be able to water at once.
And this can be pretty handy in certain scenarios, particularly if you are using a watering can for a specific purpose like watering seedlings or delicate plants.
Rose spout attachment
A sprinkler head attachment often referred to as a rose or rosette, is a great addition to any watering can. A rose spout head is particularly good at delivering good water coverage to the base of a plant while avoiding delivering too much water at once and risk compacting a plant's growing medium. Rose spout heads achieve this by being manufactured with many small to medium-sized holes that exist across the face of the nozzle.
This coupled with the rose spout being faced upwards away from the plant simulates the gentle falling of rain, something that many indoor plants very much enjoy. Some rose spout attachments are even adjustable, not only does this allow gardeners to change the amount of water delivered to different plants with a simple twist of the nozzle but it also means overwatering is reduced to those plants that don't enjoy large amounts of water.
Rotating spout attachment
Most watering cans only allow indoor gardeners to water their plants from a single direction or angle. This can make it rather hard to water plants that are delicate, frail, or are positioned in a pot that is out of reach. Thankfully, some spout heads are rotatable making life so much easier when moving between small houseplants that are positioned at different heights or in difficult-to-reach places.
Removable spout attachment
Other watering can nozzles are detachable, extendable, or are even removable. This simply gives indoor gardeners more flexibility and options when they are watering their indoor plants. If you own a watering can with these capabilities, you can have a whole arsenal of different removable spout attachments that you can easily switch between.
This is a super handy feature to have up your sleeve, particularly if you have a wide range of different plants in your indoor garden that require different watering techniques.
Handle
The position of a watering can's handle is something you may want to consider too. Some watering cans have handles that go from the length of a watering can's base to the top or midway up the tank. This is fine for a smaller watering pot but for larger watering cans, that hold large amounts of water and are therefore heavier, you may want to consider a handle that is designed slightly differently.
For instance, when buying a large watering can look for a handle that runs from the base, the entire length of the watering can's tank, over the top of the fill hole, and attaches at the base of the spout. Alternatively, a double handle system will also work well.
A watering can with a handle at the back of the tank and then another at the top are not only easy to use but they also add more versatility to the different hand grips you can adopt when watering your indoor plants. A large watering can with a handle design like either of these examples also translate well to both indoor and outdoor plants or watering of a potted plant collection.
Tank capacity
Understanding the correct tank capacity of a watering can will help you pick the right container for your plant watering needs. A small tank is good for small indoor plant collections while a big tank is good for large plants and large indoor plant collections. Small tanks are also an advantage for hanging plants and potted plants that are positioned in high places.
Small tanks hold less water and are therefore lighter in weight making them easier to lift. Whereas, watering cans with large tanks make watering large indoor plants or a lot of plants in one go much easier as you won't have to refill as often as you would with a small watering can. This will not only save you trips back and forth to the tap but it will also reduce the chances of spillage and clean up once the job is done.
Watering can balance test
When it comes to selecting the best watering can for indoor plants, the balance of the can is a crucial factor to consider. A well-balanced watering can will make it easy for you to pour water without any hassle and avoid spilling it on your floors.
One way to test the balance of a watering can is to pick it up by the spout support. This means holding the watering can by the spout and handle, with your fingers resting on the spout support. If the can feels heavy or awkward to hold, then it may not be well-balanced and could cause strain on your wrist or arm during use.
Additionally, you'll want to check that the watering can doesn't cause too much pouring resistance. When you tilt the can to pour, the water should flow out smoothly and evenly, without any excessive splashing or dribbling. If the watering can causes too much resistance when pouring, it could result in uneven watering of your plants and cause soil erosion.
So, when shopping for an indoor plant watering can, be sure to test its balance by picking it up by the spout support and checking for pouring resistance. By doing so, you can ensure that you choose a watering can that is comfortable to use and helps you care for your plants effectively.
Tip: Fill up your watering can an hour before watering your plants. Volatile chemicals will likely evaporate as the water stands, making it much safer for your plants to drink from.
Conclusion
It's easy to think that any old watering can out there will be suitable for indoor gardening applications, but that's simply not the case. It's also easy to spend a lot of money on a watering can that simply doesn't work for your unique taste in indoor plants.
So, how do you decide which watering can is the right one for you? Well, you need to think about what you'll be using the watering can for, how often you'll be using it, and what your home décor or personal style preferences are.
You also need to think about what kind of plants you are predominantly going to use the watering can on and whether you may even need more than one watering can to get the job done right.
Hopefully, this post has given you some good ideas and helped you make a decision about which watering can is right for you. Good luck with your indoor and outdoor watering adventures and happy gardening!
shop our recommendations