🧪 Our review process
Our testing team independently researches, tests, and recommends the best products to help keep your houseplants absolutely thriving. Learn more about our testing and review process here.
Tried and trusted by generations of indoor gardeners, fluorescent T5 grow lights reliably deliver the energy that growing plants need to thrive. But which ones are best?
In this guide, read about what sets the best T5 grow lights apart from the rest, and learn why indoor gardeners are still using this technology.
The best T5 grow lights
These grow lights are popular with indoor gardeners on a budget and those who prefer older things that just work. When most people think of T5 grow lights, they imagine fluorescent tubes that make a pleasant, low-key buzzing noise and occasionally flicker when switched on, reminiscent of the lighting in public schools.
These are indeed T5 lights, but the term "T5" actually refers to the size of tube and socket type – not a lighting technology. LED T5s do exist, and you can use them in fluorescent fixtures! We won't get too much into that here, though.
In this guide, get our recommendations for the best T5 grow lights to grow a wide range of plants indoors.
Key specs: 216 watts actual power | 4′ x 2′ light coverage area | 6500K full spectrum light
View on Amazon
View on Walmart
The Hydrofarm FLT44 is a high-performing T5 grow light with the right balance of well-designed features and cost-efficiency. This popular model comes with four fluorescent tubes that give off blue light in the perfect spectrum for sprouting seeds and encouraging healthy vegetative growth.
The 5 year ballast warranty sets this Hydrofarm light system apart from Vivosun's competing product, which is only covered by a 1 year warranty. Just keep your original packaging and be prepared to document any issues with photos
Pros
High output lights are rated up to 18,800 Lumens and 20,000 use hours at a good price point
The 5 year ballast warranty
Open roof design and specular aluminum housing encourages heat dissipation and keeps plants cool
Hang three ways: overhead, vertically, and horizontally, and connect up to three lights to the same outlet with the daisy chaining feature
Cons
Some customers have issues with a faulty or failing ballast within the warranty period – make sure to keep your original packaging!
Key specs: 96 watts actual power | 2′ x 1′ light coverage area | 6500K full spectrum light
View on Amazon
Get a better grow for less overhead with this smart T5 grow light system from Durolux. With angled aluminum reflectors and two light intensity settings, you can control how much light your plants receive with the flip of two power switches (one controls the outer two bulbs, the other controls the inner two bulbs).
The 5 year warranty is more for show than anything, so take care not to damage the aluminum reflector when hanging this light: it tends to bend out of shape and separate from the fixture over time. This product isn't waterproof certified, but it is approved for use in humid environments, making it a popular choice for gardeners with indoor grow tents.
Pros
Includes hanging hooks, chains, and power cord
Connect up to 12 fixtures with a daisy chain for operation on one outlet
Two power switches control the light output on the fixture for maximum control of light intensity
Safe for use in humid environments and grow tents, unlike many other fluorescent light systems
5 year warranty
Cons
Lightweight fixture materials are great for installation, but aren't very durable: the reflector in this model tends to separate from the fixture over time
Despite the warranty terms, good luck getting replacement fixtures from this seller!
Key specs: 432 watts actual power | 4′ x 4′ light coverage area | full-spectrum 6400K light
View on Amazon
View on Walmart
Did someone say designer grow lights? Yep, that's right! With a durable, steel fixture finished in a textured bronze powder-coating, this high-end T5 grow light system from Agrobrite is designed to impress. You can mount the light in three different configurations with the hardware provided: horizontally, vertically or overhead.
Although the fixture is lined with reflective aluminum, this high output light generates and traps quite a bit of heat – so set it up with a good ventilation and breaker system if using for longer periods of time.
Pros
This fixture can hang in 3 different configurations thanks to the built-in hardware
Durable steel fixture is finished in a beautifully textured, powder-coated bronze and adds flair to any home grow
Includes an extra long, grounded 10′ power cord
5 year warranty
Cons
The sturdy steel housing comes with a cost: this T5 grow light traps a LOT of heat
Key specs: 24 watts actual power | 2′ x 1′ medium-low light coverage area | 6400K white full spectrum light
View on Amazon
View on Walmart
Are you looking for a low-profile T5 grow light to mount in your plant shelf? This is it, folks. This single T5 tube light is nested in a slim, lightweight fixture that's super easy to mount on the underside of a shelf with a metal wire rope kit and some DIY spirit.
This grow light is easy on the wallet, and its simplicity and daisy-chain features gives you the chance to assemble the indoor greenhouse of your dreams! Used alone, this light won't be strong enough for growing edible plants to maturity though. It's best for over-wintering tropical houseplants and cacti.
Pros
Lightweight, low profile fixture with built in electronic ballast makes makes this fixture easy to install and operate
Connect multiple lights to operate on the same switch with the daisy chain feature
Approved for 10,000 use hours and comes with a 1 year warranty
It's super affordable
Cons
Many buyers report receiving poorly-packaged products – buyer beware (especially when handling mercury)
Key specs: 48 watts actual power | 2′ x 1′ medium light coverage area | 6500K cool white full spectrum light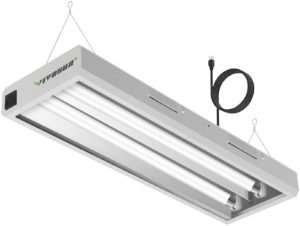 View on Amazon
View on Walmart
If you're growing kitchen herbs and veggies in a tight space and a single T5 just won't do the job, this compact, high output T5 grow light from VIVOSUN will. This two-foot, two-bulb grow light system provides medium light coverage to a 2′ x 1′ space, making it just the right size to hang under a kitchen cabinet. Set this fixture up near a window to provide supplemental lighting to your kitchen herb garden.
Pros
Two power switches allow you to turn on each bulb separately for maximum control of light intensity
Three installation options: vertical, horizontal and overhead
Moulded aluminum fixture-housing reflects light downward toward plants, delivering up to 97% of light to foliage
Great size for herb gardens
Cons
The bulbs in this fixture are known to blow out after a couple of months
Many customers report receiving damaged products due to poor product packaging
Key specs: 108 watts actual power | 4′ x 2′ light coverage area | 6400K full spectrum fluorescent bulbs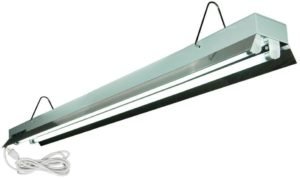 View on Amazon
View on Walmart
Some indoor gardeners growers prefer layering long, narrow grow lights close together to create more zones of varied light intensity as opposed to using square grow lights that create large islands of light intensity. If you're looking for a slim grow light, this streamlined option for HTG is a great choice.
It features high quality components that give you excellent growing power and leaves the bells and whistles behind. This does mean there's no power switch on the lamp body and the lights aren't daisy-chain compatible, so you'll need to invest additional resources in your power setup if you intend to use more than one of these.
Pros
The simple design centers high quality components above additional features
Features a streamlined, polished aluminum reflector
10′ power cord makes it easy to reach outlets
2 year ballast warranty
Cons
These lights don't have an inline on/off switch on the fixture, so you'll need to connect them to a grow timer to operate easily
No daisy-chain capability
Key specs: 80 watts actual power | 2′ x 2′ light coverage area | full spectrum LED
View on Amazon
View on Walmart
If you're curious about what LEDs bring to the T5 arena, these grow lights from Barrina are a good place to start. Designed to connect in a continuous daisy chain (connecting cords included), these strips come with more than enough hardware to mount the lights in one of three configurations: attach them directly to a surface with the high-strength, double-stick tape, screw them into the surface with bracket clips, or use cable ties to bind the lights to overhead bars.
Once connected, these grow lights can be controlled together on a circuit or independently, which makes working in trays a breeze. The lights have an impressive PPFD rating and emit a yellow/white visible light.
Pros
Simple, elegant and designed to maximize PPFD: at 12 inches, these lights register 474.4 umol/m2/s
Includes all of the hardware you need to install (and then some): choose between three installation options
Fully linkable and includes 7 connecting cords
2 year warranty
Cons
Yes, they are, alas, expensive
Some customers have reported electric shock when touching the metal casing and metal objects touching it
Our recommendations
Still unsure which one is best for you?
Still can't tell the difference between a T5 and T-Rex? We'll break it down for you with some of the most commonly asked questions from growers just like you. Here's what you need to know.
What is a T5 grow light?
In lamp-lingo, T5 grow lights are any grow lights that are 5/8″ in diameter. The "T" in T5 refers to the tubular shape of the bulb. When most people talk about T5 lights, they really mean fluorescent grow lights. However, T5 lights come in two types:
Tubular fluorescent lights come in a range of sizes (T8, T10, T12, etc. etc.) following the same nomenclature system as T5 lights: the number representing the diameter of the light in eighths of an inch. T5 grow lights have a miniature bi-pin base type (the bit that fits into the socket), while larger T fluorescent tubes use a medium bi-pin base.
Fluorescent T5 grow lights are basically a glass tube filled with a mixture of argon and mercury vapor. When switched on, the electrical current ionizes the gases inside the fluorescent tube and emits a bright light. Fluorescent lights consume less energy than incandescent bulbs, but more than LEDs.
Fluorescent lights need an extra energy boost when switched on to illuminate the gasses, which is provided by an electrical regulation device called a ballast. Older fluorescent fixtures and all T5 grow lights feature an external ballast (this design keeps the lights cooler). You can find ballast-integrated fluorescent bulbs known as compact fluorescent lights (CFL) that look like tubular spiraled ice cream cones and work with regular light sockets.
All that being said, you can in fact find LED T5 grow lights these days. LED T5 grow lights are interchangeable with fluorescent T5 grow lights, and they're often preferred by indoor growers for a few important reasons.
Fluorescent T5 grow lights vs LED T5 grow lights
Most indoor gardeners opt for T5 fluorescent grow lights over LEDs because they're cheaper – at least upfront. However, LEDs often pay for themselves when used for small-scale indoor growing projects by reducing your energy costs in just a single growing season. Here are a few other benefits of LEDs to consider:
LED lights require less energy to produce the same amount of usable light for plants as fluorescent grow lights
LED lights run much cooler than fluorescent T5 lights and require growers to take fewer additional cooling measures like installing fans and ambient temperature control
LEDs operate without ballast and are typically silent when turned on
LEDs don't contain highly toxic substances
LEDs typically register up to 50,000 use hours
In comparison, fluorescents lights offer some initial benefits, but don't compete to LEDs at scale:
Fluorescent lights are up to 10 times cheaper than LED lights
Fluorescent lights typically register up to 20,000 use hours
Fluorescent bulbs are highly efficient
Fluorescent lighting technology has been around for over 100 years and is trusted by indoor gardeners for reliable results
If you're growing more than a tray or two of seedlings indoors each growing season, consider LED grow lights instead of fluorescent T5 grow lights.
Faqs
How far should T5 grow lights be from plants?
The ideal headroom for T5 grow lights varies between different types of plants. A good rule of thumb, however, is to give seedlings about 12″ of space under T5 grow lights, and then reduce the headroom to 6-8″ once they achieve full vegetative growth. T5 lights are low heat, but they can easily burn leaves that reach too close to the bulbs. For this reason, inspect your plants a couple of times a week to make sure their foliage is healthy and to adjust your lights as needed.

What is the difference between T5 and T8 grow lights?
T5 grow lights are smaller, more efficient versions of T8 grow lights. Using newer technology, T5 grow lights produce more light than T8 grow lights pulling the same wattage. The lumen/watt ratio is around 100 lm/W for T5 grow lights and only about 90 lm/W for T8 grow lights. The lights are not interchangeable due to the base type: T5 lights use a miniature bi-pin base type, while T8 lights use a medium bi-pin base type.

Are T5 good for veg?
Yes, T5 grow lights are excellent for growing plants in the vegetative growth stage. The best T5 grow lights for plants in the vegetative stage produce blue light with a color temperature around 6500K to stimulate stem and foliage growth. Check the light coverage area of the T5 grow light you're considering to make sure it will provide enough light intensity for your plants when they reach maturity.

How long do T5 grow light bulbs last?
Don't exactly count on the use hours printed on your T5 grow bulb's packaging to find out how long it will last. Use hours are a standardized measurement that indicate the average number of hours after which 50% of lights fail, operated under a 3 hour switching cycle. Growers find that the intensity and quality of fluorescent bulbs slowly dissipates over time, so it's common practice to switch out fluorescent T5 bulbs about once a year when using them for an average photoperiod of 14 hours a day.

Can I replace T5 with LED?
Yes, you can replace the T5 tubes in your fluorescent grow light fixture with LED T5 grow lights. Some T5 LEDs can plug right into a fluorescent fixture, while others require that you remove the fixture's ballast before converting from fluorescent tubes to LED tubes. Keep in mind that an LED light uses less wattage to produce the same amount of light as a fluorescent bulb. To find an LED grow light that produces the same amount of usable light for your plants as the old fluorescent light you're replacing, divide the wattage of your fluorescent bulb roughly in half (for example, you'll want to replace a 28 watt fluorescent bulb with a 15 watt LED bulb).
Conclusion
When choosing the best T5 grow lights for your growing needs, make sure to consider the ongoing costs involved with using your preferred grow light system before making your final purchase. If you're choosing between a budget option and something pricier, ask yourself how many seasons do you expect to use the product.
If you're hoping to grow with the light for three seasons or more, you'll save on the costs of replacing parts and faulty bulbs by purchasing the step up product. T5 grow lights have been delivering results for many generations of avid indoor gardeners, and are a great, trusted stand-by for sprouting seeds and over-wintering houseplants. Enjoy getting to work with your new T5 grow lights!
Shop our recommendations