🧪 Our review process
Our testing team independently researches, tests, and recommends the best products to help keep your houseplants absolutely thriving. Learn more about our testing and review process here.
LED (light-emitting diode) grow light technology has made huge gains in recent years. The best LED grow lights and even LED lights in general, used to be a niche products, most popular with commercial operations and indoor growers focused on energy efficiency and producing high yields of ganja on a budget.
How the tables have turned!
Today, LED lights are available to everyone from the average plant enthusiast to the kitchen herb gardener, while of course remaining a top choice of high-volume home growers.
Why does everyone love LED grow lights? They are highly efficient at using electricity and turning energy into plant growth, meaning you get additional light at a lower energy bill and don't need to turn your whole living room into a greenhouse to get the most out of this technology.
Although you might want to make a greenhouse cabinet lined with these bad boys.
Newer LEDs offer a wider spectrum of usable light for growing plants with, ensuring abundant growth at all stages. We've researched a wide range of options and have chosen the best LED grow lights for you, whatever your budget and no matter what you're growing (we won't ask). Your plants will thank you!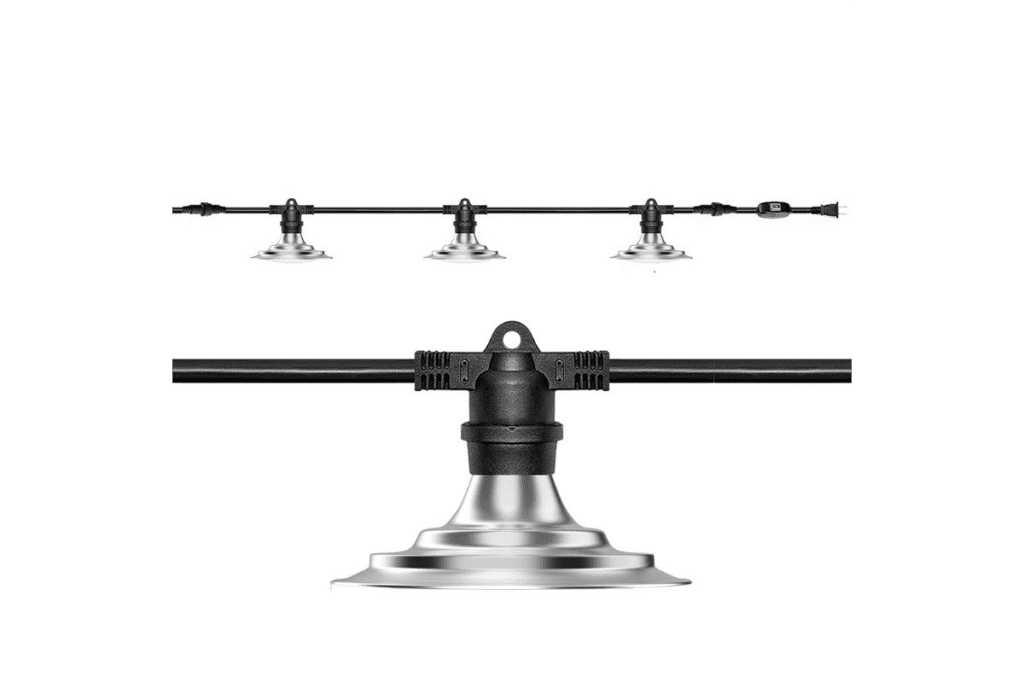 The best LED grow lights
key specs: 3' x 3' max coverage | top rated by home-growers | lightweight and quiet
View on Amazon
View on Walmart
This LED grow light is a darling of indoor growers. The Spider Farm SF 1000 is easy to link with additional lights via a daisy chain for larger indoor growing projects, includes high-quality components from Samsung and Mean Well that are made to last, and is one of the most energy efficient lights in this guide, consuming only 96 watts for a high efficacy rating of 2.5 µmol/J.
Pros
With 2.5 µmol/J efficacy measurement, this is the most efficient led grow light available in the under $200 price range
The Samsung-made LEDs are high quality, reliable and provide excellent range for all stages of plant growth, from seedling to bloom
It's super quiet! Instead of using a fan, like many led grow lights, the light's aluminum body moves excess heat away from plants
Cons
The sterile design is a bit industrial for the average vegetable grower
Some buyers have reported the dimmer switch feature is not as advertised- either the light arrived without it, or it wouldn't function when multiple lights are connected
key specs: 2' x 2' max lighting coverage | angled light box directs light where it's needed most | top tier features for a steal
View on Amazon
View on Walmart
The Mars Hydro TS 600W is a great introductory LED grow light that gets results at a low upfront cost. The angled, reflective aluminum light box creates a 2' x 2' lighting footprint large enough for 2-3 mature plants, that is best suited for compact indoor growing spaces / multi-use rooms. With a 6-ft cord and hanging hardware included, the Mars Hydro TS 600W is a lightweight option that comes ready-to-install. From seedling to blooming stages, your plants will love this bright, full-spectrum light at all growth stages.
Pros
Mars is an industry-leader known for its industrial quality, low-cost products loved by novice home-growers and professionals on a budget
Includes hanging hardware for easy home set-up
Well-built aluminum light box with angled reflectors directs light downwards toward plants and away from eyes
Cons
There is no dimming function, which makes it difficult to provide the lower lighting conditions needed during seeding and vegetable stages of plant growth
Buyers report that the lights run hot and the LED casing is not well-insulated. We recommend buying a fan to keep this grow light cool, and keeping kids and pets away from your grow zone for safety
Read about our experience using a MARS HYDRO LED grow light: our honest MARS HYDRO TSW 2000 review (with photos)
3. Best high-end LED grow light: Gavita Pro 1700e
key specs: 2.6 µmol/J efficacy | 6' x 6' max lighting coverage | 650 watts
View on Amazon
View on Walmart
Released in 2019, the Gavita Pro 1700e is the most recent model in the entry-level commercial fixtures made by the reputable Dutch company. If you're in the market for a commercial grade growing-machine with a large lighting footprint (4x the lighting footprint of our Best Performing pick!), the Gavita Pro 1700e is our upper-end LED grow light pick for you. With a bar-light suspension design backed in aluminum, this LED is optimized for cooling and air circulation without additional moving parts, resulting in a functional and clean aesthetic. The light spectrum in this model has been designed to shorten the flowering period and produce compact plant growth, so it's ideal for growing leafy greens. For its efficacy rating, this light draws a remarkably low 650 watts, so you won't bust your power bill! At this price point, warranties are typically included with purchase; the Gavita Pro 1700e comes with a 5-year warranty.
Pros
Includes both Samsung white LEDs and Osram deep-red LEDs, some of the highest quality available
Tested and certified for use in wet environments with features that protect the light from dust, oil and water for maximum longevity
Elegant, intelligent design with 8 passively-cooled LED bars suspended directly from the fixture allows for maximum air circulation above your plants
Cons
The light is only dimmable up to 50%, which makes it slightly less versatile than its competitors
For such an expensive product, it's a shame that the power cord is sold separately!
key specs: max lighting coverage: 4′ x 3.5′ for veg, 3′ x 2.5′ for flowering stage
Power draw: 200 watts | full spectrum | dimming function | built-in fans for heat dissipation | up to 100,000 hours | 3-year warranty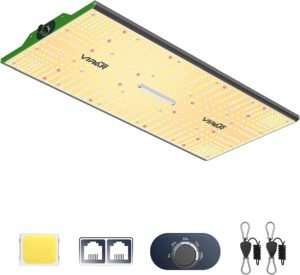 View on Amazon
The VIPARSPECTRA P2000 LED Grow Lights are a top choice for indoor plant growers who want a quality grow light that won't break the bank. With a compact design and maximum coverage area of 4′ x 3.5′ for veg and 3′ x 2.5′ for flowering stage, this grow light is perfect for small indoor plant growing spaces. The sleek aluminum design of the VIPARSPECTRA P2000 LED Grow Lights is simple yet elegant, making it a great addition to any indoor plant setup. The built-in fans provide efficient heat dissipation, ensuring that your plants remain at the optimal temperature for growth.
If you're an indoor plant grower on a budget, the VIPARSPECTRA P2000 LED Grow Lights are a reliable and cost-effective choice. This LED grow light comes with a dual switch function that allows for easy adjustment between veg and bloom growth stages, and the dimming function allows you to adjust the intensity of the light to suit your plant's needs.
With an efficacy value of 2.7 µmol s-1 / watt, your plants will receive plenty of photosynthesis-friendly light without breaking the bank. The VIPARSPECTRA P2000 LED Grow Lights also have a lifespan of up to 100,000 hours and come with a 3-year warranty, making them a great investment for any indoor plant grower seeking a quality LED grow light that won't break the bank.
Pros
Affordable price point
Dual switch function
Energy efficient
Full spectrum lighting
Daisy chain function
Cons
Limited coverage area
No UV or IR light
Inaccurate dimming function
Noisy built-in fans
Limited warranty coverage
key specs: extendable height from 8.5" to 30" | ideal for a single plant | low-profile lighting accents your favorite potted plants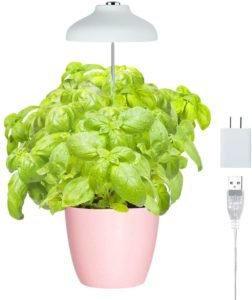 View on Amazon
Offered in a range of Easter-egg shades (including plain white, if that's your thing), this LED Umbrella Plant Grow Light is designed to spotlight your favorite leafy friends in the home. This tiny light packs a punch with a high PPFD, and is popular not only for overwintering tropical plants in cool climates, but also to grow herbs and lettuces in the kitchen. Some buyers report the adapter getting quite hot, like a phone charger might if left in the wall day after day. If you choose not to use the timer function (which is fixed to 16 hours of light a day), make sure to un-plug this LED at night, and adjust the height of the stake as your plant grows to prevent leaf burn. Don't expect too many bells and whistles, and you won't be disappointed. At this price, you can buy a few and keep your herb garden growing indoors through the winter!
Pros
The cute, umbrella-shade design of this LED light not only feeds your plant everything it needs from the sunshines spectrum, but comes in four shades to match your decor
With a staked lighting post adjustable to 30", this LED grow lamp is perfect for small- to medium-sized potted plants
Cons
The manufacturer does not specify the type of LED used or its output of usable light for plant growth, and this may vary due to Amazon's sourcing methods
5 ft UL cord included is a bit short for some indoor plant placements, so you'll need to order an extra-long UL cord if your plant is placed away from an outlet
key specs: 3'x6' max lighting footprint | focusing lenses mimic sunlight diffusion | 2.0 Umol/J
View on Amazon
View on Walmart
Truth be told, it's difficult to find a single bad review about the Electric Sky 300 VC out there, and for good reason. Produced by the Green Sunshine Company, this LED grow light somehow harnesses the secrets of the sun with its patented wideband spectrum technology designed to mimic the light diffusion of sunshine with the help of special focusing lenses. All of this means unmatched yields for home-growers of all kinds, with a pull of only 300 watts from the wall. The Electric Sky is at the forefront of the move toward "white" LED grow lights based on the latest scientific research, promising yield up to two weeks faster than traditional non-LED grow lights. For daily use in the greenhouse, this means you can see the true color of your plants under these lights. The light itself has the classic look of fluorescent grow lights and comes with everything you need to set them up.
Pros
Dual-direction focusing lenses direct light to penetrate the plant canopy for dense, healthy plant growth
"Top bin" wideband LED diodes use patent-pending GS1 wideband technology focusing on red and near-infrared light precisely engineered for high yield!
The proof is in the pudding! This light comes with a 3-year warranty and 90-day money back guarantee
Cons
Weighing in at 22 lbs, this LED grow light is on the heavy side. Install with care
key specs: natural white LEDs rated CRI 92 | powder-coated steel frame in 4 tasteful colors | smart-app enabled48W | rated for 20,000 hours of life | Full daylight 6400k light spectrum
View on Amazon
Modern Sprout is setting a new aesthetic standard for grow lights enabled with the latest technology. The Smart Landscape Growframe is thoughtfully designed to hang as a wall accent in any room – just make sure it's within 10 feet of a power outlet. This light is suited to succulents, herbs or even seedlings, since it's enabled with a smart-app lighting timer. This LED grow light frame is unique, well-built, and made in the USA! Although Modern Sprout doesn't specify the lighting efficacy of this product, we can safely assume that it's not designed to maximize your plant growth with a power pull of only 7 watts. It is rated with a CRI (color rendering index) of 92, which means it will render the "true" colors of whatever plants you put under the light almost perfectly. This is an artful hanging piece for any plant-lover's home, however, and we love the ethos of this brand!
Pros
The wall-mounted powder-coated steel frame (choose from four colors and two formats) will make a beautiful, living centerpiece in your kitchen or living space
Dimmable white LEDs blend seamlessly into your home and are suitable for low-light to bright-light loving plants
Operate the light from a manual touchpad or connect to the Modern Sprout App for easy programming and on/off functionality from a distance
Cons
There is no efficacy rating available for these lights, so look elsewhere if you're after a high-yield light
Although labeled as "directly plantable" under product specifications, the company encourages you to use drainage trays under pots placed in the steel to "prevent water damage"
key specs: 1.05 µmol/J efficacy | solid aluminum body comes in two colors | best for medium to large indoor plants
View on Amazon
Available in black and white, the Aspect LED Grow Light pendant from Soltech Solutions fills the niche of effective, cutting edge technology that blends beautifully into the modern home. Soltech Solutions provides an efficacy rating on their main website, which at 1.05 millimoles per joule is highly efficient for the single bulb natural white category. This light has a CRI rating of 97 to boot, rendering true colors with a clarity on par with museums and neonatal units (what wouldn't you do for your 🌱 babies?). This light is constructed in solid aluminum to pull heat away from the light, and comes with the full kit; mounting equipment, light housing, LED light bulb, and even an outlet-mounted timer.
Pros
Clean, cool design in solid aluminum with a 15' fabric cord hits all the right notes for the modern home while providing full spectrum light to hungry plants
Includes an outlet-mounted lighting timer, so all you need to do is plug in the power cord and set the optimal daytime for your plant!
Installation is a breeze with the included instruction manual and easy-to-follow "how-to" video featured on the product page
Cons
There's no on/off switch on the cord, so you need to unplug the cord in order to turn off the light outside of the timer settings
The light is a bit heavy for the mounting gear included, so you might want to purchase your own hooks
key specs: dual-head gooseneck design | COB LED technology | adjustable brightness and timer settings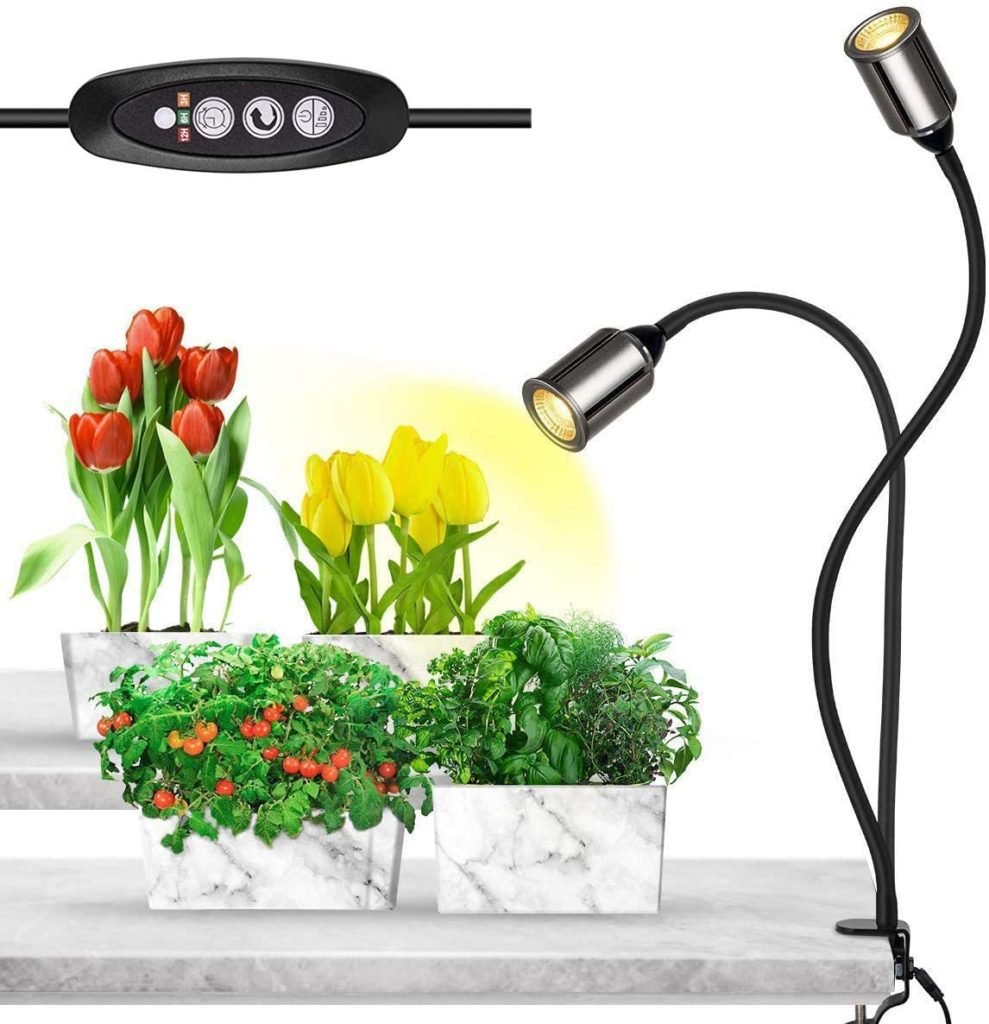 View on Amazon
Bonsai plants require consistent care year-round, from pruning to shaping and watering – and yes, lighting! If you live in a region with seasons, you'll likely need to move your bonsai throughout the year so it can soak in the best quality light. During winter months, is essential to supplement weak sunlight, and you'll need something that's easy to adjust. The Bozily Clip-On LED Grow Lights are an ideal addition to your bonsai care kit, thanks to their gooseneck design featuring two separate lighting heads that are fully adjustable to 360°. These lights pull 75 watts combined and deliver the full spectrum of light necessary for plant growth. For a highly competitive price, you get a two-headed light with four timer modes and four brightness levels, adjustable from the control built into the lighting cord.
Pros
Versatile lighting modes with 3/6/12/24 hour timer modes and 10%/40%/70%/100% brightness levels
23" dual light head gooseneck design with C-clamp attachment allows you to experiment with plant placement and lighting positions
New COB (chip on board) LED technology packs a lot of power into two lighting heads
Cons
These little powerhouses can get hot, so place them away from household hustle and bustle
23" gooseneck means that you will most likely need to attach the light to a shelf above your plant if growing succulents or larger bonsai trees
key specs: waterproof and approved for indoor/outdoor use | daisy-chain up to 120 lights | two year warranty plus free returns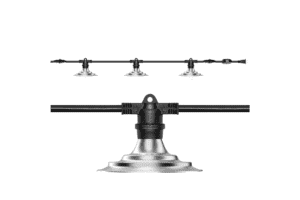 View on Amazon
View on Walmart
Do you have an indoor nursery, but grow crops outdoors during the summer and spring? Or maybe you have a variety of indoor plants growing at different rates that need easily-adjustable lighting? Our top-pick for a versatile grow light is far and away the Espird LED Grow String Light kit. These LEDs are fully waterproof (make sure to screw in the bulbs tightly and you'll be good to go) and are designed to be connected, Christmas-light style. You can connect up to 20 separate strings for large-scale growing operations! Pulling only 150W per set of 6 lights, you won't have to worry about power usage. The SMD (surface-mounted device) LED technology used in these lights are smaller and more discreet than traditional LEDs, and emit a natural white light that is low-glare and even more energy efficient than COB technology. And when you're done for the season? The waterproof rating means you can fold them up and store them in the garden shed without worrying about moisture damage.
Pros
Wet-rated and fully waterproof – just make sure to screw in the bulbs tightly enough
Durable alumnium light shades, heavy-duty cord and UL-approved switch are made to last
Excellent value with a two-year warranty included with purchase
Cons
These lights aren't dimmable
LEARN MORE: why do plants droop at night? the science behind plant sleep
Our recommendations
Questions we had when shopping for LED lights for our indoor plants
I move around a lot so I often live in quite small spaces. I also tend to grow plants that evolved on the understory of steamy jungle floors, so I didn't really want a light that had a high light output, either.
I also didn't want to use up too much electricity, either.
So when trying to figure out exactly how much light I needed to provide for my plants, I naturally searched for answers to these questions. So I'm including the info I learned here for ya.
What is the ideal spectrum for plants?
The ideal spectrum is like the perfect recipe for your favorite dish – it's all about balance! Plants require a variety of wavelengths of light to grow, and LED lights provide this full spectrum of light. In particular, red light and blue light are essential for plant growth. Red light is important for promoting photosynthesis and encouraging flowering, while blue light is crucial for stimulating growth and promoting healthy leaves. Finding the right balance of these wavelengths is key to maximizing your plant's growth potential. Look for full spectrum lights that offer a balanced combination of red and blue light, as well as other wavelengths of light that are important for plant growth. Your plants will thank you for it!

How many watts do I need for my indoor plants?
Ah, the million dollar question! When it comes to the number of watts you need for your indoor plants, it really depends on the size of your grow space and the type of plants you're growing. Generally speaking, a good rule of thumb is to have between 30-50 watts of LED grow light per square foot of growing space for low-light plants, and between 50-70 watts per square foot for high-light plants. Keep in mind that this is just a rough estimate, and it's always a good idea to consult the specific lighting requirements for the different plants that you're growing. Additionally, it's important to consider the quality of the LED grow light you're using, as a high-quality, energy-efficient LED grow light may require less wattage to achieve the same level of plant growth as a lower-quality grow light. Ultimately, finding the right wattage for your indoor plants will require a bit of trial and error, but with some experimentation and research, you'll be well on your way to creating the perfect growing environment for your plants.

What is the lifespan of LED grow lights?
The lifespan of LED lights can vary, but on average, they can last anywhere from 50,000 to 100,000 hours. This means that with proper care and maintenance, your LED grow lights can last for many years, providing your plants with the light they need to grow and thrive. Of course, like any other piece of technology, the lifespan of your LED grow lights will depend on a number of factors, including the quality of the light, the environment in which they are used, and how often they are used.

How do I mount my grow lights in my indoor growing space?
Mounting grow lights in your indoor garden or growing space is relatively easy and can be done in a number of ways. Some common mounting options include using chains, hooks, or ratchets to hang your lights from the ceiling or grow tent frame, or using adjustable light stands to position your lights at the optimal height for your plants. Whatever mounting option you choose, make sure to follow the manufacturer's instructions and ensure that your lights are securely in place before turning them on.

Can I use LED lights for all stages of plant growth?
Yes, they can be used for all stages of plant growth, from seedling to flowering as long as they cover the full spectrum of light that your plants need, including blue and red wavelengths, to ensure optimal growth and development. Different stages of plant growth may require different light intensities and durations. Check out our post all about the light spectrum to get a deep dive all about those blue lights and red lights.

How much heat do LED grow lights generate?
Compared to other types of grow lights, LED lights generate relatively little heat, making them a great choice for indoor plant growers who want to avoid overheating their growing space. However, LED grow lights can still generate some heat, so it's important to make sure that your lights are properly ventilated and that your growing space has adequate air flow to prevent heat buildup. Some LED grow lights also come with built-in fans to help dissipate heat, which can be a great option for indoor plant growers who are concerned about heat buildup in their growing space.
Conclusion
There truly is an LED grow light for every gardener, grower, herb enthusiast and plant-nerd out there. Whether you're looking for a tasteful addition to your home, or a high-powered solution for your greenhouse project, there are LEDs out there to suit your taste, your efficiency needs, and most certainly your budget. All of the LEDs on this list are energy-efficient, and there's no need to break the bank in order to grow your healthiest indoor plants year-round!
shop our recommendations