🧪 Our review process
Our testing team independently researches, tests, and recommends the best products to help keep your houseplants absolutely thriving. Learn more about our testing and review process here.
You are now too perceptive to ignore their humidity needs of your plants, and you need a solution for monitoring their climatic comfort zone. Enter: the hygrometer.
In this guide, you'll find the best hygrometer picks for plants of all kinds, reviewed side-by-side for accuracy, ease of use, and value.
The best hygrometers for plants
Confessional moment: Since I started writing about how humidity affects plants and people, I actually purchased a humidifier and hygrometer for my own apartment.
Once you understand the relationship between humidity, drooping, lackluster leaves, and nutrient uptake in your plants, investing in equipment to control humidity levels in your home just plain makes sense.
There's just no going back once you understand what water vapor can do for the health of living creatures. If you're new to these topics and are hoping to take your plant care to the next level, do read up friend.
Check out the best hygrometers for plant-minded people of all kinds here:
Key specs: 3.5"x3.5" color HD LCD screen | ±2%RH (1% to 99% RH) | battery-powered sensor & display in one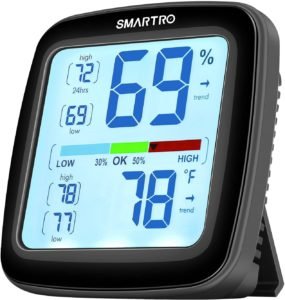 View on Amazon
View on Walmart
When you're measuring humidity levels in your home to make sure your moisture loving plants stay happy, you need a simple, accurate hygrometer that's easy to read at a glance. This is it! This digital hygrometer from Smartro is a display and sensor in-one solution that produces clear and accurate humidity readings with no fuss.
The backlight display option renders the readings in high contrast, and you can choose from several mounting options. The built-in sensor design makes this the best indoor humidity monitor for small collections of moisture-loving plants.
Pros
Easy to read with optional high contrast backlit display setting
Temperature accuracy ±0.5℉ (choose between Celsius or Fahrenheit)
Holds high and low readings for both relative humidity and temperature
Various mounting options
Cons
Relative humidity 'quick read' bar is a bit useless when it comes to caring for plants
Sensor in display limits accuracy to a small space; you need to place it right next to your plant
Key specs: 3″ x 2.5″ black and white digital display | ±3% RH (16% to 98% RH) | battery-powered sensor & display in one
View on Amazon
View on Walmart
Do away with the frills and just monitor humidity levels with this budget-friendly, compact sensor and display from AcuRite. As our pick for best digital hygrometer for the cash-conscious, this humidity meter gives you basic readings and data logging capabilities in a simple battery-powered black-and-white display.
The basic technology behind this hygrometer definitely works, but we have found the quality control lacking and customer support to be less than supportive when replacing duds. It's a low-stakes gamble though, and there is a silver lining: You can stick it on your fridge!
Pros
It costs less than adding a spider plant to your indoor garden!
Simple digital temperature and humidity readings
Records daily high and low readings automatically, though they're sometimes faulty
Stand alone, wall mount, and fridge mounting options thanks to the cute & clever little magnet on this one
Cons
The quality is a bit hit and miss – customers either find these work great or break within a month of purchase
Refund policy is strict and customer service lacking
PRO TIP: These make great gifts for plant lovers 😉
Key specs: 3.25″ x 4.5″ TFT LCD color display | ±1% RH (10% to 99% RH) | wired console with 3-8 remote sensors
View on Amazon
View on Walmart
Is it time to level up or replace your greenhouse humidity and temperature sensing system? This climate system from Ambient Weather delivers highly accurate measurements of humidity within a one percentage point error range. It allows you to measure humidity, temperature, dew point and heat index in a single central location, and temperature and humidity levels in up to 8 locations (choose between 3, 5, or 8 sensors for your needs).
If you're a data nut, you'll love this system for its logging and tracking capabilities. Setting up this system can be a bit challenging, but! If you lived through the 80's / 90's OR have ever set up a walkie-talkie network, you'll do fine 👍 An AC adapter is included for the main console, but you'll need 2 batteries for each sensor.
Pros
Connect up to 8 sensors
All sensors can be calibrated for highest accuracy
Monitor humidity and temperature levels in various environments with up to 8 humidity sensors
Alarm-capable: set and alarm to sound when a humidity value is out of a preset range
Cons
Might include more features (graphing and logging) than the average greenhouse grower needs
Comes with an outdated PC-only software 🦖
Key specs: 1.97″ x 1.18″ black and white LCD display | ±5% RH (10% to 99% RH) | simple display & sensor in-one (4 pack)
View on Amazon
View on Walmart
This minimalist pick from hOmeLabs features a sleek, simple design with a removable water tank and wood details that blend into almost any interior space while adding a flair of techy cuteness. Featuring three mist modes, this compact machine uses super quiet ultrasonic technology that won't disturb even the fussiest plant. An aromatherapy tray is cleverly attached to the humidifier's nozzle for optional use w
Who said basic was a bad thing? This set of mini digital humidity meters isn't the fanciest option on our list, and that's exactly why it's awesome. The LCD displays humidity in large text and temperature in small text. Simple as that.
Place each of the hygrometers within a few feet of your moisture-sensitive plants to take simple humidity and temperature readings and keep your plants in their climatic comfort zone 😌
This 4-pack is a good, cheap alternative to a remote monitoring system with console and sensors, as long as readings within about 5-8% of the true relative humidity aren't a problem for you and your plants. Each of these digital hygrometers comes with two LR44 batteries (the little flat discs) that should last between 12-18 months.
Pros
Includes four separate digital hygrometers
Remote monitoring without the cost and fuss of a console with separate sensors
Durable ABS plastic casing
Cute little match-box sized sensor & display units that you can easily tuck into a pot
Cons
No Celsius option (but hey, this also keeps the device super streamlined)
Poor accuracy at lower humidity levels
Key specs: 1.97″ x 1.18″ black and white LCD display | ±1% RH (0% to 100% RH) | LCD display with backlight
View on Amazon
View on Walmart
Are plants only one of your many passions? If you're a professional or serious craftsperson, you need a versatile, heavy duty hygrometer that you can take on the go from greenhouse to fieldwork and more.
This professional-grade hygrometer takes dew point readings in addition to temperature, wet bulb temperature, and relative humidity. It's recommended for a variety of uses including plant testing, HVAC testing, meteorology, woodworking, wood processing, scientific fieldwork, construction site engineering, wine cellar monitoring, machine room testing, and warehouse work.
This is a durable and sophisticated piece of equipment, and can read temperatures from -20℃(-4℉) – 60℃(140℉) with a highly accurate temperature resolution of ±.1℉. We love the ergonomic design with rubber grip and sturdy parts. The display is crystal clear with adjustable backlighting options to improve visibility in a wide range of lighting conditions.
Pros
Designed with rubber grip and quality components for professional, on-the-go climate readings
Offers three measurement modes with both single reading and logging capabilities (measurement data hold function, data max, and data min)
Tracks four types of climate readings: humidity meter, temperature meter, wet bulb temperature and dew point temperature.
Cons
Cannot be re-calibrated by the user
Key specs: full color 7.8″ x 4.5″ display | ±2% RH (1% to 99% RH) | includes 1 waterproof sensor (add up to 3 channels)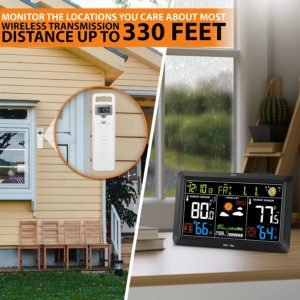 View on Amazon
Set up a mini weather station for your household with this user-friendly indoor/ outdoor humidity monitor from Bayga. The system comes with one sensor and one plug-in console, but accepts up to three channels for monitoring your indoor houseplants, your lawn and garden conditions, and a greenhouse (or any third location you choose within 300 feet of the console).
With its waterproof sensors and superior quality, this system beats the competition with its easy-to-read and even easier to setup design. The temperature sensor reads within ± 0.5ºF of the true temperature and includes programmable high and low temperature alerts to remind you to water your plants or protect them from frost when the weather changes. Moon phase readings are a plus! 🌝
Pros
The sensor is fully waterproof and can be installed up to 300 feet from the console, suiting a wide range of home and commercial uses
Self-setting atomic clock syncs to date, time zone and daylight savings automatically
Screen renders indoor and outdoor temperatures with a vibrant color display, reading temperature and humidity, barometric pressure, moon phase, and an animated weather forecast
Comes with 1 sensor; add up to 2 more for indoor, outdoor and greenhouse readings
Cons
A 20 minute meditation 😇 will do you more good than calling the customer support line for this product
While the temperature and weather readings are surprisingly accurate and well-illustrated, humidity readings are a bit of an afterthought
Key specs: 1.57″ x 1.57″ Bluetooth sensor with smartphone display | ±1.5%RH (0-100%RH) | heavy-duty and versatile, enduring temperature ranges of -40°F – 140°F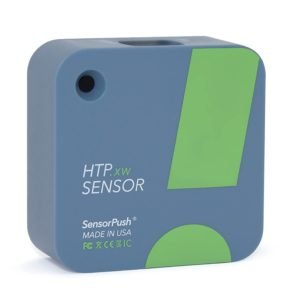 View on Amazon
View on Walmart
This Bluetooth-enabled hygrometer from SensorPush is the industry leader for smart climate monitoring. It measures air temperature and relative humidity, barometric pressure, dewpoint and something you might not be familiar with: VPD (vapor pressure deficit).
This last measurement is particularly useful for serious greenhouse growers and anyone using a humidifier to maintain optimal humidity levels for growing plants 👩‍🔬
For all of the tech merit this humidity gauge boasts, it also stands out for its simple, robust engineering. You can almost feel the quality of the components just by holding the weighty cube in your hand! It's not completely waterproof though – be mindful not to douse it in water if you plunk it directly into your plants' growing media. Overall, this is our top recommendation for anyone who wants an accurate indoor hygrometer with logging capabilities and more features than you'll know how to use, within reach of your smartphone.
Pros
Sensor is made of professional grade, water-resistant components
Can easily be calibrated by the user
Measures a highly useful range of climate conditions for plant care, including air temperature, relative humidity levels, barometric pressure, dewpoint and vapor pressure deficit (VPD)
Option to purchase a WiFi gateway instead of using the Bluetooth connection (325 foot line-of-sight range) to monitor readings
Cons
It is, alas, pretttty pricey
Our recommendations
Still unsure which hygrometer is best for you?
It's not an easy decision, is it? Take the following things in mind before making a final choice about which hygrometer is best for you. Beyond reading humidity and temperature levels, some hygrometers deliver sophisticated readings designed to assist your climate control needs. Learn what they mean and if you need them here.
What to look for in a hygrometer for plants
The new wave of smart electrical hygrometers has thrown into question what's necessary vs what's simply nice to have in a humidity gauge. Basically, it should work! But how accurate does your hygrometer really need to be? There are a few other features to consider when purchasing a hygrometer for the purpose of monitoring climate conditions to keep your plants healthy. Here's what to look for:
accuracy. Well yes! The obvious one. Your hygrometer should give you a relatively accurate reading of relative humidity (RH). You might find industrial-grade hygrometers on the web that measure absolute humidity, but these aren't super helpful (or worth the expense) for the average gardener. RH readings within 2% (denoted as ±2% RH) are generally considered accurate enough for serious gardening and greenhouse growing. Almost all RH meters also give you temperature as well.
readability. This metric is a bit more subjective than accuracy. How easy the hygrometer is to read has to do with where you will be placing it to measure humidity and how you're planning to use the device. If you're opting for a sensor and console in-on option, you'll need a display that's easy to read in a quick glance. For clear readings from across the room, look for options with backlighting and color LCD screens.
battery life / power source. If you opt for a digital hygrometer like one in this guide, check how it pulls power before you buy it. If it uses batteries, it's a good idea to look into the battery life for average use. Displays that render more than just temperature and humidity levels tend to drain batteries more quickly than simple hygrometers. It can be a pain to switch them out every few weeks. Even if you opt for a plug-in system, be prepared to change out batteries in the sensors. Some plug-in consoles also require batteries.
dew point readings. Dew point hygrometers tell you the temperature at which water condenses in a given environment. This is a helpful reading if you're controlling temperature levels in a greenhouse, grow tent, or other controlled environment. It's a bit TMI for the average houseplant parent, but this reading is used frequently in agricultural production to time fertilizer delivery for optimal plant growth.
data storage and graphing. If you're closely monitoring temperature and humidity, data storage and graphing capabilities are your friend! These advanced features typically come with remote monitoring-enabled weather systems and industrial hygrometers, though many electrical hygrometers these days will come with a simple min / max storage function that records the range of readings taken and stores them for up to 30 days.
smart pairing. Smart hygrometers enable your smartphone to display the readings of remote sensors. Many come with apps that offer data logging, customizable alerts, and pairing with a number of remote sensors. A smart hygrometer might be a good choice if you have the ability to control temperature and humidity in your growing space and are already working with data.
NIST traceable certification. The National Institute of Standards and Technology (NIST) is a federal agency that issues certificates for scientific measurement devices, ensuring their quality and accuracy. If you need a high and consistent level of accuracy from your humidity readings, look for the term "NIST-traceable Certification" when shopping for your hygrometer. The entry level cost for NIST-certified devices is around $50, but they will almost definitely come with a warranty.
DIY method for how to calibrate a hygrometer
There's a simple method for calibrating hygrometers of all kinds that you can do with kitchen supplies. The basic objective is to create a saturated salt solution in a controlled environment that we know (or scientists do, anyway) produces a 75% relative humidity reading.
Even if your hygrometer doesn't have a calibration setting, you can perform this test to check its readings and adjust them when you measure in the future.
This is what you'll need:
1/2 cup salt
water
ziploc bag
hygrometer
In a cup, mix the salt with enough water to create a thick slurry. We're aiming for an over-saturated salt solution, so don't add so much water that the salt dissolves.
Spoon the thick salt slurry into your plastic bag and shake it gently so the mixture sinks to the bottom.
Place the bag on a flat surface. Slip your hygrometer into the bag, keeping it out of direct contact with the slurry mixture. Blow gently into the bag to fill it with air and keep your hygrometer upright, then seal.
Let the bag sit four 6-8 hours – don't open!
After six hours, the humidity measure should read 75%. Is the reading above or below 75%? The difference between the reading and 75% indicates the percentage points your hygrometer is off by.
If you're using a hygrometer without calibration capability, add this difference (if any was found) to its readings. For digital hygrometers with calibration, remember to take the batteries out and replace them again before calibrating
Faqs
Q. How do I choose a hygrometer?
I recommend starting your hunt by looking into how accurate you need your readings to be. While highly accurate hygrometers might seem like the best choice overall, this isn't the only factor that matters when choosing a hygrometer. Hygrometers with relative humidity readings within even 10% of the actual humidity levels can still be quite useful for the average gardener. Look for a hygrometer made of quality components that last, and do note that many hygrometer sensors aren't actually waterproof.
Many entry-level hygrometers will actually deliver pretty accurate readings, but tend to break or malfunction quickly. Upping your budget by even $10 will reduce your risk of getting a dud hygrometer right out of the box that doesn't even turn on; something you unfortunately need to be aware of with the wide range of products available on the web.

Q. Which type of hygrometer is most accurate?
The most accurate hygrometers are digital hygrometers that can be calibrated by the user. Even the highest quality hygrometers are affected by climate and use conditions over time, kind of like how pianos go out of tune. Experts recommend calibrating hygrometers at least once a year to maintain the most accurate readings.

Q. What is VPD?
VPD is shorthand for Vapor Pressure Deficit. It's one of a few different measures of relative humidity, most commonly used by scientists, industrialists and greenhouse growers.
It basically measures the difference between the amount of evaporated water in the air and the maximum amount of water vapor the air can hold at that temperature (this is known as complete saturation or dew point).
VPD = maximum vapor in the air – current vapor in the air
It's especially useful to growers because it tells you how much more moisture you can put in the air using a sprayer or humidifier to boost humidity for optimal plant growth. VPD correlates with plant transpiration rates, giving you a better idea of the humidity factors influencing your plants directly.
High VPD = dry air = increased transpiration rates
Low VPD = moist air = decreased transpiration rates
Conclusion
That wraps up our guide to green climate control using hygrometers. With the right tools and consistent, attentive care, you will, no doubt, notice your plants perking up.
One big plus? Maintaining sufficient humidity can lessen the amount of water your plants absorb through their root systems. Healthy shoots, healthy roots 🌿 as they say. Happy growing!
Shop our recommendations