Everyone's grow tent setup is going to be unique, and your choice of products will be affected by the plants you want to grow, the size of tent you need, and your available budget.
If you're looking for a good value, mid-tier tent that will reliably get the job done, we recommend a Vivosun tent.
Vivosun Grow Tent Size And Feature Guide
| | | |
| --- | --- | --- |
| Size | What Does It Fit | Specifications  |
| 1.5 x 2.5 | 1-2 in 2 gallon pots | Square footage 3.75 (small) 1 door, 1 window |
| 2×2 | 1-2 in 2 gallon pots | SF 4 (Small) 1 door 1 window |
| 3×3 | 2-4 in 3 gallon | SF 9 (small) 1 door 1 window |
| 4×4 | 6-8 in 3 gallon | SF 16 (medium) 3 doors 1 window |
| 5×5 | 8-10 plants in 3 gallon pots | SF 25 (medium) 3 doors 1 window |
| 8×4 | 12-16 3 gallon | SF 32 (Large) 2 doors 2 windows |
| 8×8 | 18-24 3 gallon | SF 64 (large) 2 doors 2 windows |
| 10×5 | 16-20 3gallon | SF 50 (LArge) 2 doors 2 windows |
Vivosun Grow Tent Kit Features
Vivosun grow tents come in many sizes, and the bigger they get, the more ports and vents they'll have for power cables and exhaust fans. The ducting ports have cinching closures with drawstrings that help create a tight seal.
This will be important as you grow your plant collection as more plants can mean more problems without proper ventilation.
The tents have other features that keep it competitive with other grow tent brands without sacrificing durability.
I'll go through each of these features now.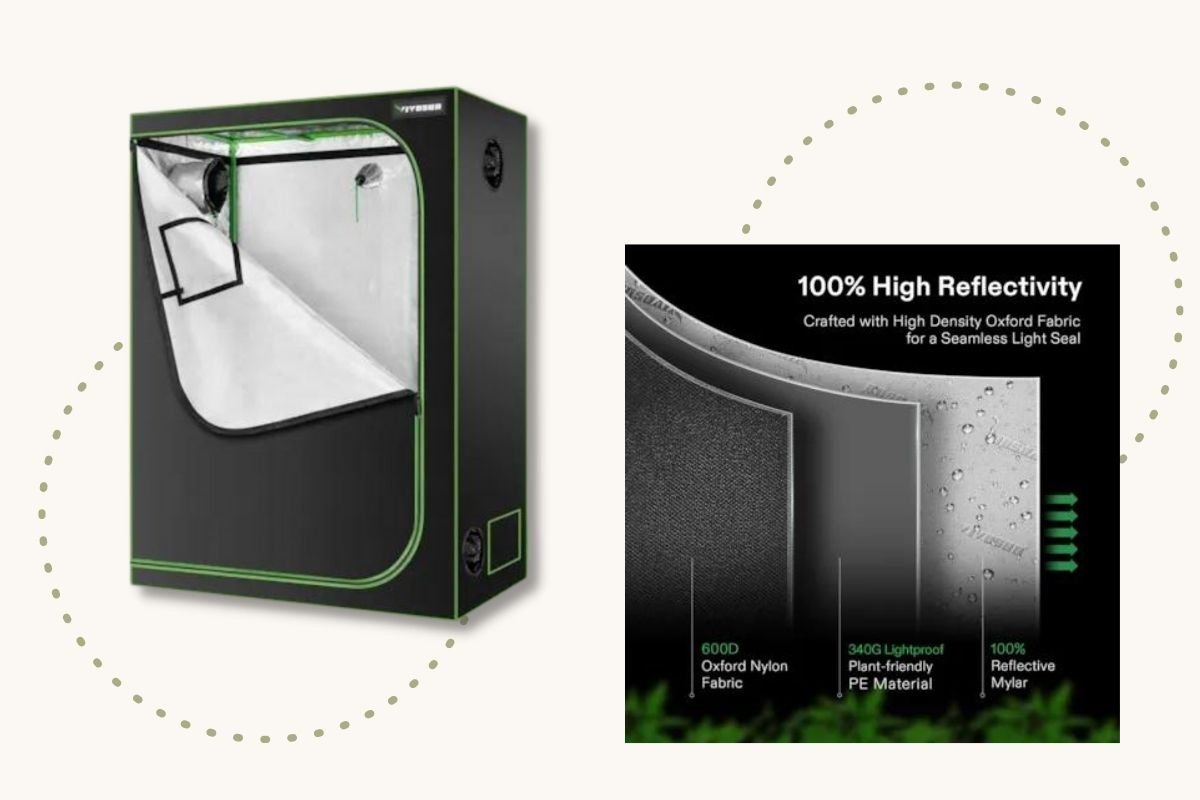 Oxford Canvas Outer Material
Grow tents by Vivosun are made with a standard 600D thread canvas weave, which gives it a tight and functional shell. It's not the thickest material, but it isn't the thinnest, either. Producing the tents with this standard thickness allows them to be kept at an approachable price, since heavier weaves are more expensive.
For growing indoor plants, this is exactly the kind of material you'll want. If you're growing cannabis, then this is a great starter tent that will last you awhile until you have a more intimate understanding of your grow needs.
Bottom line: If your tent is kept in an area with few risks for puncture, this canvas is light and air-tight enough to keep the tent's environment contained.
Mylar Inner Lining
The interior of all Vivosun tents is lined with highly reflective mylar. This shiny fabric looks like aluminum foil and it reflects light rather than absorbs it like the black canvas would. The reflected light is then able to be used by the plants to grow faster, bigger and stronger from the plentiful energy.
This is important for those who don't want high energy costs but do want reliable light coverage for all of your plants, big and small.
Mylar is easy to clean, which makes it more convenient for you to keep the grow tent in good condition and last longer.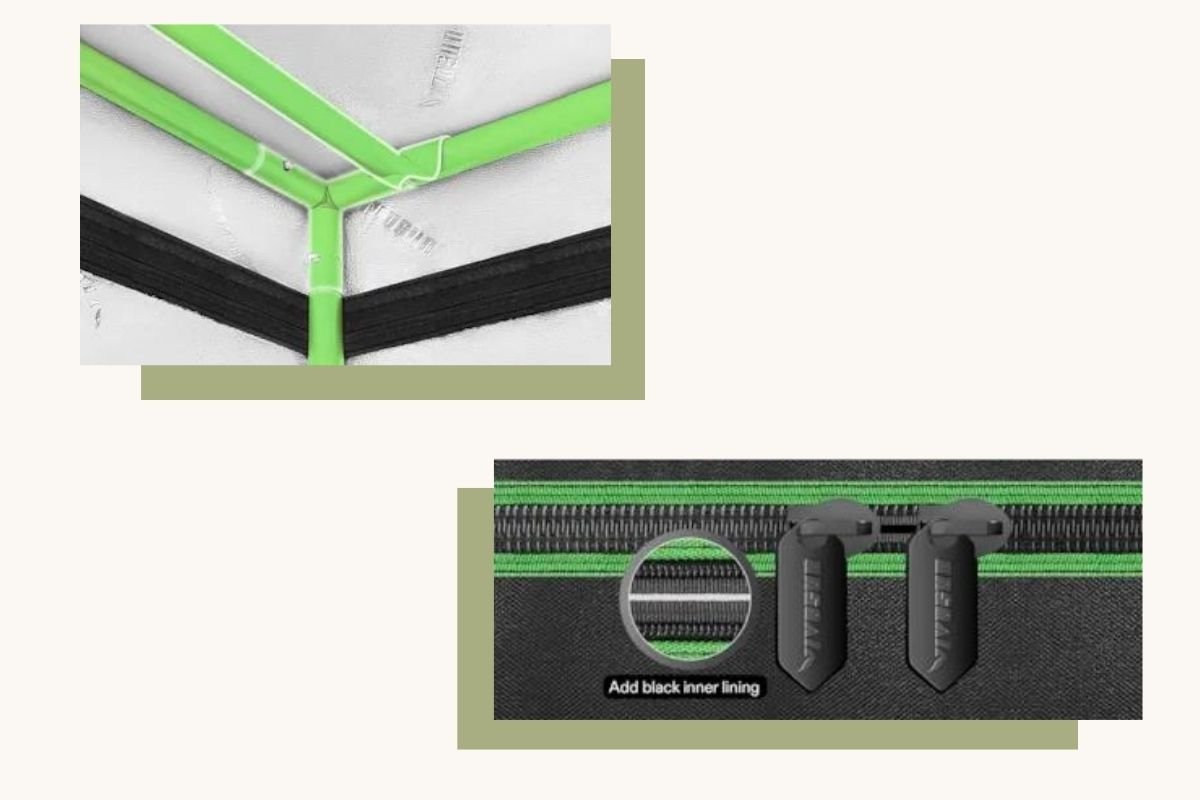 All-Iron Metal Frame
One of our favorite things about Vivosun tents is the metal frame! The metal poles that hold up the tent easily snap into metal corner connectors, unlike some other products that use plastic connectors, sometimes even with metal poles. This means the corners don't wobble or crack over time as you open, close, and interact with the tent.
The all-metal frame also means the connections are secure for you to hang your grow lights and ventilation. All tents have at least 100lb. holding capacity, with larger models holding up to 160lbs. The metal frame is coated with a powder to keep the metal from rusting or corroding so the tent will last longer. This is particularly important since the inside of tents can get moist.
Zippers With Black Inner Lining
The zippers on a Vivosun grow tent are large and easy to grab and there is a black inner lining that helps keep the closure light proof. The zipper is the part of the tent that gets the most wear, and despite the manufacturer's best efforts, some pin holes may develop along the zipper seam.
This is the biggest grievance that we (and Redditors) have with this tent.
Observation Window
The observation windows on Vivosun tents are very handy and a great way to check on your plants without opening up the tent and disrupting the interior growing environment. The outer cover has loop and hook fasteners to keep as much light in the tent as possible when you're not monitoring the plants.
Removable Floor Tray And Inner Tool Organizer
All Vivosun grow tents have a removable floor tray to help keep the area clean. It will catch any dirt, water spills, or dust that might collect in the tent, and is easily removable between cycles. The tray is lined with mylar, which makes it easy to clean and gives the floor some reflectivity that will help return some light to the darker understory of your crop's canopy.
The tent also comes with an inside pouch attached to the wall that can hold your gardening tools, spray bottles, plant fertilizers, and notebooks so everything stays in one place.
My Vivosun Grow Tent Review
Vivosun grows tents are popular with the indoor growing community for their great value. Users note that the tents are sturdy and easy to set up, good quality for the price. They also note that when there has been a problem, the company's customer service was professional and able to resolve the problem. The most common complaint was about light leaks along the zipper.
Since zippers get lots of use and a lot of tension is created on the seams along the zipper line, as well as on the material surrounding it. Pin holes or leaks along the seams might develop, but with gentle use, they may be able to be avoided or minimized.
Vivosun Customer Service And Warranty
The Vivosun company receives very positive feedback on its customer service, with customers reporting that they're both responsive and professional. Their refund and exchange policies are 30 days from purchase, and many users say they've been satisfied with their experience after contacting customer support about a product issue. The company provides detailed information about their policies and contact methods on their website.
Vivosun Grow Tent Pros And Cons
Pros
Good value – The mid-level price and quality materials used makes Vivosun products a good value for a mid-tier option.
Strong frame – One of the features we love most about this tent is the all-metal frame. Since a stable frame means the light, fan, and use of the door won't knock the tent over, this is a standout quality of the Vivosun tents.
Good customer service – When things do go wrong, most reported user experiences have been that the company does its best to resolve the problem.
Cons
Light leaks – Some small light leakage around or along the zipper can appear with wear over time. Pin holes may appear as the canvas gets stretched and relaxes when the doors are opened and closed.
Zipper wear – The zipper gets the most use, so it's usually the first to start to show signs of wear. The seams may pull, or the zipper may get stuck if the fabric frays. Using a gentle motion, rather than forceful tugs, can help the zippers last longer.
FAQ
How to set up vivosun grow tent ventilation?
Vivosun grow tents have double-lined ventilation ports along the ceiling where an exhaust fan, intake can, and carbon filter can be installed to manage the airflow in your grow space. If you purchase an all-inclusive tent kit, or a separate Vivosun fan, it will come with straps that you use to hang the van along a support beam along the upper frame. The double cinching port closure provides a tight seal to keep the tent conditions contained.
How to hang a light in a vivosun grow tent?
If you purchase an all-inclusive tent kit, or a separate Vivosun lamp, the light fixture will come with hanging hardware like suspension cords or ratchet ropes. The lighting should be hung in the center of the tent from the frame's ceiling support beam so the most even amount of light is spread (reinforced by the reflective mylar interior). Be sure the light is hung the right distance for your plant's phase of growth!
Final Thoughts
All in all, we think Vivosun grow tents are a good value for the price. The tent's stable frame and durability, along with the company's market presence and reputation all speak to a quality product that serves its purpose to help you grow your crops from seed to harvest.