With so many potting soil options available for plants today, it can be difficult to choose the right mix. Mixed-in fertilizer or no? What's the difference between a "well draining" and a "well aerated" potting mix? And what in the world is soilless potting soil?
We've researched the best potting mix options in a range of categories, and have chosen our favorites for indoor plants of all kinds. At the bottom of this guide, read more about what to look for in a good potting mix.
The best soil for indoor plants
Key specs: 9qt. | balanced NPK ratio 0.12-0.12-0.12 | feeds plants for up to 6 months
View on Amazon
View on Walmart
This all-around potting mix from Burpee is our winning pick for the best potting soil mix due to its versatility, nutrient balance, quality of ingredients, and customer service guarantee. We like that this potting soil has a balanced NPK ratio that allows plant parents to supplement with a fertilizer best suited to indoor plants, unlike other potting soils that come pre-saturated with fertilizer.
It's specifically formulated with a fine blend of sustainably-harvested coco coir to require less frequent waterings and packs all of the goods into a light and airy mix.
Key specs: 6 qt. or 16 qt. | NPK ratio is .25 .13 .19, featuring coco coir | feeds plants for up to 6 months
View on Amazon
View on Walmart
Yes, there is actually a potting mix designed for the special needs of indoor plants! One of the most irritating unwelcome guests for houseplants and plant-loving people alike are the pests that often come hidden in potting mix. This soil mix has been specially blended with natural components that repel fungus and gnats, so your plants get all of the goods without any of the ickies!
It contains fertilizer that should sustain your plant for about 6 months – after this, you'll need to start using liquid fertilizer.
Key specs: 12 qt. bag available as a single or 4 pack | NPK ratio is .3-.45-.05, featuring fish & crab meal, and earthworm castings | pair with Fox Farm Grow Big fertilizer for best results
View on Amazon
View on Walmart
FoxFarm's Ocean Forest Organic Potting Soil is the ultimate nature-derived goody bag of pretty much every houseplant. It's rich in organic matter, yet built to provide excellent drainage. Because the optimal soil pH range for most indoor plants is slightly acidic, this soil mix is designed to work with the brand's liquid fertilizer to provide the optimal conditions for nutrient uptake.
Most buyers report not needing to fertilize until the vegetative and bloom stages of plant growth, so don't hesitate to buy this top organic pick if you're just looking for a one-and-done solution.
Key specs: 1 gallon bag | soil alternative with NPK .10 -.15 -.12 | ready to use and ideal for indoor plants
View on Amazon
View on Walmart
Soilless soil is rising in popularity alongside sterile, inert soil builders like coconut coir that allow you to easily inspect plant roots and keep your plant free of pests that plague soils rich in organic amendments.
This soil is mixed by a rare plant seller that found its anti-fungal properties beneficial for a wide range of indoor houseplants. Pre-soaked in a Phosphorous rich plant food and ready to use straight from the package, Noot's "The Mix" is our pick for best potting soil, sans soil!
Key specs: available in 2 qt. 4 qt. or 8 qt bags | hand-mixed blend of pine bark, leca, New Zealand Sphagnum moss and perlite | ready-to-use
View on Amazon
View on Walmart
Only the best indoor potting soil will do for your orchids! Amongst the many competitors out there, our favorite orchid soil is this hand-mixed Phalaenopsis blend from the Delaware-based orchid specialists at rePotme.
It's made with a slow-decomposing blend containing Monterey pine bark, puffed clay (LECA), perlite, and sustainably-harvested Sphagnum from New Zealand that's touted for its ability to prevent root rot.
The bark blend is well-sized and has clearly passed quality control, providing the media variety that orchids thrive on with bark, rocks, and moss while leaving out odd sizes chunks that make stable potting difficult.
Key specs: 4 qt. or 10 qt. | all-organic Canadian sphagnum peat moss, reed sedge peat, perlite, sand, and limestone | use with a Phosphorous-rich fertilizer for best results
View on Amazon
View on Walmart
If you plant your succulent in all-purpose potting soil, it's a matter of time before it develops root rot. You need a well-draining soil instead, like our cactus soil mix pick from Hoffman.
This soil contains a good balance of organic matter (peat derivatives) and inorganic matter (stone and sand), making it well-suited to jade plants, aloe vera, other succulents and cacti that don't mind a bit of moisture.
The reed sedge peat, a decomposed blend of rushes, sedge and other coastal plants, provides a healthy dose of sea mineral-enriched fertilizer and organic matter for your succulents!
Key specs: 1 gallon | Premium mix of wood bark, pumice, and Sphagnum peat moss | Excellent for all indoor plants, including aroids, philodendrons, ZZ plants, snake plants, pothos, monstera, fiddle-leaf fig, and more
Introducing our premium plant mix, carefully hand-mixed with wood bark, pumice, and Sphagnum peat moss to promote healthy root growth and prevent root rot. Perfect for all indoor plants, this small batch mix is designed to increase air access, avoid common soil issues, and can be used in soil or semi-hydro setups. Comes in a resealable 1 gallon bag for easy storage and proudly made in the USA.
Our recommendations
Still unsure which soil is best for your indoor plants?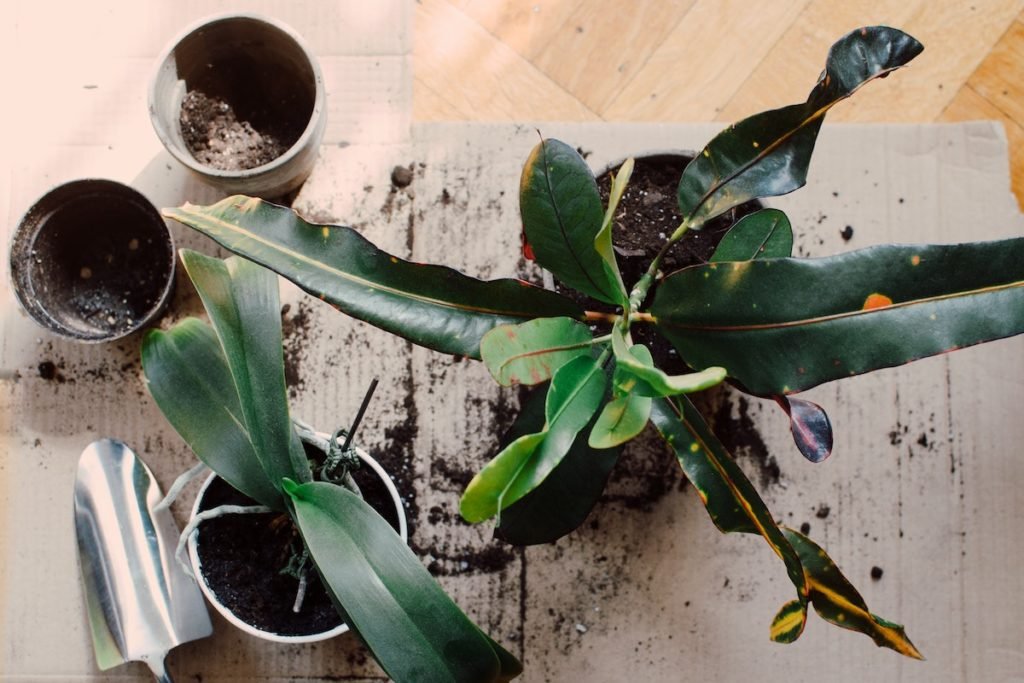 If you're still unsure which potting soil best suits your indoor garden, here are a few vital tips to help you make the best choice.
Most common types of potting soil
If you're not looking for an all-purpose potting soil, then you can pick something for your specific needs. I'll go through everything that makes up potting soil, plus recommendations for certain kinds of plants. That way you can find the best soil for your indoor plants!
All-purpose potting mix
The classic! This is what you'll most likely find at grocery stores, big-box centers and front-and-center at your local garden supply shop. All-purpose potting mix is typically light and spongy, pH neutral, pre-blended with fertilizer, and occasionally an aeration element like vermiculite. It will be able to absorb a fair amount of water without getting heavy.
Succulent / Cactus mix
Succulents and cacti demand little moisture to thrive (cactus are a type of succulent). Because succulents store water in their leaves and stems, they do best in soils that drain well and are blended with ingredients that provide plenty of aeration to keep their roots from becoming soggy, like vermiculite, pumice, sand charcoal and clay.
You will often see succulent soil mix labeled as "Succulent & Cactus Mix", but there are some key differences between succulents and cacti that do mean they have different soil needs. The all-purpose succulent mixes are usually best suited for succulents as-is, but you can easily adapt them for your cacti with a couple of ingredients:
Measure 4 parts succulent mix
Measure and add 1 part sand, plus 1 part vermiculite or pumice
Mix well
Happy cacti!
Orchid / Epiphyte mix
Another common type of soil out there is orchid mix. These mixes are usually formulated specifically for orchids, but can be used for a wide variety of epiphytes (air plants), including:
Tillandsia and other bromeliads
Eptosporangiate ferns
Epiphytic cacti
Spanish moss
Air plants grow in tree hollows, between rocks, on other plants, and in a wide range of other nooks and crannies that are inhospitable to most plants. They have fleshy leaves like succulents, but can absorb water from the air and are happiest in structured, well-aerated media like bark, coconut coir, and peat moss mixes.
Although epiphytes are low maintenance in some ways, they are notoriously finicky when it comes to the type and quantity of water they get (we all have our things, right?). If you have a specific epiphyte, do some research about the best mix for it before dumping it in any old orchid mix.
Seed starting mix
Seed starting mixes are fine-grained, light and airy in comparison to all-purpose potting soil. Seed starting mix shouldn't contain added fertilizers or rich organic matter because seeds contain all of the nutrients they need for the first few weeks in their mighty little shells! Typical ingredients in seed starting mixes include perlite, vermiculite, peat moss, and coconut coir.
Specialized mixes
Beyond the above mentioned types of potting soil, you'll find mixes for a range of specialized uses and plants. Plants need a different blend of nutrients during vegetative and flowering phases, so you'll often find potting mixes blended with nutrients for use during these phases. You'll also find soil mixes for certain plants like African violets that have uncommon pH and aeration requirements – don't use these interchangeably with other mixes unless you research first.
Ingredients in soil and what they do
Nearly all potting soil mixes contain three basic categories of ingredients; soil builders or bases, fertilizers, and aeration and drainage elements. It's good to learn about what's what within these categories, not only to blend your own potting soil, but to know what you're buying. Many soil mixes advertise only the ingredients they wish to showcase, assuming buyers won't check the package to find out it's really a conventional blend.
Soil builders
Sphagnum Moss: also known as simply Sphagnum, this moss is a genus of over 350 species of moss that grow in wetlands in the Northern and Southern hemispheres. The Sphagnum harvested for potting mixes and other horticultural use comes mostly from North America, where peatlands are synonymous with this ancient plant. It has a remarkable water-retention capacity due to the dense, spiraling structure of its phyllids (teeny-tiny moss leaves). It grows in peat bogs, a type of wetland, around the world. You can read our in-depth review of the sphagnum moss industry here.

Peat Moss: Peat moss, also known as sphagnum peat moss, is the layer of decayed sphagnum that forms in the soil of natural peat bogs. It looks like plain 'ol dirt, but it's specifically used to improve soil aeration and water retention, boost nutrient uptake, and improve the balance of microorganisms in soil mixes. Because peat bogs are drained or destroyed in some unsustainable peat moss harvesting practices, some indoor gardeners avoid all peat moss in favor of other, more sustainably-harvested alternatives. Sphagnum peat moss typically has a pH of around 4.0, so it's often used to balance naturally alkaline soils compounds like clay.
Dried Sphagnum Moss: is exactly what it sounds like. Dried sphagnum is light brown to green or gray, and often comes in air-compressed bags. It's sterilized after harvest to clean out pests and bacteria. Like peat moss, dried sphagnum contributes to water retention and soil aeration. Florists use it decoratively, and it makes a great outdoor wintering covering for frost-sensitive plants like roses.
Coconut Coir: with a nearly neutral soil pH and excellent water retention capability, coco coir is becoming an increasingly popular ingredient in potting mixes for good reason. It's a great addition to potting mix for plants that like well drained soil, and is especially suited for indoor potting soil because its sterile and inert (ie no soil with a side of mealybugs!). It contributes to soil stability and is often the main ingredient in soilless potting mixes due to its versatility.
Fertilizers
Plants need regular sustenance to supplement the energy they absorb from the sun. In the wild, plants source nutrients from the organic matter that comes from organisms and their waste products cycling constantly through the soil layers. When growing plants in containers, you'll need to supplement even the most nutrient-rich potting soil with fertilizer at some point to provide the essential elements your green friend needs to thrive.
If you don't, your plant may survive – but it typically won't flower or grow as big and healthy as it could with some tasty plant food 🍕 (not that pizza's a superfood, but salad seemed inappropriate here, LOL). Good potting soil will come with some fertilizer, but don't expect it to sustain your plant forever.
We often associate the term fertilizer with stinky, store-bought potions, but fertilizer is really any substance applied to potting soil to increase its fertility. You can buy fertilizers in liquid and pellet form, which are a popular addition to store-bought potting mixes. These are some of the most common fertilizers out there:
Worm Castings: this is worm poop, people 💩in the wild, it's called humus! in potting soil, worm castings contain microbiological organisms that fight disease, repel insects, improve soil aeration and drainage, and boosts water retention.
Compost: often called "black gold" by gardeners, compost made up of food scraps (green matter) and yard waste (brown matter) that decompose into a perfect medium-density amendment. It's often used in vegetable gardens but makes a great nutritional addition to potting mix in small quantities
Fish Emulsion: this is ground-up, dried fish with an NPK ratio of 4-1-1. It's often used specifically as a nitrogen supplement for plants.
Synthetic Fertilizers: these are all types of fertilizers containing nitrogen, phosphorous or potassium that are chemically manufactured. They feed plants what they need, but they don't improve soil health, texture, or long-term fertility.
Organic Fertilizers: these include peat, manure, bone meal and other animal by-products, and plant wastes. Organic (natural) fertilizers typically contain less NPK by volume than synthetic fertilizers, but they feed plants for a longer period of time, thanks to their interactions with soil microbes. They are often blended into potting mix in raw form, but occasionally you will find soils soaked in liquid forms of organic fertilizer.
Biochar: when added to potting soil, acts as a sponge-like structure that retains moisture and nutrients, enhancing the soil's water retention and fertility. Its porous nature provides a habitat for beneficial microbes, promoting soil health and improving plant growth.
Aeration and drainage elements
Air: This may seem obvious, but one of the biggest problems with potting soil is that it compacts over time, preventing sufficient space for roots to "breathe". Plant roots need adequate room for gas exchange to grow in potting soil.
Pumice: pumice is basically volcanic rock, which is formed by bubbling hot lava. Pumice stone is like boiling lava frozen in time, with tiny air pockets all throughout the stone. It is these tiny air pockets that make it a great addition to potting soil because it provides space for aeration and drainage.
Vermiculite: vermiculite is capable of retaining more water than perlite in potting soil, and offers less aeration for plant roots.
Sand: on its own, sand won't do much of anything for your plants besides bring beach holiday vibes! It drains quickly and doesn't hold nutrients well, so you'll find that it's often mixed with other amendments in succulent and cactus soil mix.
Perlite: also known as sponge rock, perlite is the common name for a volcanic glass known as siliceous rock found in potting mix everywhere. Like LECA, it is heated to high temperatures in a process that expands the compound. Perlite holds water due to the large surface area contained within the honey-combed structure that results from this process. It holds less water than vermiculite because its porous structure lets excess water drain easily away.
Clay: clay soil is quite heavy and dense in comparison to other soil types. It holds quite a bit of water and has a high pH, within the 8-10 range. As a primary ingredient in soil, clay causes plants to grow slowly and remain compact. Many types of grasses, hosta, and petunias thrive in clay soil.
Bark: prized for its slow decompositions rate, bark retains moisture, insulates sensitive roots, and adds cheap body to potting mix. You'll typically find bark from softwood trees like pine, cedar and spruce in potting mixes.
Conclusion
Choosing the best potting soil for your indoor plants is an essential first step to growing healthy container plants indoors. Before buying a general potting mix, check with your local nursery about what they recommend for your particular plant and climate zone.
While indoor and outdoor plants thrive in potting soil with adequate moisture retention, you'll find that indoor potted plants suffer more often from poorly draining soil than their outdoor cousins, so always make your potting soil selection based on direct observation as opposed to general recommendations.
Potting soil that's constantly wet typically means death to potted and container plants (even thirsty ones like snake plants), so we always recommend keeping some perlite, vermiculite, and LECA or other soil-drainage amendments on hand to mix into your favorite potting soil if you notice soggy soil.
Even the best draining potting mixes tend to compact over time, so if you have an old bag of something good, revive it with a handful of vermiculite! Choosing the best potting soil for your plant will have a greater impact on its long-term health than your watering routine, so don't skimp on this important investment. Choose wisely from our selection of the best potting soil picks for your indoor plant collection, and enjoy the results.
Shop our recommendations