🧪 Our review process
Our testing team independently researches, tests, and recommends the best products to help keep your houseplants absolutely thriving. Learn more about our testing and review process here.
Ready to raise a crop of little sprouts that will take on the world? Starting seeds at home is a great way to get growing, but it's important to have the right tools.
If you had to pick just one essential item for successful seed starting, it would be a good quality grow light.
With the right grow light, you can give your plants-to-be the exact type, intensity, and duration of light they need during their most energy-demanding growth stage.
In this guide, we'll review the best grow lights for seedlings and share some key features to look for when selecting yours.
The best grow lights
key specs: 150 watts actual power | 3'x3′ light coverage area | full spectrum LED 400-700nm and 730-740nm
View on Amazon
View on Walmart
Topping our list of recommendations is the widely-loved and energy-efficient TS-1000 grow light from Mars Hydro. This grows light has been updated with a 120° refraction angle, heat dispersion features that reduce the need for cooling fans, and a fully dimmable switch to suit the needs of plants in every growth stage. It comes with a full kit of extras to get you starting seeds at home in no time, too: a thermo-hygrometer, grow light timer, and all of the hardware you'll need to suspend the lights and adjust them as your seedlings grow.
What really sets this light apart from the rest, though, is the company's investment in customer service. Mars provides a best-in-class 5-year service warranty with guaranteed customer service response times and a network of service centers throughout the US where you can send your product for repair, should you have any issues.
Pros
Pulls only 150 watts while providing excellent coverage and intensity; dimmable from 0-100%
5 year service warranty with service and customer service centers throughout the US
IP64 waterproof rating
Includes the full kit of features needed for quick setup at home: grow timer, thermometer and hygrometer in-one, height-adjustable suspension hardware, daisy chain
Cons
The PPFD ratings published by Mars are exaggerated when checked against independent measurements
This product is updated regularly with new features, which becomes a double-edged sword to the unlucky few who believed they ordered the newest product but receive older versions of the grow light
key specs: 96 watts actual power | 2'x3′ light coverage area | full spectrum 6500K
View on Amazon
These fluorescent lights will get you started growing healthy seedlings while leaving room in the budget for the essentials you'll need once your plants reach maturity. The four fluorescent bulbs provide ample light output at an impressive intensity focused in the blue light spectrum needed for producing healthy seedlings. You can control the light intensity on the unit with two power switches: one powers the inner two fluorescent tubes, the other powers the outer two fluorescent tubes. While LED lights deliver more usable light to growing plants at different growth stages, this fluorescent grow light will work well for seedlings.
Pros
Tightly-angled German-made hammertone reflector creates the ideal top-down light direction for seedlings
Includes hanging hooks, adjustable suspension chain
Allows you to control light intensity with two switches
5 year warranty
Cons
This lamp runs pretty hot. Do not touch the aluminum light shield and make sure to adjust the cable every few days to prevent the light from burning your delicate seedlings
Budget is as budget does: you'll need to replace the bulbs regularly, and don't expect the light to last forever
key specs: 184 watts veg / 368 watts bloom actual power | 6'x3.75′ light coverage area | 12-band full spectrum LED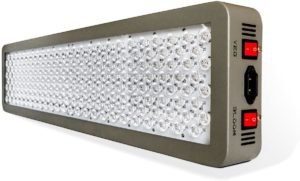 View on Amazon
Even with more high-end competitors entering the market than ever before, the Advanced Platinum Series grow lights remain the crème de la crème for indoor growing at every stage. These lights provide 100% usable light energy to plants and deliver the highest PAR / lumen output per watt of any other LED grow light, making them ideal for both starting seedlings and growing plants to full maturity. They give off a natural white light that penetrates deep into the light canopy of growing plants. Use the "veg" setting to start seedlings, and simply switch to "bloom" when your plants are ready to transition to fruiting and flowering. These lights are pretty heavy for their size considering they're made of aluminum (the drivers and fans are not), so you'll need to make sure that whatever you hang them from can hold 25 pounds.
Pros
Unparalleled in delivering intense, usable light to plants
Features specific light settings for vegetative and flowering stages, making it ideal for growing seedlings to full maturity
Comprehensive 5 year warranty plus robust 90 day satisfaction or return guarantee
Built in cooling fans keep things cool so you don't have to worry about leaf burn
Cons
Weighing in at 22 pounds, this light is pretty heavy and requires some serious anchoring to remain stable
Yes, it's expensive!
key specs: 475ml/1pt | coverage area spans 3 shelves each measuring 4.25′ x 1.2′ | 6400K full spectrum grow light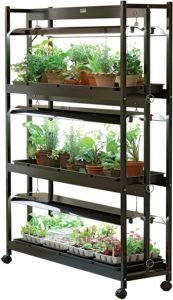 View on Amazon
If you're looking for a complete system for growing seedlings indoors, check out this all-in-one solution from the Gardeners Supply Company. It features three racks with removable germinating trays, adjustable lights for each tier, a sturdy metal frame, and casters so you can re-position your grow station as the natural light in your space changes. The fluorescent bulbs mimic natural sunlight, emitting bright, warm light that's ideal for the early stages of plant growth and blend in to your home environment. This is a streamlined and attractive indoor lighting system for starting seedlings, maintaining an herb garden, or keeping an indoor vegetable garden right in your kitchen.Love this product… but wish it came with LEDs instead? It does! Gardeners Supply Company produces the same exact tiered plant stand with 6500K LED lights.
Pros
Easy setup: waste no time hanging your grow lights or searching for additional hardware
In place of shelves, this unit features watertight, removable trays that you can directly plant your seedlings in
It rolls! You can roll this unit around to make the most of the natural light in your space
Energy efficient T5 bulbs provide up to 10,000 use hours
Cons
The shelves themselves aren't adjustable, so you'll need to move your plants once they reach about 18″ in height
The structure is brilliant but the lights are poor quality for this price point
key specs: 5 watts actual power | light coverage area within the container is 1.9′ x .96′ | full-spectrum 6400K LED bulb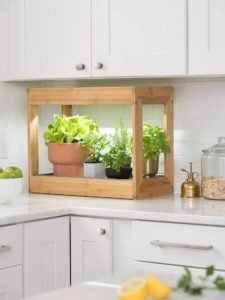 View on Amazon
Do your leafy dreams outsize your available space? Fortunately, there's a sweet little grow light setup just for you. Constructed in solid bamboo with a single 6400K LED bulb, this fully-equipped light box is great for starting seeds in whatever space you can spare. It's small enough to mount on a wall and has been designed to stack up to two high if you want to set up your own little plant production tower. This grows light kit takes some time to put together, but it's relatively easy to follow the instructions. The one downside to this pick is that the grow light isn't adjustable, so you'll need to set your seedlings up on a stack of books when they first sprout and gradually lower them down as they grow. Because this product is relatively new to Amazon, there aren't many helpful reviews there to help you decide if this is the right product for you. You can read more in-depth reviews here.
Pros
Small but mighty! Fits easily on a countertop, desk, or book shelf or mounted on the wall
Clean lines and quality construction make this product right at home in a variety of modern interiors
Stack up to two of these containers for additional growing room
Designed with an open top to improve ventilation
Cons
The grow lights won't support strong vegetative growth in mature plants
The grow lights are fixed to the structure, so you'll need to set your seedlings up on something to bring them closer to the light when they first germinate
key specs: 45 watts actual power | roughly 2′ x 1′ light coverage area | single T5 full spectrum light bulb
View on Amazon
Choosing the right grow light can be intimidating for "green" indoor gardeners who are just starting out. This beginner-friendly setup from Hydrofarm takes the guesswork out of choosing lights and rigging them up to the perfect height. It features a single T5 light mounted with a simple, yet sturdy pully system, so you can set it up pretty much anywhere on a flat surface. The 2′ model here (a 4′ version is also available) fits two seed starting trays side-by-side, and will deliver on its promise with minimal fuss.
Pros
Grow light and stand in-one: all you need is a shelving system and seed starting trays
Easy-to-assemble re-inforced metal frame is made in durable, powder-coated steel with a very solid construction
Fits two 72-cell seed starting trays side by side
A good solution for over-wintering tropical houseplants as well as starting seeds
Cons
Best used for seed starting only: The single T5 won't support strong vegetative growth
Some customers report receiving flimsy look-alike products and struggle with customer service to return them
key specs: 30 watts actual power | 2′ x 2′ light coverage area | 450nm blue and 655 nm 3300 / 3300K
View on Amazon
For gardeners with many trays of seedlings to nurture, link-able grow lights are a must. Although almost all mid-priced and high-end grow lights come with a daisy chaining feature that allows growers to easily link and adjust the lights together (like the Mars Hydro, our #1 overall pick on this list), these lights are typically designed with large-scale greenhouse growing in mind – not indoor gardening projects. This simple 2″ grow light from the California-based company Feit is a better solution for mid-scale indoor hobby gardening. Each light comes with a long 5 foot extension cord, perfectly covers a standard-sized seed-starting tray, and delivers both red and blue light in the spectrum best suited to seedlings.
You can link up to eight of these fixtures together to accommodate the lighting needs of different types of indoor plants. This unit produces visible light with a slight violet tinge, which most gardeners don't mind (but may affect your mood lighting – so just an FYI). If you'd like to grow your seedlings to full maturity under these, switch out the standard light here with the red light bulb specifically for the bloom phase featured on the product page.
Pros
Simple, lightweight design features two streamlined LED bulbs
Includes a 6-inch wire harness to hang the lights
Easily and quickly link up to 8 fixtures with the 5 foot power cord included with each light
Cons
LED bulbs are non-dimmable
Because these don't come with a reflector, your seedlings will lose some usable light unless you buy one (which is a bit of an outrage for the price of these lights)
key specs: 450 watts actual power | 4.5′ x 4.5′ light coverage area | 660nm / 3000K – 6000K full spectrum LED lights
View on Amazon
Raise the bar in your indoor garden and get ready for explosive plant growth with this Linear Series grow light from Phlizon. It's long, narrow body is designed to distribute the highest PPFD possible to the greatest light coverage area, making it perfect for seed starting. It features high quality Samsung LEDs and super efficient SMD chips, together with a waterproof rating that makes it safe to use even in the most humid environments. Increase your success rate with this high-performing product and get growing!
Pros
Built-in cooling system has been redesigned to minimize noise: it's almost completely silent
Suitable for use in high-humidity environments thanks to the IP65 waterproof rating
3 years full warranty and 30 day money-back guarantee
Features highly efficient SMD chips and Samsung LEDs
Cons
Despite the heat sink features added to this latest product edition, the light runs hot for an LED and will require additional cooling and ventilation in humid environments like grow tents
Our recommendations
Still unsure which one is best for you?
How do you choose the best grow lamp or light fixture for starting seeds, anyway? If our recommendations have left you with more questions than answers, keep reading for some general guidance on choosing and using the best grow lights for to start seeds.
Lighting schedule for seedlings
Once your seeds have germinated, it's lights, camera, action! Seedlings need between 14-16 hours of light every day until you're ready to harden them off for planting outdoors (this process takes about two weeks). If you're planning to grow your plants indoors to maturity, you'll need to research the lighting needs of your specific plant during its vegetative and fruiting / flowering stages.
Generally speaking, your indoor plants that will need fewer light hours every day (no, they don't need grow lights 24 hours a day 😅 ) once they're fully established – and they need dark hours just as much as light hours to fully recover.
Understanding the light spectrum
Just like us, plants have a preference when it comes to lighting. Seedlings, in particular, crave a blue-green spectrum light, which is perfect for their fast-paced growth. This type of light helps seedlings grow strong and healthy, setting them up for success in the long run. When choosing your grow lights, look for bulbs labeled as blue-green spectrum or balanced light spectrum, with a PPF between 30-50. If you want to learn more about light spectrum, check out our blog post all about the best light spectrum for plants.
Types of lighting
Not all grow lights are created equal, and it's important to know the pros and cons of each type before making a decision. The most popular grow light types are LED, fluorescent, and HID lights. LED lights are efficient and long-lasting, fluorescent lights are affordable and versatile, and HID lights are powerful but generate a lot of heat. Choose the one that fits your budget and growing space. Remember, at the end of the day, your seedlings won't care what type of light they're getting, as long as it's the right type, intensity, and duration.
How to start growing seeds indoors
Step 1: Find a suitable growing area in your home. Choose a space that gets good light and is free from drafts and temperature fluctuations. Your seedlings will thank you for it!
Step 2: Choose a sturdy and spacious seedling tray, fill it with quality seed starting soil, and moisten the soil. Pro-tip: don't pack the soil too tightly or your little sprouts may have trouble pushing through.
Step 3: Sow your seeds according to the instructions on the packet, and then cover the tray with a clear plastic dome or plastic wrap. This will create a mini greenhouse for your seedlings to sprout in.
Step 4: Place your tray under a grow light, positioned about 2-3 inches above the top of the tray. Make sure to adjust the height of the light as the seedlings grow taller.
Step 5: Set up a fan to create a gentle breeze for your seedlings. This will help strengthen their stems and prepare them for life outdoors.
Step 6: Keep the soil moist but not waterlogged, and monitor your seedlings for signs of growth and health. Pro-tip: resist the urge to overwater your seedlings or you may end up with damp soil and unhappy plants.
Step 7: Once your seedlings are big and strong, you can start hardening them off for planting outdoors. This involves gradually exposing them to outdoor conditions such as sun, wind, and rain.
And that's it! Follow these simple steps, and you'll be well on your way to growing healthy and productive plants indoors.
Common questions
What kind of grow light is best for seedlings?
When growing seedlings indoors and away from natural sunlight, look for a high intensity LED grow lights mounted in a fixture with an adjustable chain for seedlings. Look for bulbs labeled as blue-green spectrum or balanced light spectrum, with a PPF between 30-50. If you are using grow lights as a supplemental light source to a brightly lit window, for example, use a lower-intensity grow light instead.

Are LED grow lights good for seedlings?
Yes, LED grow lights are a great choice for seedlings! Although LED grow lights are a bit pricier than traditional fluorescent grow lights, they will actually save you money in the long run. Many LED grow lights are up to 50% more energy efficient than fluorescent light bulbs, and often last a lifetime of use.

How far should grow lights be from seedlings?
Once your seeds sprout, you'll need to keep a close eye on your seedlings to make sure they don't get too close to your grow lights and sustain leaf burn. The ideal headroom will vary depending on the type and intensity of grow lights you're using, but in general, it's a good idea to keep your seedling grow lights about 3″ from the tallest seedling growing in your tray. The best way to ensure that your seedlings are the right distance from your grow lights is to adjust the hanging height of your seedling grow lights about a couple of times a week (or more often for faster growing seedlings).

What's the most energy efficient type of full spectrum light?
If you're looking for the most energy-efficient type of full-spectrum light, LED lights are the way to go. Not only are they eco-friendly, but they're also long-lasting and don't generate as much heat as other types of grow lights. LED lights are more expensive upfront, but they'll save you money in the long run by using less electricity and lasting for years without needing to be replaced. Plus, your seedlings will love the bright and consistent light that LED grow lights provide!

What is the ideal color temperature or light spectrum for seedlings?
Seedlings have a bit of a diva streak when it comes to lighting – they prefer a blue-green spectrum light with a color temperature of around 5000K-6500K. This type of light mimics the spectrum of natural sunlight, which is what your seedlings would get if they were growing outside. So, if you want to keep your little sprouts happy and healthy, invest in a grow light that provides a blue-green spectrum and a color temperature of around 5000K-6500K. Your seedlings will thank you by growing tall and strong!

Can you use regular household bulbs instead of grow lights for seedlings?
In a pinch, you could use regular household bulbs to provide light for your seedlings. However, it's important to note that not all bulbs are created equal. Regular household bulbs aren't designed to provide the specific spectrum and intensity of light that seedlings need, and they may not provide enough light to help your seedlings grow strong and healthy. In the long run, investing in a good quality grow light will save you time, money, and a whole lot of heartache. So, while you could use regular household bulbs for seedlings, it's not the best option for their growth and development.
Final thoughts
Congratulations, you're well on your way to becoming an indoor gardening guru! With the right grow light, your plant growth will be off the charts, and your indoor garden will be the envy of all your neighbors.
Whether you're using a light fixture or a light stand, artificial light has the power to transform your seedlings into strong, healthy plants. With our recommendations, you'll be able to choose the perfect grow light for your seed starting setup and watch your little sprouts grow and flourish.
So get ready to roll up your sleeves and bask in the glory of your indoor garden – it's going to be a wild ride!
Shop our recommendations