🧪 Our review process
Our testing team independently researches, tests, and recommends the best products to help keep your houseplants absolutely thriving. Learn more about our testing and review process here.
A world where you can enjoy year-round, homegrown produce without having to constantly putter around in the garden is possible thanks to hydroponic towers. These self-contained systems work by circulating water and nutrients to the plant roots directly, rather than having to rely on soil as a medium. This technology waters and fertilizes your plants automatically, so you can enjoy beautiful, healthy plants with little to no effort.
As hydroponic towers have become more popular, a wide variety of models have hit the market—each with its own set of features and benefits. This can make it tricky to find the hydroponic tower that's right for you and your indoor gardening needs. So we've rounded up the best hydroponic towers for indoor gardening to help make your decision a little easier.
Our top picks
From high-tech hydroponic towers with built-in lighting to simplistic designs that are great for small spaces, there's a hydroponic tower for every indoor gardener. And to help you find the perfect one, we've rounded up our top picks.
This ultimate indoor gardening system will make you feel like a professional farmer—minus the muddy boots.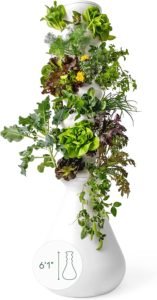 View on Amazon
Product Specs
36 Plants: This model comes with more than enough room to grow your favorites.
Floor Standing: No hanging or mounting is required to enjoy this hydroponic tower.
Automated Watering: The hydroponic tower waters and fertilizes your plants automatically.
You don't need a green thumb to operate this hydroponic tower. The self-watering, self-fertilizing system takes care of everything for you. It comes with over 50 different seedlings to choose from—everything from veggies and fruits to herbs and edible flowers—a pH testing kit, and pH Down to improve your crops' water health.
Just choose from five different sizes (you can always add on later) and insert your pre-sprouted seedlings into the 36 included planting pods. Only a few simple weekly maintenance tasks are required, and you can start harvesting some delicious and nutritious homegrown produce in as little as three weeks.
Pros
Harvest in three weeks
Not many extra tools required
Lots of plant variety
Cons
LED lights sold separately
Weekly maintenance tasks required
Cost more than other models
Low-fuss and low-cost, this hydroponic tower is perfect for gardeners who want to test out the hype of vertical gardening without breaking the bank.
View on Amazon
View on Walmart
Product Specs
20 plants: Perfect for small spaces, this hydroponic tower can hold up to 20 plants.
Patented Flow-Through Design: Save water and time with this hydroponic tower's patented flow-through design.
25 Quarts: This tower can hold up to 25 quarts of soil.
Not everyone is ready to commit to a full-out hydroponic system with all the bells and whistles. If you're looking to dip your toe in the hydroponic gardening pool, this five-tier stackable planter from Mr. Stacky is a great place to start.
Each food-safe polypropylene planter has a 12-inch diameter that can be stacked on top of each other (up to five high) for a space-saving vertical garden that can hold up to 25 quarts of soil. The hydroponic planters have drainage holes and a bottom saucer, so you just have to water the top plant, and the water will seep down to the others below.
Pros
A low-cost option
Saves water and space
Grow up to 20 plants
Cons
Requires more tending and watering
Needs optimal lighting
Requires more gardening knowledge
Make the most of a small space with this hydroponic growing system that's specifically designed for apartments and other tight areas.
View on Amazon
View on Walmart
Product Specs
42x13x13: This hydroponic tower is compact enough to fit in small spaces.
24 plants: With multiple size options, you can grow up to 24 plants.
Beginner-Friendly: This hydroponic system is easy to set up and requires little maintenance.
Gone are the days when you needed acres of backyard to grow your own food. The EXO hydroponic growing system can produce an impressive yield of leafy greens, herbs, fruits, and flowers in as little as two square feet.
The hydroponic tower is made from durable and food-grade plastic and can grow up to 28 plants at a time. This soil-free alternative uses water and nutrient-rich solution to feed your plants, so you don't have to spend hours weeding or tilling the soil—making it a perfect option for beginner gardeners.
You only need to refresh the tower's nutrients every four to six weeks and complete less than 10 minutes of weekly maintenance tasks to keep your hydroponic tower in tip-top shape.
Pros
No dirt or soil required
Can enjoy year-round gardening
10 minutes of weekly maintenance
Cons
Requires additional lighting kit
Not as high-yield
Indoor only
This hydroponic system comes with an LED grow light to make indoor gardening a breeze, regardless of your skill level.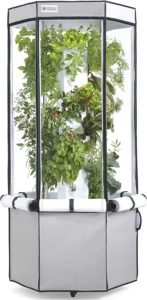 View on Amazon
View on Walmart
Product Specs
72×28: This system is large, taking up about 10 square feet of space.
27 plants: You can harvest up to 27 different fruits, veggies, and herbs with zero sunshine.
Beginner Friendly: This system practically does all the work for you, making it ideal for beginner gardeners.
Some vertical gardening systems require a little experimenting with placement, lighting, and airflow before you start seeing results. But the Aerospring hydroponics system takes out all the guesswork of indoor plant growth by providing not only built-in LED lights but a tent with a fan and reflective white interior panels.
Its two-in-one convertible system and hexagonal design can provide up to 30% more growth when zipped up, thanks to the six strategically placed grow lights. The system's 20-gallon water reservoir helps better manage each plant's nutrients while also allowing you to spend less time refilling.
Pros
Six built-in grow lights
WiFi Smart timer included
Tented design with fan included
Cons
Seeds not included
Takes up a lot of space
Cost more than other models
This hydroponic tower is for the tech-savvy gardener who wants to automate their at-home harvest.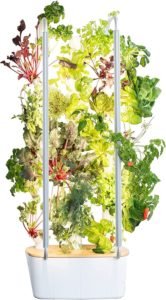 View on Amazon
View on Walmart
Product Specs
60x12x24: This hydroponic tower is larger than some other models but can still fit in small spaces.
30 plants: You can grow up to 30 different fruits, veggies, and herbs.
Smart Features: This hydroponic system includes an LED grow light, water tank, and light timer, as well as access to an AI-powered app.
Smart technology meets hydroponics in the Gardyn 2.0 Bundle, an indoor-growing kit that practically takes care of your plants for you. Seeds, an LED grow light, a water tank, and a light timer are all included in this hydroponic system—along with access to Kelby. This AI-powered app helps you monitor your plants' progress, notifies you when they need water or nutrients, and even suggests recipes based on what you're growing.
This tower takes up only two square feet but allows you to grow up to 30 different Non-GMO plants. It has sensors for water, temperature, and humidity, along with two high-resolution cameras that let you check in on your plants 24/7 from your smartphone.
Pros
AI app with plant coaching
All accessories included
30 different organic seeds
Cons
App requires a monthly fee
More expensive than most models
Uses a lot of electricity
Our verdict
While there are many hydroponic towers on the market, our top picks are the Aerospring 27-Plant Vertical Hydroponics System and the Lettuce Grow Farmstand 36-Plant Hydroponic System. Both come with multiple accessories, offer high yield, and an easy setup that makes indoor gardening practically effortless—which is what hydroponics is all about.
Our recommendations
How we chose the best hydroponic garden tower
Hydroponics makes gardening more accessible to people with limited space and time, as well as those who don't have a lot of experience. Our picks for the best hydroponic towers reflect that, with options that are easy to set up and provide most of what you need to get started. Some did require the purchase of extra accessories like LED lights, but we tried to focus on hydroponic towers that came with as many features as possible.
Because these towers are an investment, we looked for models that gave the opportunity for high yield, which could reduce the cost of groceries and provide you with fresh produce all year round. We also chose towers that met a wide range of gardening skill sets, as some people may look to hydroponics as a way to save money and provide their households with fresh produce, while others may view it as a fun hobby.
Who this hydroponic grow tower is for
Hydroponic towers give gardeners the ability to produce large yields of fruits, vegetables, and herbs without taking up a lot of space. These devices are perfect for small homes, apartments, and other living situations where outdoor space is limited or nonexistent.
They're also low maintenance and highly versatile, making them a great option for novice gardeners or those who want to try their hand at indoor gardening without a lot of hassle. Hydroponic towers are also great for year-round gardening and for people who want to harvest high-yield crops without dealing with the messiness of traditional gardening.
Anyone interested in growing their own fruits, vegetables, and herbs indoors—regardless of skill level or space constraints—should consider investing in a hydroponic tower.
What to know before you buy a hydroponic growing tower
Hydroponic towers can make high-yield gardening possible regardless of your space restrictions. But not all models are created equal. Height, the number of plant holders, the types of plants it can accommodate, how easy it is to set up, and grow light compatibility are all important specifications to keep in mind before making your purchase.
Types of hydroponic towers
The style of hydroponic tower you choose will ultimately come down to the amount of space you have, your personal preferences, and your goals for your indoor garden. There are a few different types to choose from, each with its own set of pros and cons. Familiarizing yourself with what's currently on the market will help you make an informed decision.
Hydroponic tower garden with lights
As a gardener, you know that light is a necessary element for plant growth. And while you could set up your hydroponic tower near a window, you might not get the optimal light exposure that your plants need to thrive.
Hydroponic towers with built-in grow lights offer a convenient solution to getting the right amount of light to your plants. They're ideal for beginner gardeners or those who don't have a lot of natural light in their space, as they don't require you to buy any additional LEDs. These models also allow you to garden year-round, regardless of the season.
While they're a great option for many, hydroponic towers with built-in grow lights can be more expensive than their non-lit counterparts. They also tend to be larger and heavier, which can be a downside if you have a small space.
Stackable planters
Likely the most basic type of hydroponic tower on the market, stackable planters are exactly what they sound like—a series of stacking pots that you can fill with fruits, flowers, veggies, and herbs to save water and space in your home.
Rather than watering each plant individually, water is poured into the top pot and then flows down to the others, hydrating each one as needed. These hydroponic towers are often made of durable and food-safe polypropylene and can be placed both indoors and outdoors.
Because they don't require any special equipment, they're a great option for those on a budget. But they'll require more gardening know-how to ensure each plant gets the hydration and sunlight it needs.
Vertical hydroponic systems
If you're interested in hydroponics but don't want to deal with the hassle of setting up your own system, a pre-made hydroponic tower is a great option. These towers come with everything you need to get started, including grow lights, nutrient reservoirs, and irrigation lines.
Most vertical hydroponic systems are large and can accommodate many plants.
While they're the most expensive option on the market, they're also the most turn-key and require the least amount of effort to set up. Just add water and plants, and you're good to go.
While these systems may not be a good pick for those on a budget, they're ideal for those who want a high-yield and little fuss.
What is needed for setup
The lure of hydroponic towers is that they make gardening an easier and less time-consuming chore. No more weeding or tilling the soil—all you need to do is add water and nutrients to the reservoir, and your plants will take care of the rest.
But before you can enjoy the fruits (or vegetables) of your labor, there's a bit of assembly required. Nothing too complicated, but you will need to have a few items on hand to make your vertical garden an optimal growing space for your plants.
Here's what you'll need to gather to set up your hydroponic tower:
Light. If your hydroponic tower doesn't come with built-in lighting, you'll need to purchase LED grow lights separately. These can be placed on top of or next to your hydroponic tower, depending on the model.
Nutrients. No soil means no nutrients. To give your veggies, herbs, and fruits all the nourishment they need to grow, you'll need to mix up a nutrient solution specific to the plants you're growing and add it to the reservoir.
Grow medium. This is what your plants will be rooted in—and there are a variety of options to choose from, including coco coir, vermiculite, perlite, and more. Whatever you decide, make sure it has drainage and aeration.
Temperature. Most plants prefer a comfortable room temperature of 60-80 degrees Fahrenheit. Some hydroponic systems come with a built-in thermostat to help regulate the temperature. Still, you can also use a space heater or air conditioner to maintain the ideal growing environment.
Airflow. Proper ventilation is key to keeping your hydroponic tower operating at peak efficiency. You'll need an oscillating or ceiling fan to help circulate the air and prevent your plants from getting too hot or humid.
PH adjusters. Because you're likely growing a variety of plants in your hydroponic tower, you'll need to monitor the pH levels of your nutrient solution and adjust as needed. Different plants need different pH levels, and this will ensure each plant is getting the right amount of acidity.
The advantages of owning a hydroponic plant tower
Ease and efficiency are the two main advantages of hydroponic towers, but in reality, these gardening devices offer a whole host of benefits for both novice and experienced gardeners alike.
Without the need for soil or finding the perfect place for natural lighting, vertical gardening opens up a world of possibilities when it comes to growing plants indoors. Year-round high-yields, even in small spaces, are a reality with these game-changing devices. And with technology always improving, the hydroponic towers of today are more user-friendly and efficient than ever before.
Here are a few more reasons to consider hydroponic towers for your indoor gardening needs:
They're great for small homes or homes without any outdoor space.
They're low maintenance.
They're highly versatile and can be used to grow a wide variety of fruits, vegetables, and herbs.
They allow for year-round gardening.
They're not as messy as traditional gardening.
Tips for using a hydroponic tower
Traditionally, gardening required a lot of knowledge and a hefty amount of experience before seeing any success. You had to know when to plant, how much water and sunlight each plant needed, and hope that the weather cooperated. But hydroponic towers have made it possible for anyone to enjoy the benefits of fresh, homegrown produce—regardless of their skill level.
Most hydroponic towers come with an in-depth instruction manual on how to use your specific model for optimal results. Following these guidelines is crucial for first-time users. However, there are a few general tips that all hydroponic tower gardeners should keep in mind:
Fill each planting pocket with about 4-5″ of growing medium before adding the plants in (unless otherwise stated in your user manual).
Choose a nutrient solution based on the type of plants you're growing.
Keep the pH level of your plants between 5.5 and 6.5 (unless otherwise specified).
FAQs
Hydroponic towers make it possible to grow a lush, bountiful harvest right in the comfort of your own home or apartment. But if you're new to the world of hydroponics, you may have some questions.
Here are a few answers to newbie gardeners' most commonly asked questions about their hydroponic towers.
What can you grow in a hydroponic tower?
One of the biggest advantages of hydroponic towers is their versatility when it comes to growing a variety of plants. Hydroponic towers can grow almost any plant, from herbs and leafy greens to flowers and fruits. However, plants with extensive roots or vines (like corn) may do better in soil.
Here are some of the most common things that people grow in hydroponic towers:
Leafy greens – lettuce, spinach, kale, arugula, swiss chard, and other leafy greens are ideal for hydroponic towers because they have shallow roots and don't require a lot of space.
Herbs – basil, parsley, cilantro, mint, and other herbs thrive in hydroponic towers because they're fast-growing and can be harvested continuously.
Strawberries – these delicious fruits are easy to grow in hydroponic towers and can yield a high amount of fruit in a small space.
Tomatoes – while they require a bit more space, tomatoes can be grown in hydroponic towers and can yield a lot of fruit if properly cared for.
Peppers – bell peppers, jalapenos, and other peppers can also be grown in hydroponic towers and can yield a high amount of fruit in a small space.
Cucumbers – these crunchy veggies can be grown in hydroponic towers and can yield a lot of fruit if properly cared for.
These are just a few examples of what you can grow in a hydroponic tower – the possibilities are endless! The key is to choose plants that have shallow roots, grow quickly, and don't require a lot of space.
What is needed to set up a hydroponic tower?
If you want to use a hydroponic tower, you'll need the following:
Growing medium
Nutrient solution
pH adjusters
Oscillating fan
LED lighting
A consistent temperature of 60-80 degrees Fahrenheit
How much electricity do hydroponic plant towers use?
It depends on the model and what crops you choose to grow, but on average, hydroponic towers use anywhere from 120—270 watts of electricity.
How often should you change the nutrient solution in your hydroponic tower?
The nutrient solution in your hydroponic tower should be changed every 1-2 weeks, depending on the type of plants you are growing and the size of your reservoir. Think of it like giving your plants a refreshing spa treatment!
Changing the nutrient solution regularly helps ensure that your plants are getting the right amount of nutrients and keeps the water clean and fresh.
What pH range is best for different types of plants in a hydroponic tower?
Different types of plants have different preferences when it comes to pH levels, but a good rule of thumb is to keep the pH between 5.5 and 6.5. This range is ideal for most plants and helps ensure that your plants are absorbing the right nutrients at the right time.
Think of it as creating the perfect environment for your plant babies to thrive!
Can you use tap water for your hydroponic tower, or do you need to use filtered or distilled water?
While tap water can be used for hydroponic towers, it's always a good idea to check the quality of your water first. Tap water can contain high levels of minerals, chlorine, and other chemicals that can harm your plants.
So, if you're concerned about the quality of your water, it's best to use filtered or distilled water. You want your plants to be drinking the cleanest water possible, just like you would want for yourself!
How do you prevent algae from growing in your hydroponic tower?
Nobody wants algae growing in their hydroponic tower – it's like an uninvited houseguest that just won't leave! One way to prevent algae growth is by keeping your tower out of direct sunlight, as algae thrives in bright light.
Another way is to use a cover or lid on your reservoir to reduce the amount of light that gets in. Lastly, you can add an algae inhibitor to your nutrient solution to keep the algae at bay. With a little preventative care, your hydroponic tower garden can be an algae-free zone!
What types of pests or diseases are common in hydroponic towers, and how do you prevent or treat them?
Just like any garden, hydroponic towers can attract their fair share of pests and diseases. While growing plants in hydroponics definitely reduce the pests that come poking around, it doesn't eliminate them altogether. Common pests include spider mites, whiteflies, and aphids, while common diseases include powdery mildew and root rot.
To prevent pests and diseases, it's important to keep your tower clean and well-maintained, and to avoid overcrowding your plants. If you do spot any pests or signs of disease, you can treat them with organic sprays or natural remedies, such as neem oil or a hydrogen peroxide solution. A little bit of TLC goes a long way in keeping your hydroponic tower healthy and happy!
🎖️ Why trust us?
The list of products featured within this post was all researched, compiled, and written by Brody Hall. Brody is a freelance writer, Environmental Scientist, qualified Horticulturist, and serious indoor plant enthusiast. All of the products he featured within this list were chosen for their industry-leading design, superior performance, and application to indoor growing requirements.
Shop our recommendations