If your plants have a case of the blahs, give them a boost with plant food. In this article, we review some of the best liquid (and non liquid) plant food options for indoor plants that you can buy online.
While the term 'plant food' is used interchangeably with 'fertilizer' nowadays, there are some subtle differences between plant food and fertilizer.
Plant food is especially important for potted and container plants because they can't root deeper into the Earth or wait for organic matter to decompose to access a boost of nutrition. To keep your container plants healthy, it's a good idea to apply regular doses of essential nutrients and trace elements, and make sure you're using the best soil you can find.
Plant food (including actual fertilizer that's just called plant food) is typically formulated just for this purpose. Plant food usually contains lower NPK values, allowing gardeners to apply it more frequently than heavy fertilizers.
And that's just what we've rounded up for you today! The recommendations in this guide are intended for regular, weekly to bi-weekly use on houseplants, to keep them fit and thriving!
our recommendations
the best liquid plant food for indoor plants
key specs: 250ml / 8oz | NPK ratio: 4-3-4 | high-concentrate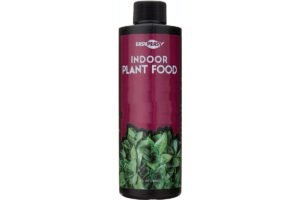 View on Amazon
With an N-P-K ratio specifically engineered for indoor plants, this liquid fertilizer is sure to have your leafy housemates revealing their best selves in no time. Its been perfectly balanced to promote healthy green With an N-P-K ratio specifically engineered for indoor plants, this liquid fertilizer is sure to have your leafy housemates revealing their best selves in no time. It's been perfectly balanced to promote healthy green plant growth and encourage colorful, regular flowering. While its fast-acting chemical fertilizer mix helps plants develop a strong root system and healthy, strong-looking trunks and branches.
Pros
Suitable for a wide variety of plants: anything from a collection of succulents to a fiddle leaf fig plant
– they'll all enjoy it
Highly concentrated: just half a teaspoon makes 2 whole cups of fertilizer
Super affordable: at such a high concentration this product offers a whole heap of bang for your buck
Cons
Be careful with over applying: Not necessarily a knock on the fertilizer, just be sure not to apply this high-concentrated houseplant fertilizer too liberally – you may just cause fertilizer burn
key specs: 2x 236ml / 8oz | NPK ratio: 1-1-1 | a gentle 2-pack fertilizer that's great for beginners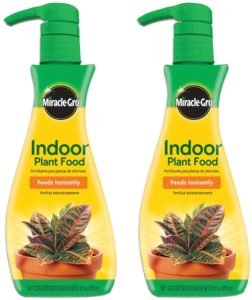 View on Amazon
This fast-acting, synthetic fertilizer from Miracle-Gro makes it easy to grow healthy plants, indoors or out! Its high-quality, low-concentration mix of macro and micronutrients gently feeds all potted household plants. The Miracle-Gro Indoor Plant Food formula promotes optimal growth and development of your indoor houseplants, resulting in larger, brighter green leaves and more frequent blooms.
Pros
Super-easy application: either pump straight onto the potting mix and water in or mix in a watering can and water as usual
Well-balanced: with an NPK ratio balanced at 1-1-1, this is perfect for indoor gardeners that are on the hunt for a well-balanced fertilizer or are beginners at fertilizing their indoor plants as its low concentrate is quite forgiving
Combo pack: this product comes in a discounted 2-pack
Cons
Low-concentrate: although you're unlikely to burn your plants if you have a large indoor house plant collection you may want to opt for a higher concentrated fertilizer
key specs: 100g / 3.5oz | NPK ratio: 8-1-5 | an all-purpose fertilizer that's made in the USA
View on Amazon
If you have one of every type of fertilizer and more plant food than actual plants, save on storage space with this powdered plant food. Joyful Dirt is an all-purpose house plant fertilizer that feeds your plants naturally and organically. It is made of 100% organic ingredients that are safe for pets and children. Simply sprinkle the water soluble granules about an eighth of a teaspoon per plant around a plant's base and water in or mix one to two tablespoons per half a gallon of water or apply directly around the base of the plant with a watering can. This blend of water-soluble fertilizer has been formulated for all houseplants and has been engineered not to harm or burn your plants even when over-applied.
Pros
Contains beneficial soil-borne organisms: packed full of plant-beneficial mycorrhizae which allow house plants greater access to a wider range of macro and micronutrients
Easy, mess-free storage
Versatile: this can be used to fertilize houseplants and outdoor plants
Easy application: simply shake the water soluble granules onto the potting soil or potting medium and water in
Cons
Not super well-balanced: depending on the type of plant, some indoor houseplant varieties will respond better to a more NPK balanced fertilizer option
key specs: 237ml / 8oz | NPK ratio: 1-1-1 | plant-based, vegan, and urea free
View on Amazon
The Grow Co. Organic Indoor Plant Food is a well-rounded all purpose fertilizer made for all indoor plants, succulents, and cacti. It contains safe, all-natural organic ingredients that are sure to keep your plants not only fed and healthy but also looking their best. The nutrient-rich formula promotes healthy plant growth and leaves your indoor garden looking lush and green. Plus it contains essential macro and micronutrients including nitrogen, potassium, calcium, iron, sulfur, among others.
Pros
Plant-based: if you're on the hunt for a vegan option that's great for fertilizing indoor plants – you're in luck cause you've just found it
Specialized for indoor plants: a great option for a whole heap of different potted plant varieties including Pothos, String of Pearls, Hoyas, Spider Plants, African Violets, and a whole heap more
Spray bottle safe: some fertilizers are thick and may clog a spray bottle. But not this one, it's water-soluble and perfect for foliage plants that require fertilizer application with a spray bottle
Cons
A little on the nose: it contains seaweed, which is great for your plant babies but not so good for your sense of smell
key specs: 1.18 fl. oz / 35mL | NPK .10/.15/.12 | rich in mycorrhizae and essential micronutrients to nourish plant's roots
View on Amazon
The LiquiDirt Nano Powder indoor plant food has been designed to feed indoor plants with the essential Thank the indoor plant pioneers at Noot for this nifty, easy-to-use plant food. It's specially formulated with 16 different kinds of mycorrhizae (beneficial microbes that light up your plants' root zone) that improve nutrient and water uptake. Due to its bioactive content, make sure to keep this product away from direct sunlight, and avoid ordering when the temperatures where you live are over 60°F. The NPK profile is balanced and super gentle, allowing you to give your plants a dose of this bio-activator every time you water without threat of fertilizer burn. Dosing and applying this plant food couldn't be more straightforward!
Pros
Cons
The live microbes can create quite a stink if shipped or stored in hot conditions
More of a trade-off than a con: the up-and re-cycle-friendly glass vial this product comes in has been known to crack during shipping
key specs: 16 fl. oz. 473 mL | NPK ratio: 3-2-6 | earthworm castings, Norwegian kelp and micronutrients galore
View on Amazon
Hydroponic growers rejoice for this hydro-specific plant food from Fox Farm. Whether you have a professional hydroponic operation or a diy hydroponic system to maintain, this liquid plant food is a good choice. Based on their wildly popular Grow Big plant food, they've tailored this vegetative growth bomb formula by adding micronutrients, increasing the nitrogen and phosphorous levels, lowering potassium, and adding salts to suit the needs of hydroponic plants. This is a one-and-done solution for plant starts through the first signs of flowering. Simply feed 2-3 tsp of this magic potion per gallon of water with every reservoir change. For maintaining long-term health, you'll need a pH measuring kit, EC meter and pH additives to make sure your hydroponic plants are absorbing nutrients properly. Be careful adding this product to hard water though, and make sure to measure the pH and EC of your reservoir before and after adding for the first time to check for pH swings.
Pros
THE secret sauce for releasing the maximum growth potential of your indoor and greenhouse hydroponic plants
Potent, one-part plant food blend of macro- and micro-nutrients available immediately
Can be used throughout all growth stages
Well-suited to foliar feeding
Cons
Can lead to abrupt pH swings if you don't carefully measure the pH and EC of your reservoir water before adding
Don't use with hard water (potential for calcium lockout)
key specs: 32 fl. oz / 946 mL | NPK ratio: 12-4-8 | primary features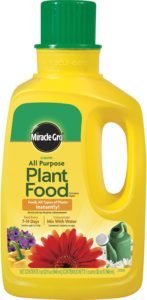 View on Amazon
Miracles can come true with this tried-and-tested favorite from Miracle-Gro! Ok, maybe not miracles – but proven results with synthetic compounds developed in chem labs 🤓 This highly concentrated, all-purpose plant food has all the nutrients your houseplants need to perk up and produce vibrant foliage for all to enjoy. Do note that 100% of the nitrogen in this indoor plant fertilizer comes from urea, so make sure to test your soil's pH at the beginning of the growing season and buy a good potting soil (or make your own) before going wild with this stuff.
Using urea long-term is proven to lower soil pH, making nitrogen and other nutrients less available to plants. Stop using it right away if you notice your plants in distress and switch to a milder NPK-based plant food, or better yet – re-balance your soil with organic amendments.
Pros
Strong profile of essential nutrients plus manganese, iron and zinc
Can be used on a wide variety of indoor plants, including tropical houseplants, flowering and fruiting edible plants, and herbs
Fast and effective when used as directed on healthy plants
A little goes a long way! Mix 1 tsp of the all purpose fertilizer per gallon of water to feed all of your houseplants
Cons
100% of the nitrogen in this plant food comes from urea, so don't use long term without regular pH testing
Will def toast your plants if you're not careful
key specs: 8 Fl Oz / 236 mL | 3-1-2 | formulated for succulents and cacti
View on Amazon
Even low-maintenance succulents need a healthy diet of macronutrients to stay prickly / plump and thriving! Whether you have burro's tail, jade, aloe, zebra plants, Christmas cacti, or another type of succulent, this formula from Home+Tree will give your plant a boost of color and vitality – perhaps even prompting a bloom! Wait until your plant's soil has completely dried out to use this plant food so you don't drown your succulent's roots. We love that this brand is on an environmental mission: Every purchase of this plant food will support reforestation of American National Forests.
Pros
Climate Pledge Friendly approved
Magnesium and iron ensure healthy soil and nutrient uptake
With each bottle sold, Home+Tree plants one native tree in America's National Forests
Cons
Only one size available! I'll be hoarding this one…
key specs: 237ml / 8oz | NPK ratio: 1-1-1 | plant-based, vegan, and urea free
View on Amazon
Serious indoor gardeners and professional growers alike swear by this plant food from Dyna-Gro. It's designed as a one-stop-solution for all of your growing needs, and contains a wide range of trace minerals to support strong vegetative growth and healthy roots systems. You can use the plant food alone or together with Dyna-Gro's full range of plant fertilizers and supplements. This plant food checks all of the boxes with a solid NPK profile and low-salt content. And it's super affordable! It is composed of synthetic chemicals though, so don't be shocked by its radioactive green color when you open the bottle.
Pros
Complete macronutrient profile that supplies immediate nutrition to hungry plants
Low-salt, abundant calcium, magnesium, cobalt, iron, manganese, molybdenum and zinc, plus a range of trace minerals in small amounts
Effective for use in soil-based and soilless growing media for both indoor and outdoor plants
Cons
It's a crazy radioactive green color and doesn't contain live microbes
Not recommended for long-term foliar feeding
key specs: 8 Fl. Oz / 236 mL | NPK ratio: 10-15-10 | nourishes plants with a few simple drops
View on Amazon
If you're on the hunt for an easy-to-use plant food that's highly concentrated, look no further this old-time favorite from Schultz Co. Founded in 1947, Shultz has established a name in the garden supply business largely for its simple and effective plant foods (it was family owned until 2002). The beauty of this plant food is in its blend of readily available and slow-release nutrients, making it suitable for seedlings and transplants in small doses.
Whatever you're using it for though, you don't need much; just a squeeze or two with the convenient dropper tool will nourish your houseplants, edibles, and starts for a few weeks at a time (actual dosing starts at 6 drops per quart of water). Don't combine this plant food with additional fertilizers unless you've tested your soil and know what you're doing – you might burn your plants.
Pros
You only need to add a few drops of this highly concentrated plant food to your watering can
Gentle enough to use in small quantities on seedlings and transplants
Convenient and easy to use, thanks to the smart dropper
Contains micronutrients iron, manganese and zinc
Cons
Might be too much in combination with specific growth-phase fertilizers
Doesn't contain live microbes
still unsure which one is best for you?
There seem to be almost more plant food options available these days than actual plants. Ok, ok… that's not quite true – there are 435,000 land plant species alone on Earth – but you know what I mean!
Understanding the difference between plant food and plant fertilizer is the first step. Where synthetic fertilizers provide a targeted solution to certain deficiencies, a well-rounded nutrient rich plant food will feed plants slowly and support overall plant health.
The nutrients plants receive will help them grow strong roots and a strong immune system to ward off pests. This is especially important for potted plants since the soil conditions are often pretty barren compared to the natural world.
And if you have flowering plants, then you'll get to enjoy all the colorful flowers that come with regular feeding.
Learn about what plant food can do for your plants and why you need it below.
why houseplants require plant food
Just like any regular outdoor plant, indoor plants also need a source of sustenance to maintain healthy growth, resist pests and diseases, and reproduce successfully. Here's a full list of why indoor plants require fertilization:
increased air-purification: just as a healthy plant that is regularly fed will grow fast, it will also subsequently photosynthesize at a faster rate. This increased photosynthesis means a greater rate of gas exchange, which creates more oxygen production and faster removal of air-borne toxicogenic particles. In other words, a plant's air-purifying capacity will be boosted.
help fending off nasties: just like us, when a plant has all its nutritional requirements met it is much healthier in general and will possess the ability to resist and fight off life-threatening pests and diseases that may harm or eventually kill the plant.
how often to use plant food
The best plant food, like the best fertilizers, should be used with caution. Even though some plants grow better with regular feeding, an all purpose plant food may still be quite strong for your potted plants. Many indoor gardeners recommend mixing in a slow release formula with water every 7 to 14 days, and frequent watering in between to help flush any excess nutrients.
We tested this exact approach and ended up with a bad case of fertilizer burn, so use with caution. I recommend giving your plants a good feed with water soluble plant food and then monitor your plant growth. (You can remove the plants from the soil and weigh them, like we did, to observe root growth as well as leaf growth!) Many slow release plant food options can last for up to three months, so it may not be necessary to feed your plants all that often.
When in doubt, remember that plants speak in colors and turgidity (stiffness). If your plant begins to change colors or lose its form, then you know that you've gone too far.
Conclusion
Getting your plants on a regular feeding schedule will save you the headaches and guesswork that treating nutrient deficient houseplants involves. Give them a weekly or bi-weekly dose of plant food, and rest easy knowing your plants are getting what they need. Choose a plant food with a nutrient profile that suits most of your indoor plants, and supplement as needed with calcium, magnesium, organic matter, and always the highest quality potting soil you can get your hands on when you notice signs it's time to repot your lovelies. Your hungry plants will thank you!
shop our recommendations