🧪 Our review process
Our testing team independently researches, tests, and recommends the best products to help keep your houseplants absolutely thriving. Learn more about our testing and review process here.
Succulents served as my introduction to being solely responsible for the life of another living thing. Despite growing up in "the fertile plains" of the Midwest, I never had a green thumb– and neither did my parents.
When I moved to Southern California, it felt like everywhere I went someone was talking about their succulent plants. Since I had priorly only ever really heard the term used to describe foods like meats & sweets, I thought, "wow, these people are really passionate about their plants…"
Intrigued, I dug my heels in to learn more about what made a plant so deliciously desirable, what to look for when buying, and which ones would be the best fit for me.
So if you're a beginner to the plant world like me, follow along and you might just find the best succulents for you too!
The Best Indoor Succulents For Beginners
With a number of considerations in mind (which you can read more about later on in this article); here's a list to send you off on your way to finding the best succulents for your new adventure!
Key specs: [Maturity Size]: 3-5 inches | [Container]: Arrives in 4 inch grower's pot | [Light Requirements]: bright indirect light
View on Amazon
The blooming rosette shape of an echeveria is the most iconic, in my opinion, when it comes to the image of what a succulent looks like. It's classically beautiful and easily fits into any succulent arrangement or aesthetic scheme.
The echeveria also follows all of the most basic steps of caring for a succulent, and prefers bright indirect light over full sun, which means that you aren't quite as limited in where you use it in your space.
Pros
Thrive in indirect sunlight/partial shade
Non toxic to pets and humans
Unique bluish tone with red/pink tips
Grows well in shallow dishes for smaller spaces
Grows well in shallow dishes for smaller spaces
Cons
A bit sensitive – best to be kept out of high heat/ direct sunlight and frigid temperatures
Key specs: [Maturity Size]: Varied | [Container]: Arrives in 2 inch grower's pot | [Light Requirements]: full sun
View on Amazon
View on Walmart
What's better than one succulent? Eleven of them, of course! I am admittedly very indecisive, so I love that this pack provides a variety of succulent types for an opportunity to pick and choose what works best for your aesthetic.
Costa Farms has been in the houseplant game since 1961 and they ensure plants are acclimated to the average home before shipping them out nationwide.
Whether you're as indecisive as I am, looking to really fill up some space, make an arrangement or even better– share the love; this pack from Costa Farms really is the best succulent themed bang for your buck.
Pros
Each plant is unique; we love variety!
Includes care information
Costa Farms will identify succulent type if requested
Great for gifts or party favors
Cons
Variety is random, cannot be customized
Key specs: [Maturity Size]: 3-6 ft long, 2-3 ft wide | [Container]: Arrives in 4 inch grower's pot | [Light Requirements]: full sun / bright indirect
View on Amazon
View on Walmart
Jade plants, also known commonly as money plants or friendship plants, are lovely for any space. Their structure as well as their propensity for craving 4+ hours of sun seems especially fitting for a windowsill.

Not only are they adorable as all get out sitting on your window sill soaking up that sun, but these succulents have been scientifically proven to add humidity to your space (keeping the air from getting too dry), as well as improve indoor air quality by absorbing volatile organic compounds and releasing it through photosynthesis. If that doesn't impress you – they're also known to bring good luck and prosperity.
Pros
Improves indoor air quality
Good for spaces with air conditioning or heating units
A symbol of good luck & wealth in Chinese Feng-Shui
Slow growing (less maintenance or repotting)
Cons
Toxic to pets– best on a windowsill out of their reach
Key specs: [Maturity Size]: 1-4 ft long, 1-2 ft wide | [Container]: Arrives in 4 inch grower's pot | [Light Requirements]: bright indirect / low
View on Amazon
View on Walmart
Also known as Donkey's Tail (Burro being Spanish for Donkey), this super fun succulent is a great choice for low light conditions. It has trailing stems with bead-like leaves that flow beautifully from any container, but is especially fun in a hanging basket.
I am personally a bit in awe of its duality. Similar to a dandelion, the plant is actually quite fragile but in a way that is so full of life.
The stems and leaves regularly fall off, but quickly grow roots of their own. This means that they're very very easy to propagate – which is a fancy way of saying, you can put them in a pot and grow more! Don't worry about that now though, we can talk about how to propagate succulents when you're ready.
Pros
Non toxic to pets and humans
Easy to propagate
Very drought resilient
Also does well in warm, bright sun
Cons
Fragile – best in a low traffic area
Key specs: [Maturity Size]: 5-8 in | [Container]: Arrives in 4 inch grower's pot | [Light Requirements]: bright indirect / low
View on Amazon
View on Walmart
It's always good to research the toxicity levels of a plant before bringing it home to your pets. We love the Haworthia Super White because it's so vibrant and photogenic, but also completely safe should your critter get its claws (or teeth) on it. Haworthia also tolerate lower light situations, so they'll survive just as well on a higher, harder to get to shelf as they will next to your TV on in a room with lots of windows.
Pros
Non toxic to pets and humans
Eye-catching, unique beauty
Tolerates low light
Known as one of the hardest succulents to kill
Cons
If left in direct sunlight for too long their leaves will burn
Key specs: [Maturity Size]: 1-2 ft | [Container]: Arrives in option of stylized ceramic or 4 inch frower's Pot | [Light Requirements]: Bright light/full sun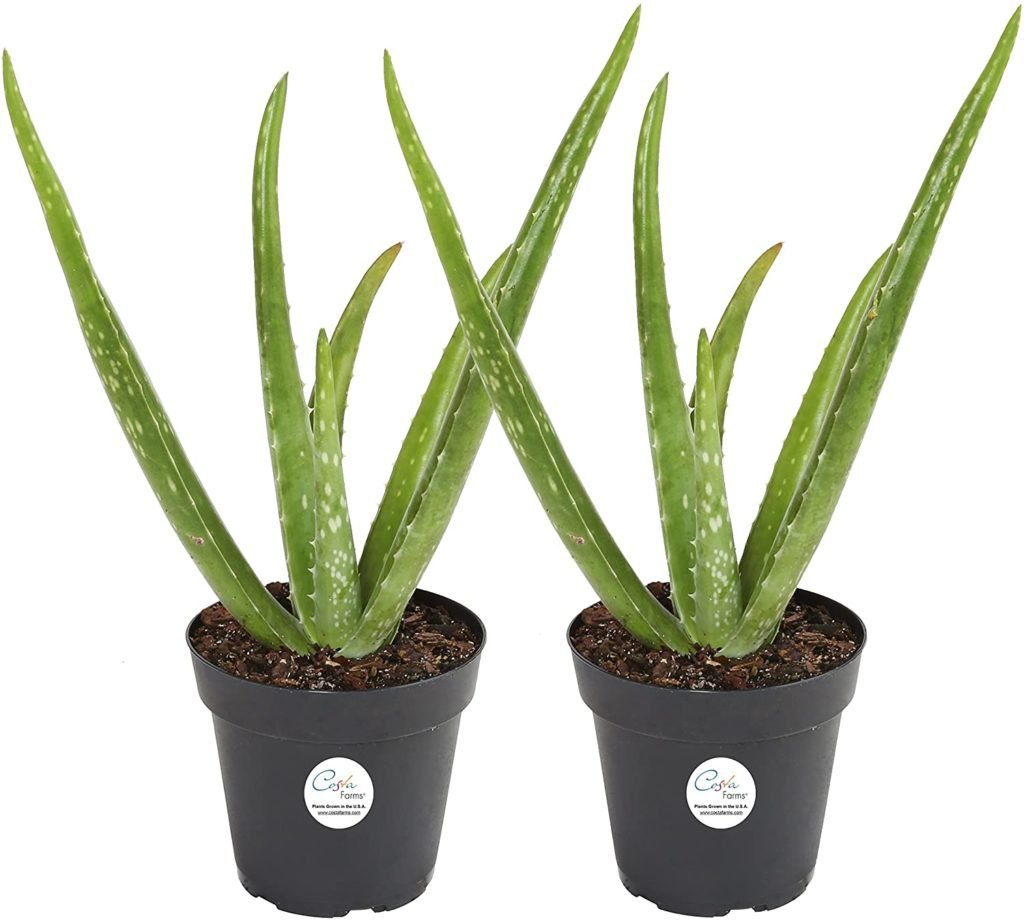 View on Amazon
Most commonly known for its cooling effects on a sunburn (which this pale, midwestern girl unfortunately knows all too well), aloe vera has a number of healing properties. Break open a leaf on one of these bad boys, and you'll find a gel rich in amino acids, antioxidants, vitamins and minerals. Cultivated correctly you can find healing aloe based recipes to aid in digestion, clear up acne, and so much more.
Pros
Sustainable
Multiple medicinal properties
Option to choose size of plant
Option to choose container
Cons
Not pet-friendly
Needs bright light without too much heat
Key specs: [Maturity Size]: 7 in | [Container]: Modern Designed Concrete/Cement | [Light Requirements]: None
View on Amazon
View on Walmart
Okay so maybe you're still not quite ready to make the commitment yet, but you still have that spot on your shelf you need to fill and you've got succulent FOMO. There's no shame in going the faux succulent route! This faux succulent is so realistic that multiple reviewers said that their family members thought it was real and tried to water it.
Pros
No care required
Sleek container design
Super realistic
Highly recommended by amazon reviewers
Great gift
Cons
Comparatively pricier to some faux plants
Our recommendations
Before You Buy Your Succulent
There are a few factors to ponder before you run out and buy up all of the cool succulents you see (trust me.. There are so many).
Plant Size
With such variance in types of succulents, that means there's also variance in their sizes as well. Size is an important factor to consider not only because of the amount of space you're looking to fill, but because it will also affect the kind of care your succulent might require.
Larger succulent plants tend to be a bit easier to care for. They generally don't need to be watered as frequently (pro tip: try watering succulents from the bottom) and don't dry out as fast, but they can be more costly and of course take up more space. But don't fret if you don't have room for a large container, small succulents are still a great beginner plant that usually don't require as much care and attention as many other houseplants.
Container Style
Succulents are a really fun and creative way to spruce up a space. You can mix and match pots, containers and many of the varieties will even grow well together in the same container– but let's not get too ahead of ourselves.
It's important to consider the container before you buy not only for the sake of your space and aesthetic, but also because of the importance they have to the livelihood of your new friend. Drainage is a huge factor in how your succulent will survive, so an ill fitted pot will lead to over or under watering.
Climate Durability
Because the nature of the succulents fleshy leaves is to hold onto water and nutrients, many of the different types of succulents can be great indoors as houseplants or outdoors decoratively or as ground cover. For the same reason, they're easy regardless of humidity and can withstand a variety of temperatures.
If they'll be outdoors, some succulent plants are durable enough to last through most seasons (some can even last through winter!) while others will need to be transferable so you can bring them inside in the months with harsher weather.
For indoor succulent plants, it will be important to pay attention to how much light exposure they need. A good product description will tell you whether they require full sun or can thrive in the shade. (Once you've got a few under your belt. Then we can even talk about grow lights!)
Quick & Dirty Guide to Caring for Your Succulent
True that each succulent variation may have slightly different needs based on size, light exposure, container or temperature– one of the best parts about succulent care is that it's comparatively so minimal that there's an easy guideline to follow. So while I definitely recommend learning more about your specific type of succulent, here are the basics!
Watering : About once every two to three weeks or when the soil has dried out completely. Gently poke into the soil using your finger up to about the first knuckle from your nail. If It's dry, go ahead and water. If it's damp, give it another day or two. Be careful not to get water on the leaves if you can avoid it (it can rot them, so I'd suggest using a gooseneck watering can) and completely wet the soil.
Soil & Drainage : Succulents do NOT like sitting in wet soil for very long, so it's important to grab one that's well draining. A cactus soil like this one is a great way to go, but if you're feeling adventurous you can also mix your own. A container with a hole at the bottom to help let out any excess water to avoid overwatering is one of the best decisions you can make.
Fertilizing : Succulents do not necessarily need to be fertilized to survive, but if you've kept it alive long enough to try, the growing season (spring time) is the best time to do so. Although succulents can be fertilized up to once a month or so, if you're a beginner I wouldn't make it your main focus.
Signs of an unhealthy succulent : The number one killer of succulents is root rot– which comes from overwatering. You'll know if root rot has taken over if your succulent leaves turn yellow or pale. However if your succulent leaves are wrinkling or not looking as supple, it likely means that they're dried out and ready for a drink. Additionally, pesky insects are a part of any growing journey, and unfortunately if they're ignored can do some serious damage. Having some neem oil on hand to deal with them is a natural and environmentally friendly way to go.
Faq
Q: What is the best soil for succulents?
A porous, nutrient rich potting mix is the best way to go. We recommend this one from The Succulent Cult, or you can try mixing your own!

Q: What is the best fertilizer for succulents?
There are a lot of great natural options for succulent fertilizers, but to keep it really simple you can do a commercial fertilizer too. We recommend looking for fertilizers that mention succulents or cacti specifically because other indoor plant fertilizers can be too strong. This Succulent Plant Food from Miracle Grow has a ton of amazing reviews.

Q: Are all succulents low maintenance?
Yes! While they still require care, succulents by nature require less maintenance than many other species of houseplants because of their capacity to retain water.
Conclusion
I hope that this guide has led you down the path towards finding the best succulents to fit your needs. I firmly believe that any choice you make will be the right one– and hey, if it doesn't work out the first (or even second or third time)
PLEASE don't let it discourage you.
I definitely killed my first few succulents trying to figure out watering and container sizes and how much light who needed from where. It's going to be some trial and error for what works best for your space, but we'll be here to guide you along the way. Welcome to the wonderful world of succulents!
Shop our recommendations