It's a never-ending question for us plant lovers, "How do I add more plants to my window sill?" After all, there is only so much space in front of a window and it is prime property!
All that natural light is the best for indoor plants, so to make sure that you can have as much greenery as possible you have to become creative. Not everyone (or anyone?!) can add a new window just for houseplants! Luckily, there are tons of ways to make the most of your window space and have as many plants as possible for your hobby.
how to add more space to your window sill
here are a couple of basic ideas to consider:
Increase the width of the window sill – add a table or get some wood and make the window sill bigger
Add shelves to the window – mount shelves to the window frame
Hang stuff from the window frame – hang macrame planters, wooden sticks, or acrylic shelves
how to hang a window shelf for plants if you cannot drill holes in a window frame
If you cannot drill holes in your window frame, try acrylic shelves with suction cups. There are a ton available online and on Amazon. They come in clear acrylic and are fastened to windows by suction cups, so they look like floating shelves. This type of floating shelf works best for small plants since the shelves are on the smaller side and the suction cups can only hold a certain amount of weight.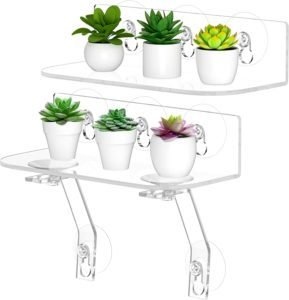 You can also try and hang pots from your curtain rod. Just make sure that the rod can handle the additional weight.
plant shelf ideas for your window
If you can drill holes in your window frame, then a wooden shelf for plants is perfect. All you need for the plant shelf installation is:
Wood (measure your window to get the right size!)
Screws
Before going to the store, measure the window frame and figure out the spacing of the shelves. You can have the shelves cut to size at the store. Then install the wooden shelf and let your plants enjoy the sunlight.
Or, you can grab a hanging plant shelf and install it in your window sill for a similar effect.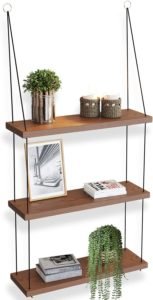 how to make a DIY hanging window plant shelf
Instead of a wooden shelf for my window garden, I went the DIY route and made a hanging shelf out of an acrylic shelf and some rope.
these are the things I used:
This was the perfect way to make the most out of my compact window garden since I used most of the vertical space of my window.
steps for a DIY window plant shelf
Decide where to hang the shelf, and try to position it in a way that the shelf will be in the center of the window frame
Make pilot holes at the top of the window frame using a hammer and nail
Screw in the eye hooks
Measure the height of the window and cut the rope to size, double the length to have enough rope to work with
Hang the acrylic shelf using rope, and tie knots to secure the shelf in place
Add your plants!
I decided to place my bigger potted plants on the window sill and have the smaller plants, like a Hoya Australis and Hoya Chelsea, on the acrylic shelf. Looped along the rope is a swiss cheese adansonii vine and for some extra jungle vibes, I hung a wooden stick across the top. The small white hanging pots are hanging off a tension curtain rod.
I love how the vining plants look in the window!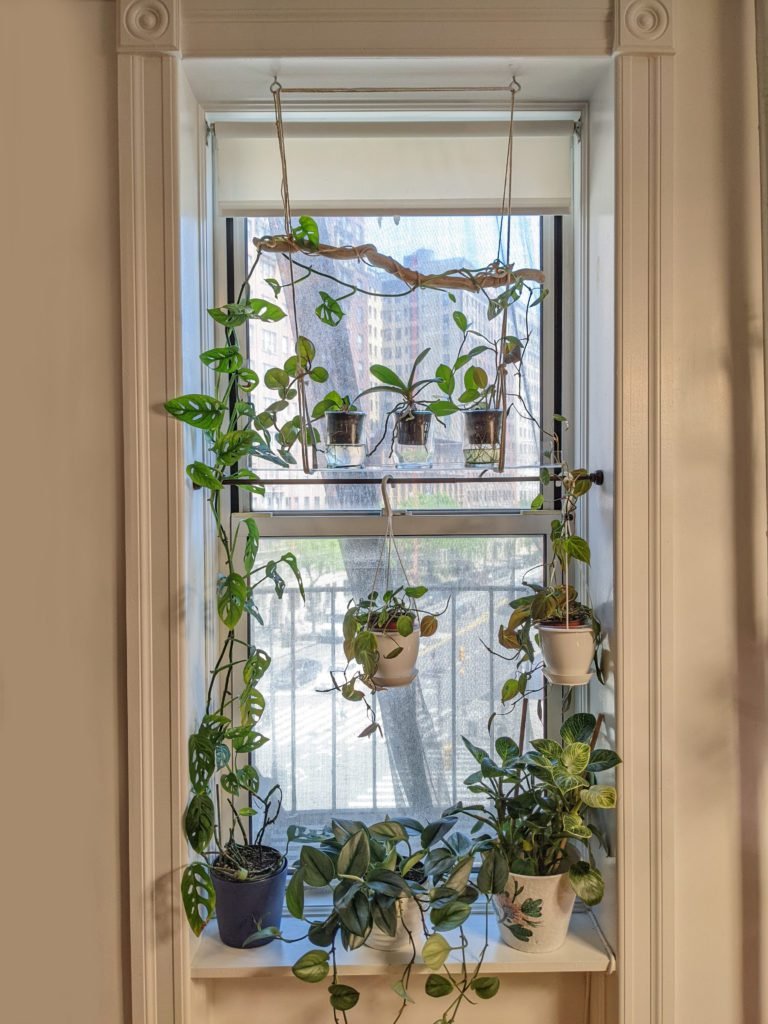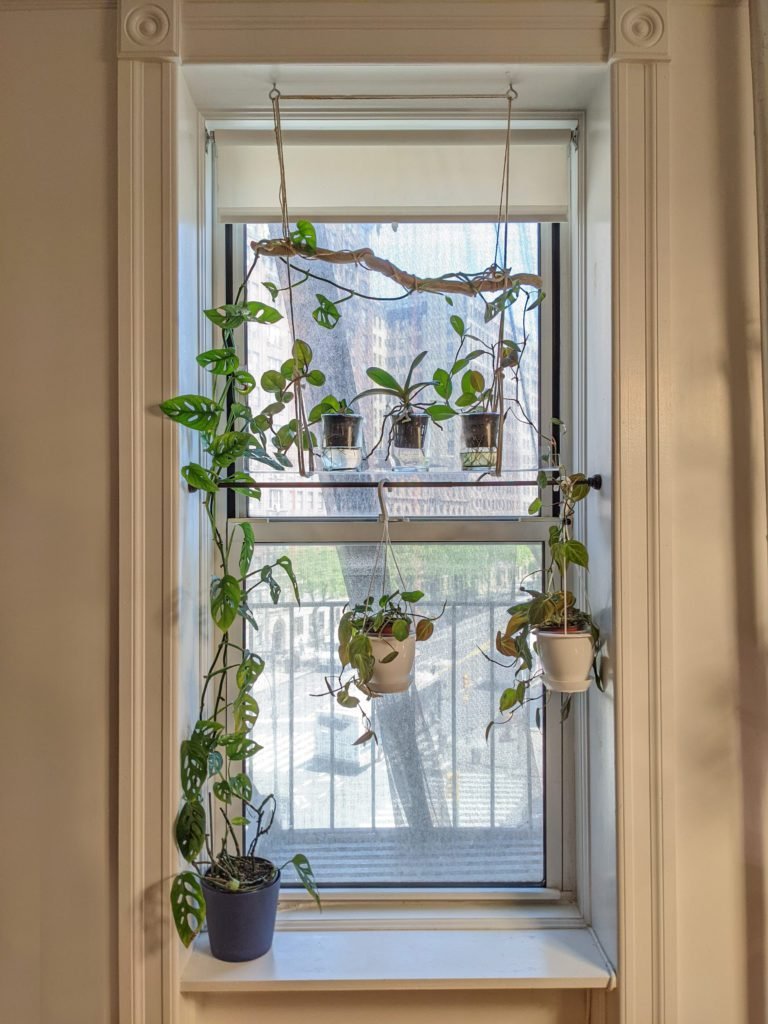 In the summer, I move out some of the plants on the window sill to make room for a window air conditioner. I place those plants in another part of my apartment on plant stands and under a plant light.
Even with limited space, you can still have an indoor garden in front of your window. Aside from using a plant stand, take a good look at your window space and see what you can add to it to maximize its plant-holding potential!