One of the ways to create an ideal environment for your collection of rare indoor houseplants is to set up an indoor greenhouse or Ikea greenhouse. An indoor greenhouse is the best way to control the conditions where the plant is grown in. Indoor greenhouses protect them from fluctuations in temperature and humidity and from drafts and pests.
Plus, it is a great way to showcase your plant babies!
I have been using the Home-Complete indoor greenhouse for the past two years. And I find the greenhouse to be an efficient and space-saving solution to nurture plants. The greenhouse does a good job of keeping humidity levels high while shielding tropical houseplants from pests and fluctuating indoor conditions.
A mini greenhouse can be used in an indoor or outdoor space. This review is for using a greenhouse indoors, which is different since the kinds of plants housed in an indoor greenhouse aren't the same kinds of plants that are grown in outdoor greenhouses. Many indoor greenhouses are used for tropical plants or other ornamental plants that need specific conditions to grow in homes.
If you have leveled up from beginner-friendly houseplants like a pothos or ZZ plant and are now jumping into the world of rare houseplants, then one of the most important things to consider is how to maintain a healthy environment for your rare houseplants to thrive. 
Here's how to do it with a mini indoor greenhouse.
Home-Complete Mini Indoor Greenhouse 4-Tier Shelves
The greenhouse has a compact size of 27.1 x 16 x 63.0 inches, doesn't take up much space and the greenhouse fits seamlessly into any indoor area, from a living room to a small apartment.
Features
Dimensions: 27 x 16 x 63
Weight load: up to 24 lbs per wire shelf
Material: PVC plastic, plastic, and steel
Overview and Design
The Home-Complete indoor greenhouse is a compact greenhouse that offers four spacious shelves for your plants to grow indoors. The greenhouse has a sturdy steel frame that ensures durability, while the transparent PVC plastic cover provides ample light to reach your plants while shielding them from drafts and dust. The greenhouse door rolls up and can be tied in place for easy access to plants to rearrange pots or water the soil.
Pros
Easy to assemble (no tools needed)
Keeps humidity level constant
Sturdy enough to hold multiple plants
Adjustable and removable shelves
Cons
Thin PVC plastic cover
Doesn't come with grow lights 
Flimsy wheels
Optimal Growth Conditions
Rare indoor plants often have specific requirements for temperature, humidity, and light. The Home-Complete indoor greenhouse offers an adjustable environment that allows you to create the perfect growing conditions.
The indoor greenhouse provides ample room for your plants to grow. You can easily adjust the height of the greenhouse shelves to make room and accommodate plants of different sizes, ensuring they have sufficient space to thrive.
Because it is able to maintain high humidity in the indoor greenhouse, the soil or plant medium doesn't dry out as fast too.
Easy Assembly and Portability
Setting up the Home-Complete indoor greenhouse is a breeze. With its user-friendly design and step-by-step instructions, you can assemble it within minutes, without any tools, or even without prior experience. The lightweight construction allows for effortless portability, enabling you to move the greenhouse anywhere it needs to go. It comes with wheels, but I ended up removing them and could still easily push the greenhouse around if needed.
Ample Space and Versatility
One of the standout features of the Home-Complete indoor greenhouse is its four-tier design, offering enough space for your plants to grow and thrive. The indoor greenhouse can accommodate a wide variety of plants, from delicate flowers and herbs to small vegetables or succulents. The height between the shelves is adjustable, allowing you to create the perfect environment for plants of various sizes.
Initially, I used all four of the wire shelves, but as my houseplants grew, I removed two. This allowed room for the plants to grow taller. I moved one of the wire shelves to the back so that plant vines could grow along it.
Controlled Ventilation and Airflow
Maintaining proper ventilation and air circulation in an indoor greenhouse is vital for the health of houseplants. The indoor greenhouse is equipped with roll-up zipper doors, which offer convenient access and allow you to regulate temperature and airflow.
By adjusting the door, you can strike a balance between fresh air and humidity, and provide an optimal environment to ensure your rare plants thrive. If you want to increase humidity even more you can use plastic shelf liners or plastic sheets to line the shelves.
Protection from Harsh Conditions
When growing rare houseplants indoors they often require protection from sudden temperature fluctuations, drafts, and pests. One of the benefits of the Home-Complete indoor greenhouse is it offers a reliable shield against these threats.
The PVC cover acts as a barrier, keeping plants warm, and safeguarding your plants from external elements while still allowing light to penetrate. The durable materials used in its construction ensure long-lasting performance, so you can rest assured that your precious plants are well-protected.
Humidity is also important for rare plants, and the greenhouse is able to maintain a level of humidity that rare houseplants love.
Space-Saving and Stylish Addition
If you're limited in space but still want to showcase your rare indoor plants in your house, this mini greenhouse is the perfect solution. Its compact size and vertical design maximize space efficiency, making it an excellent choice for small apartments or rooms with limited floor space. The vertical design is great for storing and displaying your plant babies.
The Experience Using the Home-Complete Greenhouse
I have been using the Home-Complete greenhouse for the past two years. I decided to buy one since I imported rare houseplants and wanted to make sure the plants had everything they needed to grow properly. (It was an adventure dealing with importing plants and growing them, but that's for another post!
Maintaining an indoor greenhouse
As is the case with indoor greenhouses, sometimes the inside becomes dirty with dust and mold, so it has to be wiped down with disinfectant wipes. It takes about 30 minutes to clean the interior plastic lining and the shelves. Dust also settles on the top of the plastic, so it needs to be wiped down every so often.
The wheels aren't that great and there were times when I had a mini heart attack when the wheels would unlock or fall off. It is better to remove the wheels or not attach them during assembly.
Humidity issues in the greenhouse
Sometimes the humidity gets too high, that's when mold grows. The moisture in the greenhouse also depends on the room it is in. I noticed that there were times when I ran the humidifier too long or at full blast in the room, and the conditions in the greenhouse also went up. The mold would cloud the plastic and sometimes grow on the soil.
As part of the greenhouse maintenance, spray fungicide on the plants. Placing a hygrometer to easily monitor the conditions in the greenhouse is also a good idea. It will be easier to know when to limit using a humidifier.
You should also add small fans in the greenhouse to help with air circulation and move air around the greenhouse. It is easy to hang fans using S hooks or a piece of wire.
Lighting issues in the greenhouse
Since it doesn't come with plant lights, you have to place the indoor greenhouse by a window for natural sunlight or under plant grow lights. The amount of light a plant receives is very important and usually a grow light is necessary to provide enough light for a plant's needs.
Placing a greenhouse by a window for natural light usually isn't enough sunlight for an indoor garden. The way the sun moves throughout the day might mean that your growing plants will not have enough natural light over the course of a day.
Also, the greenhouse is quite tall and wide so it will block access to the window. So, while you may be tempted to place the indoor greenhouse by the window it's better to plan to place it under grow lights for growing plants in your house.
I have a bunch of different lights I didn't want to buy more. So, I placed the greenhouse under a Mars Hydro grow light that illuminates the top shelf and I used a Soltech light on the bottom shelf. I'm trying out a Barrina LED light strip that I attached to the wire shelves with zip ties. The bottom shelf is also made of wire so I passed the electric cord through the bottom and didn't need to poke holes in the plastic cover.
DIY indoor greenhouse versus a greenhouse
A DIY indoor greenhouse, like a converted Ikea glass cabinet, is one of the options when it comes to an indoor greenhouse. But it can be a big project since it has to be assembled, weather sealed, and a grow light has to be added to it. It is also way more expensive, the cabinet alone costs a couple of hundred dollars.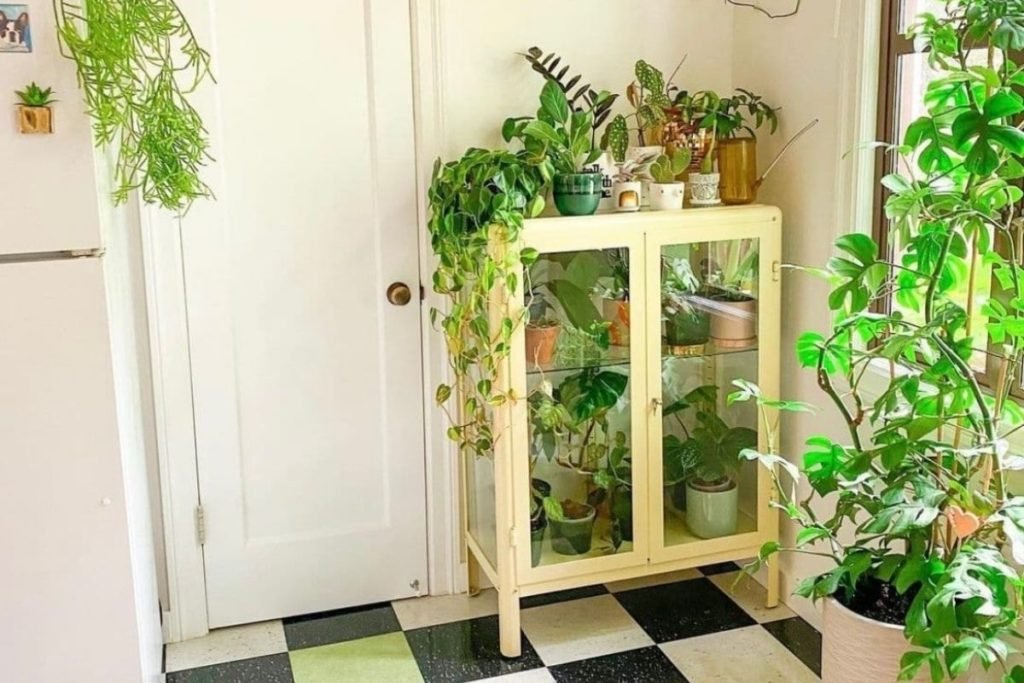 The Home-Complete greenhouse isn't as cute as a glass cabinet, but if you are looking for an affordable alternative, it is a good investment.
Conclusion
In conclusion, the Home-Complete Mini Greenhouse 4-Tier Shelves is a must-have for any enthusiast of rare indoor houseplants. The compact size of the greenhouse, adjustable shelves, and controlled ventilation provide the optimal environment to nurture your plants and support their growth. There are some things to consider, but we've covered it all in this post! This mini greenhouse is a practical addition to your indoor gardening space.