We currently have a balcony garden that is about two feet wide, so our plants are lined up against the glass railing. It's my first time with balcony gardening so I'm still trying to figure out how to make it work!
Along the way, I've learned a few lessons and have found some solutions to some of the biggest pain points with balcony gardens (like water drainage!).
While I'll only be in this apartment balcony for a year (and so can't install anything permanent), I found some really great solutions for your long-term urban gardening experience. Let's go through them here 🙂
Planning your balcony garden
Pay attention to natural conditions. Notice how much sunlight, high winds, and other natural forces affect your balcony space. For example, if you have a sunny balcony, then consider putting hardy sun loving plants on your balcony, like herbs or calendula. If your outdoor space is in full or partial shade, then consider growing plants that naturally dwell on shaded forest floors, like ferns and vines.
Plan for appropriate water drainage. Planters with drainage holes will release water right onto the balcony floor. Sometimes this can cause water to fall from your balcony floor to the floor below you. I like watering from the bottom by using pots and planters with holes in the bottom so as to avoid overwatering and spillage.
Make everything fit. Balcony garden design is all about maximizing limited space. Consider making living walls out of your vertical space and using hydroponic garden towers, plant shelves, or hanging planters to make the most out of your square footage. The best part about this is that you can create partial shade for your understory plants to grow!
Be mindful of structural support. How much weight can a small balcony hold? Generally speaking, a balcony can carry 50 to 100 pounds per square foot, so limited square footage also means limited plant weight.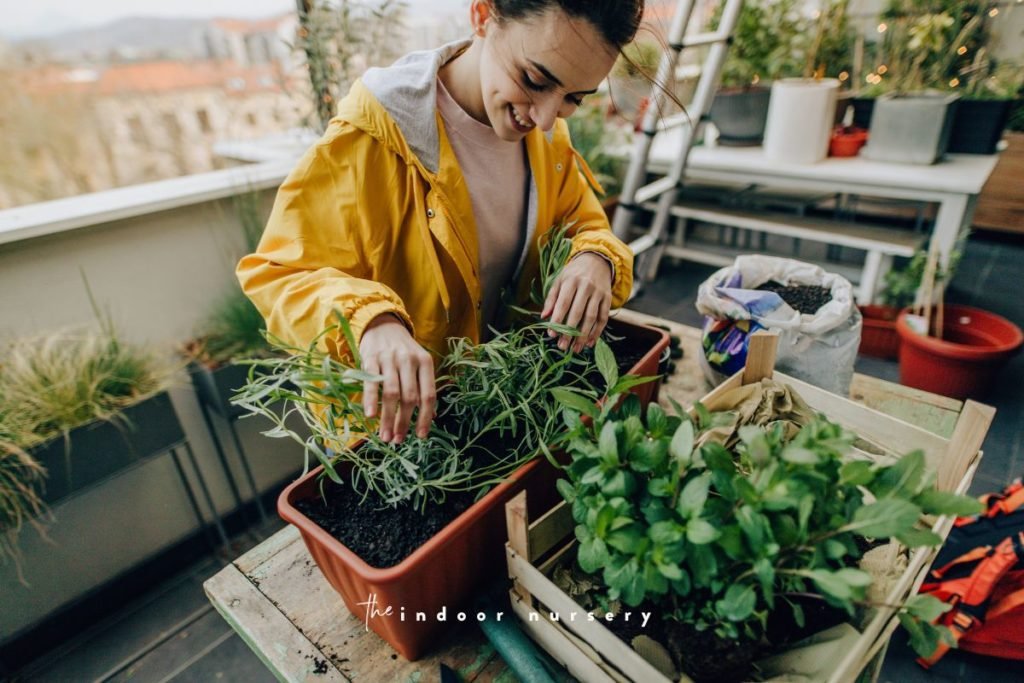 How to make the most of your outdoor balcony garden
There are a few different balcony garden design options to help you make the most out of your space year round. While I don't recommend using it all at once (see notes about how much weight a balcony can hold), I do like that you can create a lush garden out of a limited outdoor space by layering your leafy greens with these different kinds of planters.
Balcony railing planters
If your balcony railing can support them, then try using railing planters. I like the hanging baskets that are lined with coco coir because it helps with drainage and allows the soil to "breathe" fresh air. There are other kinds of railing planters that wrap around the post, hanging off the bottom of the balcony railing instead of the top.
Our balcony has a glass railing so, unfortunately, these were out of the question for us 💔
Hanging planters
If you have hanging plants and vines, then pop them into a macramé hanging planter and let those leafy greens hang down. Be sure to use a heavy duty eye hook that can hold the weight of the plant. Pothos, swiss cheese plants, ivy plants, and ferns are great for these. They will enclose and shade your green space so that you can have more plants line the bottom of your balcony floor. Our balcony is two storeys high so I can't reach the top floor to hang any plants 💔
Vertical planters
If you're looking for a vegetable garden, then a hydroponic tower is perfect for you. There is a bit of a learning curve with hydroponic gardening, but it will keep your veggies and herbs fresh and happy without taking up too much space. You can also create a vertical garden with wood pallets, stack your plants on plant shelves, or put your climbing plants on moss poles. Whatever the case may be, look for ways to utilize your vertical space.
Self-watering containers
Self watering pots make watering an easier task. Potted plants can dry out more easily than plants in the ground, so self watering pots allow the plant roots to draw from a water reservoir as needed. This is not to say that these don't require work. I have a few self watering pots and I need to refill them every couple of weeks. They're also a little bit awkward, so it's not like a "set it and forget it" kind of solution. But in warmer and drier climates, these kinds of containers are (literally) a life saver.
Easy plants for a balcony garden
Great plants for balcony gardening are those that fit your environment. Begin by checking your hardiness zone to see which plants would naturally fit with your local climate.
7 balcony garden ideas and how to copy them
Looking for a way to add some lush leafy greens to your small space? I'm sharing a few of my favorite balcony garden ideas from Instagram and Pinterest that helped me decorate my little balcony garden!
How to get the look:
How to get the look:
How to get the look:
How to get the look:
How to get the look:
How to get the look:
How to get the look: