🧪 Our review process
Our testing team independently researches, tests, and recommends the best products to help keep your houseplants absolutely thriving. Learn more about our testing and review process here.
The 5 best soilless potting mix picks for your plants
If you're looking for the best soil mix for indoor plants, you are bound to come across soilless soil at some point in your research. Yep, you heard right! There is soil out there that does not actually contain organic matter, and plants LOVE the stuff. And you surely will too, once you learn about the many advantages of growing plants in sterile potting soil over all purpose potting mix (learn more at the bottom of this post).
Keep in mind that selecting the right soilless medium for your plants requires a bit more research than choosing soil-based potting media. The reason is that soilless media doesn't contain nutrients unless it's amended with fertilizer. Even those soilless potting mixes that contain slow release fertilizer or are soaked in a liquid fertilizer need to be supplemented with regular doses of fertilizer to keep your plants happy.
Soilless mixes contain a mix of organic matter like coco coir, peat moss, wood chips, perlite, vermiculite, and LECA. Gardeners love soilless mixes because they provide excellent soil structure, allowing water and oxygen to pass through than most soil-based mixes while holding a stable quantity of moisture that is ready for absorption when the plant is thirsty. Lastly, the inert nature of soilless mixes means that they are typically free of soil-borne diseases, pests and toxins, a critical feature that makes soilless media especially well-suited to houseplants.
We have carefully selected the best soilless media for growing the garden of your dreams in this guide. Read on for our list of recommendations, and take a moment to research the moisture and nutrient needs of any specific plant you have in mind. Let's get digging!
The best soilless potting mix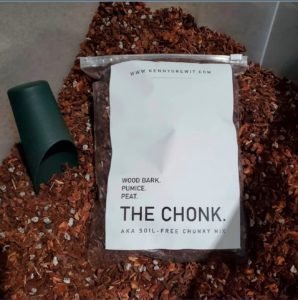 Introducing our premium plant mix, carefully hand-mixed with wood bark, pumice, and Sphagnum peat moss to promote healthy root growth and prevent root rot. Perfect for all indoor plants, this small batch mix is designed to increase air access, avoid common soil issues, and can be used in soil or semi-hydro setups. Comes in a resealable 1 gallon bag for easy storage and proudly made in the USA.
Pros
The small batch mix is hand-mixed and inspected for quality control, ensuring consistency and high quality.
Developed by a small business and plant enthusiast
Ready to use out of the bag
Cons
The premium ingredients in the mix may make it more expensive than other soil options.
May require additional fertilization
2. Best overall soilless potting mix: Noot The Mix
key specs: coir and perlite | 1 gallon expanded soil | pre-soaked in plant food with NPK .10/.15/.12
View on Amazon
View on Walmart
Noot's The Mix is an all-around winner in the soilless ring, providing just the right balance of chunk, porosity, and water retention for even your most particular plants. It's pre-soaked in plant food, providing a good balance of nutrients to get your plants off to a good start. Noot is a leading manufacturer of soilless media started by rare plant sellers and known for its boutique quality. We highly recommend this product for your full range of tropical houseplants, plus fiddle leaf fig, ficus, peace lily, succulents, ferns, palms, herbs and more.
Pros
Pre-soaked in fertilizer and provides start-up nutrients for plants
Developed by a rare plant seller
Ready to use out of the bag
Cons
Expensive, considering it's mostly coir and some pebbles
key specs: Canadian sphagnum peat moss, perlite and wetting agent | 8 quarts | seedling mix (contains no additional nutrients)
View on Amazon
View on Walmart
Get your seeds off to a great start with this soilless seed starting mix from SunGro. Sourced from Canada, this mix contains double-screened sphagnum peat moss to keep your seedlings well-hydrated, and wetting agent to prevent surface tension build-up and spillover. This is a super-fine mix that tends to compress a bit when wet, so try not to overwater it.
Pros
Super fine mixture of sphagnum peat moss and water retaining elements to give seeds their best start
Great for germinating, transplanting and propagating
This big bag should last at least one growing season!
OMRI listed for organic growing
Cons
The consistency might be too powdery for some applications and tends to compact when wet
key specs: 100% pure coconut coir | 20 compressed bricks / 164 L hydrated coir | versatile, multi-purpose potting mix
View on Amazon
Are you building the Noah's ark of plants and need LOTS of potting mix to do the job? This 100% pure coconut coir brick is your new best friend. 20 compressed bricks make a whopping 164 Liters of expanded media. Mix with variously sized porous materials like LECA and pine bark for best results.
Pros
Washed multiple times to achieve low electrical conductivity (EC) levels
Easy to store and re-hydrate as needed
OMRI listed for organic growing
Cons
This coir could benefit from various-sized amendments and bulk to stabilize the mass of the root ball
Difficult to divide into smaller chunks for single repotting projects
key specs: peat moss, coir and perlite | 2.5 gallons of hydrated mix | well-suited to seed starting and hydroponic growing
View on Amazon
View on Walmart
Invest in high quality ingredients to nourish your plants with this organic gold-standard from Good Earth Organics. Containing coir, sphagnum peat moss, and perlite, this simple blend claims two organic certifications: It's OMRI listed and Clean Green Certified for cannabis production. This is by far not the cheapest organic soilless mix on the market, but we think it is the most versatile. The mix has been designed to drain quickly and is perfect for growing anything from seedlings to tomatoes. It's well-suited to growing hydroponic houseplants, as-is, or mixed with organic matter for bulk and texture.
Pros
OMRI listed for organic gardening and Clean Green certified for organic cannabis
Fast draining
Inert soilless blend with pH of 5.8 to 6.2
Ideal for rapid root development
Cons
Pricey for the simple list of ingredients: you are paying for doubled certified organic ingredients
key specs: coconut coir + fertilizer | 5 gallons compressed / 15 gallons hydrated | loose dehydrated mix
View on Amazon
View on Walmart
If you're looking for big results with a small footprint, try this concentrated planting mix from Miracle Gro. We love the versatility of this fine coco-pith mix, amended with Miracle Gro's signature mystery blend of instant and slow release fertilizers (check out a high resolution image of the back side of the package for details). Unlike other soilless mixes, this de-hydrated blend will nourish your plants for up to six months without additional fuss.
Pros
Contains enough fertilizer to feeds plants for up to 6 months
Holds 50% more water than potting soil and contains 90% more air space than regular garden soil
Easy to portion and store
Fertilizer has been coated to provide both instant and slow-release nutrition to plants
Cons
Highly processed
Too fine for houseplants that like chunky soils (mix it with pine bark and composted mulch for these plants)
Our recommendations
Still unsure which soilless potting mix is best for your indoor garden
Are you still a bit confused about what soilless potting mix actually is, and which one is right for you? We get it. This growing medium doesn't come with a how-to manual, and there's a lot of conflicting information out there about what soilless soil even is to begin with. Here's a quick guide to choosing the best soilless potting mix, and what to consider if you're making the switch from traditional soil.
What is soilless potting mix?
We can (and will – stay tuned) tell you what ingredients are commonly found in soilless potting mix, but soilless soil isn't exactly what it sounds like. In fact, it's a bit of a misnomer! To get what this stuff is from a growing perspective requires understanding what soil is, so let's start there.
Allow me to explain.
Ahem (puts on glasses with a flourish) 🤓
The Soil Society of America defines soil as:
A mixture of minerals, dead and living organisms (organic materials), air, and water.
The term "soilless potting mix" can actually describe any growing medium that does not contain field or garden soil, aka regular old dirt). Believe it or not, that includes most of the potting soils and potting mixes on the market today. So.. if regular potting mix doesn't actually contains soil, then what is soilless potting mix?
Soilless mixes are a type of soil-free potting mix specifically formulated with a texture that provides superior drainage, water retention ability and aeration to plants growing in containers. It doesn't contain organic matter from live organisms, like compost or worm castings, which means that it requires amendment with fertilizer to provide plants everything they need to thrive.
Ingredients in soilless potting mix
Whether you decide to mix your own soilless potting mix or buy a packaged blend, you'll come across a few of the same ingredients in soilless mixes. Here's an overview of them and what they do:
peat moss: retains moisture and provides air pockets for gas exchange and adequate aeration. Coconut coir is a more sustainable alternative to peat moss 8 times out of 10, and is increasingly used instead of peat moss in soilless mixes.
pine bark: provides bulk, retains moisture and prevents compaction. Pine bark is slightly acidic, so it typically needs to be mixed with pH neutral or alkaline elements to suit most plants.
sand: coarse sand is often added to soilless mixes to add weight and fill large pore spaces. Don't go for a budget sandbox variety product here. Construction-grade granite sand is the generally the best choice.
vermiculite: this mineral has been heated until expansion, allowing it to hold a substantial amount of air, water (and in it) – nutrients. It also acts as a buffer to prevent sharp swings in pH changes, and fills small to medium sized pores.
perlite: this white fruity-pebble shaped amendment is used for drainage and aeration. Made of volcanic rock heated to expansion, perlite holds almost as much water as vermiculite
LECA: a favorite among hydro-grows, LECA (Lightweight Expanded Clay Aggregate) is basically baked clay and falls under the same category as vermiculite and perlite. LECA is typically ball-shaped and comes in various sizes, fro 1o mm – 4 cm in diameter. LECA can be used alone to grow plants hydroponically or in combination with other ingredients for a soilless mix.
coconut coir: this fibrous material is made from processed coconut husks in various textures, from coco peat (which can be used as a 1:1 replacement for peat moss) to coconut chips. It retains moisture incredibly well and promotes root branching when mixed with the right amendments.
The hype about sterile soil
One of the advantages of soilless mix is that it is less likely to come with pests and diseases common in soil that contains live organisms and materials that carry them. It is, in other words, "clean". If you've ever dealt with a pest infestation that has jumped from one of your favorite houseplants to the next faster than you can say "neem oil", then you know the appeal of a medium that promises to come without free-riding critters.
You might notice soilless mixes out there advertised as "sterile". This generally means that the soil has been chemically- or heat-treated to kill any and all lifeforms prior to packaging. Because there aren't any consumer certifications for sterile soil, the packaging and shipment of these products is not guaranteed to keep the soil sterile.
For this reason, we recommend sterilizing your soilless soil at home if you want to be really, really certain that there aren't pests hiding out in your potting mix.
The importance of using fertilizer with soilless potting mixes
Even the best soilless mix will leave the fertilizing up to you, and this is why going soil-free can be such a challenge for many gardeners. When using soilless mixes, the type and quantity of fertilizer you nourish your plants with will more closely resemble semi-hydroponic nutrition than the diet for plants grown in garden soil.
The mixed reviews you might notice on soilless products are more often a reflection of the difficulty it is for gardeners to change plant care routines than a measure of the quality of the products themselves. While some soilless mixes contain nutrients to get your plants started, you will still need to add a good plant fertilizer to the mix down the road.
Here are few tips for nourishing your plant when using soilless potting mix:
Blend your soilless mix with an organic slow release fertilizer like worm castings (YES you can produce vermicompost at home with your own DIY worm bin!) right out of the bag to give it the best start
If you opt out of mixing your blend with slow release fertilizer before planting (which may be wise if your mix contains fertilizer), then start adding fertilizer about one month after planting
Make sure to choose fertilizers with a solid profile of trace elements in addition to the NPK analysis
Note that soil tests may not be as accurate (or work at all) with soilless media
Conclusion
Growing houseplants with soilless media will elevate your understanding of soil and plant nutrition to the next level. There is a learning curve to working with inert media, but patience will pay off with lush foliage, healthy blooms and the healthiest roots you've ever seen your plants produce. As you experiment with soilless amendments, you'll learn how to tailor the blend to your particular climate and plants. Enjoy the process!
Shop our recommendations