🧪 Our review process
Our testing team independently researches, tests, and recommends the best products to help keep your houseplants absolutely thriving. Learn more about our testing and review process here.
Investing in a complete indoor hydroponic grow system is like having your very own mini-farm within arm's reach. Not only does it allow for complete control over your plants' environment (hello, year-round harvests), but it can be tailored to fit any size or skill level.
So if you're looking for a complete indoor hydroponic grow system that takes all of the guesswork out of DIY gardening, check out our top picks below.
Our top picks
A truly complete indoor hydroponic grow system is just that—complete. Our top picks have everything you need to operate a thriving garden without the hassle of having to source or assemble extra components.
The Aerogarden Harvest Elite is a sleek, stainless-steel hydroponic system that promises a bountiful harvest right from your countertop.
Product Specs
Pods: This system comes with 6 pods.
Size: This system is 6.25 x 10.5 x 17.4 inches.
Water Capacity: Generous reservoir means less frequent refilling.
If you've ever dreamt of having fresh herbs at your fingertips, but lack the outdoor space or the green thumb, the Aerogarden Harvest Elite might just be your new best friend. This nifty gadget is not just another pretty face with its stainless-steel finish; it's a powerhouse of plant productivity. (Read all about how an Aerogarden works!)
The dimmable function is a game-changer, allowing you to adjust the light intensity to match the growth stage of your plants. And for those of us who are a tad forgetful, the timer function is a godsend. Just set it, and let the Aerogarden do its magic.
Read my full review after using the Aerogarden Harvest Elite for a few months: Hands On Aerogarden Harvest Elite Review
Pros
Setting up the Aerogarden is a breeze
Tailor the light intensity to your plants' needs
Simple controls make it suitable for both beginners and seasoned gardeners
Cons
The included adhesive pads might not hold up too well
The timer maxes out at eight hours
Plants that thrive in bright light might not do too well with this system
With an adjustable height, powerful LEDs, and pretty much all the bells and whistles you need at an affordable price tag, it's no wonder this system is so popular.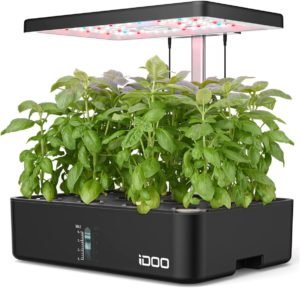 View on Amazon
View on Walmart
Product Specs
Pods: This system comes with 12 pods.
Size: This system is 12.08 inches by 13.8 inches by 15.2 inches.
Water Capacity: This system can hold 4 liters of water.
Harvesting delicious, nutrient-packed fruits and veggies has never been easier, thanks to this all-in-one kit from iDOO. It includes everything from a versatile grow bed that adjusts in height to smart soil sponge pods and powerful LEDs for optimal growth. Even the most novice gardener can get amazing results 20% faster than traditional soil-based gardens.
No stone is left unturned with this system. The full-spectrum lights mimic the sun and can be adjusted to two modes—vegetable or fruit and flower—while the built-in fan helps pollinate your plants like a bee. Plus, the self-watering planter runs on a timer and has a visual window so you can see when you're running low.
Reviewers are all about the quality and convenience of this system, one even saying that it's "basically automated with minimal user support—what's not to love?"
Pros
Tons of user-friendly features
Automated with minimal user support
Listed at affordable price point
Cons
Doesn't come with seeds
Fan can be loud
Enjoy the luxury of fresh fruits, veggies, and herbs year-round with this insanely affordable hydroponics system.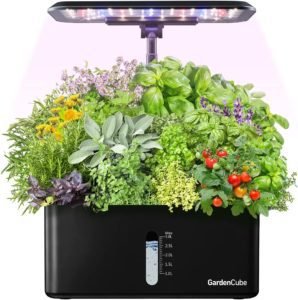 View on Amazon
Product Specs
Pods: This system comes with eight pods.
Size: This system is 11 inches by 6.7 inches with a max height of 21 inches.
Water Capacity: This system can hold 3 liters of water.
The GardenCube Hydroponics Growing System was made for budget-conscious green thumbs who don't want to sacrifice quality for cost. This kit includes all the basics—LED grow lights, a self-watering pump, nutrient solution, tags, grow sponges, baskets, domes, and even rods for wrapping vines—all for less than $50.
Equally impressive is how efficient this system is. Not only does the self-watering pump save you time and water, but it also helps reduce the possibility of root rot. The LED lights can be adjusted to two settings—vegetables or fruits and flowers—so you can get the exact spectrum for your plants' needs. Plus, the LED lights can be adjusted in both height and angle.
This system is perfect for those just starting out, as reviewers have noted that operation is "super easy and straightforward." However, some people have complained that it is noisier than other models they've used.
Pros
Listed at affordable price
Easy to adjust LED lights
Great for beginner indoor gardeners
Cons
Doesn't come with seeds
Can be noisy and loud
Never miss a watering session again, thanks to AMORNING's intuitive app and smart hydroponics system.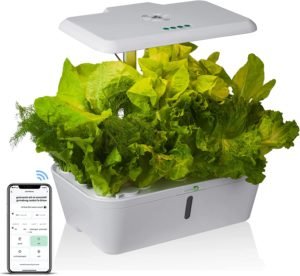 View on Amazon
Product Specs
Pods: This system comes with 15 pods.
Size: This system is 13.777 inches by 8.26 inches with a max height of 25.59 inches.
Water Capacity: This system can hold 7.5 liters of water.
Want to take all the guesswork out of gardening? The AMORNING system comes complete with a sleek app that features remote setting control, a plant diary, and water notifications. And with a tank that can hold up to 7.5 liters, your crops will stay hydrated for weeks.
The system also comes with top-of-the-line lights and a fan to help pollinate your plants. Plus, the adjustable grow bed allows you to switch up heights as tall as 19.3 inches. All of the typical accessories like nutrients, labels, and baskets are included as well as a TDS&EC Meter that can test water quality so you adjust nutrient intake as needed. It even comes with seeds!
Reviewers love the convenience and Alexa compatibility of this complete hydroponics system, but some have noted that they were missing parts upon arrival. However, they did say that customer service was superb in addressing the issue.
Pros
Intuitive app with Alexa compatibility
Large 7.5-liter water capacity
Includes TDS&EC Meter and seeds
Cons
More expensive than most models
This compact indoor garden can fit practically anywhere, and it still comes complete with every accessory under the sun.
Product Specs
Pods: This system comes with five pods
Size: This system is 11.2 inches by 6.1 inches with a max height of 17.25 inches.
Water Capacity: This system holds 2.5 liters of water.
Countertop real estate hard to come by? The Inbloom Hydroponics Growing System is here to save the day. Perfect for tiny apartments, petite windowsills, and the tightest kitchen nooks, this kit's mini footprint still makes a sizable yield. Its true color LEDs come with an additional 20% of red light—which is key for peak plant growth. Pair that with its roomy 5.25-inch tall water tank, and your plants will have all the oxygen and light exposure they need to thrive.
The complete kit also comes with additional accessories like solid nutrients, rods, stickers, domes, baskets, grow sponges and an automated timer. Reviewers agree that this space-saving system is just as efficient as its larger counterparts, but the setup leaves much to be desired. One person said they had to scour the internet for an unboxing video to figure out how to get it up and running.
Pros
Compact size can fit anywhere
Higher red light intensity
Made with sustainable materials
Cons
Setup may not be clear
Seeds are not included
Not ideal for large plants
This system is as aesthetically pleasing as it is practical.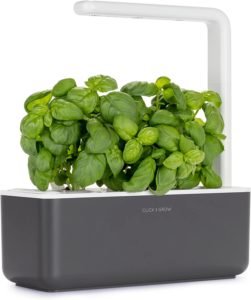 View on Amazon
View on Walmart
Product Specs
Pods: This system has three pods.
Size: This system is 4.72 inches by 11.81 inches with a max height of 18.5 inches.
Water Capacity: It's unclear how much water this tank holds.
Out of all of our top pick systems, Click & Grow's Indoor Garden Kit has to be the most stylish. This starter set looks stunning in any modern kitchen or home office thanks to its sleek design and beautiful craftsmanship. Plus, it comes in three neutral color options (gray, beige, and white) to fit any décor.
On top of being visually appealing, the Click & Grow system has several features that make it a hydroponic grower's dream. Its large-capacity tank holds a month's worth of water, and its smart soil ensures maximum growth with minimal fuss. It also comes with three basil pods, and its storefront has 50 different plant varieties to choose from, so you can customize your garden however you like.
Reviewers love how this system looks and how it puts their "gardening on autopilot." However, some did say the pods were a little tricky to figure out.
Read my full review after using a Click & Grow system for a few months: Aerogarden vs. Click & Grow
Pros
Compact size will fit anywhere
Comes with starter seeds
Totally automated features and care
Cons
Priced higher than other kits
Has a learning curve
Our verdict
While all of the above options will yield a healthy (and tasty) crop, the iDOO and the AMORNING systems stand out for their accessories, automated features, and ample growing space. With a complete hydroponic system like one of these, you'll have the best chance at cultivating lush plants with maximum ease.
Our recommendations
How we chose the best complete hydro systems
Hydroponics is meant to make gardening easy. So the more automated the system, the better. We prioritized kits with self-timers, app capabilities, and set-and-forget-it watering schedules. But smart features alone don't make a complete system. We wanted products that came with everything you needed to start growing, including nutrient solutions, net pots, and even starter seeds.
Once those parameters were met, we looked at other qualities like size and affordability. We wanted to include a variety of sizes and price points so that everyone, from apartment dwellers to gardeners with large spaces, could experience the joy of hydroponic farming.
What to know before you buy an indoor hydroponic system
Ease of use is often the name of the game when it comes to indoor gardening. But operating a flourishing countertop greenhouse isn't as simple as pressing a button. Different types of hydroponic systems offer varying degrees of maintenance and initial work. Knowing what kind to look for—along with the key features that signal quality design—will put you on the path to success when it comes to hydroponic growing.
Types of hydro grow systems
Gardening enthusiasts have been perfecting the art of indoor hydroponics for decades. So there are a lot of different techniques out there to use (especially if you want to go the DIY hydroponics route). You don't need to be a pro in how these systems work to enjoy a thriving garden, but it's important to familiarize yourself with the basics so that you can make an educated decision.
There are several types of complete hydro systems on the market, but the following three are the most common.
Nutrient Film Technique (NFT)
NFT systems are among the most popular because they're relatively simple to set up and maintain. Plants are suspended above a stream of water (with nutrients added) that flows continuously through the roots. This method allows for plenty of oxygenation, which increases plant growth.
The big advantage of an NFT system is that it's easy to scale. So if you've got big plans for big plants, this is a great option.
Deep Water Culture (DWC)
The majority of complete indoor hydroponic grow systems you'll find will be DWC. This method places plants in a nutrient-rich solution and then submerges their roots directly into the oxygenated water for maximum absorption.
Because of the direct exposure, DWC systems often lead to crazy-fast plant growth. So if you're someone who likes to reap the rewards of their labor quickly, this is the way to go.
Ebb & Flow
This hydroponics setup works by flooding the growing tray with nutrient-rich water, draining it, and allowing for oxygenation before repeating the cycle. Don't worry—you won't have to monitor your plants constantly. Today's systems come with automatic timers that take care of everything.
The upside of these kits is that they work well with all kinds of plants. But they do tend to be on the larger side, so you'll need space to accommodate one.
Size
Speaking of space, complete hydro systems come in a variety of sizes and shapes. Some are designed to fit conveniently on a kitchen countertop, while others can reach much higher heights. The size you'll choose will depend largely on the space you've set aside as well as what you want to grow.
There are plenty of kits that will easily fit on your countertop, as well as models that can take up the corner of a room or even the room itself. A few are even expandable, so you can upgrade and build your system out as your needs change.
Automation
We don't need to tell you that gardening is a time-consuming hobby. That's why the best indoor hydroponic grow systems will come with a set of features designed to make your life easier, like automated timers, built-in humidifiers, and adjustable lighting.
These features give you complete control over your system's environment. Some units even come with apps that allow you to monitor your plants and make changes to their schedule from anywhere in the world. Beginners should look for complete systems that provide as much automation and control as possible while they're learning the ropes.
Plant Types
Different plants have different needs and requirements, so you'll want to check the specs of any system you're considering. Most are designed to accommodate a variety of plants, but factors like height, weight, and lighting can limit your garden. Double-check that your desired crop is listed in the specs before making your purchase.
It's usually recommended that you only use the manufacturer's seeds as they are bred to flourish in their system. So look into what kind of seeds the company sells and check customer reviews to ensure they're of good quality.
Tips for using an indoor hydroponic growing system
While it's a heck of a lot easier than maintaining a sprawling outdoor garden, indoor hydroponic systems still require some basic maintenance. Start by doing light research on what you're growing. Knowing the preferences of your plants—water, light, nutrients, etc.—will help you choose the right system, optimally set it up, and maintain it.
It's also important to create a regular schedule for watering and feeding your plants. Some systems allow you to set and forget it via an app or automated timer, while others require more manual upkeep. In either scenario, it's essential to stick with a routine and make sure your plants are getting the right amount of nutrition.
You should also keep your system clean. Whether you're using an ebb and flow, a drip system, or something else entirely, it's important to regularly check your pumps and hoses for any buildup of algae or other debris that could clog the system. A quick wipe-down once a week should do the trick.
Research plants before buying and setting up a system.
Create and stick to a regular watering/feeding schedule.
Clean pumps and hoses regularly to prevent algae and debris buildup.
FAQs
Getting started with a complete indoor grow system can be a little confusing if you're new to the whole hydroponics scene. While it's meant to be easy, setting up and using your kit may still require some guidance. To help make the process easier, we've compiled a list of some commonly asked questions about complete hydroponics systems so you can stop Googling and start growing.
Are indoor hydroponics worth it?
Absolutely—these systems offer complete automation and control over your plants' environment. That means you get all the benefits of gardening without the hassle of outdoor maintenance.

What cannot be grown in hydroponics?
Sadly, not every plant thrives in hydroponic systems. Large root vegetables (like corn, potatoes, and beets) and vine crops need more room to spread than hydroponics can provide.

Does hydroponic food taste different?
No, hydroponic foods taste the same as those grown in soil. They also have the same nutrient levels, so you can enjoy the same flavor and nutrition without worrying about soil-borne diseases.
Shop our recommendations