🧪 Our review process
Our testing team independently researches, tests, and recommends the best products to help keep your houseplants absolutely thriving. Learn more about our testing and review process here.
Pretty to look at and delicious to eat, having an indoor herb garden kit is a no-brainer for any kitchen. Not only do these countertop gardens add some greenery to your home, but they also provide fresh herbs for cooking year-round.
Luckily, green thumbs aren't required to enjoy fresh basil from your windowsill. These high-tech horticultural sets the guesswork out of growing by providing everything you need. Choosing the right kit can be a bit of a minefield, so we've rounded up the best of the best so you can smell (and taste) the rewards of your own indoor bounty.
Our top picks
Finding the best indoor herb garden kits on the market comes down to a few key factors: ease of use, size, and price. Whether you're a novice gardener or short on space, we've got you covered with our top picks.
This sleek countertop garden nearly puts your herb-growing on autopilot with automated features and a smart control panel.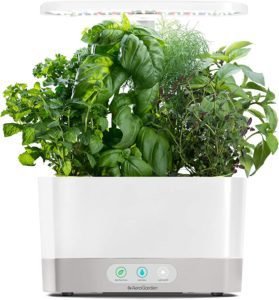 View on Amazon
View on Walmart
Product Specs
6 Pods: You can grow up to six different herbs.
Compact Size: At 6-inches long and 10.5 inches wide, it's small enough to fit on most countertops and windowsills.
Automatic: This kit features an automated control panel that handles lighting and notifies you when water and plant food are needed.
Finding the right balance between light, soil, and watering is beyond tricky—which is what makes the self-regulating AeroGarden Harvest Indoor Garden such a godsend. Its smart control panel does all the thinking for you with automatic lighting and reminders to add water and nutrients. Leaving town? Just set this bad boy to vacation mode.
The kit comes with six pre-seeded gourmet pods— Genovese Basil, Curly Parsley, Dill, Thyme, Thai Basil, and Mint—that will grow up to 12-inches tall. You also get a 3-ounce bottle of their patented. all-natural plant nutrients that should last you through a full season of growth. This no-soil, no-mess system is great for indoor gardeners of all levels and skill sets.
Pros
Automatic 20-watt LED lighting
Watering and fertilizer reminders
Grows up to six plants
Cons
More expensive than other models
Future plant food purchases
An array of flavors awaits with this comprehensive kit that includes all the tools to get your green thumb in gear without breaking the bank.
View on Amazon
View on Walmart
Product Specs
4 Herbs: The classic herbs Basil, Cilantro, Parsley, and Thyme are all included.
Compact Size: You can place your herb grow bags wherever you like, including the wooden planter box, which is only 7-inches long and 7-inches wide.
Manual: This kit requires more upkeep than some of the others on our list, like getting enough sunlight.
Freshness doesn't have to come with a hefty price tag. This highly-rated indoor herb garden kit from Garden Republic is our top pick for budget-minded horticulturists. Why? Because this low-cost option requires zero extra trips to the store for supplies.
Everything you need to get your kitchen harvest started is included in this comprehensive kit—and then some. Along with the waterproof burlap grow bags, nutrient-rich soil disks, and non-GMO seed packets, you also get wooden plant markers, a wooden planter box, an in-depth growing guide, and the cutest pair of mini gardening shears we've ever seen.
It's much more hands-on than the AeroGarden, but that's also part of the appeal. If you're someone who likes getting your hands dirty (literally), you'll love sowing the seeds, watering the soil, and watching your plants grow day by day.
Pros
Comes with all necessary accessories
Listed at an affordable price
Has access to online support
Cons
Only four herbs included
Requires access to good lighting
More hands-on than other models
With compostable pots and a bevy of high-quality tools, this manual herb garden kit is the perfect way to get started—and reduce your carbon footprint.
View on Amazon
View on Walmart
Product Specs
5 Pots: You can grow up to five different herbs at a time with this indoor herb garden kit.
Eco-Friendly: Most of the materials in this kit are compostable or recyclable.
Manual: This kit requires hands-on attention, including regular watering and fertilizing.
You don't need acres of lush land to get your farm-to-table fix. This Indoor Herb Garden Starter Kit from Spade to Fork makes it easy to grow your own herbs, whether you're living in a high-rise or a country cottage.
The set includes five compostable peat moss pots and soil discs that are chemical-free and OMRI-certified. And because their seeds meet the highest standards for quality and germination, you can grow your Basil, Cilantro, Parsley, Sage, and Thyme with total peace of mind. Plus, the custom wood-burned plant markers and the simple, three-step growing guide make it easy to get started.
We love that everything in this manual herb garden kit is eco-friendly, from the pots to the heirloom seeds. And because it doesn't rely on electricity or batteries, it's a great option for people who are looking to reduce their carbon footprint.
Pros
Uses chemical-free and eco-friendly materials
Comes with five popular herbs
Helpful accessories are included
Cons
Doesn't come with a planter box
Requires access to sunlight
Repotting will be required
No-fuss herb growing doesn't get any easier than with this high-tech automatic kit.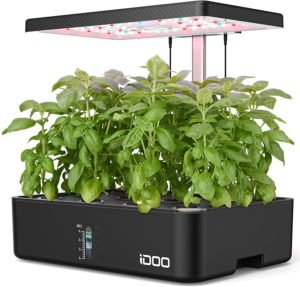 View on Amazon
View on Walmart
Product Specs
12 Plant Pods: You can grow up to 12 plants at a time that can reach up to 11 inches tall.
Self-Watering: The 4.5-liter water tank keeps your plants hydrated for up to two weeks and comes with a visual window so you can see when it needs to be replenished.
Automatic: This kit takes care of the planting, watering, and harvesting for you.
Do you dream of having a kitchen countertop full of fresh herbs but don't have the time (or patience) to tend to needy plants? Then the iDOO Hydroponics Growing System is the answer to your prayers.
This automatic herb garden kit doesn't rely on soil —instead, it uses a hydroponics growing system to aerate the water and stimulate plant growth approximately 20% faster than traditional methods. The built-in fan mimics a cool afternoon breeze at perfectly timed intervals, while the self-watering feature means you can set it and forget it for up to two weeks at a time.
There are multiple light modes to support different kinds of plants (not just herbs), and the sleek, minimalist design will look great in any kitchen. Trust us, your green thumb has never been easier to maintain.
Pros
Tons of automatic features
Works with veggies and fruits
Holds twice as many plants
Cons
A little more expensive
Plants are not included
On the larger side
PRO TIP: These make great gifts for plant lovers 😉
Start your family's next generation of green thumbs with this kid-friendly kit.
View on Amazon
View on Walmart
Product Specs
3 Pots: This kit comes with three seed packets, 3 wooden markers, soil, and a plastic liner to host up to three pizza-friendly herbs.
Kid-Friendly: It also comes with a six-color paint strip, two paint brushes, and a paint palette, so little ones can customize their tin planter.
Manual: This kit requires hands-on watering, planting, and harvesting, as well as access to sunlight.
Indoor gardening is a great way to introduce your little ones to the joys of planting and harvesting, and nothing gets kids more excited than pizza. This adorable set from Dan&Darci comes with your favorite pizza-topping herbs—arugula, oregano, and basil—as well as a paintable tin planter.
Kids will love getting their hands dirty as they mix and pack the organic soil, sow the seeds and decorate their own one-of-a-kind planter with paints. And when it comes time to harvest, they can use their home-grown herbs to top a delicious homemade pizza. It doesn't get much more satisfying than that.
Pros
Great activity for kids
Comes with three popular herbs
Includes a paintable tin planter
Cons
Shears not included
Requires more hands-on care
Our verdict
By far, the two best indoor herb garden kits are the Aerogarden Sprout LED and the iDOO Hydroponics Growing System. The Aerogarden is great for its ease of use and compact size, while the iDOO is perfect for anyone looking for a total hands-off approach.
Our recommendations
How we chose the best kitchen herb gardens
There are a few key factors we looked for when choosing the best indoor herb garden kits. First, we wanted models that were easy to use and required minimal effort to maintain. After all, the point of an indoor herb garden is to make your life easier, not add another chore to your to-do list.
We also looked for kits that were compact and attractive since they would likely be on display in your home. And last but not least, we wanted kits that came with everything you needed, so you wouldn't have to go out and buy additional supplies.
Who this herb growing kit is for
Almost everyone can benefit from an indoor herb garden kit. All levels of gardeners, from beginners to experts, can find a kit that suits their needs and skill level. They're also a dream for small spaces since they don't take up much room. And if you have trouble keeping plants alive, no worries—there are plenty of low-maintenance options out there.
The only people who might not want an indoor herb garden kit are those with severe allergies. If you're allergic to pollen or mold, it's best to avoid having plants indoors.
What to know before you buy a kitchen herb garden kit
Indoor herb garden kits are a great way to have fresh herbs at your fingertips year-round, regardless of the weather outside. But before you start planning your next kitchen harvest, there are a few things you should know.
Types of indoor herb garden kits
For centuries, gardening was a very involved hobby. You had to rise with the dawn to tend to your crops and prioritize weeding over other weekend plans.
But technology has intervened to make our lives (and our plant care) much easier. Indoor herb garden kits can be as hands-on or hands-off as you like—it all depends on the type of kit you choose.
Manual
Some people see tending plants as a welcomed invitation to slow down. Manual indoor herb garden kits require more of your time but also give you a chance to connect with your plants in a different way.
You'll have to water them regularly and reposition them so they get enough sunlight. But if you have a green thumb or want to get to know your plants on a personal level, this type of kit is perfect.
Automatic
Love to set it and forget it? These kits feature timed lighting and watering functions that do the work for you. All you need to do is refill the water reservoir and harvest your herbs when they're ready. It's kinda like having a robotic gardener on your payroll.
Some models even come with a mobile app that lets you monitor your plants' progress. Just remember that these kits require a bit more of an initial investment.
Types of seeds
These kits come with a rainbow of herbs to choose from. While experimenting with new flavors is always encouraged, you'll want to choose a kit that comes with seeds for the herbs you use most often. That way, you can get the biggest bang for your buck.
So if you're known for your handmade chunky salsa, look for a kit with cilantro. Love to bake? Indoor herb garden kits with basil, oregano, and thyme will be your new best friend. You can always add other herbs later, but it's good to have your kitchen staples covered from the start.
Size and style
Determine where you'll keep your kit and how much counter or shelf space you have to work with. If you have a small kitchen, you might want to go with a wall-mounted option or one that can be displayed on a windowsill. Larger kitchens can accommodate more ambitious projects, like a hanging herb garden or an indoor planter box.
In terms of style, some people want their herb garden to make a statement, while others prefer a more subdued look. So consider your home's decor when making your final decision. Thanks to the endless options on the internet, there's a style to fit any aesthetic.
Helpful accessories
Indoor herb garden kits come with all the essentials, but there are a few helpful accessories that can make the experience even better. The best kits will have:
Grow lights
Plant markers
Pots or growing bags
Soil or soil discs
Shears
Now, you can grab these supplies at your local garden center. But it's nice to have everything you need in one box—it makes the process that much easier.
The advantages of owning a herb garden kit
Sure, you can always pick up a bundle of basil when you need it. But there are so many advantages to having a personal selection of aromatic herbs right on your kitchen counter.
For one, you'll always have fresh ingredients on hand. No more wilted parsley or cilantro that's starting to go bad. Every recipe that calls for a handful of rosemary will taste that much better when you clip the leaves right before cooking. Indoor herb garden kits also give you the opportunity to experiment with new flavors. So if you're bored of the same old kitchen staples, this is a great way to spice things up.
Not to mention, growing your own herbs is more sustainable than buying them prepackaged at the store. And it's a great way to get your kids interested in gardening and where their food comes from.
Here are three more reasons why you'll love having an indoor herb garden kit:
They give you year-round access to fresh herbs, regardless of the weather outside.
They're a space-saving solution for small kitchens (or homes in general).
They lower your grocery bill by cutting down on the number of herbs you need to buy.
Tips for using a herb garden growing kit
While growing herbs in your kitchen requires a ton of less work than maintaining a sprawling outdoor garden (another perk!), there's still a bit of a learning curve.
All plants need the right growing conditions in order to thrive. Bountiful harvests are possible indoors, but growing herbs in a container is way different than growing them in the ground. Set your leaf babies up for success with the right amount of lighting, water, and drainage. Here are a few tips to get you started:
Remember that herbs are not houseplants and don't need to be watered as often.
Prune regularly to encourage new growth and prevent your plants from getting leggy.
If your kit doesn't provide grow lights, choose a spot where your herbs will get at least six hours of sunlight a day.
Common questions
No one is an indoor herb-growing expert the moment they unbox their first kit. And that's okay! It takes time (and a bit of experimenting) to get the hang of being a kitchen gardener. Understandably, you might have some questions before purchasing an indoor herb garden kit. Here are a few of the most common queries, along with our expert answers:
which herbs are good to grow indoors?
The best herbs for indoor growing are basil, chives, cilantro, oregano, parsley, mint, rosemary, sage, and thyme.
how often do I water my herbs?
Follow the instructions on your indoor herb garden kit, but in general, once a week is sufficient.
does growing herbs indoors attract bugs?
Most herbs are pretty pest-resistant. However, basil is attractive to some bugs. Keeping your basil plant in a location with sunlight and air circulation will help deter pests.
---
Shop our recommendations