🧪 Our review process
Our testing team independently researches, tests, and recommends the best products to help keep your houseplants absolutely thriving. Learn more about our testing and review process here.
Watering is by far the easiest (and most detrimental) plant-care task to forget—unless you're utilizing the best drip irrigation system. These nifty little devices can keep your indoor houseplants healthy and vibrant—with minimal effort on your part. Whether you're looking for something automated or best-suited for a specific pot, this guide will help you find the best drip irrigation system for all of your home's greenery.
Our top picks
There is no shortage of options when it comes to finding the best drip irrigation system. From smart, app-powered devices to set-it-and-forget-it pots, we've rounded up a few of the top choices to help keep your houseplants healthy and vibrant.
This versatile automated device makes watering a no-brainer for kitchen jungles of all shapes and sizes.
View on Amazon
Product Specs
Pots: This device can water up to 10 pots.
Flow Rate: It's not entirely clear, but reviewers say the flow rate is 0.13 GPM.
Tube Length: This device comes with 33 feet of tubes.
Raise your hand if you've ever returned from vacation to find your plants wilted and droopy—only to realize that you forgot to give them a good shower before you left. The Kollea Reliable Automatic Watering System will help keep them alive and healthy, even when your memory fails. This all-in-one device works with any water vessel, allowing you to customize a schedule on its digital timer for up to 30 days of irrigation—which will save you 70% of water.
Reviewers love how you can set the watering schedule in seconds, not minutes (like most other models), and how it gave them peace of mind while they were away. One customer was happily surprised when they came home from vacation expecting a dead plant, only to find "a thriving plant" instead.
Pros
Waters up to 30 days
Multiple power options
Comes with plenty of tubing
Cons
Some DIY required during setup
Directions are confusing to some
There's no need for an expensive watering system thanks to this bulk pack of low-cost, minimalist bulbs.
View on Amazon
View on Walmart
Product Specs
Pots: This device can water up to 10 pots.
Flow Rate: The flow rate is not clear, but reviewers say that the trickle of water is very slow.
Tube Length: There are no tubes.
If you're looking to give your houseplants a steady drip without breaking the bank, these Pynqdfu Watering Globes are a great choice. This affordable 10-pack of plastic bulbs—five large and five small—releases a slow trickle of water whenever the soil starts to become dry.
Each bulb is made of clear plastic, making it easy to check the water level and adjust accordingly. Just fill each bulb with water, submerge the narrow end into potting soil, and you'll be good to go for up to two weeks, depending on the type of plants you have. Reviewers are all in on the simplicity and practicality of these globes, noting that they're "a great value," but they might not be ideal for longer vacations and absences.
Pros
Comes with 10 globes
Easy to fill and use
Priced affordably for the value
Cons
Not ideal for longer absences
May leak out all of the water at once, depending on soil
Hard to clean
This three-piece set of hand-blown glass globes are just as effective at keeping your plants hydrated as they are aesthetically pleasing.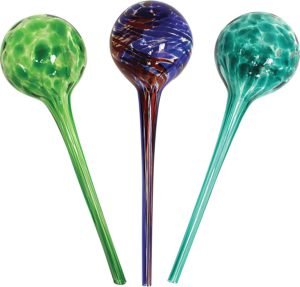 View on Amazon
View on Walmart
Product Specs
Pots: This device can water up to three pots.
Flow Rate: The flow rate is not clear, but reviewers say that the trickle of water is very slow.
Tube Length: There are no tubes.
For a more stylish take on traditional watering globes, this trio from Wyndham House offers a beautiful and eye-catching option for keeping your houseplants healthy. This set of three hand-blown glass spheres—all the same size but in different designs—slowly infuse water into the soil by allowing each plant to naturally draw up as much moisture through its roots as it needs.
Reviewers love the attractive shape and colorful designs of these globes, as well as the fact that each one can last up to a week or two between refills. On the downside, some people noted that their size made it challenging to fit into some smaller pots, so check the dimensions before purchasing.
Pros
Stylish design and colors
Slow and steady water release
Cons
Won't work for small pots
Hard to clean
May release all of the water at once
Not the best value
Watering has never been so effortless thanks to this WiFi-enabled, automatic system from RAINPOINT.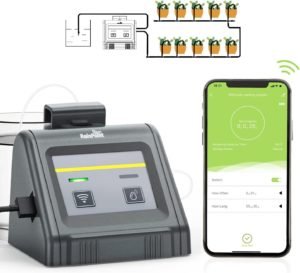 View on Amazon
View on Walmart
Product Specs
Pots: This device can water up to 10 pots.
Flow Rate: The flow rate is 30L/H.
Tube Length: This device comes with 32.8 feet of tubes.
For busy plant parents in need of a break, this automatic watering system from RAINPOINT makes soil hydration a total breeze. With WiFi capability, this device allows you to manage multiple watering schedules for multiple plants and lets you customize those schedules based on factors like the local weather and outside humidity levels. It also comes with an app that notifies you when your reservoir needs to be refilled and lets you add other people to help you co-manage your plants' care.
Reviewers love this device for its convenience and intelligence but note that the initial setup is a bit tricky. Some also voiced their desire to be able to set watering schedules for specific times of the day, which is not currently an option.
Pros
WiFi-enabled and app-controlled
Allows for multiple schedules
Allows for multiple users
Cons
More expensive than other models
Setup may be difficult
Skip the fuss of fancy irrigation systems with this practically self-sustaining pot from HBServices USA.
View on Amazon
View on Walmart
Product Specs
Pots: This device can water up to one pot.
Flow Rate: There is no flow rate.
Tube Length: There are no tubes.
As much as we tend to our personal gardens, we forget how naturally self-sustaining plants can be. Given the right environment and conditions, they'll mostly take care of themselves. This 8-inch self-watering and self-aerating pot from HBServices USA offers an easy way to maintain the environment plants need. The container is designed with hollow legs that keep the plant above water while providing the perfect path for the soil to suck up as much—or as little—moisture as it needs.
Because you water your plants from the bottom-up instead of the top-down, there's far less risk of over-watering. And customers agree, saying that these pots make it easy to keep plants at the right moisture level and that they love the modern design. The biggest drawback is that the self-watering spigot doesn't always stay in place and can make refilling awkward.
Pros
Self-aerating and self-watering
Easy to maintain moisture level
Modern design and look
Cons
Pricey for a single pot
Spigot doesn't stay in place
Our verdict
Watering should be easy, and our top two picks make it so. The Kollea Reliable Automatic Watering System and RAINPOINT WiFi Automatic Watering System offer a truly hands-off approach that's both reliable and convenient for even the busiest of plant parents.
Our recommendations
How we chose the best watering systems
Plant care is sometimes more complex than it needs to be, so our research was all about finding options that offered easy and reliable hydration. But that means different things for different people. So, we looked at both automated and manual systems with an eye on cost, design, output, and ease of use.
The goal of investing in one of these systems is to lessen the frequency of watering and make it so that forgetting to do so isn't a death sentence for your plants. We looked to customer reviews to make sure each model actually delivered on that promise.
Who this automatic drip irrigation is for
Automated watering is for every level of indoor gardener. Whether you're just trying to keep a single plant alive on your windowsill or you're caretaking an entire jungle in your kitchen, investing in a drip irrigation system can save you time, money, and a lot of stress.
Opt for a smaller option like a globe or spike if you only have a couple of plants. If you have a larger collection, then a full-fledged system like an automatic timer or programmable drip irrigation is best.
What to know before you buy a drip irrigation kit
No one wants to be a deadbeat plant parent, but life has a knack for getting in the way of best-laid plans. If you have trouble keeping your plants hydrated and happy, an automatic drip irrigation system can help you stay on top of your indoor gardening game. Just be sure to consider factors like size, water pressure, and user-friendly features before you press purchase—your plants will thank you.
Types of drip systems
Drip irrigation systems come in all shapes and sizes, from basic kits to more advanced models with multiple lines of tubing. The type that you choose will largely depend on the size of your space, the number of plants that you're growing, and how hands-on—or off—you want to be. Some systems offer the ultimate in convenience and automation, while others require more manual intervention. Getting a handle on all of your options will help you make the best choice for you and your plants.
Globes and spikes
Globes and spikes, while not as automated as full-on systems, are great for those who need a little extra help with the watering department. Simply fill up the water reservoir and stick it in the soil. From there, the spikes will slowly release water as needed.
These inexpensive systems are best for beginner gardeners who don't want to mess with complex installations. However, they do require refills every few weeks, depending on the plant.
Automatic drip water systems
Automatic drip water systems are best for larger, more established indoor gardens. These methods use a network of tubes and emitters that slowly drip water into the soil based on a set schedule. More advanced models can make adjustments based on temperature, sunlight, and humidity.
The pros are obviously convenience and accuracy, but there are risks to set-it-and-forget-it watering. Putting your plants' health in the hands of a machine could lead to overwatering and flooding.
Self-watering planters
Self-watering planters are a lifesaver for the busiest of plant parents. These containers are like globes and spikes in that they feature built-in reservoirs that store and slowly distribute water to the soil as needed. However, they tend to have larger capacities and require fewer refills.
While you do have to remember your refills, these planters eliminate the need for additional tubing or complex installations.
Automation features
How passive do you want your watering schedule to be? Maybe all you need is a simple timer that sets off the irrigation system at regular intervals. Or perhaps you'd like to take your automation one step further by connecting your system to a soil sensor that detects when and how much water to give your plants.
If you're a tech-savvy gardener, you'll probably want a system that can be controlled with your smartphone. This way, you can adjust the schedule and check up on the progress of your plants from anywhere in the world.
Capacity
Unfortunately, even the most high-tech irrigation systems are limited in how much water they can hold. Most manufacturers will include how many pots a system can water on the label, but you'll still have to take into account the size of your containers.
When in doubt, it's best to err on the side of caution and buy a bigger irrigation system than you think you need. This way, you won't have to worry about running out of water when your plants need it the most.
Water flow
Perhaps the most crucial element to consider is water flow. Too fast of a rate can drown your plants, while too slow can dehydrate them. Systems like globes, spikes, and self-watering planters tend to have consistent rates that don't need to be messed with.
But if you have finicky or high-maintenance plants, you'll want a system that allows you to control the flow rate. This way, you can adjust it based on the size of your containers and the needs of your plants. Just know that the more customization a system has, the more expensive it tends to be.
The advantages of using a drip irrigation system
You don't have to be a master gardener to understand the importance of water for your plants. But when it comes to keeping indoor gardens hydrated, too much or too little can lead to disaster.
Drip irrigation systems are an efficient and cost-effective way to keep your indoor plants healthy all year round. By slowly releasing water at regular intervals, these systems save you time and resources while ensuring that your plants have the best possible chance of survival. Plus, they also prevent disease by reducing the amount of water contact with the foliage.
But perhaps the best part about drip irrigation systems is their convenience and accuracy. With a single installation and minimal maintenance, these systems allow you to set it and forget it and trust that your plants are receiving the best care.
They prevent diseases by keeping your plants' leaves dry.
They are easy to install and maintain, saving you time and money.
They provide an accurate and consistent flow rate so your plants get the best possible care.
Tips for using an automatic watering system
There's not a lot of know-how required to operate an automatic irrigation system, but there are a few things you can do to ensure you're getting the most out of this handy machine. For starters, set a reminder in your phone or schedule an event in your calendar to refill the reservoir. How frequently you do that will depend on the size of your system, but creating some sort of reminder will prevent your plants from going thirsty.
When you're refilling the reservoir, it's also a good idea to give it a little scrub. Residue and minerals can build up over time, so regular cleaning is essential to keeping the water fresh. And finally, before you purchase a system, make sure that any hoses are long enough to reach all of the plants you need to water. The last thing you want is to set everything up only to find out that the hose doesn't quite reach your beloved fiddle-leaf fig.
Set a reminder to refill your reservoir.
Clean the reservoir regularly to keep the water fresh.
Make sure the hoses are long enough to reach all of your plants.
FAQs
Getting a handle on your plants' watering schedule can seem daunting, especially if you're a beginner. But with the best drip irrigation system for indoor plants, you can keep your foliage hydrated and healthy all year round. To help you out, we've outlined some frequently asked questions below to make sure you have everything you need to get started.
Does drip irrigation work for potted plants?
Yes—drip irrigation systems are great for potted plants, as they provide a consistent and controlled water flow rate that helps keep your plants hydrated.

How long should I run drip irrigation for potted plants?
This answer really depends on your plants, but drip irrigation systems usually run for about an hour per week.

Should I run drip irrigation every day?
No—it's best to limit the use of your drip irrigation system to once a week or less, as over-watering can cause root rot.
---
Sources:
Shop our recommendations