🧪 Our review process
Our testing team independently researches, tests, and recommends the best products to help keep your houseplants absolutely thriving. Learn more about our testing and review process here.
Trying to DIY an indoor garden can feel overwhelmingly complex, especially for beginners—which is why so many newbie kitchen landscapers turn to the ease and automation of a plant stand with grow lights. These multifunctional displays take the hassle out of plant parenting by providing built-in illumination and adjustable levels of intensity. To help you find the perfect plant stand for your budding garden, we've rounded up five of our favorites that boast higher yields and more simplified care.
Our top picks
From aesthetically pleasing wooden displays to robust metal racks with adjustable shelving, our top picks will make your indoor garden dreams a reality no matter how little sun your home gets.
Customize your indoor garden to your heart's content with this stand's multi-tiered adjustable shelving that offers tons of setup combinations.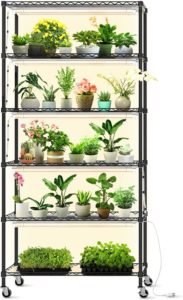 View on Walmart
Product Specs
Lighting Type: This plant stand comes with LED lights.
Weight Capacity: This plant stand can hold up to 270 pounds.
Size: This plant stand is 29.5 inches by 13.8 inches by 70.9 inches.
Do you need a shelf that can grow with your collection? Whether you're hovering over your first green baby or you're a plant parent pro, this stainless steel rack from Bstrip will have your back. Its adjustable shelf heights give you plenty of versatility to rearrange and reorganize as needed, with up to six levels and literally endless configurations to play with.
And light-wise, you're covered too. This plant stand comes with eight full-spectrum LED grow light strips that are energy efficient, come with reflectors, and can be connected to a timer, so you don't have to worry about manually turning the lights on and off (just note that a timer is not included). Reviewers love the sturdiness and personalization of this shelf, with one person even saying that their formerly leggy succulents are now "short and stout and loving life."
Pros
High levels of adjustability
Comes with everything you need
Sturdy with great weight capacity
Cons
Priced higher than other models
Timer not included
You don't have to drop a ton of dough to get a plant stand that suits your decor—and offers plenty of growing power.
View on Amazon
Product Specs
Lighting Type: This stand comes with LED lights.
Weight Capacity: It's unclear how much weight this stand can hold.
Size: This stand is 33 inches by 30 inches.
Indoor gardening shouldn't be a hobby that only the rich and well-off are privileged to enjoy. That's why we love the ADEBOLA plant shelf, which offers a sleek wooden design along with powerful (and dimmable!) LED grow lights at an unbelievably affordable price.
With seven compact shelves to fill, you have plenty of space to nurture your plant babies without taking up too much real estate in your home. Plus, the full-spectrum LED lights are designed to keep your plants happy and healthy with adjustable light intensity, on-off cycle functions, and multiple modes to choose from. And according to reviewers, it's much sturdier than it looks.
The only downside is that this seems to be a relatively new product on the market, so reviews are scarce. But so far, what we've seen is promising.
Pros
Listed at an affordable price
Great for small spaces
Powerful lighting with adjustability
Cons
Lack of reviews and feedback
Unclear on weight capacity
By opting for a more vertical design, this functional plant stand is perfect for those with limited space.
View on Amazon
Product Specs
Lighting Type: This plant stand comes with LED lights.
Weight Capacity: It's unclear how much weight this stand can hold.
Size: This stand is 16.9 inches by 9.3 inches by 41.7 inches.
Tight on square footage? No problem—this plant stand from Solatmos offers a unique tower design that's perfect for tucking away in small corners or against shorter walls. With six levels of shelving and matching LED grow lights, you have everything you need to cultivate an indoor jungle without the added bulk of a standard plant stand.
And don't let the stylishness of this piece of plant decor fool you. It's just as functional as it is pleasing to the eye. Its five built-in light strips are controllable via an app, which allows you to set up a timer specifically designed for whatever it is you're growing. Just be sure to really measure out your space because many reviewers did say that it was smaller than they realized. Still, people found that it's as sturdy and reliable as promised.
Pros
Great for small spaces
Stylish yet functional design
Adjustable lights via app
Cons
Weight capacity is unclear
Not ideal for larger operations
With multiple design options for shelving and lighting—all of which require zero tools—this plant setup offers complete customization in a snap.
View on Amazon
View on Walmart
Product Specs
Lighting Type: This stand comes with LED lights.
Weight Capacity: This stand can hold 90 pounds per shelf and 360 pounds in total.
Size: This stand is 35.4 inches by 13.8 inches by 59 inches.
The lure of getting a plant stand with built-in grow lights is that you eliminate the need for wiring and other complicated setup procedures. These Monios-L plant shelves take this simplicity to the next level with an innovative design that allows for complete customization without any tools. Not only does this make it easy to adjust the shelf's height and spacing, but you can also choose from multiple light-hanging options to suit a wide variety of plant needs.
Because it's made of high-density metal that can hold a grand total of 360 pounds, you don't have to worry about overloading this bad boy. Reviewers love the adjustability and value of the set—considering you get six LED light strips, reflectors, daisy chains, and a tearable storage belt that hides messy cables—but did have some complaints about the lack of instructions. Once it was up and running, most found it was easy to use.
Pros
Customizable shelving and lighting
Comes with everything you need
Made with durable material
Cons
Instructions may be lacking
Not ideal for small spaces
If you're looking for a plant stand that doubles as a striking piece of furniture, check out this quirky yet functional design from GREENSTELL.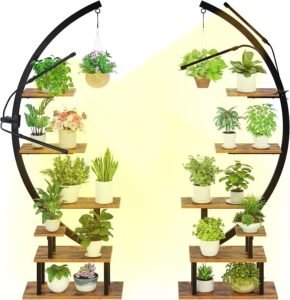 View on Amazon
View on Walmart
Product Specs
Lighting Type: This plant stand comes with LED lights.
Weight Capacity: This plant stand can hold up to 22 pounds on each shelf.
Size: This plant stand is 22.5 inches by 10.6 inches by 66.1 inches.
When your plants are your most prized possession, you want to put them on display. This stand from GREENSTELL is a testament to that with a half-moon design that offers an artful twist on the traditional plant shelf, making it a statement piece for any home. Its six levels of shelving (plus two spots for hanging plants) give you plenty of space to keep your collection organized, while the flexible, dual-head grow lights included come with dimming options and timer settings.
Plus, this plant stand is as sturdy as it is stylish. Its footed base and metal frame construction can support up to 22 pounds on each shelf. Customers found the piece to be easy to assemble and loved the way it looked in their homes, with one reviewer saying that their "plant moon" is "always the first thing people's eyes are drawn to."
Pros
Unique and aesthetic design
Holds a large number of plants
Includes flexible and movable lights
Cons
Not ideal for small spaces
Users complained about missing pieces
Our verdict
There's a lot to love about all of the greenery displays included above—but the Bstrip and Solatmos plant stands with grow lights stand out as our top picks. The former offers tons of adjustability and accessories, while the latter is a stylish show-stopper that doesn't skimp on features.
How we chose the best plant stand with grow light
Unfortunately, there aren't a ton of these innovative stands on the market just yet. So wading through what was available was a matter of combing through user reviews, product specs, and overall aesthetics. We took into account factors like price, brand reputation, design, wattage, customization, and timer capabilities.
In the end, we chose plant stands with grow lights that demonstrated a good blend of all these qualities, with a focus on providing strong LED lighting, adjustable features, and dependable construction. We also looked for plant stands that come with all the necessary accessories to ensure a seamless setup.
Who this plant stand is for
A plant stand with a grow light is an ideal product for those who want to bring greenery into their home but don't have access to natural sunlight, such as people living in high-rise apartments. You don't need a spare bedroom or even an empty corner to utilize these innovative tools. They come in all shapes and sizes, meaning there's a model out there for whatever space you have available.
And while the notion of grow lights may seem intimidating to newbie gardeners, most manufacturers have made the technology so simple that even a total beginner can master them in no time. So, if you're looking for a low-maintenance way to have houseplants, plant stands with grow lights may be the perfect solution.
What to know before you buy a plant stand with lights
Ready to take a little DIY out of indoor gardening? Plant stands with grow lights offer a straightforward setup, making it easier than ever to bring your greenery to life inside. To get the most out of your stand and ensure you have all the right features, it's important to understand light type, spectrum, and size.
If you're more interested in a DIY project, then check out my instructions on how to make a plant stand with grow lights.
Let's briefly go over all the specifications you should be on a first-name basis with before making a purchase—starting with the real star of the show, grow lights.
Types of grow lights
Grow lights are designed to do one of two things: supplement sunlight or replace it entirely. So determining what type of grow lights your plant stand will require is the first step in finding the right one. The most common types are fluorescent, high-pressure sodium (HPS), and light-emitting diodes (LED). All of these lighting systems provide plants with different spectrums and wattages that can help them thrive in any environment.
Fluorescent
Fluorescent plant lights offer a wide range of light spectrums and intensities. They are considered the most cost-effective and energy-efficient lights, making them an ideal choice for those on a budget or with limited wattage availability. Plus, they don't generate heat like other grow light systems do, so you don't have to worry about your plant stand getting too hot.
Most people avoid fluorescents because they usually require a ballast (a device that regulates the current) in addition to the light fixture itself. However, many manufacturers offer plant stands with built-in ballasts and lights, saving you the extra cost and hassle.
HPS
High-pressure sodium plant lights provide some of the most intense and consistent light spectrums of any system, making them a must-have if you're growing species that require a lot of sun.
But that intensity comes at a cost—HPS plant lights can generate a lot of heat and quickly raise the ambient temperature. So you'll need to create enough distance between the lights and the plants, as well as make sure they have adequate ventilation. Because HPS bulbs require a little more finagling, most plant stands aren't designed for them.
LED
If you want efficiency, LED plant lights are the way to go. These small, electric-powered gems offer a high level of light intensity and can last for years with minimal maintenance. Plus, they generate little-to-no heat and consume only a fraction of the energy that other grow lights require.
However, LED plant lights do tend to be more expensive than their counterparts. That's why many indoor gardeners opt for plant stands with LED grow light strips built-in rather than having to purchase the bulbs individually.
Wattage
To state the obvious, one of the most important factors to consider before buying any kind of grow setup is wattage. Different types of plant stands offer different wattages—how much you need depends on the kind of plant you're growing and how much space you need lit.
Generally, you want between 20 and 40 watts per square foot. So if you're looking at a stand with 400 watts, you're looking at about 10-20 square feet of coverage. The greater the wattage, the more space the plant stand is capable of covering.
Size
The size of your plant stand is a big factor to consider. You want one that fits in the space you have and can accommodate the wattage you need. So always—always—measure out the area before you buy.
Most plant stands come in a range of sizes, so finding one to fit your space isn't usually an issue. There are also a lot of options with adjustable heights and multi-tiered shelving that can give you more flexibility for placement and changing out the kind of plants you grow.
Timer
If you're one of those plant parents who would love to put their garden on set-it-and-forget-it mode, then investing in a plant stand with a timer is the way to go. A timer lets you choose when and how long to run your grow lights, so you don't have to worry about forgetting to turn them off or on.
Some timers also come with dimmers and options to adjust the intensity of your grow lights on the fly. It's a great way to create an ideal environment for your plant babies without lifting a finger.
Tips for using grow lights with plant stands
While your plant care will definitely be made easier when you invest in a plant stand with grow lights, there's no way to be completely hands-off. To get the most out of your new gardening tool, make sure you perform regular cleaning and maintenance tasks like wiping the plant stand surface down, changing the bulbs as needed, and inspecting for any problems.
You should also pay special attention to the placement of your grow lights. Ensure they're centered over your plants but not too close to cause burning or scorching. Keep them at a distance to avoid wasting energy and maintain a nice and cool environment.
And finally, don't forget to watch out for water leakage. Plant stands with grow lights often have high levels of ambient humidity, and water can easily accumulate around the plant stand's base, which could damage your flooring. Putting down a mat or towels beneath the plant stand can help prevent water damage and mold over time.
Replace bulbs in a timely manner or as needed.
Place grow lights at a safe distance away from plants to avoid burning or scorching.
Monitor for water leakage and put down mats to protect your floors.
FAQs
We love a tool that makes gardening simpler and more accessible—and plant stands with grow lights do just that. But with so many options available, it can be difficult to know what to look for when shopping. To help make things easier, here are some answers to the most commonly asked questions about these all-in-one plant displays,
Q: Do plants grow well under grow lights?
Absolutely—grow lights are designed to provide your plant babies with the perfect balance of light and warmth. If you don't have access to direct sunlight, they're a great alternative.

Q: How long do plants stay under grow lights?
That really depends on the type of plant you're growing, but most find that between eight and 10 hours a day of exposure is ideal.

Q: Is it okay to leave my grow lights on all the time?
No—leaving your grow lights on 24/7 can actually be detrimental to plant growth, as it doesn't allow them a chance to rest.
Shop our recommendations