When you buy a new plant, it usually comes with some growing information like light and water requirements, as well as the plant's hardiness zone number. The hardiness zone is the average lowest temperature in an area, and it helps you know which plants are suited for your particular climate.
When it comes to indoor plants, this information is still very useful. It helps you know which plants need to be taken inside from your balcony or patio for fall and winter, and what kind of temperature conditions those plants need while indoors.
Hardiness zones don't tell the whole story about a plant's growing needs, but it provides important information that you can use to be sure your plants stay healthy in every season of the year.
Here, we'll go over how you can use plant hardiness information to do your best gardening.
What is plant hardiness?
Plant hardiness refers to a plant's ability to withstand cold to a certain degree. Defined by the United States Department of Agriculture, the plant hardiness zone map is an important tool for gardeners and farmers alike, providing a reference for choosing which plants can be grown in any given area throughout the year, if at all.
The plant hardiness zones were developed by tracking temperatures from weather stations across the US to get accurate historical records of the coldest temperatures on the coldest day in any part of the country. Some plants can withstand cold better than others, and growing seasons differ in length across the country.
Where there are cold and low temperatures in winter, the growing season is shorter, and more growing may need to be done indoors. In warmer climates, the outdoor growing season is longer, and different kinds of adjustments may need to be made indoors depending on the plants you have.
Knowing your location's hardiness zone is a first step towards assessing your garden's microclimate needs: while two locations may be in the same growing zone, local landscape features will make a difference in the conditions in and around your home.
Whether you have an outdoor greenhouse, living room houseplants, or an indoor grow tent, you'll want to keep an eye on the environment your plants are living in. You may have to adjust your interior environment for humidity levels, the lighting available throughout a day, or the temperature in contrast to ambient temperatures.
Warm-season plants can be grown indoors part of the year and moved outdoors when the season is right, and knowing your hardiness zone will help you stay in tune with those seasonal changes.
While the hardiness map is a good reference for your location's planting conditions, it's also important to keep an eye on the forecast when making decisions about moving indoor plants outdoors, as well as bringing them back indoors.
PRO TIP: Watch the weather report for the minimum expected temperatures and the first and last frost dates to be sure cold-sensitive plants don't get damaged or killed by a cold snap.
However, nature can be unpredictable, and that might happen even when the best of care is taken!
What are the planting zones?
The USDA hardiness zones, growing zones, gardening zones, or planting zones system is a categorization and mapping of the range of lowest temperatures across the US in winter of any year, labeled from 1 (the coldest, northernmost areas) to 13 (The southernmost and warmest parts of the country).
Many states reach across multiple zones, and the USDA zones themselves have variations within them. Each numbered growing zone is broken down into two halves of 5 degrees each, with
A being the colder (or northern) half, and
B being the warmer (or southern) half.
It's important to keep in mind that each zone has many microclimates within it, with some being dry and others humid, and varying geographic features across localities.
The different planning zones are:
Zone 1: Below -50°F. Zone 1 is only found in Alaska, where extreme cold grips the tundra in midwinter. In summer, however, it's warm enough to grow a range of cold-hardy plants like cabbage, potatoes, radishes, mustards, beets, Swiss chard, mint, chives, and lily of the valley.
Zone 2: -50 to -40°F. Also located within Alaska, zone 2 only differs from zone 1 by 10 degrees. Windy and dry, other hardy plants that can be grown here in the summer include onions, apples, carrots, hydrangea, and coneflowers.
Zone 3: -40 to -30°F. In addition to Alaska, zone 3 is also found in the continental US in Montana, Minnesota, North Dakota, Wisconsin, and Maine. Zones 1 through 3 have shorter and cooler growing seasons than warmer areas further south, but in zone 3 you can grow cucumbers, garlic, pears, cherries, apricots, tulips, and daffodils over the warmest months.
Zone 4: -30 to -20°F. Zone 4 has a wider stretch across the US, including Alaska, Montana, North and South Dakota, Nebraska, Ohio, Vermont, and Maine. These areas have cold winters and warm summers, with conditions more humid the further east you go. In zone 4, you can grow eggplants, apples, lemon, thyme, lavender, iris, peony, and roses.
Zone 5: -20 to -10°F. With cold winters and warm to hot summers, zone 5 stretches across the central US from Colorado to Nebraska, Iowa, Illinois, Wisconsin, Indiana, and parts of the northeast. This is the last of the cool weather hardiness zones, with a short growing season that supports kale, spinach, apples, thyme, mint, beans, lettuce, roses, lilies, ferns, sunflowers, tulips, and sage.
Zone 6: -10 to 0°F. Zone 6, where temperatures can reach below freezing in the winter despite having hot summers, is the transitional growing zone between the cold northern climates and the hottest southern states. This is the widest of all the hardiness zones, stretching across the central United States, and includes almost 40 of the 50 states, from Washington and California to Illinois, Kentucky, Maine, and Virginia. A range of plants can be grown here, including tomatoes, lettuce, melons, eggplant, carrots, radishes, oregano, parsley, sunflowers, coneflowers, petunias, zinnias, and marigolds.
Zone 7: 0 to 10°F. Zone 7 is the first of the warm weather zones of the US, with mild winters and hot, humid summers and a long growing season. States in this zone include New Mexico, Texas, Oklahoma, Arkansas, Alabama, and Tennessee. Here, you can grow arugula, peppers, turnips, bananas, sage, rosemary, black eyed Susans, peonies, marigolds, and sunflowers.
Zone 8: 10 to 20°F. Zone 8 has long, hot summers and growing seasons, and includes the states of North and South Carolina, Georgia, Alabama, Mississippi, Louisiana, and Texas. Plants that can be grown in this zone include peas, peppers, carrots, okra, melon, grapefruit, sage, geraniums, daisies, hibiscus, and daylilies.
Zone 9: 20 to 30°F. In zone 9, you can plant outdoors almost year-round. Temperatures may reach just below freezing in the coldest parts of winter, but in general, winters are warm, and summers are hot. Zone 9 includes southern portions of California, Arizona, Florida, and Texas. In the temperate months, you can grow broccoli, avocado, oranges, basil, chives, zinnias, wisteria, dahlias, iris, and coneflowers. You can also grow tropical plants here, including ZZ plants, snake plants, and fiddle leaf figs (but be sure to bring them indoors during the winter!)
Zone 10: 30 to 40°F. Zone 10 is far enough south that it rarely, if ever, reaches freezing (except in desert areas at night). This zone is subtropical, and includes parts of southern California and southern Florida. The very hot summers and warm winters here support peanuts, papaya, plums, cacti, succulents (including agave and aloe, among many others), geraniums, orchids, azaleas, peperomia, peace lilies, spider plants, and birds of paradise.
Zone 11: 40 to 50°F. Zone 11 has a tropical climate, and includes Hawaii, the Florida Keys, and Puerto Rico. Here, in the warm winters you can grow cabbage, beets, plums, basil, begonias, lemongrass, cactus, succulents, and passionflower, as well as most kinds of tropical plants like monstera, pothos, and jade.
Planting Zones 12 and 13: 50°F and above. The warmest zones, found only in the US's tropical areas of Hawaii and Puerto Rico, are too hot to grow crops during the summer, but over the winter, you can grow beans, peppers, squash, eggplant, rosemary, sage, pineapple, and black pepper, as well as tropical plants like birds of paradise, dracaena, peperomia, and palms. It's hard to grow cold-hardy crops outdoors in these areas, even in winter.
Plant hardiness zones by state
| State | USDA Zones | First Frost Date | Last Frost Date | Minimum number of freeze days |
| --- | --- | --- | --- | --- |
| Alabama | 7a – 9a | March 7 | November 18 | 255 |
| Alaska | 1a – 8b | August 19 | June 18 | 61 |
| Arizona | 4b – 10b | October 11 | May 27 | 136 |
| Arkansas | 6b – 8a | November 15 | March 14 | 244 |
| California | 5a – 11a | October 23 | April 9 | 196 |
| Colorado | 3a – 7a | October 20 | May 4 | 168 |
| Connecticut | 5b – 7a | October 5 | May 6 | 151 |
| Delaware | 7a & 7b | October 9 | April 28 | 163 |
| District of Columbia | 5b – 8a | November 11 | March 30 | 225 |
| Florida | 8a – 11a | January 7 | February | 337 |
| Georgia | 6a – 9a | November 19 | March 9 | 254 |
| Hawaii | 9a- 13a | January 7 | February 3 | 337 |
| Idaho | 3b – 7b | September 2 | June 25 | 68 |
| Illinois | 5a – 7a | October 14 | April 19 | 177 |
| Indiana | 5b- 6b | October 24 | April 19 | 192 |
| Iowa | 4b – 6a | October 14 | April 14 | 182 |
| Kansas | 5b – 7a | November 14 | March 14 | 244 |
| Kentucky | 6a – 7a | October 24 | April 13 | 163 |
| Louisiana | 8a – 10a | November 24 | February 25 | 271 |
| Maine | 3b – 6a | September 23 | May 18 | 127 |
| Maryland | 5b – 8a | October 29 | April 11 | 200 |
| Massachusetts | 5a – 7b | October 7 | May 1 | 158 |
| Michigan | 4a – 6b | September 12 | June 2 | 101 |
| Minnesota | 3a – 5a | September 20 | May 23 | 119 |
| Mississippi | 7b – 9a | November 1 | March 31 | 214 |
| Missouri | 5b – 7b | October 27 | April 8 | 201 |
| Montana | 3a – 6a | September 19 | May 26 | 115 |
| Nebraska | 4a – 5b | October 14 | April 22 | 174 |
| Nevada | 4a – 10a | November 3 | April 24 | 192 |
| New Hampshire | 3b – 6a | September 21 | May 20 | 123 |
| New Jersey | 6a – 7b | October 18 | April 25 | 175 |
| New Mexico | 4b – 9a | October 8 | May 5 | 155 |
| New York | 3b 7b | November 18 | April 1 | 230 |
| North Carolina | 5b – 8b | April 12 | October 25 | 195 |
| North Dakota | 3a – 4b | September 21 | May 15 | 128 |
| Ohio | 5b – 6b | October 9 | April 28 | 163 |
| Oklahoma | 6a – 8a | November 11 | April 1 | 215 |
| Oregon | 4b – 9b | October 12 | April 17 | 177 |
| Pennsylvania | 5a – 7b | October 15 | April 30 | 167 |
| Puerto Rico | 11b – 13b | N/A | N/A | <5 |
| Rhode Island | 5b – 7a | October 3 | May 8 | 147 |
| South Carolina | 7a – 9a | November 1 | April 1 | 213 |
| South Dakota | 3b 5b | September 24 | May 9 | 137 |
| Tennessee | 5b – 8a | October 21 | April 13 | 190 |
| Texas | 6b – 10a | November 11 | March 26 | 229 |
| Utah | 4a – 9a | October 13 | May 2 | 163 |
| Vermont | 3b – 5b | September 23 | May 20 | 125 |
| Virginia | 5a – 8a | September 8 | June 18 | 81 |
| Washington State | 4a – 9a | November 11 | March 30 | 225 |
| West Virginia | 5a – 7a | October 12 | May 4 | 160 |
| Wisconsin | 3b – 5b | October 3 | May 14 | 141 |
| Wyoming | 3a – 6a | September 13 | May 30 | 105 |
Hardiness zones of popular indoor plants
The easiest way to have a lush garden is to grow plants that are native to the area. These plants will be able to handle the climate that you're in happily.
You in Phoenix? Choose plants that can handle summer temperatures (think: jade plants and rosemary). Or in the North East? Hydrangeas love cold temperatures and lots of sun.
If a plant doesn't have its USDA hardiness zone listed when you buy it, ask the gardener or nurseryman and they should be able to let you know which zone the plant is classified in, the zone of your location, and how those interact. Hardiness is about temperature, so some plants may be in the same growing zone but need different environmental conditions to survive and thrive.
Aside from some kinds of trees, almost any plant can be grown indoors if you manage the internal climate for its preferences. Here, we'll go over some examples of common plants you may find indoors, including tropical, vining, and flowering houseplants, as well as fruits, vegetables, and herbs, and see how their hardiness zone contributes to the overall picture of a plant's preferred growing environment.
Tropical houseplants
Most houseplants are from tropical areas where temperatures are warm year-round, and the plants are evergreen.
Vining houseplants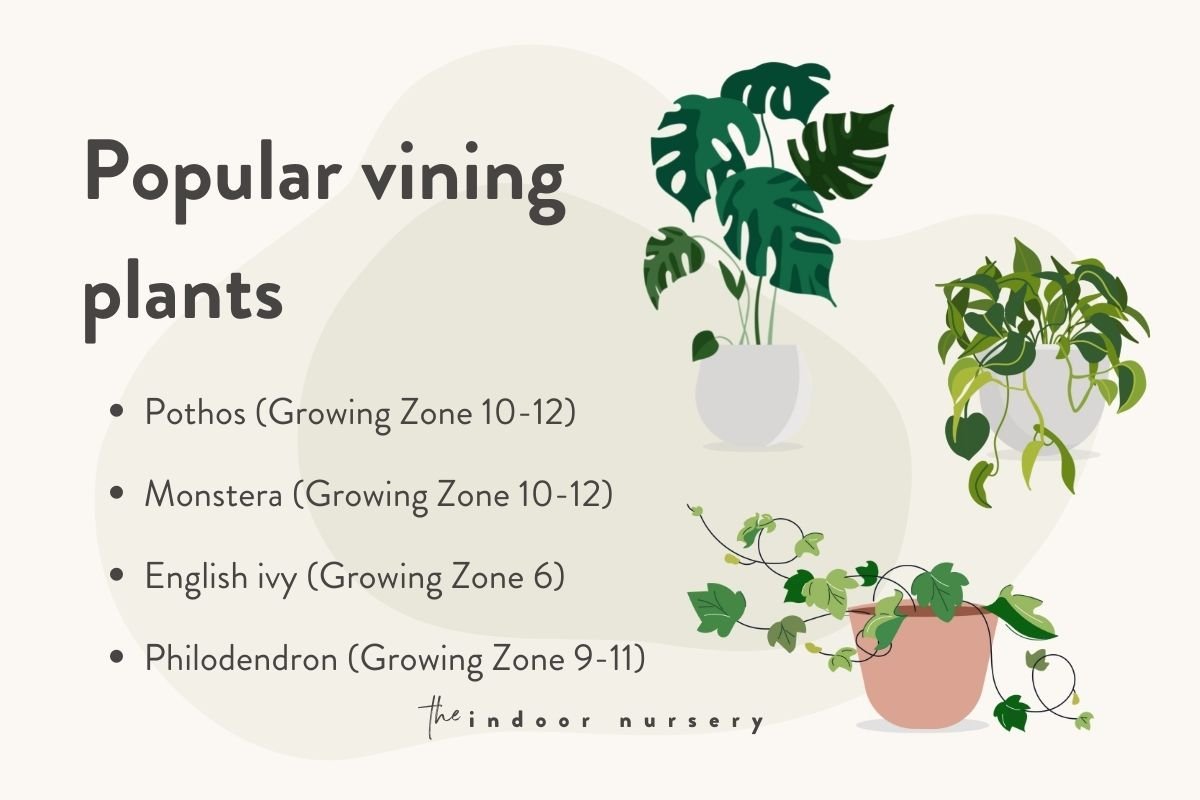 Many vining house plants come from tropical climates, but one cooler-weather evergreen is included in this list:
Pothos. (Growing Zone 10-12.) Pothos plants are from the understory of tropical rainforests of southeast Asia, requiring indirect light and an average watering frequency, allowing the soil to dry out before watering again.
Monstera. (Growing Zone 10-12.) Monstera plants like humidity and soil that drains but doesn't get too dry since they are used to tropical Central American rainforest conditions, where they get lots of indirect light in the understory.
English ivy. (Growing Zone 6.) Another forest dweller, English ivy is from Europe and western Asia, where it prefers medium to bright indirect light, temperate weather, and moist soil that drains well and dries moderately, but never completely.
Philodendron. (Growing Zone 9-11.) A vining plant from tropical Central and South America, philodendrons also grow in the understory and enjoy indirect light, higher humidity, and soil that drains but retains moisture (and doesn't dry out).
Flowering houseplants
Most perennial flowering houseplants that we keep indoors are from tropical areas, including:
Begonia. (Growing Zone 9-10.) Begonias are found in tropical regions across Central and South America, Asia, and sub-Saharan Africa, with most species preferring medium to high humidity, lots of indirect light (and tolerating some direct light), and moisture-retaining soil.
Orchid. (Growing Zone 6-9.) Orchids are a versatile plant found across all continents and in many temperature ranges. They like medium to high humidity, medium to bright indirect light, as well as soil that retains moisture (but isn't too wet, since it gets a lot of its moisture from the air).
Peace lily. (Growing Zone 10-11.) The peace lily plant is from tropical northern South American rainforests, where it gets lots of indirect light, medium to high humidity, with moisture-retaining soil that doesn't dry out too much.
Bird of Paradise. (Growing Zone 10-12.) A Bird of Paradise plant likes high humidity and lots of indirect (and some direct) light, coming from South Africa, where the soil is moist in warm months but dries out during the fall and winter.
Fruits and vegetables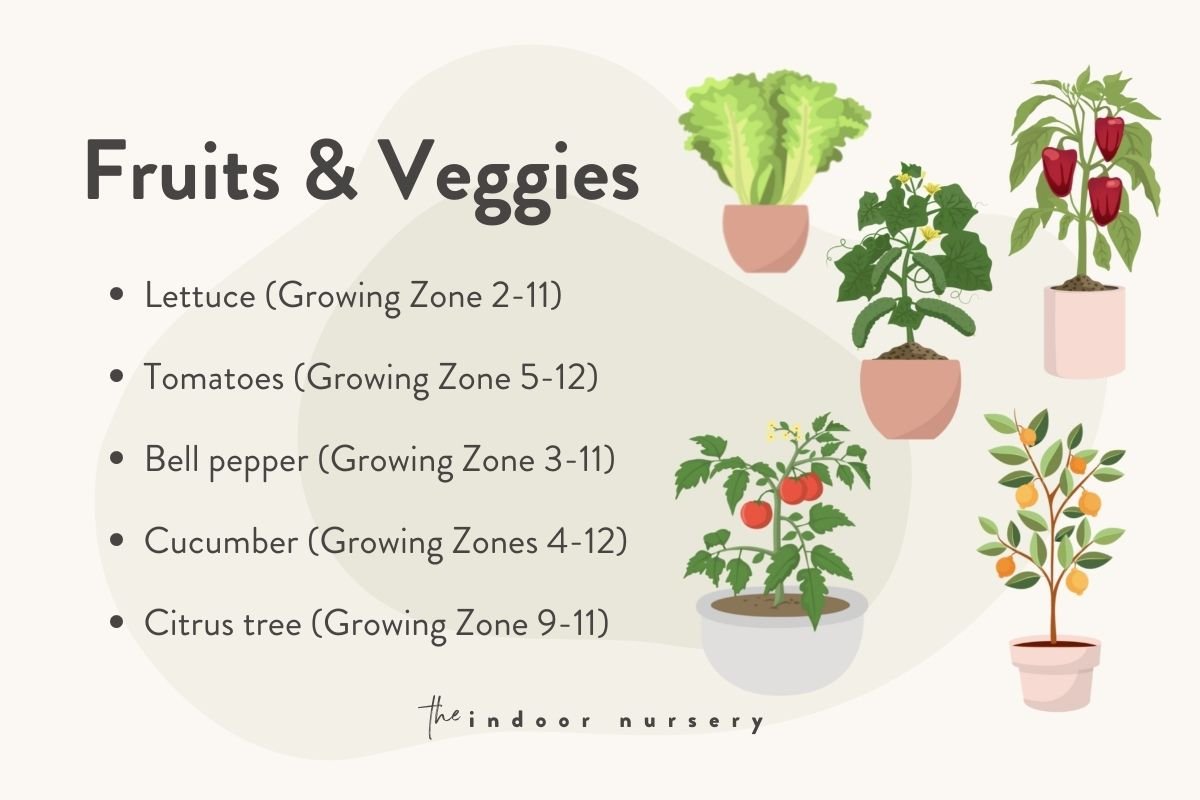 Some fruits and vegetables are annuals and need to be replanted each year, while others are perennial and will grow year-round. Foods from any group can be grown indoors if you keep the right temperature, and your location will determine when certain plants can grow outside within a year, and when you may need to start seeds inside to later move to the outdoor garden. Most can be grown anywhere temperatures are right for the period of time that they need to mature.
Lettuce. (Growing Zone 2-11.) As a Mediterranean plant, lettuce is cool-hardy and grows best in moisture-retaining soil when temperatures are in the 60s.
Tomatoes. (Growing Zone 5-12.) Originally from South America, tomatoes like to grow in warm weather (from 65 to 85 °F), requiring frequent watering to stay hydrated.
Bell pepper. (Growing Zone 3-11.) Bell peppers are another warm-season crop. Coming from Central and South America, they like soil that drains and dries out, and to receive an average amount of water.
Cucumber. (Growing Zones 4-12.) Like tomatoes, cucumbers grow best in medium temperatures between 65 and 85°F, in moisture-retaining soil with frequent watering (cucumbers are over 95% water, the highest of any food!)
Citrus tree. (Growing Zone 9-11.) Oranges, lemons, and limes, originally from north-central Asia, are evergreen trees that like soil that retains moisture, medium to high humidity, and warm temperatures between 60 and 90 degrees. Dwarf varieties of these fruit trees make great plants for patios, sunrooms, and greenhouses.
Herbs
Herbs are another popular plant to grow indoors, and they come from across the hardiness zone spectrum:
Rosemary. (Growing Zone 7-10.) Native to the Mediterranean, rosemary likes medium humidity, cool-to-warm growing temperatures between 55 and 80°F, and soil that dries out in between waterings.
Thyme. (Growing Zone 5-10.) Thyme is from Europe and north-central Asia, preferring soil that doesn't dry out completely, an average amount of water, and a medium amount of humidity.
Mint. (Growing Zone 3-8.) Another Mediterranean herb, mint likes cooler temperatures between 55 and 70°F, with soil that drains well but retains moisture.
Sage. (Growing Zone 5-8.) From south-eastern Europe, sage likes temperatures between 60 and 70°F, with medium humidity, an average amount of water, and soil that almost dries out, but not all the way.
Plant hardiness zones across the pond
While the USDA hardiness zone map is a popular system across the world, some countries have adapted it to conditions relative to their situation, or created a new map altogether. In the English-speaking countries and Europe, both the USDA rating system and local rating systems may be used.
Australian hardiness zones. Australia's warm climate falls into the higher portion of the USDA's minimum temperature scale, ranging from zones 7 (0-10° F) to 13 (60°F and above), but they don't usually use the USDA zone system. Their own scale was created by the Australian National Botanic Gardens, which measures minimum temperatures in steps of 5 degrees from 1 (-15 to -10°C, being 5 to 14°F) to 7 (15 to 20°C, or 60 to 68°F). The continent has a wide range of ecosystems , from southern temperate regions that are wooded and wet with mild winters, to interior deserts and grasslands, to northern subtropical and equatorial forests.
Canadian hardiness zones. Canada has two maps that it uses for hardiness zones: one that is based on the USDA system (labeled extreme minimum temperature zones), and one that is specific to Canada's climate, which is overall much colder than the US. Links to both hardiness zone maps can be found on the Canadian government's official website. The environment on the Pacific coast is mild, while the interior and Atlantic regions are covered in woodlands, plains, and tundra. Much of the country is within zones 1 to 4 on the USDA scale (with lows of -20 and below).
European hardiness zones. Plant hardiness in Europe is measured in various ways based on the country of reference, but the USDA plant hardiness zones are useful across continental Europe, ranging from zone 2 (in Russia) to 12 (in Spain and Portugal). The United Kingdom has a middling, non-continental range of 7-10, ranging from -15°C (5°F) to just above freezing at about 2°C (35.5°F). For this more narrow range of climate variation, the UK's Royal Horticultural Society issued a hardiness rating system based on plants' temperature needs rather than area lows.
Tips of understanding your plant's hardiness zone
Here are some tips to keep in mind when considering your plant's hardiness zone and care information:
Hardiness is about the plant's native climate. Hardiness tells you about where the plant is from, and what sort of temperature conditions it can endure. If possible, try to stick with native plants to your area.
Hardiness refers to the lowest expected temperatures in an area. Hardiness is based on the lowest expected temperatures for a certain location, which helps you plan for cold, frost, and freeze, as well as warm growing weather.
Hardiness doesn't refer to moisture preferences. Some areas that experience the same temperatures may receive different levels of precipitation and humidity.
Hardiness doesn't refer to soil preferences. Soil conditions vary across and within hardiness zones, where sand, clay, silt, and levels of organic matter are different based on location.
Hardiness doesn't refer to light preferences. While hardiness zones give a clue about how much daylight an area receives based on how far north or south it is, the shade tolerance of a given plant will vary based on its exposure to sun in its natural habitat.
latest in houseplant care